The US military has been working on multiple approaches for bolstering its Short-Range Air Defense (SHORAD) capabilities. According to the latest reports, the US Army has moved a step closer towards the deployment of directed energy weapons (DEWs) for countering its adversaries.
Earlier this week, General Dynamics reportedly paired up with Epirus Inc. for delivering a directed energy weapon that uses high-power microwave technology. The weapon developed under this collaboration will be fitted on the Stryker combat vehicles manufactured by General Dynamics for the US Army.
In July this year, the RCCTO held combat drills for a variety of futuristic scenarios which involved a number of aerial threats using a laser weapon system. Even though the details of the weapon were not revealed at that time, the recent development in the high-energy laser weapon system indicates the participants in the standoff.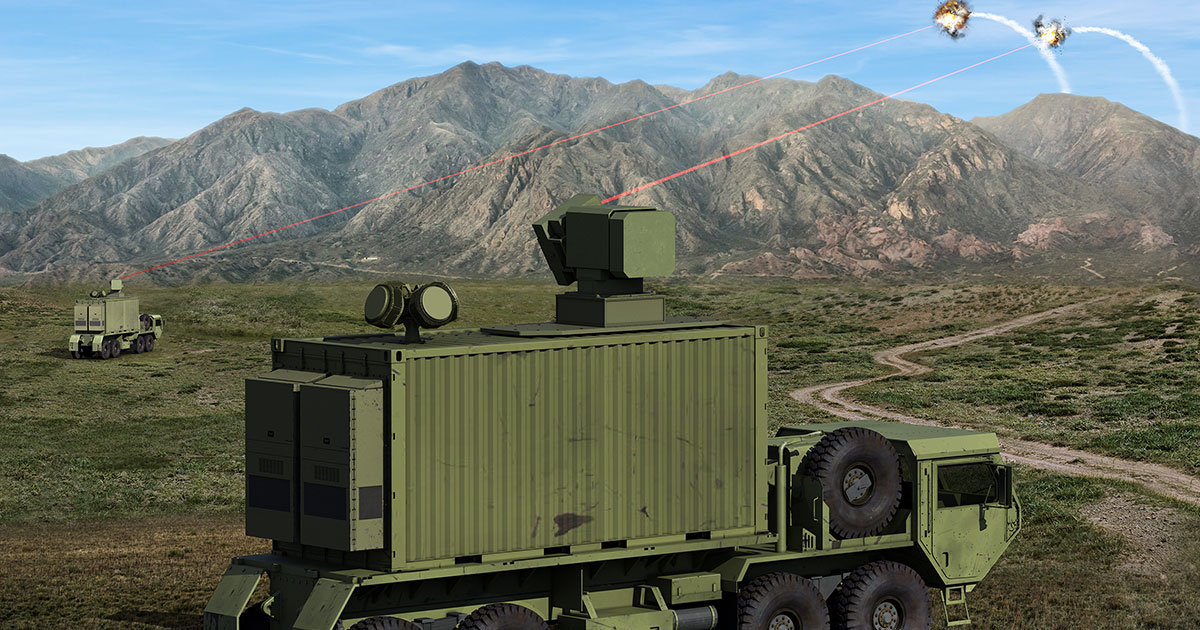 The New Laser Weapon
The US Army Rapid Capabilities and Critical Technologies Office (RCCTO) awarded a contract to General Atomics Electromagnetic Systems (GA-EMS) and Boeing for producing a prototype of a 300 kilowatt-class solid-state distributed gain high energy laser weapon system. Work under this contract will be completed in San Diego and Albuquerque, according to a company press release.
"The partnership combines both companies' expertise in Directed Energy to deliver best-in-class, combat-ready protection for the warfighter with unmatched speed, performance, safety and affordability.
Specifically, the system will leverage GA-EMS' scalable Distributed Gain Laser technology with Boeing's beam director and precision acquisition, tracking and pointing software to provide a complete demonstrator with sophisticated laser and beam control", the press release said.
"The high power, compact laser weapon subsystem prototype that GA-EMS will deliver under this contract will produce a lethal output greater than anything fielded to date", Scott Forney, president of GA-EMS said in the press release. The weapon system delivered under this contract will be deployed not only against unmanned aerial vehicles (UAVs) but also against missiles.
The design of the prototype demonstrated in the contract will incorporate two seventh-generation lasers which will be developed by General Atomics. "Recent architectural improvements have enabled our single-beam DG Lasers to achieve comparable beam quality to fiber lasers in a very simple design without the need for beam combination", said Dr. Michael Perry, vice president for lasers and advanced sensors at GA-EMS.
"This technology represents a leap-ahead capability for air and missile defense that is necessary to support the Army's modernization efforts and defeat next-generation threats in a multi-domain battlespace", Forney added.
 The "distributed gain laser" is a liquid-based laser and is thus different from the 50–150-kilowatt fiber-based lasers which the military has adopted till now. The distributed gain lasers provide a smaller size, weight and power considerations which enable the system to be scaled up for more powerful laser beams.
The US Navy had deployed the first high-energy laser weapon, called LaWS (Laser Weapon System), on the USS Ponce in the year 2014. This laser weapon system reportedly had an output of 30 kilowatt. Military lasers usually tend to be in the 30-kilowatt to 100-kilowatt range. This is mainly used for shooting down small drones.
The new 300-kilowatt laser system is part of a US Army project for developing defensive lasers which are capable of shooting down incoming threats.
Last year, the Army demonstrated a 10-kilowatt laser weapon as it defeated small mortar rounds. Justin Bronk, a research fellow at UK security think tank Royal United Services Institute (RUSI) said that powerful lasers can strike bigger targets and can also engage multiple targets quickly.
"It will allow the system to engage a greater density of incoming threats, and also potentially engage threats which offer a shorter engagement window either due to speed or very low altitude flight trajectory," he said.