The first T-7A Red Hawk training aircraft built for the US Air Force (USAF), rolled off the production line on April 28 at the Boeing Defense, Space & Security building at St. Louise Lambert International Airport, Missouri.
This is the first of 351 aircraft slated to be delivered to the USAF under terms of a $9.2 billion contract awarded to Boeing in September 2018.
"We're excited and honored to deliver this digitally advanced, next-generation trainer to the US Air Force," said Ted Colbert, President and CEO of Boeing's Defense, Space & Security.
The Red Hawk, a joint effort between Boeing and Saab, is the first Air Force aircraft to use digital design tools to allow it to move from computer screen to first flight in 36 months.
Boeing and partner Saab are particularly proud of the way that digital design, agile software, and digital engineering technologies have been instrumental in reducing the time between drafting the aircraft and getting it ready for aerial testing.
"Today is the culmination of years of work, design, and partnership between Boeing and Saab," added Saab's President and CEO Micael Johansson.
"Saab's knowledge and expertise contributed to the design and production of this world-class trainer, with more than a thousand Saab employees involved. Collectively we set out an ambitious vision: to redefine what a trainer jet is, but also how they are made, and we have succeeded."
Currently, the arrangement between Boeing and Saab on the T-7A program is such that Saab builds the aft section of the trainer at its Linkoping facility in Sweden, soon, however, the Swedish company will begin manufacturing these components in the US, at a facility in West Lafayette, Indiana.
These jets are going to be the service's first new advanced jet trainers since the T-38 Talon, which first took to the air more than 60 years ago. The first T-7As are due to be delivered to the Air Force at Joint Base San Antonio-Randolph next year.
For now, the first full-production T-7A will remain in St. Louis for ground and flight tests before being delivered to Joint Base San Antonio-Randolph where it will join the 99th Flying Training Squadron (FTS) which is currently operating the T-1 Jayhawk for training pilots destined for the airlift or tanker communities. However, the T-1 is due to be retired in 2025.
Meanwhile, The T-7A is expected to reach initial operational capability with Air Education and Training Command by 2024.
Potential Aggressor Platform 
Once in service, the T-7A's open architecture software will make it very adaptable to its predecessors, to incorporate new capabilities and training elements to keep pace with the modernization of the wider Air Force.
Also, the T-7A due to its small size can be very difficult to spot during within visual range fights, and based on its thrust and design that will offer notorious agility to the aircraft can pose a formidable challenge as an aggressor aircraft as well.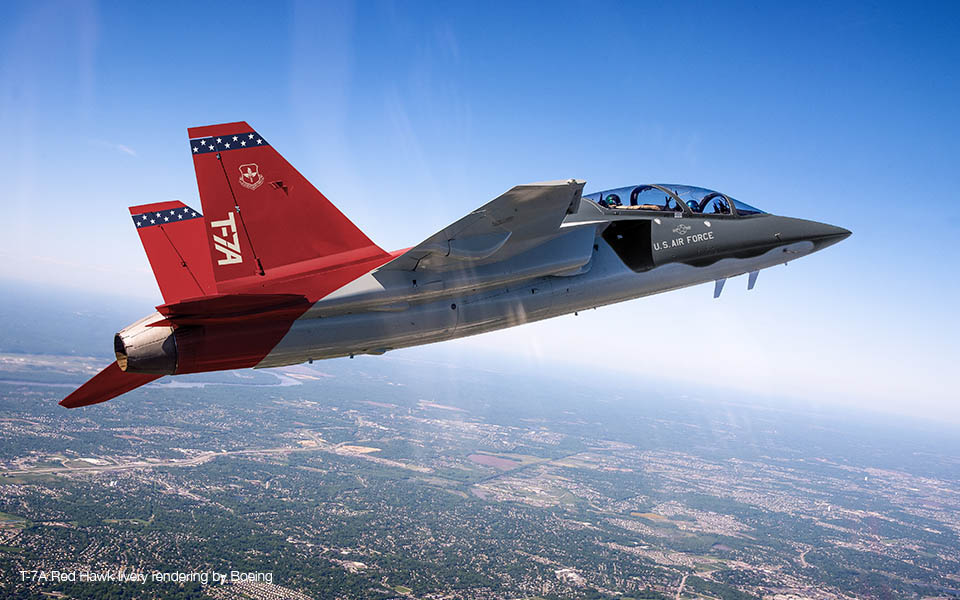 Reports suggest that the USAF sees T-7A as a potential next-generation aggressor platform, as there is an increasing need for more adversary support for the 5th generation stealth fighters who are not challenged by small formations of fighters.
Besides, flying 5th generation fighters against other 5th generation fighters for basic air-to-air training is massively wasteful and fiscally unsustainable.
So going ahead, the USAF not only needs to maintain its existing aggressor units but also provide additional capacity in the future, and that too in a more efficient manner.
The T-7A can fill the gap, as the aircraft is powered by a single GE-F404 turbofan engine that provides the thrust of roughly 17,200lbs, while the twin tails, slats, and big leading-edge root extensions (LERXs) of the T-7A will enable low-speed handling and agility, thereby providing a performance somewhere close to F-16 but at far lower operating and acquisition cost.
Possible Light Fighter Version
Furthermore, a light fighter aircraft based on T-7A can be a viable export option for the US to target the countries which cannot afford the other highly advanced but very expensive aircraft that the US has to offer. Also, experts suggest that most countries are not even interested in the extraordinary performance and capabilities of these aircraft.
Recently, Amit Gupta, an Associate Professor of Indo-Pacific Studies at the USAF Air University Culture and Language Center, had noted in his article for the EurAsian Times that the "airpower requirements of most nations are not centered around the expensive fifth or 4.5-generation fighters like the F-35 Lightning, the French Rafale, or the Typhoon Eurofighter."
"Instead, their needs range from surveillance to prevent smuggling, poaching, and environmental disasters to fighting counterinsurgencies," wrote Gupta in early February.
The T-7A with the addition of a small AESA radar and an electronic warfare system or an infrared search and track (IRST) system – podded or internal— can be adapted into an incredibly capable light fighter which will also be affordable.
Also, the support infrastructure for the T-7A and the significant investments by the US government in the aircraft will make its light fighter version even more affordable to purchase and maintain for a potential foreign customer.