After the super success recorded by the IRIS-T air defense system in Ukraine, Germany has decided to finally purchase this system for its military and integrate it into the future missile shield.
According to a defense ministry paper accessed by Reuters, Germany intends to buy eight IRIS-T air defense systems for its armed forces. The defense deal is listed as one of several planned purchases anticipated to be submitted for approval to parliament in the second quarter of 2023.
While Germany delivered the first of four pledged IRIS-T air defense systems to Ukraine in October 2022, the German military is yet to purchase them. However, a spokesperson for the defense ministry said they intended to submit a deal on buying the IRIS-T system to parliament this year.
This development is significant as Germany is reportedly engaged in talks with several defense manufacturers to build a multi-layered, anti-missile shield that could cost as much as €17 billion ($18.5 billion).
In December 2022, German Chancellor Olaf Scholz said he hoped to build the missile shield in the next five years. "Right now, the government is talking to the manufacturers of the various systems to get ready for concrete decisions," he said.
The coalition government of Chancellor Olaf Scholz is in negotiations with the Bavarian company Diehl Defense to purchase up to eight IRIS-T anti-missile systems for a contract value of €2 billion to €3 billion, according to a Bloomberg that cited some unnamed German officials.
Germany wants to build a cutting-edge anti-missile defense system and incorporate it into the envisioned European Sky Shield Initiative. Scholz first mentioned the anti-missile shield in a speech in Prague in August, when he stated that Germany would make large investments in its air defense over the following years since the continent still had "a lot of catching up to do."
He said a system like this would be more effective and affordable than every country creating its own sophisticated systems. At least 15 nations, mainly from NATO, have signed a letter of intent to participate in the initiative.
The options considered are Israel's Arrow 3 system, the US Patriot, and German IRIS-T units. Further, as previously reported by EurAsian Times, local defense manufacturers Rheinmetall, Hensoldt, and Diehl Defense teamed up in 2021 to develop a package for the lower-tier defense layer based on Diehl's Iris-T SLM interceptor.
While the Arrow 3 and PAC-3 Patriots have been extensively deployed with remarkable success, the IRIS-T's performance in Ukraine may have been a litmus test for its efficacy.
IRIS-T Has Been Vindicated & How!
The deployment of the IRIS-T air defense system in Ukraine has bolstered Ukraine's defenses against an incoming barrage of missiles and kamikaze drones. The first evidence of its operation in Ukraine was recorded days after it was delivered when a photograph of IRIS-T'S missile wreckage went viral.
In fact, on January 21, the Ukrainian military said that the IRIS-T successfully downed every incoming target during Ukraine's first operational use of the system. Even Ukrainian President Zelensky has showered praise on this German system while pitching for more IRIS-Ts.
In an interview with the German TV channel ARD last month, Zelensky said: "Air defense systems are needed to protect our skies as much as possible. I am grateful to Germany for IRIS-T. They are good systems. We would like to get more of them. Scholz promised [to provide them], let's believe the chancellor. We will be waiting. And, of course, NASAMS, Patriot."
IRIS-T air defense system somewhere in the Ukrainian forest ? pic.twitter.com/hf0XyjLnQp

— Ukrainian Air Force (@KpsZSU) January 25, 2023
Not just that, even operators of this lethal equipment have been mighty impressed by IRIS-T's performance. An operator of the Ukrainian military's air defense division, Vadym claimed to have successfully intercepted all nearby targets in a media interaction last month.
"The German system is modern, powerful, and effective. Even during its baptism of fire in October, it shot down all targets, mostly cruise missiles", he explained.
Besides the testimonies of Ukrainian technicians and commanders, several videos on social media have also revealed how these missiles have intercepted and destroyed sophisticated Russian missiles like the Kalibr amid a massive bombardment from Russia.
IRIS-T is said to have been installed in southern Ukraine, as previously disclosed by the Ukrainian Ministry of Defense. Although the system's precise position is unknown, it has been widely deployed to take down Moscow's Shahed-136 kamikaze drones and cruise missiles.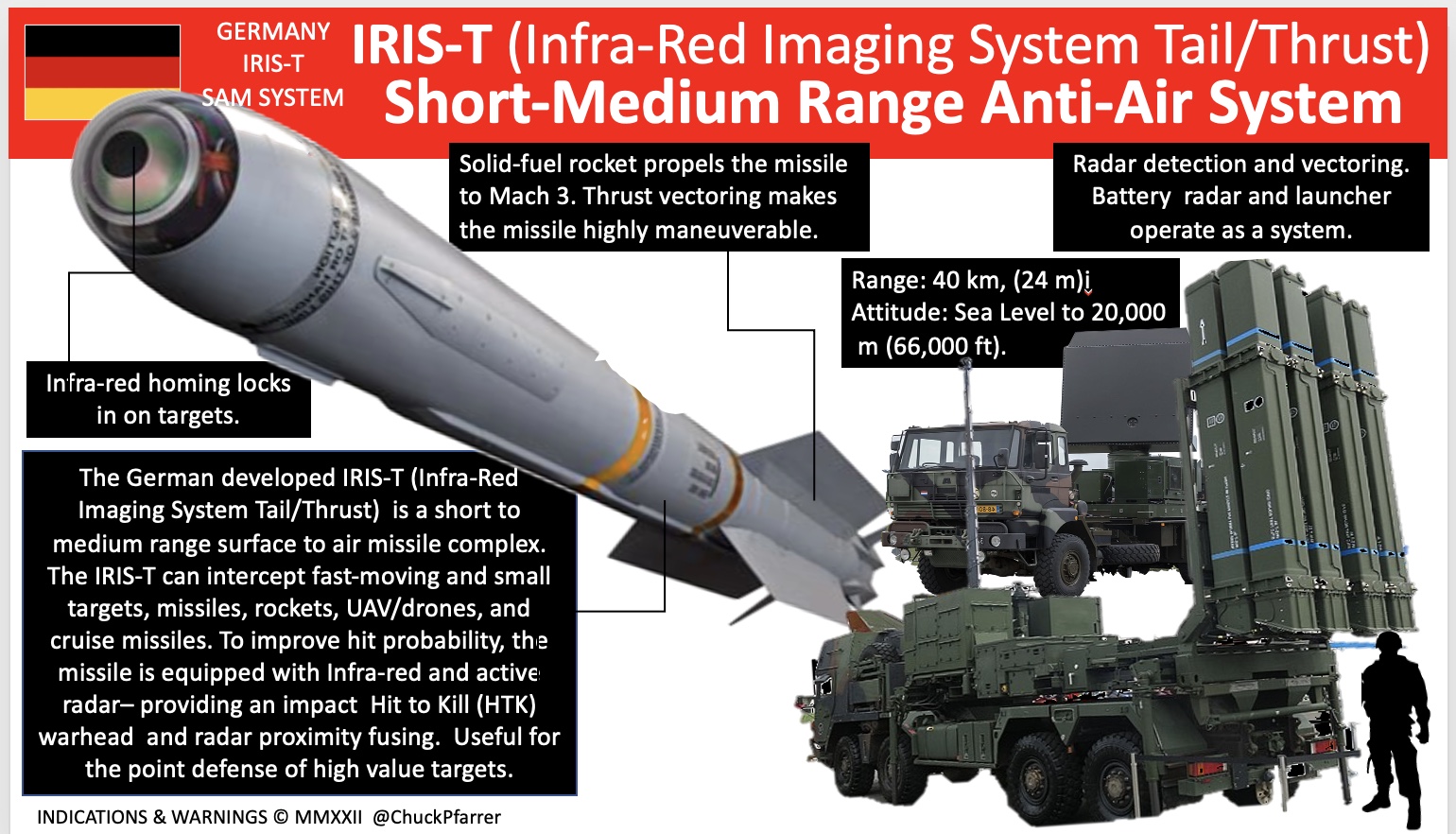 According to Diehl Defense, a typical single IRIS-T SLM system consists of three mobile launchers, a truck-mounted multi-function radar, and another truck modified into a command post vehicle.
The truck-mounted missile system is intended to take down combat aircraft, attack helicopters, drones, anti-radar missiles, cruise missiles, and bombs. It also includes a multipurpose radar that can track multiple targets at once.
The imaging infrared (IIR) seeker on the missile provides a high-precision terminal approach with a high probability of a direct hit. When the interceptor missile is close enough to engage, its infrared imaging seeker acquires the target for the final phase of the engagement. The interceptor missile is steered toward its target using a data link.
IRIS-T manufacturer Deihl claims that pairing it with the US-made Patriot PAC-3 missile defense system, which has a higher maximum altitude, will maximize its effectiveness. Integrating both systems in a multi-layered missile defense shield could thus be a viable choice for the German military.
Contact the author at sakshi.tiwari9555 (at) gmail.com