The UK military has decided to move towards the Middle East in order to be closer to its allies. The British Royal Army is expected to leave Canada after almost 50 years and establish a new training base in the Middle East as part of plans to modernize the armed services.
UK Defense Secretary Ben Wallace is set to announce the development of a new facility in an Omani desert later this week. This development comes a few days after he visited Oman in the backdrop of joint drills being conducted by both partners.
Founded in 1972, the British Army Training Unit Suffield or BATUS is currently stationed in Alberta, western Canada, and houses over 1,000 vehicles, including tanks and helicopters. The 2,700-square-kilometer base is used to train British soldiers in live shooting.
The soldiers have been informed that an announcement about new structures and unit roles will be made soon. It will contain an update on the Ranger Regiment, including which units will make up the new force and the requirements for selection and training, reported Calgary Herald.
The Rangers were announced in March this year and would be made up of four existing battalions before being expanded. The Rangers, according to Ben Barry of the International Institute for Strategic Studies, will be viewed as a special operations brigade, similar to the US Green Berets.
British Army To Show-Up For Its Allies
It is believed that the move to the Omani desert near Duqm is a strategic one as it will ensure that the core British hardware will be closer to partner nations such as Ukraine. Duqm in Oman could be an obvious choice for the British owing to its pre-existing presence including an airbase and port here.
"If you only have 148 tanks and 22 of them are stuck in Canada, that's 22 tanks that are not at readiness and not available to do anything operational. If they are training in Poland or Duqm, the logic is that they are having a more operational and deterrent effect," The Telegraph, a UK daily, quoted a military source as saying.
These remarks point towards the British commitment to aid its partner, Ukraine as well as Poland. The announcement will be significant given the rising tensions between Russia and Ukraine with the latter accusing Russia of a massive troop buildup and simmering migrant crisis between Poland and Belarus, Russia's only ally in that region.
During his visit to the United Kingdom last year, Ukrainian President Volodymyr Zelensky signed a comprehensive Political, Free Trade, and Strategic Partnership Agreement. This agreement promised a huge cache of defense aid and investment to Ukraine which has been marred with crisis ever since Russia annexed Crimea in 2014.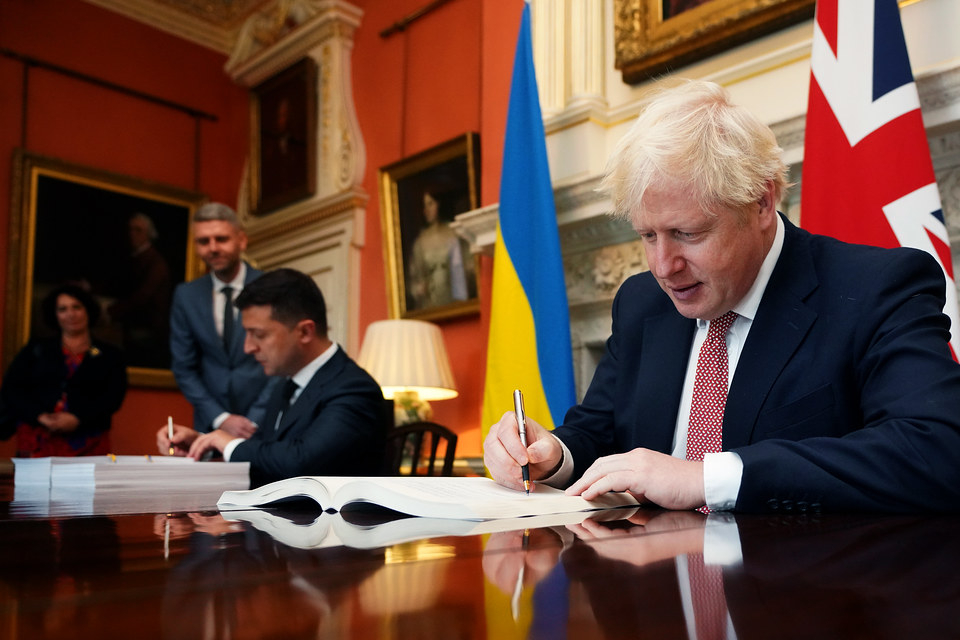 British Prime Minister Boris Johnson had then told the media: "The UK is Ukraine's most fervent supporter. Whether it's our defense support, stabilization efforts, humanitarian assistance, or close cooperation on political issues, our message is clear: we are utterly committed to upholding the sovereignty and territorial integrity of Ukraine."
The present shifting of the base from Canada to Oman and deployment of its tank and artillery unit there is expected to be in consonance with this stated policy of British assistance to Ukraine.
"A further motivating factor for the British Department of Defense is thought to be that relocating to Oman would mean lesser time to respond to the crisis", according to The Independent.
The UK has a sophisticated network of bases in the Middle East which could allow it to mobilize its troops and armament and ship them to the Eurasian region in case Russia was to attack Ukraine to restrain it from officially joining NATO.
The tensions between NATO and Russia have been on the rise ever since Russia's annexation of Crimea with both sides regularly trading barbs on one another and viewing each other as a threat to their security.
A Well-Thought-Out Strategy?
In 2019, Britain and Oman signed a new joint defense agreement confirming the Royal Navy's ability to call at the new Port of Duqm. The greenfield port was chosen by the British as it had enough depth and space to accommodate Royal Navy aircraft carriers — HMS Queen Elizabeth and HMS Prince of Wales.
At that time, the UK Defense Ministry had said that Duqm provides a strategic advantage for Britain's 'East of Suez' naval presence. It's on the Arabian Sea, close enough to geopolitical hotspots in the Persian Gulf to be helpful, but far enough on the Indian Ocean side of the Strait of Hormuz to be inconvenient.
Iran has threatened to close this chokepoint in retribution for American sanctions on several occasions, and the accessibility of Duqm would be less impacted in the event of closure (in comparison to the Gulf's larger ports).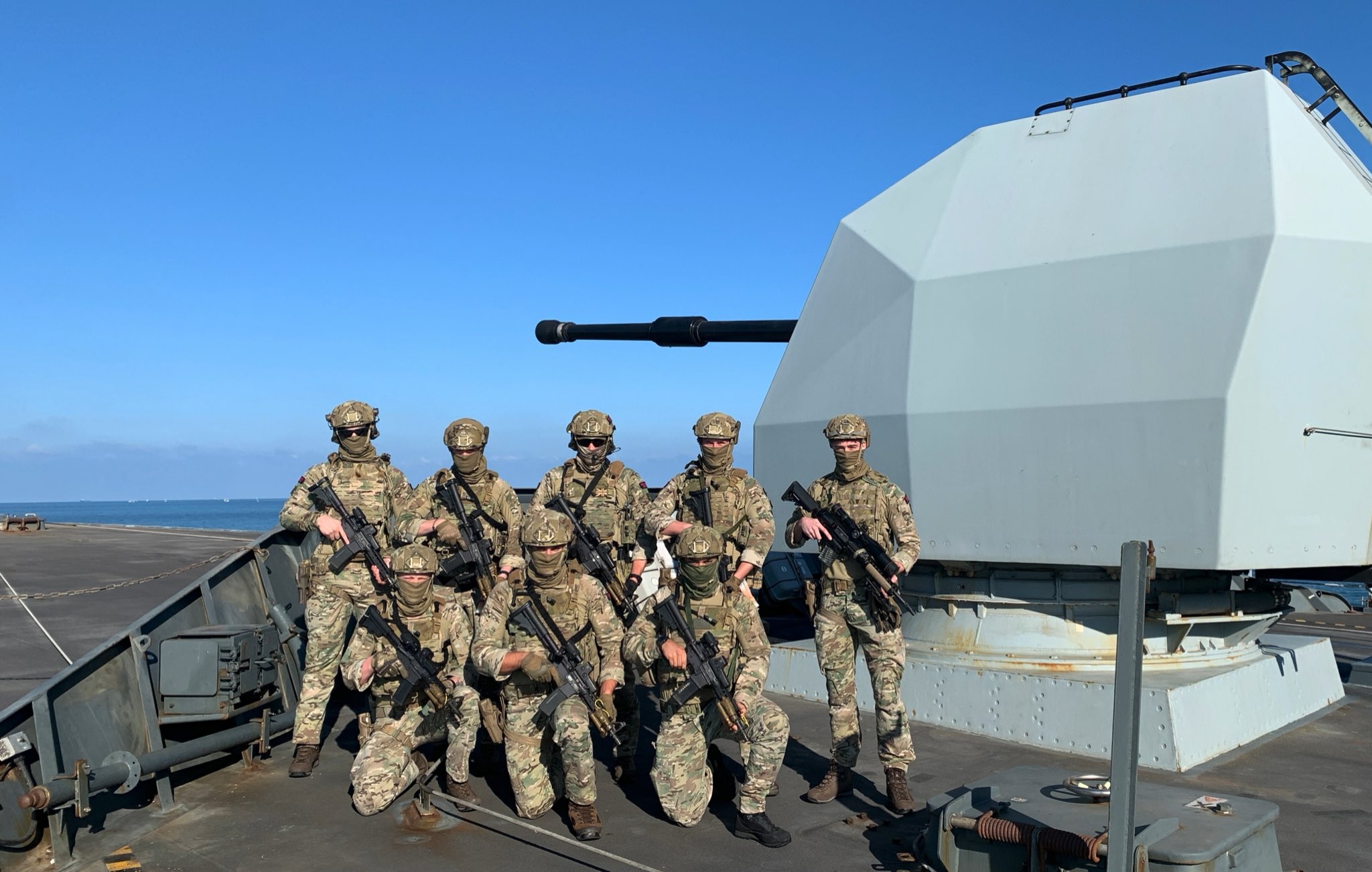 Royal Marines on board HMS Defender. They have been training with troops from Ukraine, Georgia, US, Oman and Jordan for the past several months.
Almost a year later in 2020, Defense Secretary Ben Wallace announced that the British Joint Logistics Support Base on Oman's southeast coast will be enhanced with a further £23.8 million in funding for infrastructure expansion.
He stated that the investment in Duqm port will "triple the size of the existing UK base and help facilitate Royal Navy deployments to the Indian Ocean," according to a Defense Ministry statement.
In the joint drills conducted earlier this month, the UK Defense Secretary and Deputy Prime Minister for Defense Affairs (Oman) together saw the Exercise KHANJAR OMAN at the Ras Madrakah training area. It was a joint battle group exercise involving the British and Omani troops, with ground forces supported by the Carrier Strike Group at sea and F-35 jets from the air.
The recent move to shift the military base to a desert near Duqm looks like a well-thought-out strategy by the British — to cultivate Oman as a launchpad for its military to combat its adversaries, provide aid to its allies and venture into the Indian Ocean waters to give a fillip to its Indo-Pacific strategy.
Located in between the maritime chokepoints of the Red Sea and the Persian Gulf, Duqm represents a major asset for the UK.
British Inroads Into Middle East
The UK government maintains a military presence at a number of facilities across the Middle East, according to a study conducted by a London-based investigative journalism outlet last year.
The UK has 17 military bases in Cyprus, 15 in Saudi Arabia, and 16 in Oman. It has 60 base sites that it controls, as well as 85 facilities that are administered by its allies and where it has a strong presence, according to the research report.
However, according to a 2020 House of Commons report based on declassified documents of the British government, the main presence is centered on the Persian Gulf and Arab countries.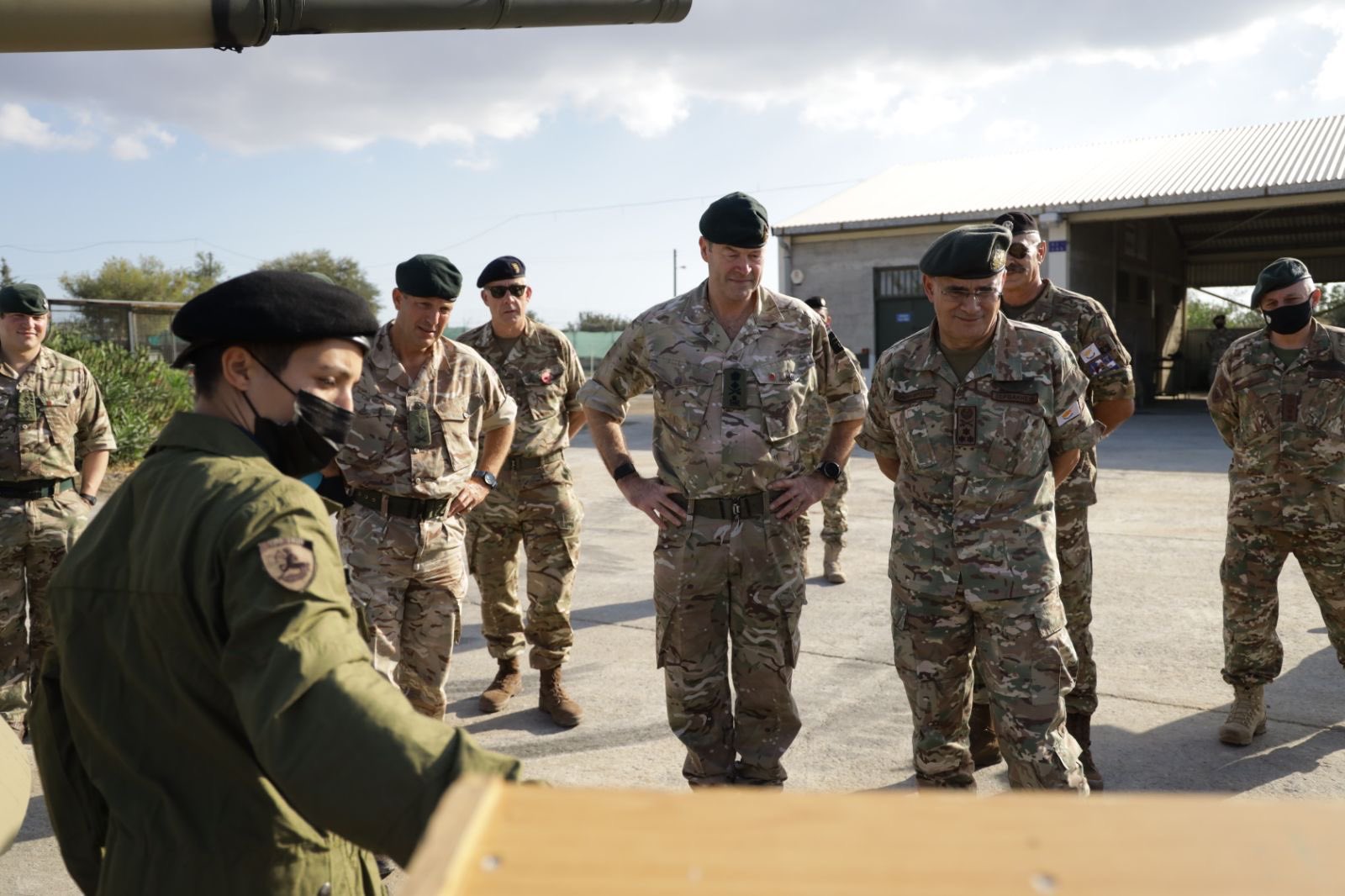 According to the UK government, Cyprus is the only permanent joint operating base in the Middle-Eastern region. The combat aircraft of the Royal Air Force flew from this base to assist the global coalition against ISIS, in what is known as Operation Shader. Army units are permanently deployed to Cyprus (on a rotating basis) and can be deployed to the wider region.
More than 2,000 troops were based in Cyprus as of 2019. There are two Sovereign Base Areas (SBAs) in Cyprus: Akrotiri and Dhekelia. The UK government has sovereignty over the bases which are considered part of the UK Overseas Territories.
The RAF's operational headquarters in the Middle East is at Al Udeid airbase in Qatar. It is the headquarters of the Royal Air Force's No 83 Expeditionary Air Group, which provided command and control to the four Expeditionary Air Wings supporting Operation Kipion (Naval Security in the Persian Gulf) and Operation Shader in the region.
The UK Naval Support Facility in Bahrain is the principal navy base for Royal Navy vessels in the Persian Gulf. There are four mine-sweeping vessels and one Type 23 frigate permanently stationed there. A Royal Fleet Auxiliary vessel provides support.
Al Minhad airbase in the United Arab Emirates and Al Musannah airbase in Oman are also used by the RAF. The RAF previously utilized Kuwait's Ali Al Salem airbase to enforce southern no-fly zones in the 1990s and during Operation Telic in 2003. Apart from the airbase in Oman, it also has Duqm port and is now developing an army training base in one of its deserts.