The UK Royal Navy has acquired its third and final drone ship that will change the future of minehunting operations.
RNMB Hebe, an autonomous mine countermeasure vessel (MCMV), is one of the three Royal Navy boats supporting the development of Maritime Autonomous Systems (MAS) to ensure the service remains at the forefront of technology and innovation.
Hebe and the other two vessels — Harrier and Hazard — are part of the Royal Navy's crewless minehunting program, 'Project Wilton'.
While RNMB Hazard has been in service since 2018 and later transferred to Project Wilson, RNMB Harrier was deployed in August 2020, as per Royal Navy's website.
The Royal Navy's final autonomous minehunting boat has been delivered to @HMNBClyde. RNMB Hebe and her sister vessels are capable of working manually, remotely or autonomously to detect and classify mines and maritime ordnance. #RNInnovation

? https://t.co/kMROZFXX86 pic.twitter.com/gdIxFPnem0

— Royal Navy (@RoyalNavy) June 21, 2021
According to a statement by the Royal Navy, the three boats are capable of working in different configurations – manually, remotely, or autonomously – to detect and classify mines and maritime ordnance.
They are deployed with sonar systems and autonomous underwater vehicles to survey the presence of mines and other underwater threats.
The Hebe, a 15-meter boat, is longer than its sister vessels and equipped with advanced technology and deployment-ready with the ability to work in isolation on operations. Hebe also has an organic command, control and communications capability which allows the autonomous control of her sister vessel Harrier, as per the statement.
"RNMB Hebe is the final piece in the jigsaw of Project Wilton's maritime capability. She has fantastic potential and we are working diligently to integrate her impressive capabilities with our existing equipment," said Lieutenant Commander Ross Balfour, Officer-in-Charge of Project Wilton.
What is Project Wilton?
Project Wilton of the UK Royal Navy Program was kicked off in March 2020 when the Navy decided to launch minehunting and survey operations using unmanned surface vessels (USVs).
It consists of a Maritime Autonomous System (MAS) team based out of Royal Navy's Naval Base Clyde in Scotland. Named after Navy's HMS Wilton, an experimental coastal minesweeper launched in 1972, Project Wilton aims to develop and deliver the navy's unmanned minehunting and survey programs.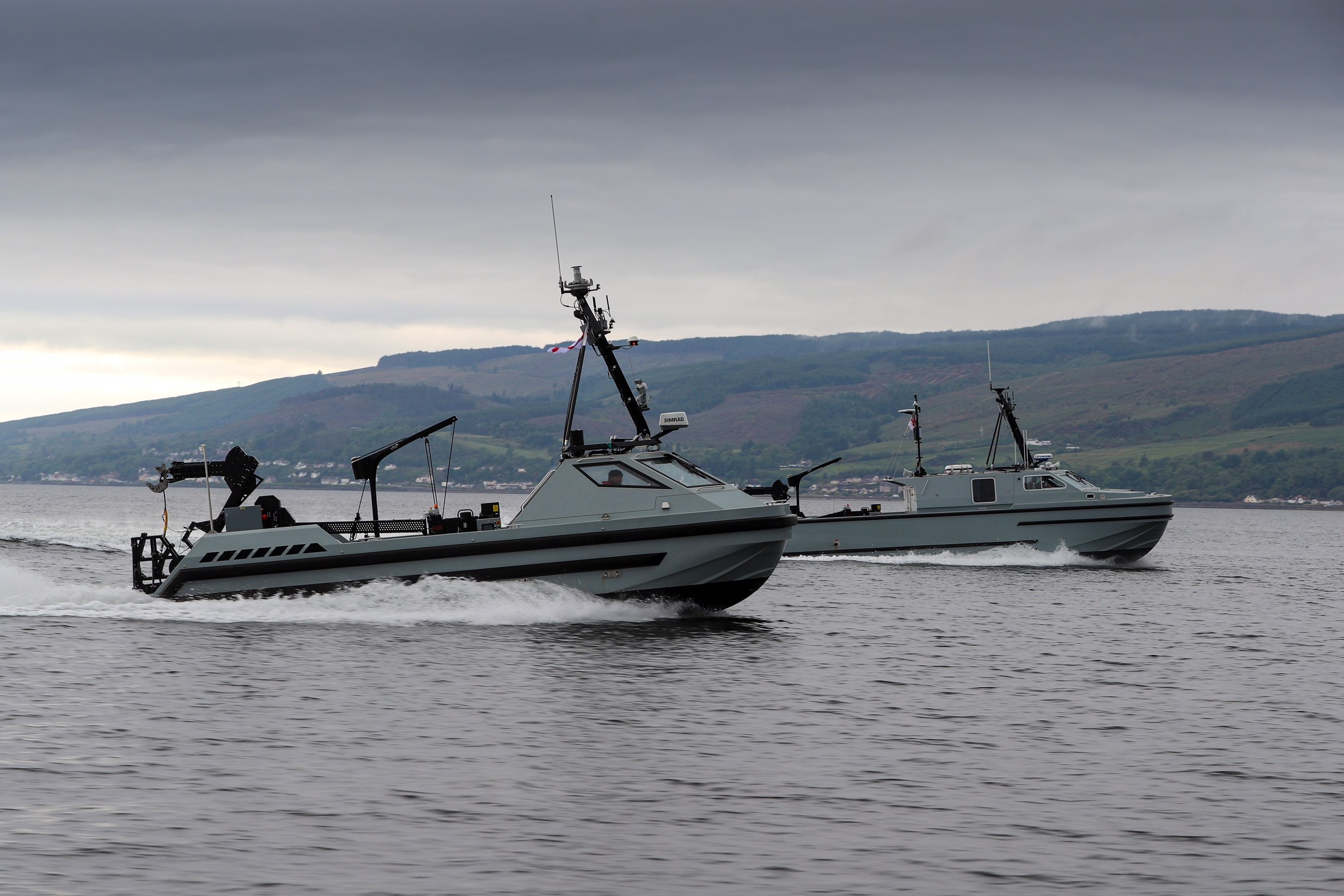 Minehunters are naval vessels designed to detect and destroy naval mines that were common during world war eras, while minesweepers are vessels that clear the mined areas. Mine Countermeasure (MCM) is the technology that is used in hunting such naval mines.
The Royal Navy sealed a £13m contract with Atlas Elektronik UK to provide an autonomous ARCIMS (Arc Internet Map Servers) unmanned surface vessel (USV) and a 15m SEA Class platform fitted with an advanced autonomous controller.
The USVs will be capable of operating autonomously from either land or sea-based portable command centers. The ARCIMS vehicle will harness capabilities like minesweeping, minehunting, mine disposal, anti-submarine warfare, surveillance, force protection and diver support using several different mission module options.
"We at AEUK are proud to be involved in this important [Royal Navy] RN initiative. Autonomous systems are the heart of our business and we fully support the Project Wilton aims," said Dr. Antoni Mazur, Managing Director of Atlas Elektronik UK.
Project Wilson will be fully operationalized by 2022, capable of removing bottom objects and neutralizing explosive ordnance.
Unmanned Surface Vessels
According to the Global Unmanned Surface Vehicles (USV) Report 2020, countries such as the US, Singapore, Israel, the UK, China, and Russia are the top spenders in the USVs.
The US has launched the DARPA Sea Train Project to develop a distributed fleet of tactical unmanned surface vessels and build technologies for military forces to cross oceans by using a system of connected USVs that would act as trains across the seas.
The unmanned systems are set to supplement and support the UK Royal Navy's existing manned minehunting force provided by Hunt- and Sandown-class minehunter vessels, according to Naval Technology.
The culmination of Project Wilton will enable the UK to stay in the race of developing the ultimate goal of a fully autonomous MCM system.