While the British-supplied Starstreak short-range man-portable air-defense system (MANPADS) is still making headlines after destroying a Russian helicopter, the country is reportedly now considering supplying anti-ship missiles and armored vehicles to Ukrainian forces.
Foreign Secretary Liz Truss stated on Thursday that the UK is increasing its military equipment supply to Ukraine, as the war enters 'a new and difficult phase.'
Truss also anticipated a "more concentrated Russian offensive" in the coming days. 
"In the face of Putin's appalling aggression in Ukraine, the G7 and Nato are stepping up our efforts on sanctions and on weapons," Truss said at a Nato meeting of foreign ministers in Brussels. 
My message to our G7 and NATO allies today is simple. The only thing Putin understands is strength. Together with our allies we are keeping the pressure up with more sanctions, weapons and ending imports of Russian energy.

?? ?? ?? ?? ?? ?? ?? ?? pic.twitter.com/2kzyAg94FN

— Liz Truss (@trussliz) April 7, 2022
"The UK is now banning all imports of Russian energy, we are sanctioning more banks and we are stepping up our supply of weapons to Ukraine," she added. 
According to recent reports, the United Kingdom is planning to send armored vehicles to Ukraine, after already supplying thousands of missiles, including anti-tank weapons. London is also considering sending Harpoon anti-ship missiles to penetrate Russian defenses and end its blockade of Black Sea ports. 
On Wednesday, British junior defense ministers Jeremy Quin and James Heappey met Ukraine's deputy defense minister Volodymyr Havrylov on Salisbury Plain to discuss what more armaments the UK could provide to Kiev.
The army and Royal Marines displayed a range of weapons and "options for further military support," including "defensive missile systems and protected mobility vehicles," according to the Ministry of Defense.
The Army's 'Protected Patrol' fleet's deadliest vehicle, the Mastiff, which weighs 23 tonnes, is expected to be supplied as part of the equipment. This 6×6 wheel-drive patrol vehicle was engineered to survive high-grade Improvised Explosive Devices (IEDs) employed by the Taliban in Afghanistan and can carry eight troops and two crew members.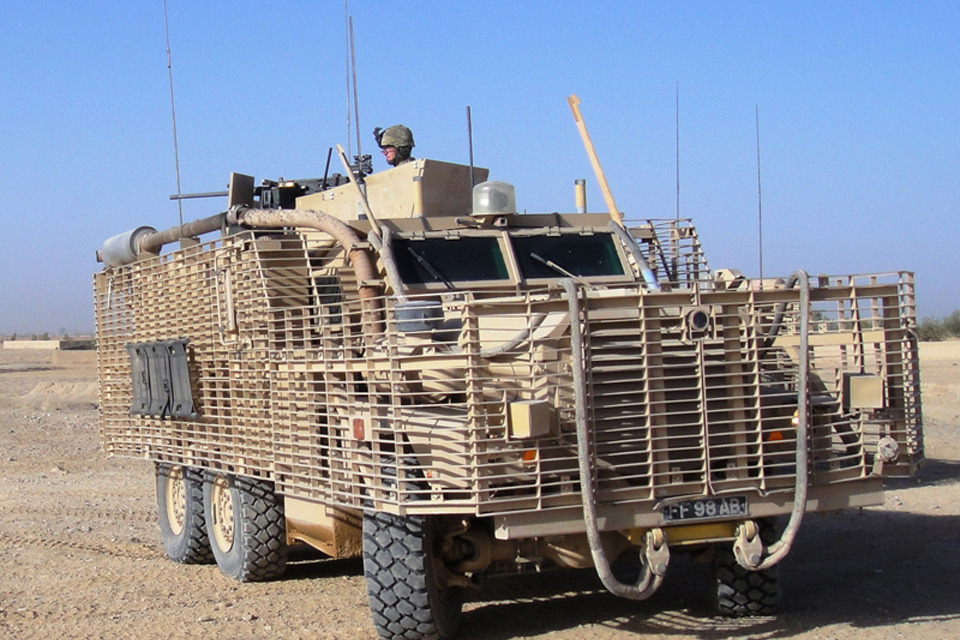 The Ridgeback and the Husky are two more Army vehicles that are being considered for shipment. Military reconnaissance vehicles such as the Jackal could also be dispatched, but these provide less protection.
Ukraine is experiencing severe shortages of military vehicles and fuel, with Russia targeting fuel depots and oil refineries with pinpoint airstrikes.
Dmytro Kuleba, Ukraine's foreign minister, also attended the Nato talks. When asked what his top priorities were after the conference, he said, "Weapons, weapons, weapons." Later, he issued a dramatic appeal, virtually reminding Western leaders that it was 'now or never' for them to provide Ukraine with what it required.
It is uncertain whether the UK will provide artillery, though there has been discussion that the AS-90 howitzer, which has a range of over 15 miles and would enable Ukraine's army in dealing with Russian bombardment, could be offered.
Britain's Efforts To Bolster Ukraine's Defenses
Following Russia's initial onslaught on Kyiv, Western countries began promising further military aid, acknowledging that the conflict had entered a new round in which Ukraine is attempting to dissuade Moscow's forces from progressing in the east while retaining gains achieved in the south.
The Starstreak, supplied by Britain, is already inflicting devastation on Russian forces. Starstreak recently reported shooting down a Russian helicopter on its initial deployment on the Ukrainian battlefield. 
Thales in Belfast, which also manufactures the NLAW, produced the Starstreak, a man-portable air-defense system (MANPADS). According to the manufacturer, the missiles are "designed to provide near air defense against conventional aviation threats including fixed-wing fighters and late unmasking helicopter targets."
Last week, a donor conference hosted by the United Kingdom and attended by more than 35 countries hammered out what each country was willing to provide. The best response to Russia's artillery, according to Ben Wallace, the defense secretary at the time, was "other long-range artillery."
Some nations have already made their intentions known. In the last week, the US has pledged $400 million (£300 million) in aid, including APKWS rockets that can be launched from both the air and the ground, as well as Switchblade drones that use the same missiles as the Javelin anti-tank weapon.
The Czech Republic has agreed to supply tens of T-72 Soviet-designed tanks to Ukraine, marking the first time a Nato country has consented to do so. However, it maintains a modest commitment to Kyiv's war effort.