In a significant military development in Russia, the latest sea-based missile launcher system being developed for Tsirkon (Zircon) hypersonic missile will also be able to fire the P-800 Oniks (Onyx) supersonic missile.
According to a source close to the Defense Ministry accessed by Russian state news agency TASS, the Tsirkon sea-borne hypersonic missile system will now be capable of launching Oniks (Onyx) missiles.
"The created launcher of the new coastal missile system can employ both Tsirkon and Oniks missiles," the source said. However, TASS said it did not have official information about the same.
Oniks missiles are typically deployed on the Bastion coastal missile system and underwater-based carriers. After firing the hypersonic missile Kinzhal on Ukraine early in the conflict, the Russian troops also fired several Bastion-P missiles to destroy Ukrainian warehouses.
Earlier this month, it was revealed that Russia developed and manufactured a mobile launcher for a coastal version of the Tsircon (Zircon) hypersonic missile, as noted by EurAsian Times.
At the time, a defense source had reportedly said, "A prototype of a mobile launcher for a coastal missile system with a Zircon hypersonic missile has already been created. As in the case of the Bastion missile defense system, the launcher will carry two missiles."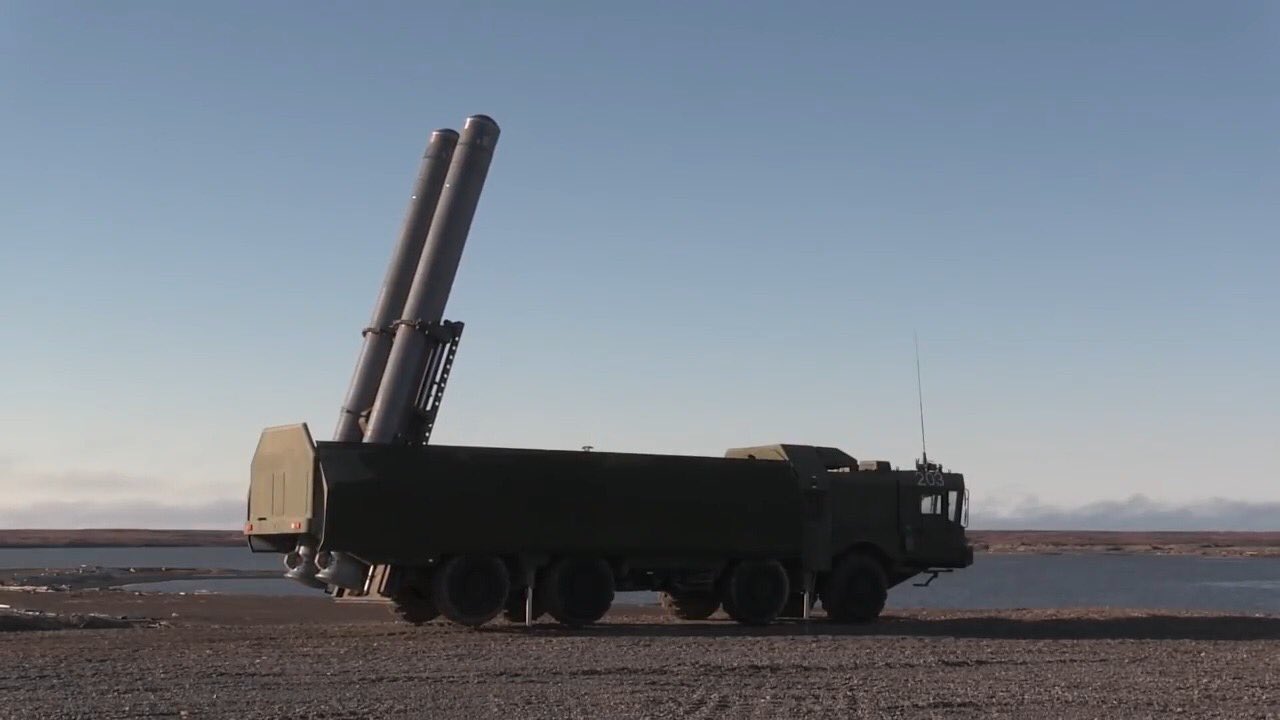 This is indicative of the similarities with the Bastion-P coastal missile defense system. The new Tsirkon sea-borne launcher will also integrate the missile fired by Bastion-P, i.e., the P-800 Oniks. NPO Mashinostroeniya produces both Oniks and Tsircon missiles.
P-800 Oniks is a high-supersonic anti-ship missile used often against ground targets in Ukraine. Significantly, the launcher built for launching hypersonic missiles will be used to launch supersonic missiles like the Oniks.
It indicates the missile's utility for the Russian force and its lethality against the enemy, despite having a speed of just Mach 2.5 compared to Tsirkon, which has a speed of Mach 8.
In addition, this could also serve as the development of a common launcher by the Indian Navy for BrahMos (based on the P-800 Oniks) and the future BrahMos hypersonic missile.
The Oniks missile is notorious for following predetermined trajectories in flight and having the capability to bypass enemy air defenses. Besides, it has cutting-edge features like a 'fire-and-forget' guidance system.
The US Army's Foreign Military Studies Office said, "One of the Onyx missile's most interesting characteristics is its guidance system. The guidance system can work with other missiles, allocate and classify targets based on their importance, and then select an appropriate attack scheme.
Following the destruction of the primary target, the remaining missiles attack other ships, so no target is attacked by more than one missile."
While details about what the Russian Defense Ministry aims to do by launching supersonic and hypersonic missiles from a common launcher are scarce, having a common launcher to fire supersonic and hypersonic missiles indicate that Russia is expanding its firepower options.
According to Indian Air Force Veteran Squadron Leader Vijainder K Thakur (retd), "The development, if authentic, is significant because new ships or coastal batteries can be built with launchers that will launch missiles that are still under development. In addition, Zircon can also attack land-based targets."
Russia's Hypersonic Missile Advancement
It was first revealed in the summer of 2022 that Russia was creating a new coastal system to fire its Tsircon hypersonic cruise missiles to strike land and sea-based targets. The current batch of Tsirkon missiles is said to have entered service before September.
Russia tested the Tsirkon hypersonic missile for the first time in October 2021 from the nuclear-powered Severodvinsk submarine of the Northern Fleet. After that, in December 2021, President Putin declared that the Tsirkon hypersonic missile had successfully launched its salvo.
According to Russian media sources from November 2021, Tsirkon missile serial manufacture had already commenced while the missile was still in the testing stage.
One of Russia's six strategic weapons sometimes referred to as "Super Weapons," the Zircon ship-launched hypersonic missile, was unveiled by President Putin in 2018.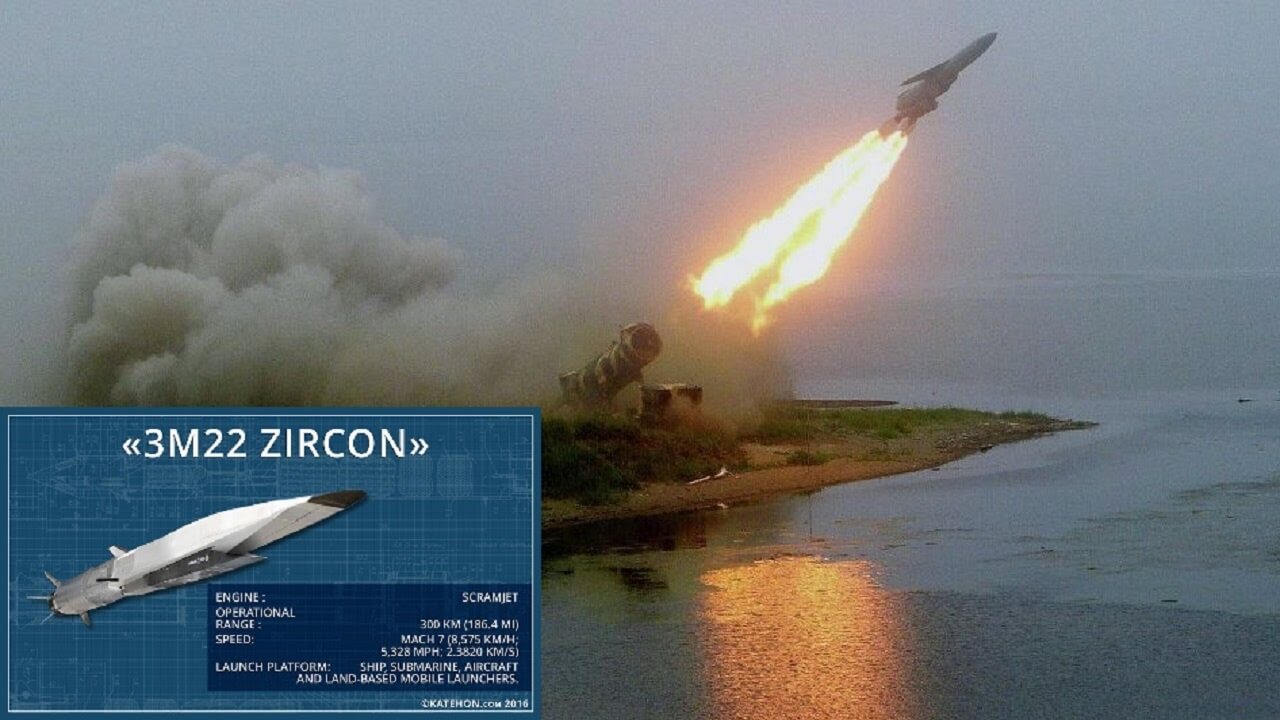 The missile is believed to be able to avoid even the most advanced American air defense systems. The air pressure in front of the missile is supposed to create a plasma cloud that traps radio frequencies, making it almost invisible to radar systems due to its high speed.
Hypersonic missiles travel at five times the speed of sound and have an unpredictable trajectory, making them very difficult to intercept.
Russia became the first country to use another variant of hypersonic missiles called 'Kinzhal' in combat with Ukraine. Not just that, its MiG-31s Foxhound fighter jets armed with Kinzhal hypersonic missiles have appeared near Ukraine on several occasions.
Having a hypersonic missile deployed on a sea-borne mobile launcher will potentially help Russian troops build some deterrence in the sea where they have been caught off-guard by sporadic Ukrainian attacks.
Contact the author at sakshi.tiwari9555 (at) gmail.com