In the ongoing war, Ukraine's Turkish-origin Bayraktar TB2 drones have reportedly damaged several Russian rocket-launcher systems and knocked down columns of armored tanks and personnel transport vehicles.
For the past few days, Ukrainian forces have been posting videos on social media claiming how these Turkish-made drones inflicted heavy damage to the enemy. Previously, the TB-2 drones proved their mettle in the 2020 Nagorno-Karabakh conflict and turned the tide against Armenia.
In the light of these so-called success stories, the Turkish drone industry has now turned its attention to Asia. Anticipating that Chinese UAV exports in this region will be limited, Haluk Bayraktar, CEO of Baykar Defense, told Nikkei Asia that his company is presenting a better choice to Asian countries.
Baykar is currently developing the next generation TB-3 drone, which can take off and land from aircraft carriers and amphibious assault ships also called landing helicopter docks (LHDs). Now, the company appears to be vying for a deal with Japan. 
"The upcoming TB-3 will be a great fit for Japan's Izumo-class platforms," the CEO said, pointing to the country's multipurpose destroyer, what experts describe as a de-facto aircraft carrier. "Japan should obtain armed drones as soon as possible," he added. 
The company intends to present the first TB-3 this year, ahead of launching the TCG Anadolu, Turkey's first LHD-class warship, by the end of the year. A carrier will also be able to hold more drones than fixed-wing aircraft owing to their foldable wings.
Ismail Demir, one of Turkey's senior defense officials, told local media on March 6 that the TCG Anadolu will be able to accommodate 50 to 110 drones, depending on the configuration. 
The company's TB-2 drone has earned 19 export deals since it was first shipped to Qatar in 2018, including Turkmenistan and Kyrgyzstan. In the past three months alone, six additional contracts have been added. The EurAsian Times recently reported Turkey had sent more Bayraktar TB-2 drones to Ukraine.
Turkey's Growing Drone Industry 
Turkey has become a major development hub for military drones in recent years. Turkish Aerospace Industries (TAI) inked a preliminary agreement with Kazakhstan in November for its ANKA (phoenix) drones.
Moreover, TAI will be competing against countries like China and the United States for drone tenders at the 17th Defense Services Asia Exhibition and Conference in Kuala Lumpur, Malaysia, at the end of March.
TAI's next-generation armed drone, the Aksungur (gyrfalcon), was introduced to the Turkish military's arsenal last year. The company claims that it was developed in about 18 months using domestic and national resources. 
It can operate for 50 hours and has sonobuoy capabilities, which are exceptional for a drone. It can execute anti-submarine warfare and maritime patrolling tasks and is equipped with modern detectors and sensors.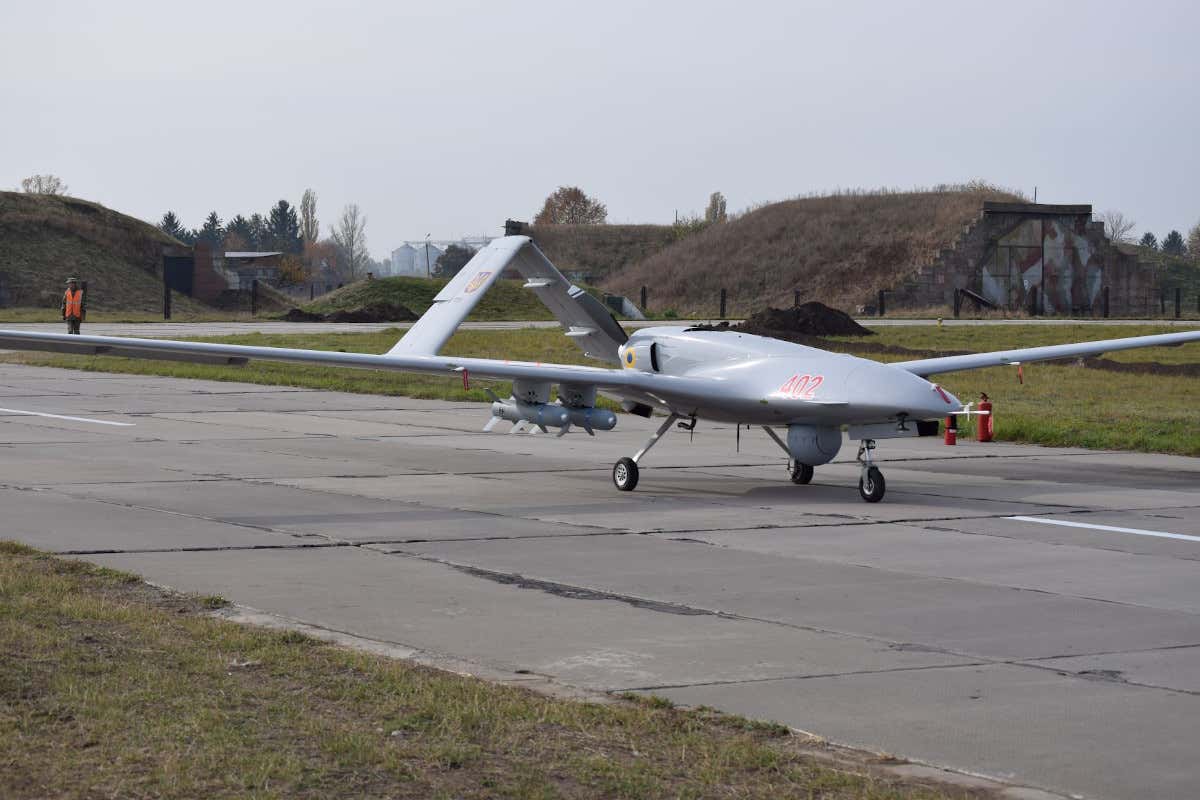 TAI even established an office in Selangor, on the outskirts of Kuala Lumpur, in November. For the first time, the company put up a big stand at the Singapore Airshow last month, showcasing its drone technology and other significant items.
In late 2021, a Turkish public-private collaboration claimed to have developed the world's first laser-armed drone. The cooperation between Turkey's state-run scientific research institute Tubitak and the commercial enterprise Asisguard produced the drone.
Furthermore, Oryx, an international defense and security site, recently reported that Malaysia and Indonesia are both interested in Turkish drones. The Baykar TB-3, with its foldable wings, can "provide Indonesia with its first (unmanned) aircraft carrier," according to one of its authors, Stijn Mitzer, who stated in January that Indonesia is reported to be exploring landing-platform-helicopter (LPH) vessels for the coming decade.
The combination of low-cost LPHs with drones, according to Mitzer, "could open up entirely new possibilities for the Indonesian Navy." Lalu Muhammad Iqbal, Indonesia's ambassador to Turkey, in November told a Turkish defense industry website, "We are talking about the possibility of acquiring drones from Turkey. We hope [this] cooperation will not be limited to supply only, but also secure technology transfer and inclusion for future drone programs."