The Russian Navy will now be armed with Tsirkon/Zircon hypersonic missiles. The move assumes significance amid Moscow's tensions with NATO and its increased interest in the Indo-Pacific region.
Russia's Military-Industrial Corporation Research and Industrial Association of Machine-Building (NPO Mashinostroyenia), based in Reutovo near Moscow, have begun serial manufacturing of Tsirkon, also spelled as Zircon, hypersonic missiles for the country's Navy, reported TASS.
"Serial manufacture of Tsirkon missiles is underway at NPO Mashinostroyenia," TASS quoted a source as saying, adding, "but state trials of this product's surface launches will continue."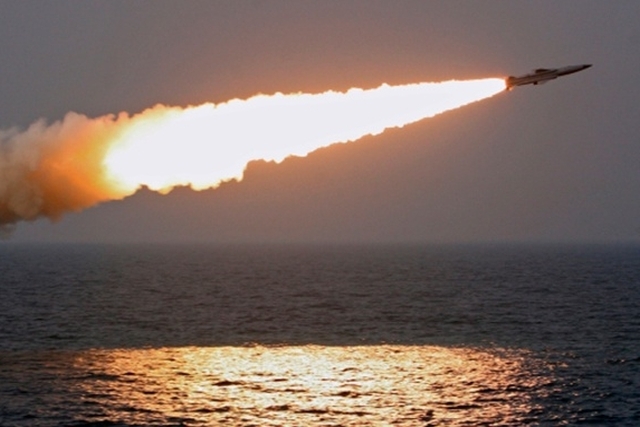 On November 3, President Vladimir Putin claimed that the Tsirkon hypersonic cruise missile experiments were nearing completion and that the missiles will begin arriving for the Russian Navy next year.
Days later, Defense Minister Sergei Shoigu briefed Putin on a successful test launch of a Tsirkon hypersonic missile in the White Sea.
Flight development testing of the Tsirkon hypersonic missile would continue in 2024 from the Project 885M (Yasen-M) modified nuclear-powered submarine Perm, the aforementioned news agency said.
The Russian nuclear-powered submarine Severodvinsk fired Tsirkon hypersonic missiles for the first time from its surface and submerged positions in the White Sea in October this year.
The modified submarine Perm, which is the fifth nuclear-powered submarine in the Project 885M, will be the first regular underwater carrier of Tsirkon hypersonic missiles. The submarine is scheduled to join the Russian Navy in 2025.
Six Project 885M submarines to be armed with Tsirkons are currently being built at the Sevmash Shipyard, which is part of the United Shipbuilding Corporation.
The Russian Navy's lead submarines Project 885 and Project 885M, Severodvinsk and Kazan, are in operational service, while the Project 885M first serial-built sub, Novosibirsk, is undergoing trials and is expected to enter service by the end of this year.
Can Tsirkon/Zircon Missile Evade Radars?
The Tsirkon multi-purpose hypersonic missile which is designated to strike sea and ground targets is capable of flying at Mach 9 or nine times the speed of sound, at a range of over 1000 km. It's worth mentioning that President Putin has termed Tsirkon and other cutting-edge weaponry as "invincible".
The announcement of mass production of the Tsirkon missile also points to the Russian strategy of deterring its adversaries as it comes in the backdrop of a US warship entering the Black Sea.
It is said that the missile cannot be intercepted even by sophisticated American systems. The reason is that hypersonic weapons, such as Russia's 3M22 Tsirkon, travel at speeds of more than Mach 9 and have a low atmospheric-ballistic trajectory, allowing them to bypass typical anti-missile defenses.
The missile uses improved fuel with a range of up to 1,000 km. And it moves so quickly that the air pressure in front of the weapon generates a plasma cloud, which absorbs radio frequencies and renders it virtually invisible to active radar systems.
Russia's move to hypersonic weapons is most likely a response to the US' size, technology, and the sheer number of aircraft carriers. The US Navy wants to maintain a nuclear-powered aircraft carrier force of 12 ships. Russia, on the other hand, has one, and it deploys with a tugboat in case its engine fails.
Even the most modern American aircraft carrier, the USS Gerald R. Ford, could be sunk with less than half a dozen of Tsirkon missiles. The primary reason behind this is that even if a US ship detected a Zircon missile from 100 miles away, it would only have one minute to respond, according to Popular Mechanics.
To intercept a Russian Tsirkon missile, the US would have to intercept it before it was launched or fly something into its route.
Interestingly, the India-Russia joint venture BrahMos-II hypersonic missile would be very similar to the Zircon. "Although India test-fired its first indigenous Hypersonic Technology Demonstrator Vehicle (HSTDV), developed by the Defence Research and Development Organisation (DRDO), in August last year, knowledgeable sources say that this is related to the making of the BrahMos-II, which is supposed to succeed the Indian Navy's BrahMos anti-ship missile," Prakash Nanda, Consulting Editor, The EurAsian Times, previously wrote.
In one of his most bellicose statements in years, Putin promised a slew of new hypersonic weapons, claiming they could target practically any point on the globe and evade a US-built missile shield.
Geopolitical Churning
Because of its speed, the Tsirkon missile would be the fastest in the world, making it nearly hard to defend against. The missile's plasma cloud is also a valuable feature, allowing the weapon to go unnoticed.
#Russian #frigate ADMIRAL #GORSHKOV conducted another #Tsirkon #hypersonic missile test on 17 Nov, firing the weapon at a "naval target" in the White Sea; target was destroyed, Russian MoD said. GORSHKOV conducted an earlier Tsirkon test in July https://t.co/GFZ2EYaghD pic.twitter.com/6sOV6pXUZd

— Chris Cavas (@CavasShips) November 19, 2021
This is a valuable addition to the Russian Navy amid a modern-day arms race that includes three participants — the US, Russia, and China. After having unveiled a series of weapon systems that have been acknowledged with caution in the west, Russia has finally started serial production of its most advanced hypersonic missile to be launched from a submarine.
This gives a strategic advantage to the Navy not only its own backwaters but in other strategic waters where it might be deployed to deter a common powerful adversary with the Indo-Pacific being a case in point.
The Russian Navy will be able to improve its combat capabilities in 2022 when the missiles are deployed on warships. This will create deterrence wherever the Russians are deployed.