The EurAsian Times recently did a comprehensive analysis on India's HAL Tejas fighter jets and their potential export hurdles. 
Earlier this year, India's state-owned Hindustan Aeronautics Limited (HAL) received a Rs 48,000-crore order from the country's Defense Ministry for the supply of 83 Tejas Light Combat Aircraft (LCA) to the Indian Air Force.
---
Buoyed by this mega-deal, HAL has been actively looking for foreign buyers, but may not be able to pitch its fighters to many countries due to certain export restrictions. 
Tejas is a single-engine, fourth-generation, light combat aircraft which entered into service with the IAF in July 2016. Tejas has always been showcased as a major milestone in the country's 'Make in India' initiative. The fighter jet is equipped with a range of advanced avionics and weapon systems.
HAL has also been working to develop advanced versions of the Tejas LCA — Tejas Mk1A and Mk2. Despite its 'Made-in-India' tag, Tejas LCA does have many foreign components in it. Currently, 50-65% of the aircraft's components are indigenous and the remaining are all imported from foreign countries.
Foreign Parts In Tejas
As EurAsian Times reported, India had planned to equip the Tejas LCA with its indigenous Kaveri engine which was developed by the country's state-run DRDO.
However, the engine was unable to meet the requirements of the fighter jet. India was offered technical assistance by many foreign partners out of which the country selected the American GE F404 engine.
France, Israel, and Sweden had pitched their radar and electronic warfare equipment for the Tejas. Out of these, India chose the ELM-2052 active electronically scanned array (AESA) radars and ELL-8222WB electronic warfare (EW) suites from Elta Systems, a subsidiary of the Israel Aerospace Industries (IAI).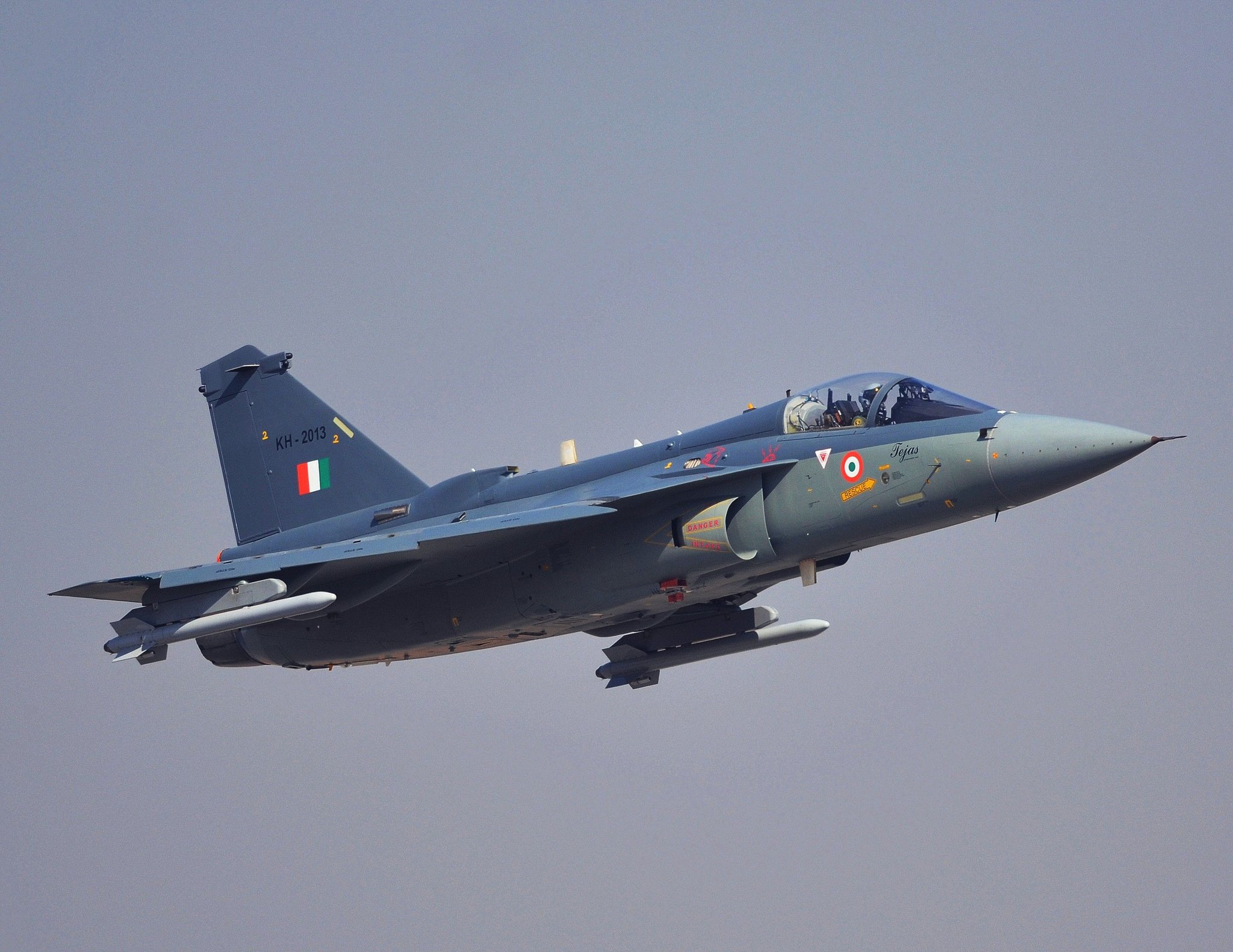 The fighter jet is also outfitted with components manufactured by British firms. These include a Quartz nose cone (Radome) and the air-to-air refueling probe made by UK firm Cobham and Mark 16 IN16G zero/zero ejection seat, developed by UK's Martin Baker.
Although these foreign components have added to Tejas's advanced capabilities and avionics, they have a downside as well. Since India is reliant on these foreign components, it cannot independently sell the Tejas fighter jet without clearance from partners. 
India's HAL Tejas is outfitted with an American engine, Israeli radar as well as a number of avionics from different countries. The EurAsian Times picks five nations, all of whom are Indian allies, where New Delhi would not be able to sell its homegrown Tejas jets.
Argentina
The Fuerza Aérea Argentina (FAA) or Argentina's air force has been looking for an advanced jet since the retirement of its fleet of Dassault Mirage III Interceptor aircraft in 2015. On September 25, India's ambassador to Argentina Dinesh Bhatia met the country's Defense Minister Jorge Taiana to discuss "discuss strengthening of bilateral relations in defense matters between India & Argentina," according to a tweet from the Indian embassy.
Amb @dineshbhatia met with Minister of Defence @JorgeTaiana and Secretary @FranCafiero at @MindefArg to discuss strengthening of bilateral relations in defence matters between India & Argentina

?????#AmritMahotsav pic.twitter.com/HRWBsYzzef

— India in Argentina (@Indembarg) September 24, 2021
This has fuelled speculation about whether New Delhi is pitching its Tejas LCA to the South American country. It's worth mentioning that the UK has been blocking all attempts by Buenos Aires to procure fighter jets from other countries. This is because the UK and Argentina have shared strained relations ever since the Falklands War in 1982.
Given India's Tejas carries some UK-made parts, that are of British origin, it is speculated that the country may place an embargo on the sale of this fighter jet to Argentina. It is not clear whether Argentina had earlier shown interest in India's Tejas or not.
Venezuela
When Nicolás Maduro was re-elected as the President of Venezuela in 2018, after being overthrown by the National Assembly in 2016, the elections were termed as rigged and were dismissed. At that time, the leader of the National Assembly, Juan Guaidó, declared himself as the interim president.
More than 50 countries were on Juan Guaidó's side however, the Venezuelan military, remained loyal to Maduro. As a result, Maduro remained in the presidential palace and was made in charge of the country.
The US, which had sided with Guaidó, imposed sanctions on Maduro and the country's oil industry, which made it hard for them to get fuel as well as foreign currency. Venezuela is a key supplier of crude oil to India and has also joined the International Solar Alliance.

India has rejected to recognize the self-declared president of Venezuela and emphasized that it is for the people of that country to find a political solution.
Indian Foreign Office has clearly stated – "We are closely following the emerging situation in Venezuela. We are of the view that it is for the people of Venezuela to find political solutions to resolve their differences through constructive dialogue and discussion without resorting to violence."
"We believe democracy, peace and security in Venezuela are of paramount importance for the progress and prosperity of the people of Venezuela. India and Venezuela enjoy close and cordial relations," the spokesperson emphasized.
Keeping the present Maduro government in mind, India is unlikely to do have a defense deal with Venezuela, and pitching India's prime fighters – HAL Tejas – is out of the question.
Iran
India is one of the very few nations that boast excellent relations with major Middle-East nations including Iran, Israel and Saudi Arabia.
Since 1985, Iran and Israel have been engaged in a conflict that has also had a huge impact on the geopolitics of the Middle East. This has included a number of over and covert military confrontations between Iran and Israel. One such example is the 2006 Lebanon war.
In addition, the US-Iran relations are anything but cordial. Washington accuses the Islamic Revolutionary Guard Corps of torture and human rights violations of political prisoners besides pointing fingers at the country's nuclear program. The US has placed an embargo on all trades with Iran since 1995.
India, on the other hand, continues to be amongst very few nations, that share excellent relations with the Islamic Republic of Iran. India has also invested in Iran's Gwadar port, which has remained outside US sanctions, thanks to India's great economic, political and military ties with the United States.
Despite sharing excellent bilateral relations with Iran and being one of the largest oil buyers of the Islamic Republic, India's military deal including HAL Tejas fighter jets remains problematic as almost all of the partner nations including the US, UK, Israel would object to the deal as the West accuses Tehran of nuclear proliferation.
Myanmar
Myanmar is another strong ally of India and also one of its neighbors sharing a land boundary. Despite facing severe criticism from the majority of Western governments, India has tried to engage the nation just like China and Russia.
The US-Myanmar ties have constantly worsened since the military coup, which was followed by the violent suppression of pro-democracy demonstrations. The relationship again nosedived after the military had overthrown a democratically-elected government earlier this year and unleashed a reign of terror across the country.
Over 8,200 civilians including protesters, activists, politicians, and celebrities have been detained by the junta since the February 2021 military coup. The US and other Western nations have imposed strict sanctions on Myanmar's military generals and frozen their foreign assets.
Myanmar has been seeking to boost its military including the air force with the latest fighter aircraft. According to reports, Russia could "continues to implement plans" toward delivering Su-30 jets and Yak-130 training aircraft to Myanmar.
This is a sure-shot indication that any plans of India exporting its Tejas LCA to Myanmar will be dismissed and disapproved by the US and other partners. And New Delhi has seen it previously when the UK warned India against supplying Islander aircraft to Myanmar.
The message was clear from the UK at that time. If India transferred aircraft to Myanmar, it would have to face sanctions on the supply of spares which could possibly ground its entire fleet of BN-2 Islander maritime patrol aircraft.
North Korea
The big bad boy of Asia – North Korea actually shares warm relations with India in comparison to Western nations.
North Korea's nuclear weapons programs, missile tests, and "dismal" human rights records have further worsened its relations with the West especially the United States. As a result, the US imposed severe sanctions on North Korea.
Despite the negative views, India and North Korea have actually shared full diplomatic ties for over four decades and maintain small embassies in Delhi and Pyongyang.
The two Asian nations have had cultural exchange programs and North Korean diplomats have attended lectures for foreign diplomats in the Indian capital. India has transferred food supplies to North Korea under a UN program and when the tsunami hit India in 2004, North Korea returned the favor by donating $30,000 to India as a goodwill gesture.
In 2013, India was North Korea's third-biggest trading partner after China and South Korea. In 2018 under the Modi Government, India even dispatched its former Army chief and minister, VK Singh to Pyongyang and held meetings with several top-level North Korean officials.
Despite being one of the very few nations to share cordial ties with North Korea, any military deal with the Kim-Jong-un regime would send wrong signals to key regional allies including Japan and South Korea.