Taiwanese F-16V (Viper) fighter jets roared in the sky as part of a war-simulation exercise on December 5, amid rising tensions with China.
The self-governing island has been regularly reporting airspace violations by China's PLA Air Force planes in the past year. The latest exercise by the Republic of China Air Force (Taiwanese Air Force) was part of a three-day exercise to demonstrate Taiwan's combat readiness ahead of the Lunar New Year holiday at the end of the month.
Taiwan air force stages drill to intercept Chinese planes amid tensions https://t.co/226tNJUqAe pic.twitter.com/TCr9K1BzBb

— CNA (@ChannelNewsAsia) January 5, 2022
As the alarm sounded, flight crews at a base in the southern city of Chiayi – home to US-made F-16 fighters – rushed to prepare the jets.
"With the very high frequency of Communist planes entering our ADIZ, pilots from our wing are very experienced and have dealt with almost all types of their aircraft," Major Yen Hsiang-sheng told Channel News Asia (CNS), recounting a mission of late last year in which he was deployed to intercept PLA Air Force's J-16 fighters.  
Taiwan had carried out a similar military exercise in September last year. ROCAF scrambles jets almost every day to intercept Chinese aircraft flying into the island's air defense zone, which is largely around the Taiwan-controlled Pratas Islands in the South China Sea. 
Taiwan has five emergency highway-cum-runways that can be utilized if a Chinese attack destroys air force bases, allowing ROCAF to remain operational. Most of Taiwan's airbases are located along the country's flat west coast, facing China.
Two additional airbases on Taiwan's hilly east coast have hangars hewn deep into rocks, offering far more robust security. 
Taiwan has termed China's activities as "grey zone" warfare, which is intended to wear down Taiwan's forces by forcing them to scramble constantly, as well as to test their responses. Taiwanese President Tsai Ing-wen stated last week that armed confrontation is not the answer.
Beijing hit back by issuing a strong warning that crossing any red lines would result in "profound catastrophe".
Despite the fact that the two sides have been ruled independently for more than seven decades, Beijing claims complete sovereignty over Taiwan, a democracy with almost 24 million people nestled off the southern coast of mainland China. 
The "elephant walk" by the Taiwan Air Force's F-16Vs took place at Chiayi Air Base during the three-day exercise. A total of 12 F-16V fighter jets lined up on the runway allowing the public and media to have a glimpse of the newly inducted jets.
An "elephant walk" is a US Air Force term for taxiing of military aircraft in close formation right before takeoff. 
Taiwan's F-16V Jets
In Nov 2021, ROCAF inducted 64 advanced F-16V "Viper" variant jets into the service. These planes form the island's most sophisticated fighter jet squadron, and they are expected to boost Taiwan's defense capability. Taiwan aims to fully upgrade its 141 F-16 A/B fighter jets by the end of 2023.
ROCAF and Taiwan's aircraft manufacturer, Aerospace Industrial Development Corporation (AIDC), have signed a $3.96 billion deal to upgrade the older F-16A/B jets to the Viper variant. The F-16V is the most sophisticated version of the Fighting Falcon multirole fighter jet, featuring a powerful radar that can detect up to 20 targets at once.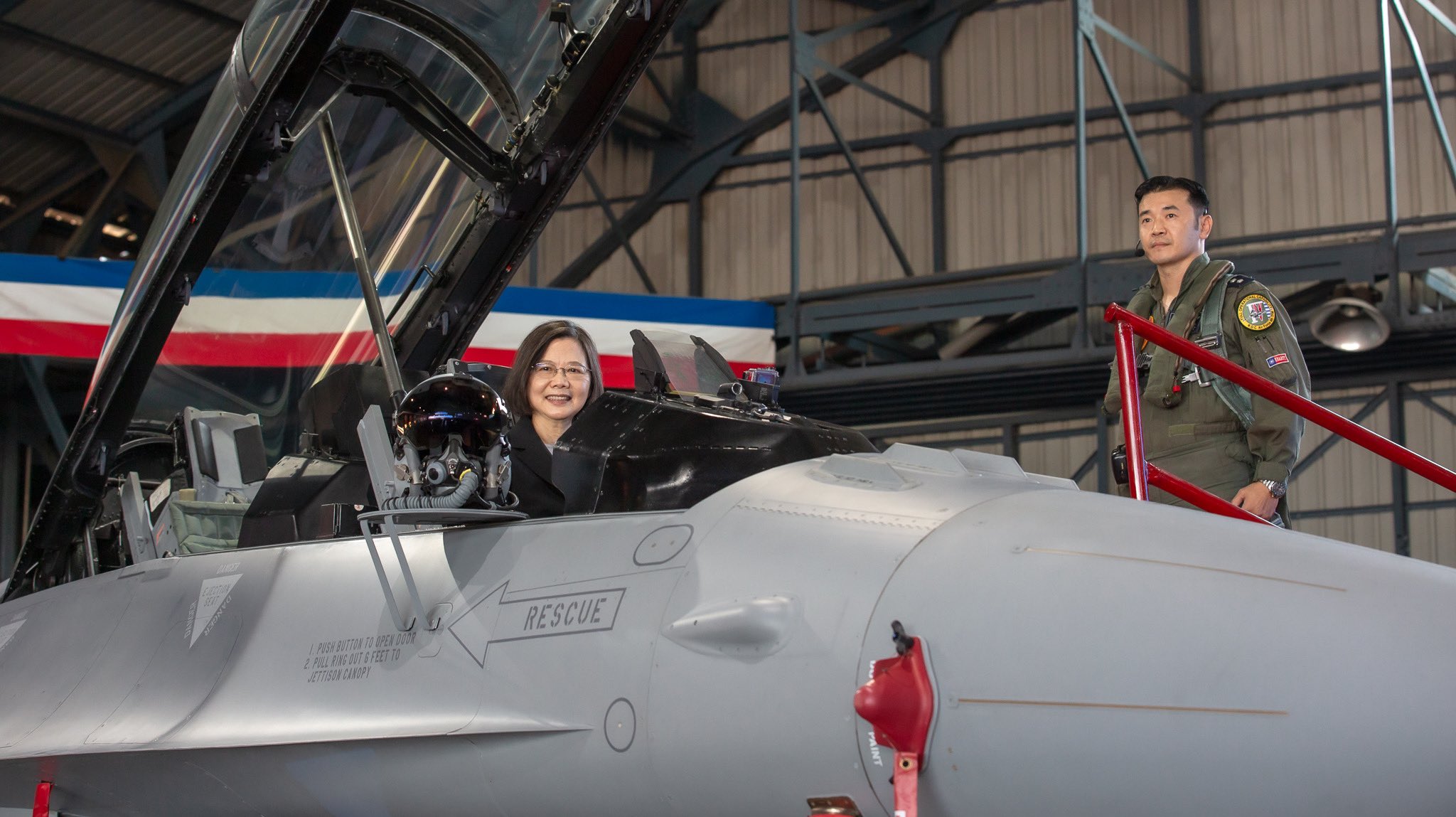 The Viper also boasts advanced electronic warfare systems, enhanced weaponry, precise GPS navigation, and the ability to automatically avoid collisions. The F-16V has more robust landing gear, allowing it to carry more fuel and armament loads. It also includes the AGM-84 Harpoon, AGM-88 HARM, AGM-154 JSOW, and SLAM-ER missiles.
The SLAM-ER missiles, which have a range of around 170 miles, is a potent long-range precision-strike weapon. This is the first weapon of its kind having an operational 'Automatic Target Acquisition' capability, which allows it to fly to its target automatically using just GPS inputs. 
Additionally, ROCAF has purchased 66 new F-16Vs with sophisticated avionics, weapons, and radar systems to better confront China's PLA Air Force aircraft. These aircraft will be delivered by 2026. Taiwan's air force maintains a fleet of about 400 fighter jets, including French Dassault Mirage 2000 fighters and AIDC F-CK Ching-Kuo fighters.