A top Taiwanese expert has suggested that enhancing ties with India can be built to create a "second front" for China during a war in the Straits. Taiwan can reciprocate by teaching Mandarin to Indian officers and sharing knowledge on its more profound and authoritative study of the People's Liberation Army (PLA). 
He also hinted to the Republic of China (RoC) Air Force striking China's civilian ferries and roll-on/roll-over (RoRo) vessels that it would press into service to transport men and material across the Taiwan Strait during an invasion. 
The bold admissions by Dr. Shen Ming-shih, acting deputy CEO at the Institute for National Defense and Security Research (INDSR), come at a time when India-China and US-China relations are at an all-time low, with persistently elevated tensions in the western Pacific over the last few years. 
The US has long been courting India to fully embrace a military alliance against China like Japan and Australia. New Delhi, however, has only adopted some diplomatic and commercial options of the Western camp, in line with its principle of "non-aligned strategic autonomy." Except for Russia, it remains largely aligned with the US over many global issues, primarily owing to its mutual suspicion and hostility towards China.
'India Can Open Second Against China To Ease Pressure On Taiwan'
In a wide-ranging interview with Taiwan News, Shen was asked about the "potential for increased military ties between India and Taiwan. Shen responded that both are "natural allies" who consider China an enemy. "In the event of a war, they could conceivably force the PLA to fight on two fronts." 
Shen referred to the "alliance of democracies" led by the US, where if "India becomes an active member, the collective pressure applied by member nations could potentially deter" Chinese military action in the Taiwan  Strait.
"An American general once said that if China invaded Taiwan, India might resist and organize some action on the West. But it is in India's interest if the democratic alliance becomes stronger, it can have some deterrent effect on China, not to invade Taiwan or not to make trouble in the East China Sea, the South China Sea, and even the China-India border." 
Taipei can return the favor by sharing its knowledge in "PLA studies" to "better defend against it" and impart Mandarin language training to Indian officers. This is especially true in light of Confucius Institutes being shut down in many countries over allegations of espionage and propaganda operations.  
This makes Shen the third officer from the US alliance to reveal how they view India in their scheme of things regarding China. On August 25, US Chief of Naval Operations (CNO) Admiral Mike Gilday said during a talk held by the Heritage Foundation in Washington that India presented a "two-front problem" to China. 
This was after Indian strategic commentator Brahma Chellaney wrote an article titled 'India has a Stake in Taiwan's Defense' suggesting how Indian activities in the Himalayas could "tie down a complete Chinese theater force which could otherwise be employed against the island." 
China Has Been Preparing For A Two-Front War
EurAsian Times has, however, analyzed previously that China is in a militarily far more formidable position, especially in terms of its defense organizations, that has specifically been reformed since 2016 for this very purpose. It has a dedicated Western Theatre Command (STC) facing its entire southwestern and southeastern Himalayan border with India from Ladakh to Arunachal Pradesh. 
Its air and ground forces can undertake operations simultaneously in borders across these states without transferring men and material from other commands. On the contrary, India might have to transfer resources from its army's Southern Command or Central Command if the war lengthens or it sustains heavy losses. 
As for the Western Pacific, China has three theater commands (Northern, Eastern, and Southern), with the Central Command possibly transferring resources in case of a massive conflagration. This, too, is unlikely, as it will require all three flashpoints — the Korean Peninsula, the Taiwan Straits, and the South China Sea — to erupt simultaneously. 
Meanwhile, the Eastern Theatre Command (ETC) has been formed nearly exclusively for a Taiwan operation. It will sustain most efforts in blockading the island and conducting aerial and naval strikes.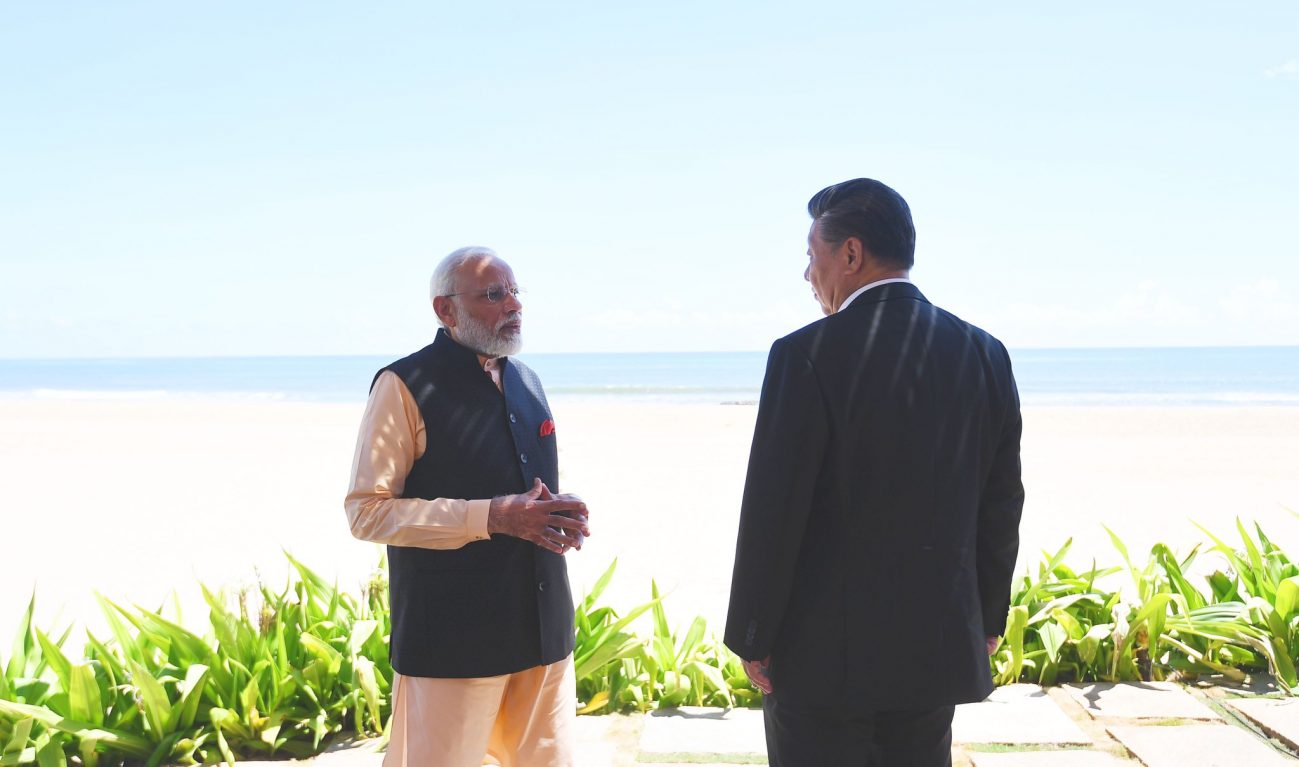 While the Southern Theatre Command (STC) will share some of the load, a Taiwan operation would essentially be a 'whole of country' effort with all organs of the Chinese state pressed into service. 
This is because the Communist Party of China (CPC) also has several economic and geopolitical calculations while executing a military recourse on the island. A prior analysis that touches upon the interplay between a possible urban warfare scenario in Taiwanese cities and the geo-economic dimensions of war in far east Asia can be read here.  
India's Willingness
As for India opening up a second front against China in support of Taiwan, China can perceive the action as unprovoked and interfering in its internal matters. Militarily, there are no signs in the border talks of China withdrawing to positions before it initiated the standoff in early 2020. 
It already demonstrated its ability to mobilize on two fronts (Ladakh and the western Pacific) simultaneously at the height of the Pandemic and with little of the consequent economic hardships the world and India were experiencing. 
India wading into the South China Sea (SCS) dispute by sending warships there — as was another previous plan — or initiating hostilities in Ladakh to ease the pressure off Taiwan will undoubtedly see the Chinese going on the offensive there. 
New Delhi, however, never indicated, even indirectly, that it would be willing for the role when Western officials tested the waters by 'planting' stories of employing India against China this way. The latest was External Affairs Minister S. Jaishankar declining to be part of NATO Plus in June this year. 
This was in response to recommendations from a US Congressional Committee. Moreover, joining any US-led anti-China military alliance would also draw strong disapproval from Russia. Moscow has long slammed the QUAD alliance and shares the same perception of existential strategic hostility from the US with Beijing.   
Taiwan Just Testing Waters?
Shen's statement can, therefore, be seen not as an officially considered strategy from the Taiwanese government but as an influential expert's opinion. But this is not to say that Taiwan or the US would not like seeing the plan materializing, and it is something they will quietly keep probing to be realized in some form. 
Shen said he has visited India more than ten times and is a visiting professor at India's Rashtriya Raksha University (RRU). This implies extensive contacts with Indian military officers and strategic think tank communities being groomed in the US's thinking on global affairs. 
Taiwanese F-16s Can Hit China's RoRo Vessels
Meanwhile, China's civilian RoRo vessels might become a sitting target for Taiwan's US-origin F-16 fighters, warships, and submarines. "They don't have enough Type 071, Type 073, and Type 075 amphibious landing ships," forcing the PLA-Navy to depend on the civilian fleet.  
The EurAsian Times has reported China practiced transporting hundreds of tanks, infantry fighting vehicles, trucks, and troops on large vessels. Prior analyses have concluded that the military balance in the Taiwan Strait is heavily skewed in favor of the People's Republic of China.