On July 20, China started drilling a superdeep borehole to explore and tap into hidden natural resources situated tens of thousands of feet beneath the Earth's surface as part of their ambitious quest.
The state-run news agency Xinhua reported that the hole is projected to extend 10,520 meters (34,514 feet) into the ground at the Sichuan Basin in southwest China, a major gas production region where engineers anticipate discovering a natural gas reserve. 
PetroChina Southwest Oil and Gasfield Company is responsible for conducting the drilling operation in the Shendi Chuanke-1 Well, located in the Sichuan Basin. 
Ultra-deep wells, exceeding depths of 9,000 meters, are widely recognized as the most technically demanding drilling projects in the oil and gas engineering industry.
Chen Lili, the deputy chief engineer of PetroChina Southwest Oil, informed the state news outlet that they anticipate encountering numerous "world-class challenges" that must be overcome during the drilling process.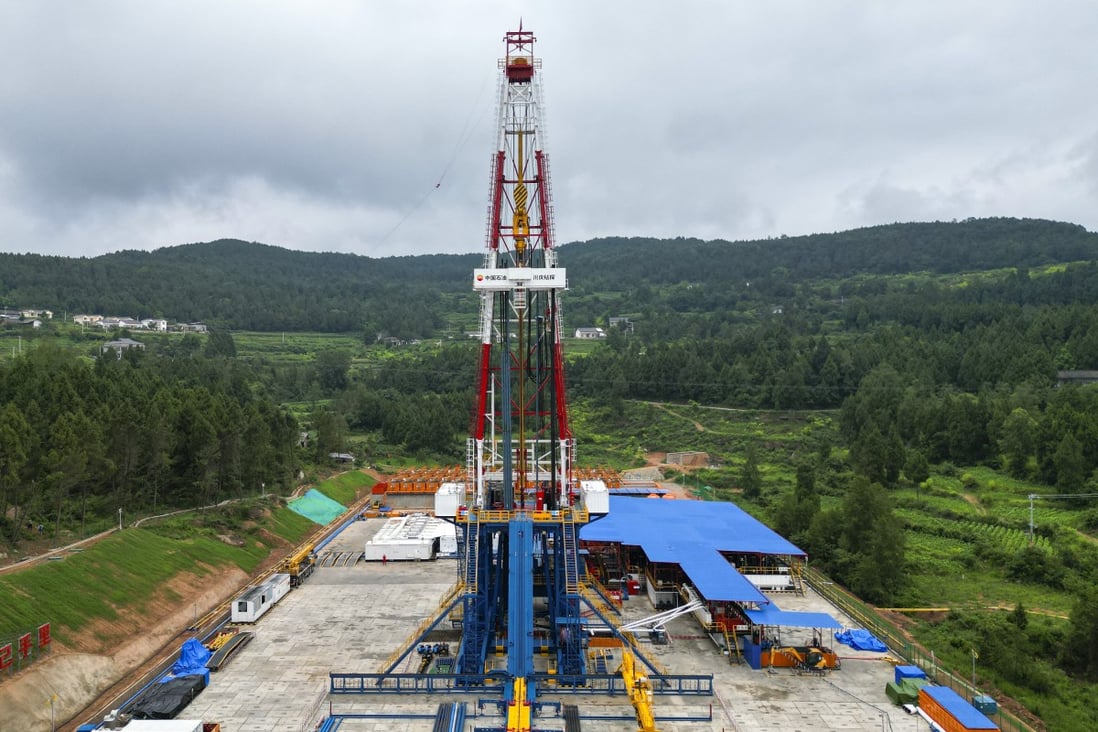 Meanwhile, the announcement was made nearly a month after Beijing started digging another super-deep borehole that would reach a targeted depth of 11,100 meters (36,417 feet). 
That project, considered Asia's deepest well, was initiated on May 30 and is located in the western province of Xinjiang's Tarim Basin, which is rich in petroleum.
Once finished, these boreholes would rank among some of the deepest man-made boreholes globally, though they would not hold the record for the deepest one.  
That distinction currently belongs to the no-longer-operational Kola Superdeep Borehole in northwest Russia, a scientific drilling venture from the Soviet era that spanned two decades to reach a depth of 12,262 meters (40,229 feet). 
Nonetheless, these ultradeep boreholes extend even deeper than the height of Mount Everest, which stands at 8,850 meters (29,035 feet) tall.
While humans have successfully reached the moon, exploration of the land deep beneath the Earth's surface is still in its infancy. Experts believe that humans have only scratched the surface of what lies beneath our planet's crust, leaving vast unexplored territories yet to be discovered.
China's Intensified Quest For Natural Resources Deep Beneath the Earth's Surface

The exploration of Chuanke-1 is a part of the Deep Earth drilling project, which forms part of China's broader infrastructure efforts to create a strong foundation and support system for future scientific research and the development of oil and gas resources, as reported by SCMP.
Since 2021, China has become the world's fourth-largest natural gas producer. Moreover, its natural gas supply has now surpassed that of oil, showcasing the nation's growing prominence in the global energy landscape. 
This trend highlights China's increasing reliance on natural gas and its efforts to enhance its energy production capabilities.
The state news outlet portrayed the latest effort as a move of "great significance," focusing on exploring deeply buried resources and advancing China's core technology and equipment capability in the oil and gas engineering sector.
Energy security has recently emerged as a significant apprehension for China, driven by geopolitical conflicts, power shortages, and global price fluctuations. 
In response, the country's current five-year plan aims to address this concern by increasing the domestic energy supply to meet its needs by 2025.
Part of this strategy involves advocating for larger domestic oil and gas production and fostering clean energy cooperation with other nations.
As the pursuit of energy resources intensifies, deep and ultra-deep fields have become China's primary battleground for oil and gas exploration. 
Notably, Sichuagion hosts some of China's most extensive shale gas reserves, making it a key focus area for the nation's energy development efforts.
Sinopec, a Beijing-based oil and gas company, has been mainly engaged in exploring conventional gas resources within deep marine carbonate rocks and deep shale gas hydrocarbons in the Sichuan Basin. 
Sinopec discovered significant gas fields during these explorations, including Puguang, Yuanba, and Chuanxi.
Now, the Chuanke-1 project will be undertaken by PetroChina Southwest Oil and Gasfield Company. The primary aim of this drilling project is to uncover a new ultra-deep natural gas storage area. 
If the drilling proves successful, it is expected to yield a valuable reservoir of natural gas deep beneath the surface, contributing to China's efforts to enhance its domestic energy supply and ensure energy security.