The US Navy intends to employ extra-large underwater drones for deterrence against China. These underwater drones could be used for offensive or intelligence-gathering missions at a much lower cost than conventional submarines.
US Secretary of Defense Lloyd Austin visited the Naval Information Warfare Center (NIWC), Pacific, in San Diego, California, on September 28. During his visit, Austin was briefed about the current status of the development of unmanned submarines and surface ships.
"The environment we're operating in is very sophisticated," Austin said in response to one of the briefs. "We need every piece of collaboration we can get. You all are operating on the cutting edge here, and I challenge you to keep pushing yourselves and innovating for the warfighter," he added.
As EurAsian Times discussed earlier, the US Navy is increasingly moving toward the concepts of distributed lethality, which envisions a distributed, more survivable, more lethal force that is difficult to target.
This was witnessed in this year's RIMPAC exercise, where the US Navy and its partners from 26 nations tested many unmanned live-fire capabilities.
China has amassed a massive arsenal of high-precision missiles, which could severely disrupt the American maritime capabilities in an attack if critical functions are concentrated within a fleet of a small number of large ships.
Therefore, there is a need for a force structure that is mobile and survivable, and this can be achieved through undersea and surface drones, mainly because of the technological advances that enable integrated operations, even if warships and unmanned vessels are dispersed.
US Navy's Family Of Undersea Drones
Of late, the US Navy is actively investing in Unmanned Undersea Vehicles (UUVs) to maintain superiority in the undersea domain.
The service aims to create a family of UUVs, working on several platforms, like the Snakehead large displacement uncrewed undersea vehicle (LDUUV), Orca Extra Large UUV (XLUUV), and the Lionfish Small UUV.
In July, the Navy tested a prototype of the Snakehead LDUUV for end-to-end intelligence preparation of the operational environment (IPOE) mission which involved creating detailed maps of the sea floor and identifying threats or other objects of interest, knowledge of which is essential for a submarine to enter or exit a particular area without being detected.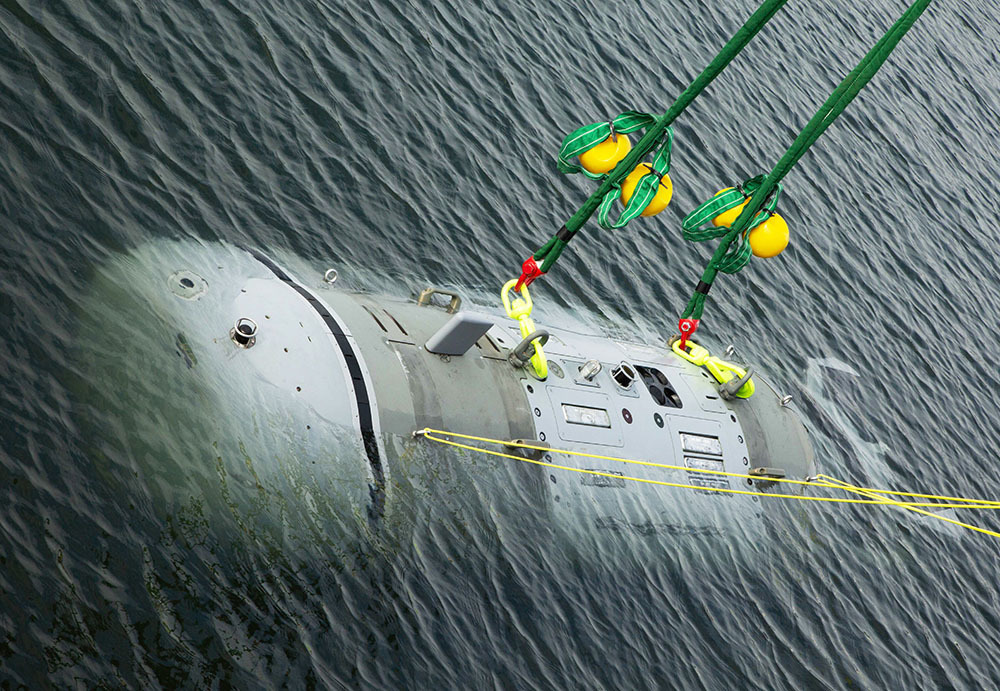 Snakehead is a modular, reconfigurable, multi-mission LDUUV that can be deployed from submarines and surface ships. With roughly the same size as a SEAL delivery vehicle (SDV), it is the US Navy's largest submarine-launched UUV, with a payload capacity beyond small and medium UUVs.
Apart from IPOE missions, the LDUUV will also be used for mine countermeasure missions and electronic warfare (EW), according to an earlier EurAsian Times report which notes that it will be equipped with an electronic support measures (ESM) system that will allow the LDUUV to collect information from radars and communication nodes of the adversary.
Before that, in April, the Navy unveiled the Orca XLUUV. It will initially focus on Concept of Operations (CONOPS) development, payload integration work, and mine warfare (MIW).
In the future, the Orca could perform mine countermeasures (MCM), anti-submarine warfare (ASW), electronic warfare (EW), anti-surface warfare (ASUW), intelligence and surveillance, reconnaissance (ISR), and even strike missions.
The Lionfish Small UUV involves the Remus 300 drone from Huntington Ingalls Industries, designed to advance the 'distributed maritime operations' concept by conducting critical underwater missions.
Undersea Drones Could Be Deployed In A Potential Future Taiwan Conflict 
Experts suggest the undersea drones could be deployed in an emergency involving Taiwan if equipped with a suit of sensors and anti-ship weapons.
David Ochmanek, a senior fellow at RAND Corp., said that compared to submarines, undersea drones "can be far less expensive, meaning that we could afford to produce many of them and station them forward in places such as Yokosuka [a US naval base in Japan] so that they would be able to respond quickly to threats of aggression."
If China decides to invade Taiwan, it will look to impede the movement of the US surface vessels toward the conflict theatre with the help of its vast arsenal of missiles.
In such a situation, undersea drones, which are smaller than submarines and therefore hard to detect, could manage to slip China's defensive shield and strike Chinese surface vessels trying to land on Taiwan.
China is widely believed to be relatively disadvantaged in detecting underwater threats.
"I think the US has a pretty substantial undersea edge. It might be the only area where the US has a big edge," said Zack Cooper, a senior fellow at the American Enterprise Institute.
China Also Working On UUVs
Meanwhile, China is not sitting idle. Despite having a poor track record in undersea warfare due to its noisy submarines and lack of experience in hunting enemy submarines, the country has prioritized the development of UUVs to achieve superiority in the undersea realm.
China's UUV program came to light in October 2019 when the People's Liberation Army (PLA) Navy fielded two large-size UUVs marked 'HSU001' during the 70th Anniversary Parade of the PLA.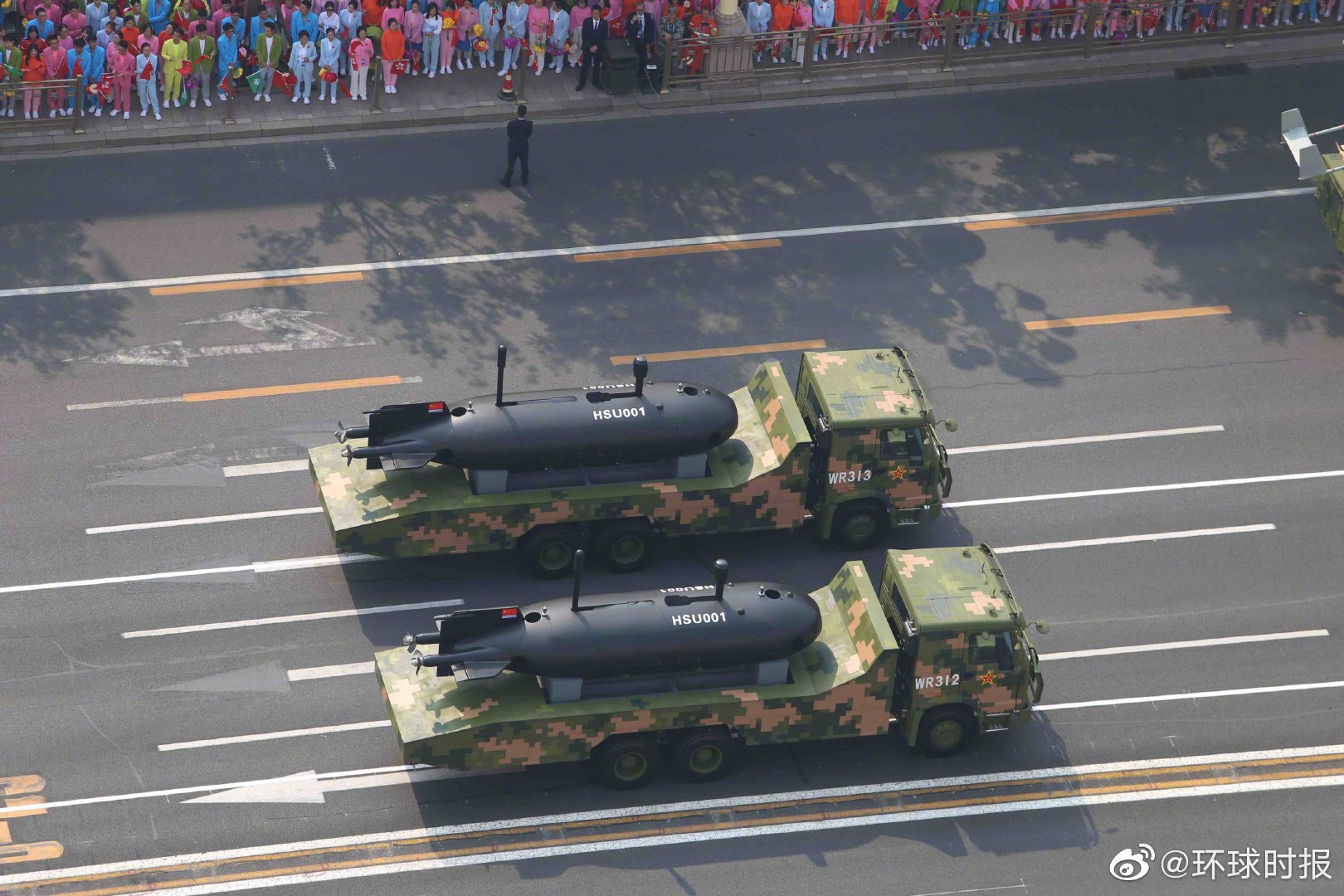 Similar to the US Navy's Snakehead, the HSU001 is also designed for IPOE and anti-submarine warfare. It is said to resemble the Soviet Oscar-class (Type 949) nuclear submarine in its shape.
The HSU001 also appears to have derived features from German UUV designs and the Russian Harpsichord UUV.
The HSU001 reportedly has some power source issues, which it tries to compensate for through an emphasis on 'seabed warfare,' meaning the vehicle can sit on the ocean floor for as long as 30 days and go unnoticed while passively observing the surroundings.
Reports suggest the HSU001 provides the PLA with intelligence gathering capabilities stretching up to the first and second island chains.