At a time when India has proposed the inclusion of the Chabahar Port in the International North-South Transport Corridor (INSTC) to counter China's BRI, Iran seems to suggest that it is not averse to the idea of China and Pakistan joining the port project too.
Iranian Foreign Minister Javad Zarif has said the Chabahar Port is neither against the Chinese nor against Pakistan's Gwadar Port.
Speaking at an event in New Delhi last week, Zarif said India's role is predominant to the "development and prosperity" of the region.
He then went on to say, "We have made very clear to our Indian, Chinese friends that Chabahar is open for cooperation for everybody. Chabahar is not against China… is not against Gwadar. Chabahar is a place where we can all come together in order to help Afghanistan, help development and prosperity in the region."
Afghanistan is a mutual interest of all the countries currently in a geopolitical battle in South Asia.
"All of us have shared interest, shared threats in Afghanistan. I think all of us need a stable and peaceful Afghanistan. An Afghanistan where terrorists have the freedom to operate is a threat to Iran, India, Pakistan, China, Central Asia, Russia, and a threat to the world," Zafir stated.
Zarif said that China, like India, is looking to play an active role in Chabahar.
It's worth mentioning that last month, China agreed to invest $400 billion in Iran over 25 years in what is seen as a sweeping economic and security agreement, according to The New York Times.
The International Corridor
In May 2019, Iran had floated the idea of connecting Chabahar port to Pakistan's Gwadar port. The latter is a crucial part of the China–Pakistan Economic Corridor, a project under Beijing's ambitious Belt and Road Initiative (BRI).
The Iranian proposition had alarmed India which viewed Chabahar port as an alternative route to access Central Asia by circumventing Pakistan.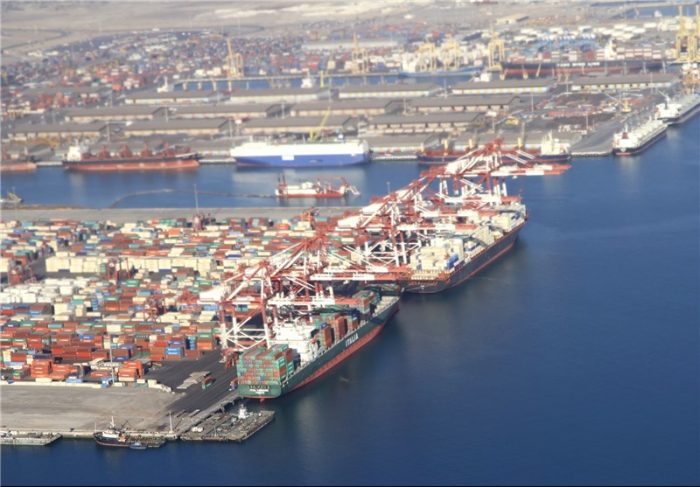 While the Chabahar initiative had initially started as a bilateral project between India and Iran in 2015, Iran's plan to include Pakistan and China had prompted India to expand the scope of its plan of action. 
Commemorating 'Chabahar Day' on March 4 this year with Afghanistan, Armenia, Iran, Kazakhstan, Russia, and Uzbekistan, India had proposed the extension of INSTC into an 'Eastern Corridor' that goes deeper into Central Asia through the Chabahar port.
External Affairs Minister S. Jaishankar had said Indian welcomed the interest of Uzbekistan and Afghanistan to join INSTC. "India has also proposed the inclusion of Chabahar in the INSTC route. I am hopeful that during the INSTC Coordination Council meeting, member states would agree to the expansion of the INSTC route to include the Chabahar Port and also agree on expanding the membership of the project."
INSTC is a network of land and sea routes that connect India to Europe. It provides a cheaper and shorter route to Europe than India's current Red Sea-Suez Canal-Mediterranean Sea route.
Bandar Abbas, the main port linking India to Iran through the proposed INSTC is very congested. Chabahar on the other hand provides more potential with its deep waters. Additionally, while Bandar Abbas is on the coast of the disputed Strait of Hormuz, Chabahar is nearer to the Indian subcontinent and opens up to the Gulf of Oman. 
It is unlikely that Iran will strongly ask for Chinese and Pakistani involvement in the face of renewed Indian interest. Iran had planned on linking Gwadar to Chabahar in what might be called a geopolitical maneuver when India's involvement with Iran had reached a low point in response to American sanctions. 
Now that India is again enthusiastically fast-tracking the project, Iran only needs to state that Chabahar is not against China and Pakistan instead of including these outside powers.
 A Congressional Research Service (CRS) report this month stated that India "accelerated work in early 2021 and the port is expected to be declared operational no later than May 2021." The CRS also said that Iran's economic relations with India are more substantial when compared to its economic ties with Pakistan.
Thus, last Friday during the Raisina Dialogue in New Delhi, Iranian Foreign Minister Javad Zarif said the Chabahar Port is neither against the Chinese nor against Pakistan's Gwadar Port. 
During the session, Zarid centralized the needs of Afghanistan and thus overstepped the geopolitical significance of the port. It appears that by appealing to everyone's mutual interest, Zarif is preemptively arguing against those who will take offense when the Chabahar port becomes fully functional.
It is also an effort to not impede the growing scope of Iran-China cooperation.
Follow EurAsian Times on Google News