On March 1, Saudi Arabia announced that it would participate in the UK-led Future Combat Air System (FCAS) project as part of a new military agreement with Britain. 
Ben Wallace, the UK's defense minister, and Khalid bin Salman, the defense minister for the Kingdom of Saudi Arabia, signed a joint military statement in Riyadh. 
Bin Salman announced on social media that they had signed a declaration of KSA's intention to participate in the Future Combat Air System program (FCAS), which will improve KSA's defensive capabilities through a detailed collaboration that includes joint production and R&D projects for future air systems.
This statement was reiterated by the Saudi News Agency, which stated that the Saudi Minister of Defense had signed a letter of intent with his UK counterpart on the Kingdom of Saudi Arabia's participation in the Future Air Capabilities Program (FCAS).
The partnership entails developing a thorough and collaborative vision for the partnership's future involvement in air combat operations, supplying the necessary capabilities, and establishing industrial participation projects and joint research and development initiatives, the agency said.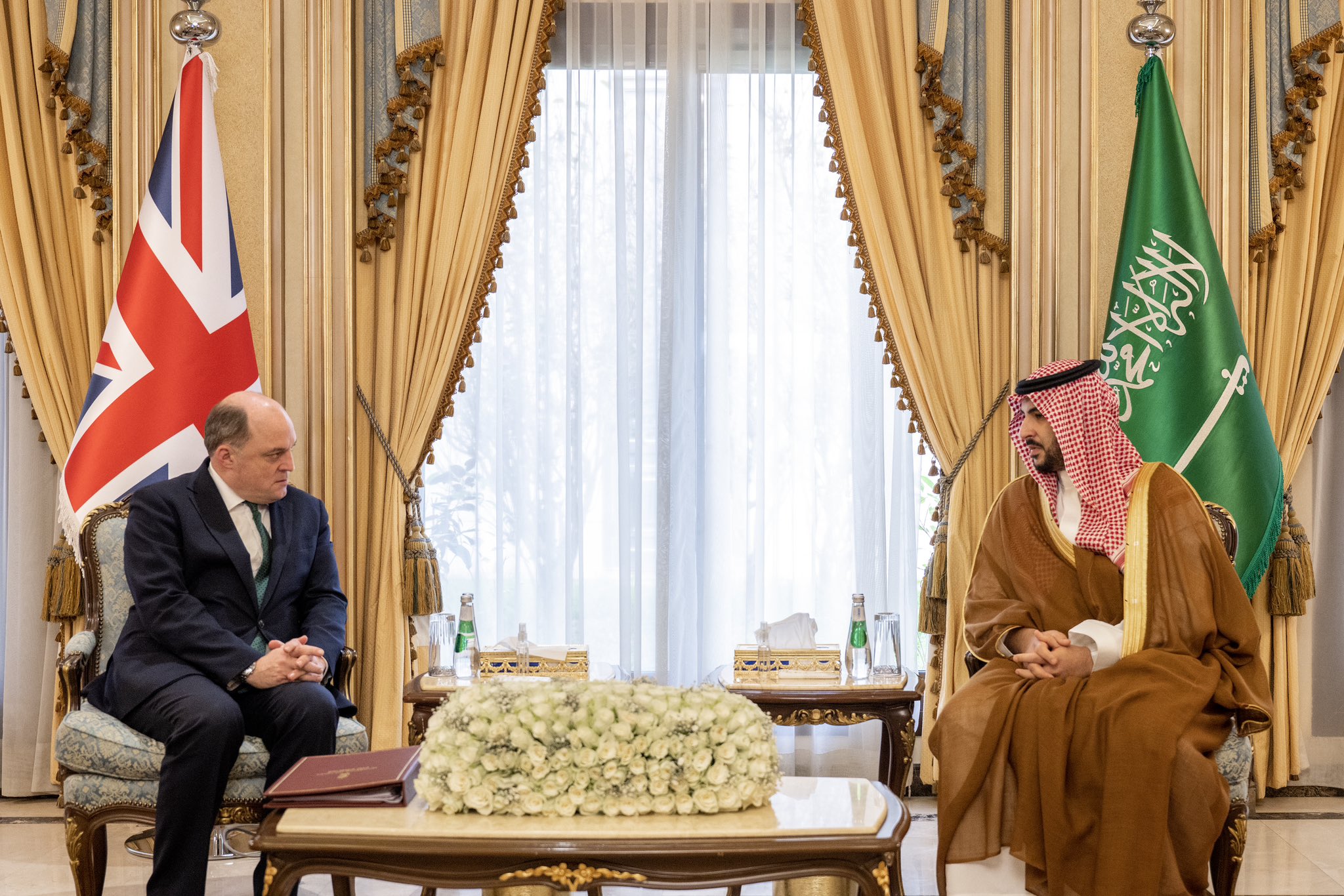 Both parties stated a willingness to form a stronger industrial partnership to build essential capabilities and boost prosperity in both countries, including in support of Saudi Vision 2030 goals.
Announced in 2016, the Saudi Vision for 2030 is a strategic plan to lessen Saudi Arabia's reliance on oil, diversify the country's economy and commerce, and expand public service sectors. 
To localize more than 50% of military equipment spending by 2030, one aspect of the objective is to develop its defense industries. 
UK Disputes Saudi Arabia's Announcement
However, after the Saudi announcement, the UK said they had signed a statement of intent to begin a partnering feasibility study to examine how both countries could best position their long-standing combat air cooperation for the future.
"Both Governments confirmed a common desire for closer industrial collaboration, to develop key capabilities and boost prosperity in both nations, including in support of Saudi Vision 2030 objectives," the UK said. 
Moreover, the news release clarified that the arrangement is "distinct from the UK-IT-Japan GCAP, or FCAS programs." 
Defense analysts emphasized, however, that the negotiations for such alliances frequently take months or years. 
The term "FCAS" is frequently used to refer to next-generation fighter programs, including the British-led Tempest program, which recently welcomed Japan under the Global Combat Air Program (GCAP) umbrella.
The goal of producing a Tempest prototype by 2027 and a GCAP fully functional sixth-generation fighter plane by 2035 sets the two projects apart. 
Although the UK is currently disputing Saudi Arabia's participation in FCAS or GCAP, the signed joint declaration might pave the way for a future agreement on Saudi Arabia's partnership in FCAS or GCAP. 
It's unclear from bin Salman's vague mention of "joint production" what kind of possible industrial contribution KSA may provide to FCAS. 
While the Middle Eastern nation has historically been more of a pure customer than a program partner for Western-made weapons, it might be seen as a vote of confidence in Saudi ambitions to increase its domestic production capabilities.
Saudi Arabia has previously received 72 Eurofighter Typhoon aircraft from the UK. Nevertheless, a further purchase for 48 aircraft has been put on hold since a memorandum of understanding was signed in 2018.
A year-long export ban on shipping military hardware to Riyadh was enforced in response to Saudi-led coalition airstrikes that were killing civilians in Yemen and when the court of appeal in London declared such shipments unlawful. The ban was withdrawn in 2020. 
A potential industrial partnership on an aerospace project will benefit both parties in the quest to protect and mitigate common security issues and support regional stability and security in the Gulf.
That being said, the Saudi Arabian and UK partnership's extent and magnitude could not be determined from bin Salman's announcement; it was unclear whether they intended to collaborate solely on FCAS, as Sweden has done, or whether they also aimed to collaborate on related Tempest/Global Combat Air Program (GCAP) initiatives with Italy and Japan.