It's not just Ladakh but the eastern sector opposite India's Arunachal Pradesh is also witnessing Chinese military build-up of late.
Rafale Deal With France Has Propelled India Ahead Of China In Both Air Power & Technological Prowess?
If the latest satellite image released by opensource intelligence @detresfa_ is to be believed, China is undertaking expansion work of the strategic Chamdo Bangda Airport in Tibet Autonomous Region, barely 160 km from the Arunachal border.
Sitting approximately 160 km North North East of #ArunachalPradesh, #India the Chamdo Bangda Airport in #China has been seeing development activity on site with fresh runway & apron works visible in recent images pic.twitter.com/klfzW05boL

— d-atis☠️ (@detresfa_) October 26, 2020
The Chamdo Bangda Airport is located in the narrow valley on the west bank of Yuqu River at the Banda Prairie in Chamdo Prefecture, according to the Tibet Vista travel portal. The high-altitude (roughly 4,400 meters) civilian airport is currently out of bounds for foreign tourists. Out of its two runways, the one that is operational is 4,500 meters.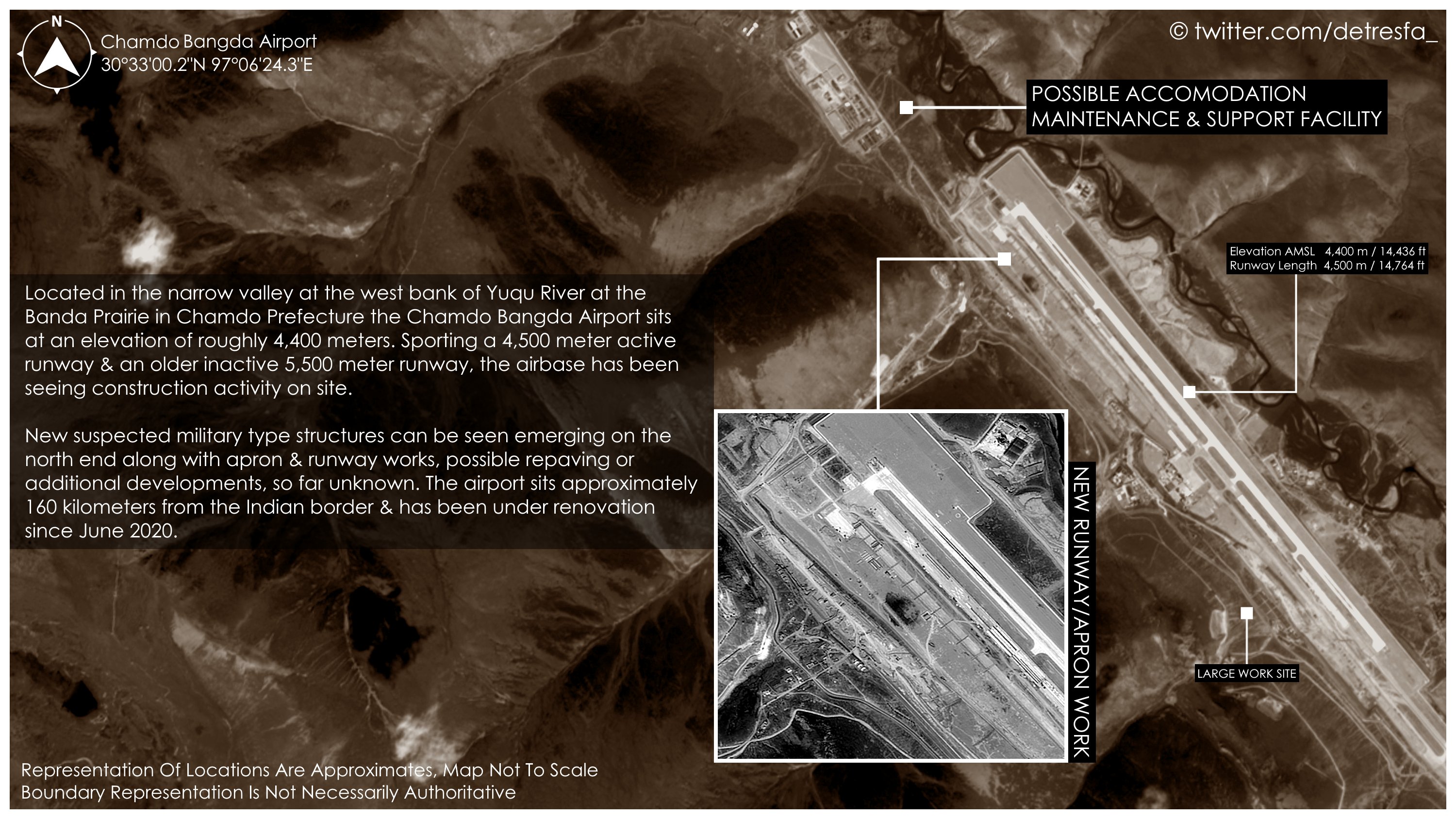 "New suspected military-type structures can be seen emerging on the north end along with apron and runway works, possible repaving or additional developments, so far unknown," a caption accompanying the satellite image says.
@detresfa_ also claims that the airport has been under renovation since June this year, around the same time when the Galwan Valley incident took place. This indicates, China's aggressive posture along the Line of Actual Control (LAC) — the de facto border between the two Asian giants – is a result of careful planning.
Commenting on this development, sinologist Kalpit A Mankikar says, "Since August-September, reports have emerged of China's PLA deploying troops at least four locations –Asaphila, Tuting axis, Chang Tze and Fishtail-2 sectors — across the border in Arunachal Pradesh."
With the Chinese troops stationed barely 20 km from Indian territory, they may carry out more incursions, capturing some heights, he warns. "It may open a new pressure point for India, which is already busy with tackling a build-up of Chinese troops along its border in Ladakh," Mankikar, who holds an MSc in China Studies from London School of Economics, adds.
India's Swift Response
Indian agencies are keeping a close watch on the activities of the People's Liberation Army's Air Force (PLAAF) spread all along the LAC, opposite Ladakh in the north to Arunachal Pradesh in the Northeast.
"We are keeping a close watch on the Hotan, Gar Gunsa, Kashghar, Hopping, Dkonka Dzong, Linzhi and Pangat airbases of the PLAAF in the Xinjiang and Tibet region and all of them have been highly active in the recent times," news agency ANI said in August quoting government sources.
The Indian Air Force (IAF) has deployed its fleet of Sukhoi-30MKIs, MiG-29s and Mirage-2000s at the forward air bases to tackle any misadventure.
Infrastructure boost in Northeast
Besides increasing vigil and security, India has ramped up infrastructure such as roads, bridges and tunnels in the Arunachal sector. In October alone, Defence Minister Rajnath Singh inaugurated as many as 44 bridges in border areas, many of them in the strategic Nort-Eastern region.
India's Border Roads Organisation (BRO) is undertaking four projects in Arunachal Pradesh in order to maintain road infrastructure along the LAC, The New Indian Express reported.
A bridge over the Daporijo River has been completed recently. The bridge is a "strategic link towards the LAC between India and China. All supplies, rations, constructional material and medicines pass over this bridge," according to a Defence Ministry statement.
Why Arunachal Pradesh?
Arunachal has long been a cause for dispute between New Delhi and Beijing, with the latter claiming it to be a part of southern Tibet. On October 20, 1962, the Chinese army captured the areas along the contested border, resulting in a war.
It took over Arunachal's Tawang in the east, and Rezang La in Chusul in the west. The troops advanced towards Tezpur town in Assam before Beijing unilaterally declared a ceasefire on November 20.
China's foreign office repeatedly makes statements claiming Arunachal as part of its territory. Most recently, on September 8, Chinese Foreign Ministry spokesperson Zhao Lijian reiterated his country's stand while talking about "five missing youths" from Arunachal, who were later returned by the Chinese PLA.
"China's position with regard to the eastern sector of the China-India boundary, i.e. the South Tibet region, is clear. We have never recognized the so-called Arunachal Pradesh, illegally established on the Chinese territory," Zhao said.
Earlier, in February this year, when India's Home Minister Amit Shah visited Arunachal Pradesh on its statehood day, the Chinese government had accused Shah of violating China's territorial sovereignty and undermining the stability of the border area.
"From that point of view what remains of the credibility of the 'Political Parameters and Guiding Principles' — a Sino-Indian agreement inked in 2005 that sets out fundamentals that govern the resolution of the border dispute?
One principle states that 'settled populations will not be disturbed'. The Indian government understood this as China's recognition of Indian sovereignty with respect to Arunachal, but subsequent developments have cast a shadow," Mankikar adds.