For the first time, a satellite image of a desert in Xinjiang revealed an object that resembled a Japan Self-Defense Forces' aircraft, stoking concerns that China's military threats to invade Taiwan could also have consequences for Japan.
In a desolate area of Xinjiang, China has erected a structure that looks to be styled after a Japanese Air Self-Defense Force (JASDF) airborne warning and control system (AWACS) jet, reported Asia Nikkei. 
This comes after a structural model of a US aircraft carrier was discovered a few days ago, indicating that the Chinese military is testing weapons there. 
The dummy aircraft is thought to be modeled after the JASDF's E-767 aircraft. Boeing manufactures the E-767, and the four aircraft positioned at Hamamatsu Air Base are the only ones in the world. The captured area is assumed to be a Chinese military-controlled special area.
EXCLUSIVE | CHINA's AWACS MOCKUP REVEALED

China has what appears to be a mockup of an AWACS aircraft used by Japan in a remote desert, Nikkei has learned after analyzing satellite photographs with experts. It could be used for target practice.https://t.co/i1zVSTw6cO

— Nikkei Asia (@NikkeiAsia) May 19, 2022
The four Airborne Warning and Control System (AWACS) aircraft of the JASDF are called "flying command posts." These are critical because they aid in detecting enemy military movements in airspace away from conflict zones. 
It appears that China is conducting these simulations to sketch potential invasion plans on Taiwan. To that end, Beijing must restrict the movement and capabilities of the United States and its allies, including Japan. 
Kiyofumi Iwata, a former chief of staff of the Ground Self-Defense Force, highlighted the significance of this type of aircraft in such circumstances, saying that if Tokyo lost the E-767s during a Taiwan contingency, Japan would lose its ability to monitor the Nansei Islands.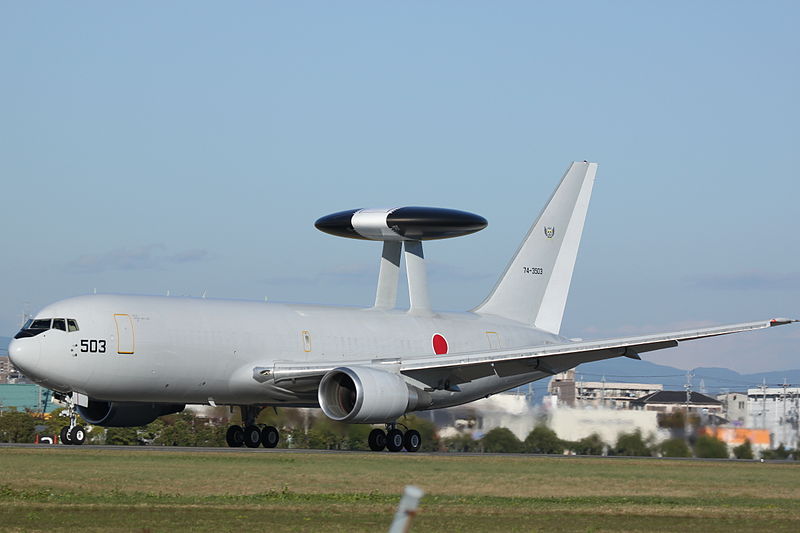 The E-767 is difficult to knock down in the air because of its excellent capabilities. However, it is regarded as the most vulnerable to attack when parked on the ground.
Yoji Koda, a former commander in chief of Japan's Self Defense Fleet, told the Asia Nikkei that the object "was probably built to check the error of missile impact" to simulate attacking E-767s.
Iwata stated of the aircraft spotted in satellite images, "Both the Japanese and US governments are probably aware of it. China is deliberately showing it to us as a threat in case something were to happen."
Matt Korda, senior research associate and project manager for the Nuclear Information Project at the Federation of American Scientists, an organization that specializes in denuclearization and disarmament, helped to determine the pinpoint location. 
Crippling Japan's Ground Bases? 
Structures like this are nothing new for the Chinese military. EurAsian Times reported in November 2021 about the objects built like an American aircraft carrier and at least two Arleigh Burke-class destroyers in Xinjiang's remote Taklamakan desert.
All of this is alleged to be part of China's plot to annex Taiwan. Under the leadership of President Xi Jinping, Beijing has set reunification with Taiwan as a priority.
Whereas this goal is premised on peaceful reunification, China has repeatedly stated that it "will not renounce the use of force against outside interference or independence forces," a statement that does not rule out military intervention.
Thomas Shugart, an adjunct senior fellow at the Center for a New American Security (CNAS), told the Asia Nikkei that "the PLA's stated goal in war is to conduct 'system destruction warfare,' where they focus on destroying the information nodes that supply their enemy's military with the information that it needs to fight effectively."
"The E-767 represents a key information node for the JSDF — one that provides airborne early warning information to other aircraft. By destroying the E-767s on the ground at the start of a conflict, perhaps as part of preemptive missile strikes on JSDF bases, the PLA's goal would be to seize air and information dominance by known PLA doctrine" he added.
The type E-767 was spotted positioned on an airfield, implying that Japan's ground bases could be targeted in the event of an invasion. In November 2021, the US Naval Institute (USNI) discovered full-scale models of a US aircraft carrier and destroyer in the area. Considering AWACS aircraft are so important in modern combat, they are tempting targets among the SDF assets.
The SDF and US soldiers strive to increase the interoperability between the forces and data exchange. Furthermore, on May 11, the USNI discovered a port facility that strongly resembles the Su'ao naval base in northeastern Taiwan in the same area. The station is anticipated to play a key role in blocking any Chinese invasion attempts from the sea.
Experts believe that the mock-up indicates that the PLA warships are practicing missile attacks with its YJ-21 anti-ship missile against targets in both the Guam naval base and the Suao military port.