Russia has announced it will present its Su-57 fifth-gen fighter aircraft at the International Aerospace Exhibition Airshow China 2022, which will take place from today in Zhuhai, China. 
The director general of Rosoboronexport, the sole state intermediary agency for Russia's exports/imports of defense products, announced in a press release.
The Su-57 is a multirole fighter developed for taking on land, maritime, and airborne targets. It features stealth technology that makes it 'invisible to radars.'
Director General Alexander Mikheev stated that Russia would showcase the finest and latest innovations made by its aircraft and helicopter manufacturers, as well as effective weapons and solutions for air defense, in Zhuhai. 
He suggested a possible collaboration with the leadership of the People's Liberation Army of China and Chinese corporations at the Air Expo. 
Mikheev also said that the engagement would result in new, mutually beneficial agreements and enable Russia to identify attractive areas for cooperation in high-tech sectors.
The event, which has already piqued the interest of aviation enthusiasts, will include China's fifth-generation J-20 aircraft. Russia's exhibition of Su-57 fighter aircraft would further boost the event's popularity. 
However, it is possible that only the mockup of the Su-57 aircraft will be on display at the air show. But, it can be a great opportunity for the Russian aircraft maker to showcase its cutting-edge products.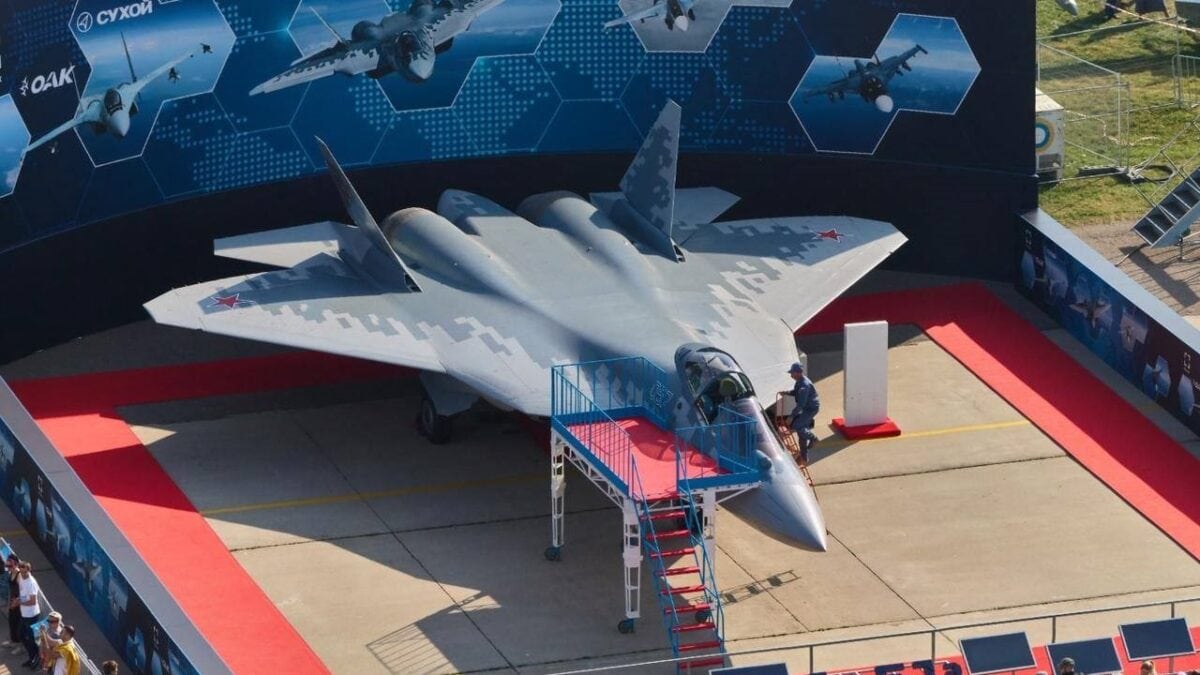 Russia's attempts to develop the Su-57 began in the late 2000s but met with multiple failures. For instance, during a test flight in 2010, the airframe developed cracks, which forced the designers to start over with new composite materials and a better aircraft design.
One plane crashed during testing in 2019, and the program, which was slated to enter serial production in 2017, finally delivered the first aircraft in 2021. 
The Su-57 was designed and upgraded by the Sukhoi Design Bureau at the United Aircraft Corporation (UAC), a division of the state-owned tech firm Rostec. The first flight of the upgraded model took place for 56 minutes at the Gromov Flight Testing Institute's runway.
The flight tested additional onboard equipment that will support the pilot with artificial intelligence (AI). The Su-57M, which debuted last month, is an upgraded version that reportedly allows for the installation of a second-stage engine.
According to reports, UAC has fitted "Izdeliye 30" engines, which deliver more thrust than the Su-57's original AL-41F-1 engines. This project is thought to have the codename "Megapolis," whereas the existing Su-57 research and development is known as "Stolitsa" ("capital").
The Russian Air Force seeks a sizable fleet of Su-57s, which will give them an advantage over western fighters. To that end, it intends to acquire 22 such aircraft by 2024 and then gradually increase its fleet to 76 by 2028.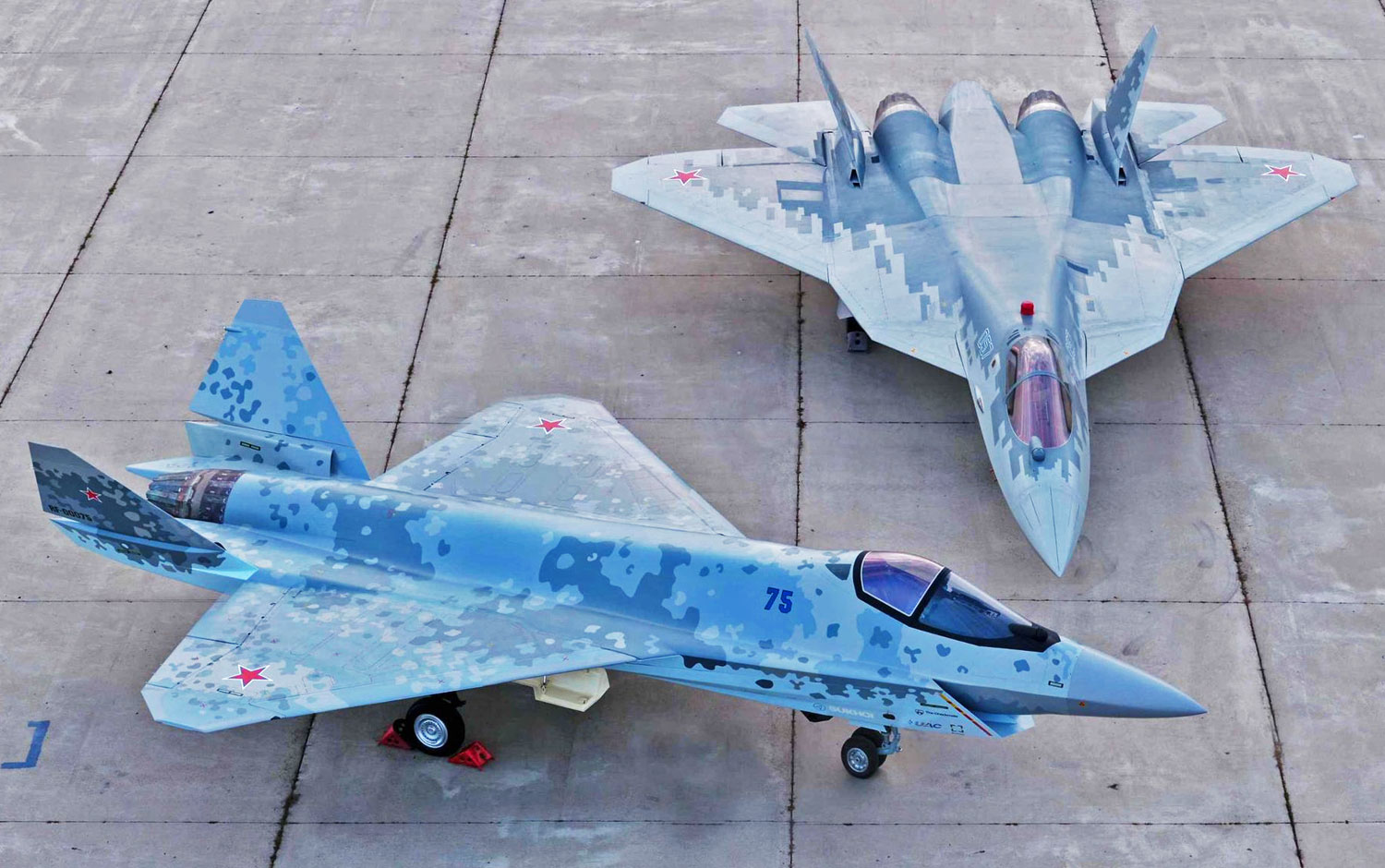 Other Defense Products
Along with the Su-57 stealth aircraft, Rosoboronexport will display a wide variety of military aircraft. This will include the multi-purpose super-maneuverable Su-35, the Su-34E fighter bomber, and the multifunctional MiG-35 in single and dual configurations. 
Furthermore, an IL-78MK-90A tanker aircraft and an IL-76MD-90A (E) military transport aircraft, two of the primary means for delivering airborne units quickly to their area of operation, will be on display for visitors to the company's exposition.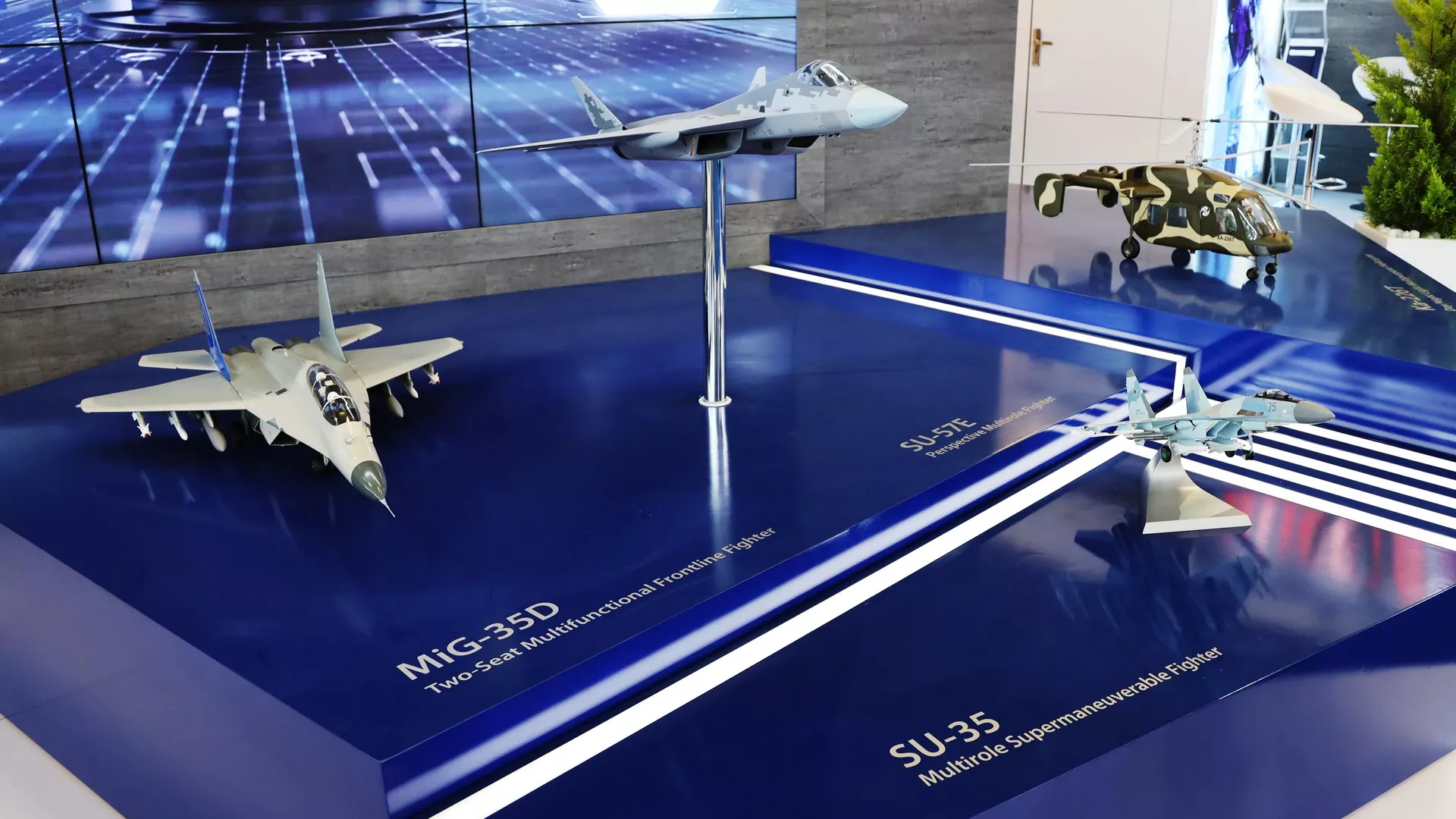 Rosoboronexport will also showcase a landing combat vehicle, the BMD-4M, and a multi-purpose amphibious armored personnel carrier, the BTR-MDM. 
The Russian military helicopters, in particular, are expected to draw a lot of attention at the airshow. The Russian defense industry will prominently feature Ka-52 Combat, Mi-28NE, Mi-171Sh, and Mi-17 helicopters.
Rosoboronexport will display a wide range of air defense systems, including the S-400 "Triumph" and S-350E "Vityaz." It will also show a variety of corrected and guided aerial bombs and guided missiles for diverse purposes capable of striking ground, surface, and air targets efficiently.