The Russian army has used the latest Izdeliye 305E missiles in Ukraine in what appears to be a direct battlefield test before entering serial production.
To Track China's AI-Enabled Hypersonic Missiles, US Is Developing 'Constellation Of Satellites' That Can Predict Their Path
The missile is the 'Product 305', a Lightweight Multipurpose Guided Missile (LUMR). It was first shown at the Army-2021 forum.
While the location of the test is unclear, one thing appears to be pretty evident it was used on an actual Ukrainian target and fired from a Ka-52M Alligator attack helicopter.
With the commonality in roles and minor subsystems, the missile will be used on the Mi-28NM 'Havoc' helicopter alongside other helicopters, aircraft, and even drones.
The strike has been part of Russia's strategy to hit Armed Forces of Ukraine (UAF) battlefield headquarters, command and control centers, defense-industrial sector, ammunition dumps, fuel and fuel, and lubricant warehouses.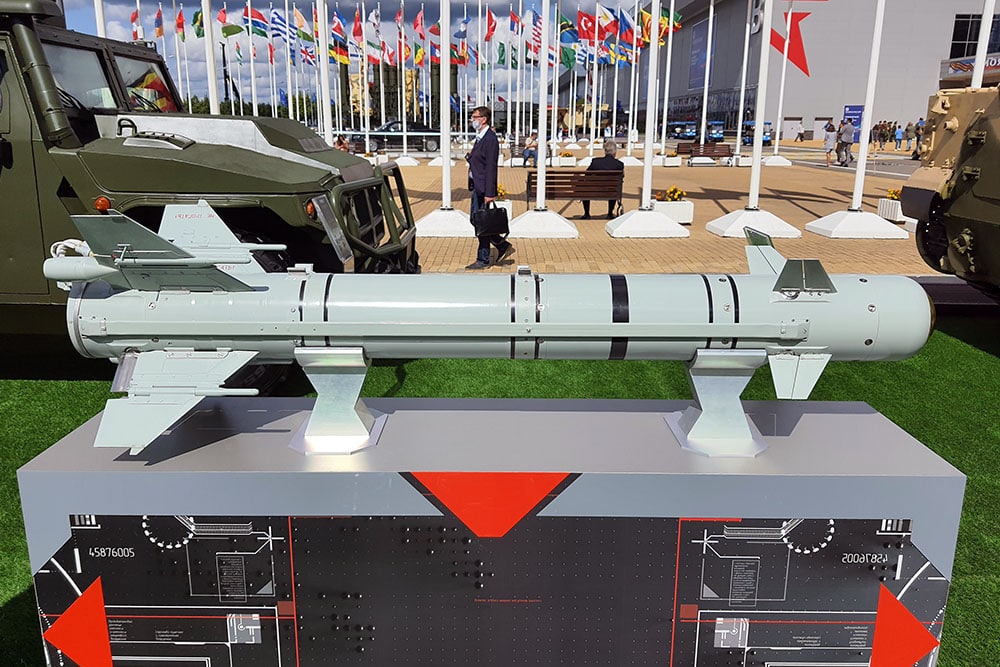 The idea is to prevent Ukraine from rearming and degrading its long-term war-waging capacity. The approach seems to have worked as reports emerge about Ukraine running out of artillery ammunition and nearly losing all its Soviet-era howitzer and field gun inventory.
A vital feature of the Russian LMUR is the ability to hit targets out of sight using a homing head at a distance of 14.5 kilometers. The missile carries a warhead weighing 25 kilograms, homing in on the target with possibly a multi-mode electro-optical system.
The guided air-to-ground missile is designed to equip upgraded versions of modern Russian combat helicopters Ka-52M and Mil Mi-28NM. The Russian Ministry of Defense (MoD) first showed the video at a briefing.
Design & Features
The missile has a mass of 105 kilograms, a length of almost 2 meters, and a body diameter of 200 mm. It flies at a speed of 230 meters/per second and can be launched from an altitude of 100 to 600 meters. The missile has a combined inertial satellite and round-the-clock thermal imaging homing head.
Russia Shoots Down Its 'Brand New' Sukhoi Fighter Jet While Conducting Raids Over Ukraine — Reports
Its airborne control and flight management are carried out using the AS-UAV system, a Russian technology to give last-moment course corrections in its trajectory during its terminal phase from the helicopter crew, possibly by the Weapons System Operator (WSO).
The AS-UAV complex allows the operator to maintain communication at a distance of up to 50 kilometers and has a bandwidth of 5.4 Mbps.
While the 305 has been used in the Mi-28NM and Ka-52M attack helicopters, the new version can also be installed on the Su-25SM, the upgraded version of the Russian Aerospace Forces (VKS) ground-attack fleet mainstay.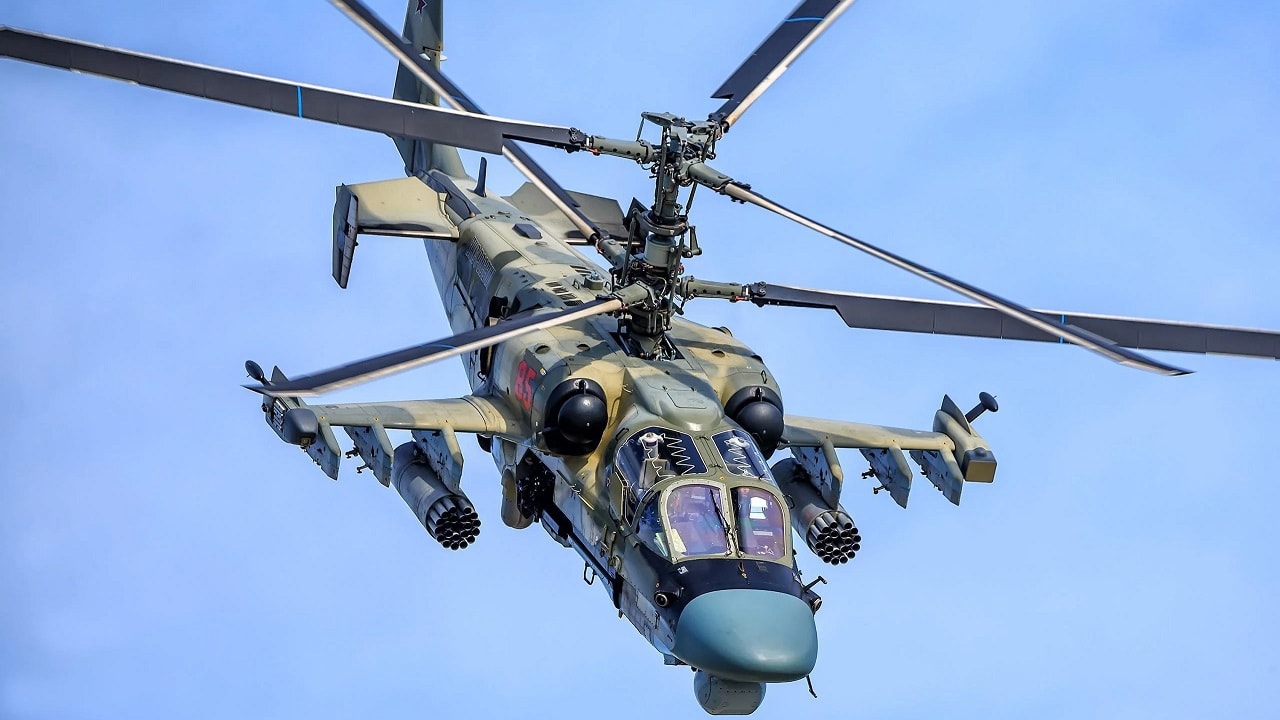 The Izdeliye 305E missile was first unveiled at the International Military-Technical Forum Army-2021. It was developed by the Kolomna Machine Engineering Design Bureau (KBM, part of the NPO High-Precision Weapons), part of the Rostec State Corporation.
"The missile may be included in the armament of export-oriented combat helicopters Ka-52M and Mi-28NM. It will radically enhance their capabilities to counter all types of targets on the battlefield," Sergey Mikhailov, its deputy CEO, had said.
We're back.

Acc. to ?? sources (Zvezda in particular) RuAF will introduce further "Izdeliye 305E" guided missiles to its Ka-52 formations in UKR after battlefield testing bore out factory results (one of which was reportedly this particular strike). pic.twitter.com/Lzhp4ae98U

— Carlos Manuel Pimentel ☭ (@cpimentel986) July 5, 2022
According to him, this missile is the first Russian multipurpose weapon for helicopters. "Previously, there have been two modifications of missiles: one to engage armored targets and one for other targets. For example, this principle was implemented in the Ataka family.
Now helicopters will be able to hit any targets on the battlefield with unified ammunition," Mikhailov added. "Unified" here indicates a typical family of missiles broadly compatible with all of Russia's air fleet.
The missile's rear fins show antennae jutting out, which can be safely assumed meant for receiving guidance commands. It is unclear whether they would be jamming proof, given the need to maintain a line of sight from the helicopter to the target. The front fins appear steerable at the root, offering surface airflow controls.
Another hazy video on social media shows the missile launched from an unidentified air platform and the front camera recording it heading towards a sizeable civilian building, specifically toward a window. Whether this too was publicized by the MoD is unclear. Both videos show the missile camera recording its flight in thermal mode.
Blessed be thy stolen microchips from Ukrainian dishwashers. Izdeliye 305E missile at work. pic.twitter.com/Qwo8DSCsuG

— Ghost of Zepo (@mdfzeh) July 3, 2022
The Ka-52 contra-rotor helicopters have been used significantly in Ukraine, undertaking most of the aerial mass fire roles on Ukrainian ground formations in Donbas.
The war has served as an excellent platform for Russia to fine-tune many of its weapons systems and operational concepts, particularly artillery targeting, long-range fires, helicopter close air support, UAV usage, counter-UAV capabilities, and improving its logistical capabilities.
Fighting a conventional war, Russia's armed forces have emerged more combat experienced in contrast to the US and European militaries, which had been fighting non-state actors for a long time.
Ironically, it has also gotten hold of scores of US, UK, German, and Polish-made artillery and anti-tank recoilless and guided missiles, besides seeing them in action and fully experiencing their capabilities.
Some experts believe Russia to have preserved the true extent of its capabilities, given it did not need them in the first place since it was fighting a relatively weaker Ukrainian military.