The use of Russia's 'most powerful' fighter aircraft, Su-35, has had mixed results in the Ukraine conflict. While Ukraine claims to have shot down a few Su-35 warplanes, Russia also contends to have destroyed Ukraine's critical military infrastructure with this cutting-edge flying machine. 
Recently, a Russian Su-35 fighter allegedly destroyed a Ukrainian S-300 anti-aircraft missile launcher near Kramatorsk, according to the Russian ministry, in what Moscow referred to as a special military operation in Ukraine. 
On July 28, Lieutenant-General Igor Konashenkov, the spokesperson for the defense ministry, issued the following statement.
"In the area of Kramatorsk, a Su-35S multirole fighter jet of the Russian Aerospace Forces wiped out an S-300 anti-aircraft missile launcher." 
Additionally, he claimed that six Ukrainian army ammunition depots were hit by Russian combat aircraft, missiles, and artillery units in the Mykolaiv and Donetsk regions in the last 24 hours. 
The ministry, however, did not offer any concrete evidence that the Su-35 had destroyed air defense systems. The ministry previously claimed that a Russian Su-35S fighter jet downed three Ukrainian warplanes in the Donetsk region.  
"Russian Su-35S fighter jet shot down two Ukrainian Su-25 in Barvenkovo, Kharkiv region, and Troitskoye, Donetsk, and one MiG-29 near Krasnoploye of the Donetsk People's Republic," the ministry announced on July 10. 
Su-35 aircraft have been crucial to Russia's plans to invade Ukraine. Before the armed conflict started, Su-35s were noticeably relocated from the Russian Far East to the Belarusian border with Ukraine.
In January 2022, two battalions of S-400 air defense systems and 12 Sukhoi-35 fighter planes were sent to Belarus, according to an announcement made by Russia's deputy defense minister Alexander Fomin, to take part in a joint exercise.
Meanwhile, the S-300 is a crucial defense system for the Ukrainian forces. When the Soviet Union fell apart in 1991, a large amount of air-defense equipment was passed down to the Ukrainian army, air force, and navy.
Six brigades, four regiments, and additional S-300s that the army took control of were among those that were cascaded to the Ukrainian air force.
Su-35 Jets: Setback For Russia, China
Even though the Su-35 is hailed as one of the best dogfighters, the aircraft experienced several setbacks during the conflict, damaging its reputation. The EurAsian Times had previously reported how the plane gained attention due to Ukraine claiming to have it shot down. 
On April 3, in the Kharkiv region, close to Izium, the first Su-35S Flanker-E was shot down. An anti-aircraft missile fired by the Ukrainian Air Force is thought to have brought the aircraft down.
On July 19, a Russian Su-35 was allegedly shot down by Ukrainian forces close to Nova Kakhovka. In an incident that occurred in the Kherson region on May 27, it was reported that a Ukrainian MiG-29 downed a Russian Su-35.
It was reportedly the second time in the conflict with Ukraine that Russia had lost a Su-35.
Furthermore, it's possible that the United States and the United Kingdom could have "material" from the downed Sukhoi Su-35 to decipher and plan strategies against Russia's second-most sophisticated fighter-bomber.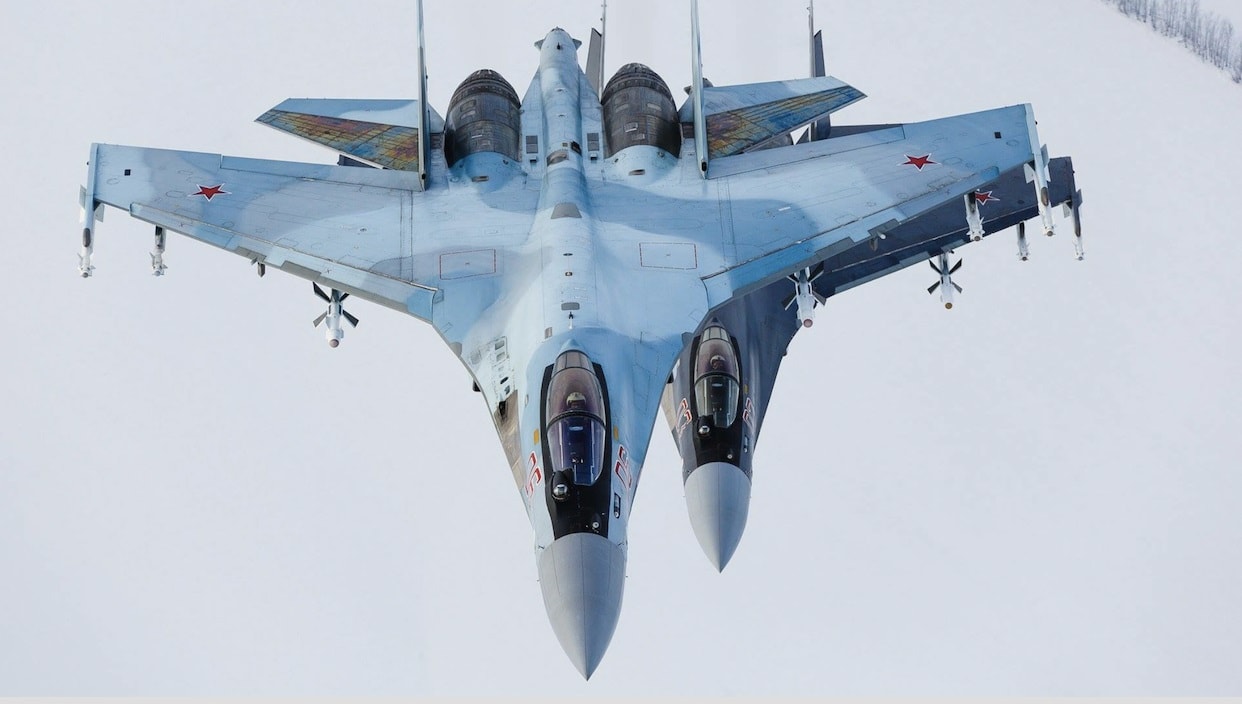 The downing of Su-35 fighters is also regarded as a significant setback for China. The Su-35S, which NATO refers to as Flanker E, is also used by the PLAAF. All deliveries had been completed to Beijing by April 2019. 
The Su-35S is an all-weather, single-seat fighter that can take to the skies day or night. Modernized electronic countermeasures, such as active and passive jamming, effectively protect it.
The sophisticated Irbis-E passive electronically scanned array radar has a range of approximately 217 miles and can track up to 30 targets, based on their size. 
The Su-35's arsenal includes a 30mm autocannon and 17,630 pounds of payload on 12 external hardpoints. Along with laser and satellite-guided bombs, it can launch a variety of air-to-air, air-to-surface, anti-radiation, and anti-ship missiles.
The aircraft can carry six short-range air-to-air missiles and 12 beyond-visual-range air-to-air missiles.  The twin Saturn AL-41F1S thrust-vectoring turbofan engines are the key to its exceptional maneuverability and quick agility.
These engines' maximum altitude and top speeds are 59,000 feet and 1,550 mph, respectively. The plane also received canard wings near the nose, enabling more flexible maneuvers without necessitating a significant overhaul of the airframe.