The Russian aggression in Ukraine has caused deep discomfort across Europe. Rattled by the first major military conflict since World War II, nations in this continent are looking to boost their defense spending. 
According to weapon manufacturers gathered at a defense exhibition in Saudi Arabia this week, Russia's action against Ukraine has changed the strategic narrative in Europe, perhaps ushering in a new era of acquisitions driven by Germany, Reuters reported.
The World Defense Show, which has drawn big brands such as Europe's Airbus, MBDA, and Leonardo among 600 other weapons manufacturers, is taking place amid a major geopolitical upheaval. Interestingly, both warring nations Russia and Ukraine are participating in the event.
After years of European defense funding cuts and exhaustion as a result of NATO's failures in Afghanistan, the latest conflict has rekindled interest in security matters. It was in 2017 that former US President Donald Trump had exhorted NATO countries to double their defense spending to 4% from the 2% at the time.
However, not much progress was made for want of an immediate security concern. The sense of complacency was broken by the Ukraine crisis. In recent days, a number of European countries have announced an increase in their defense spending.
Besides Germany, which has historically downplayed the military's role in foreign affairs, Denmark, and Poland have all declared they will increase the military budget.
I salute the decision by German Chancellor @OlafScholz to raise ?? defense spending above 2 percent of GDP by committing 100 billion euros to a special fund for its armed forces.
It is a shift in the whole #NATO defence architecture!

— Gitanas Nausėda (@GitanasNauseda) February 27, 2022
"There was peace for decades and people thought there would be peace forever. Unfortunately, that assumption has been proven wrong," Hristo Ibouchev, the executive director of Bulgarian firearms and munitions maker Arsenal, told Reuters. The weapon manufacturers are set to benefit from the European resolve to increase defense spending.
NATO has categorically stated that it will not enter the conflict against Russia. "We are not part of this conflict," said NATO Secretary-General Jens Stoltenberg. However, not being a direct combatant has not stopped the military alliance from pledging a boost to their defense budgets.
European Military Rejuvenation
German Chancellor Olaf Scholz has stated that Berlin may purchase F-35 stealth fighter jets from the US, but that future advanced weaponry will be obtained from European consortiums.
It is noteworthy that Germany's FCAS program for a futuristic fighter jet has been caught in the doldrums due to some internal differences with other stakeholders.
According to Scholz, the German budget this year will allocate 100 billion Euros ($109 billion) for a one-time surge in military spending, which is more than double the total defense bill for 2021 — 47 billion Euros.
Clear-eyed, overdue and inspiring – @Bundeskanzler addresses German @Bundestag in special session: Germany will continue to support #Ukraine, pledge €100bn special fund for German #Bundeswehr, raise defense spending to 2%, consider buying F-35, build LNG terminals. #Zeitenwende pic.twitter.com/MnNowGlbBg

— Jan Neutze (@JanNeutze) February 27, 2022
"The German announcement alone is a new era of defense spending for the EU if it's followed through on," manager of Jane's Defense Budgets Andrew MacDonald told Reuters, predicting such a significant cultural shift would almost certainly lead to others following suit.
Germany has been chastised for what many see as a lack of military expenditure and ineffective response to Russia's military buildup near Ukraine and subsequent invasion. The statement came after Berlin announced that it would send weapons and other supplies to Ukraine directly, CNBC reported.
Another country to announce a boost in defense spending is Poland, a country that borders Moscow's ally Belarus on one side and Ukraine on another. It represents the easternmost flank of NATO.
In what officials portrayed as a direct response to Russia's aggression against Ukraine, Poland's government approved a new defense measure last month that would dramatically raise the country's military spending and expand the size of its army.
WARSAW, Poland (AP) Poland's most powerful politician says his country will raise its defense spending to 3% of GDP starting next year, amid the new security threat following Russia's invasion of Ukraine.

— Rob Gillies (@rgilliescanada) March 3, 2022
Following Belarusian encouragement of thousands of asylum seekers to enter Poland and its Baltic neighbors last year, the countries declared a state of emergency along most of their eastern borders, with soldiers and helicopters strewn across hundreds of square miles. It is also expected to be flooded by refugees escaping the war in Ukraine.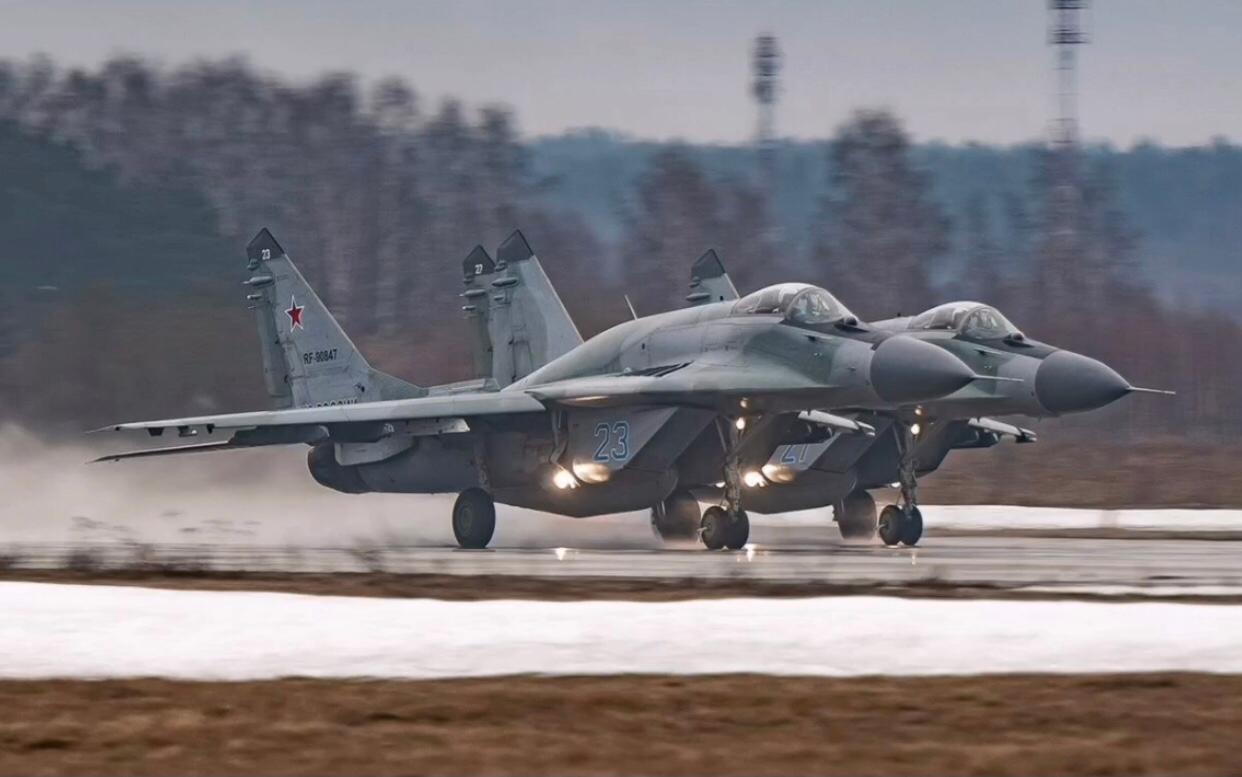 Poland had reportedly been asked to supply its MIG-29 and Su-25 fighter jets to Ukraine with which the Ukrainian Air Force is already familiar. It was to be compensated with F-16 fighter jets in the place of the outgoing aircraft. However, it has so far remained reluctant to make the export.
Further from Poland, the heat is also felt in the Baltic states. Prime Minister Ingrida Simonyte of Lithuania announced that all political parties had agreed to support a government proposal to increase defense spending to more than 2.5 percent of GDP by 2022. The original proposal for Lithuania was to spend 1.2 billion Euros ($1.31 billion) in 2022, or 2.05 percent of GDP.
This week, a team of #NATO experts visited Lithuania to assess the progress of the country's defence system & implementation of NATO commitments. Guests acknowledged that the ??@LTU_Army meet high NATO standards & stressed the importance of ?? growing defence budget. #WeAreNATO pic.twitter.com/7nwYfVsQML

— Lithuanian MOD (@Lithuanian_MoD) January 21, 2022
In response to the invasion of Ukraine, Danish Prime Minister Mette Frederiksen announced that Denmark will dramatically boost its defense spending and strive to become independent of Russian natural gas.
According to an agreement reached between the major political parties, the Nordic country would progressively boost its defense spending to reach 2% of GDP by 2033, equating to an increase in yearly defense spending of roughly 18 billion Danish crowns ($2.65 billion).
Further, Denmark is also slated to hold a referendum on joining the common EU defense policy on June 1 with the government admitting that the country's leading political parties "agree that European security is threatened".
Many other European countries have already increased or plan to increase their defense budgets.
Skepticism Remains
Some executives were skeptical of any significant rise, lamenting years of sluggish investment, and predicted that states would back out of new pledges.
Others said that EU governments were already paying more attention to security after years of Russian aggression, such as the 2014 annexation of Crimea, and that this war would further intensify plans.
"The defense role is changing dramatically," a European executive said, expecting higher spending not only as a result of the war but also as a result of former US President Donald Trump's "American First" strategy, which emphasized the need for self-reliance.
Meanwhile, Russia's arms manufacturers exhibited precision-guided missiles and artillery similar to those employed by its forces besieging Ukrainian cities at the ongoing defense expo in Riyadh.
Despite Western sanctions on banks and other enterprises aimed at hurting Russia's economy, Russian CEOs declined to comment on whether their companies could still get paid for exports. Western businessmen said the restrictions would make it difficult, but not impossible for Russian companies to be paid.
Russia is the world's second-largest arms exporter. Since 2016, Russia has exported weaponry to over 45 countries, accounting for around 20% of global arms sales. Many countries have long-standing arms deals with Russia, some dating back to the Soviet Union.
The first-ever World Defense Show in Saudi Arabia opened to the public on March 6, as part of a push to localize the Kingdom's military spending. Nearly 600 exhibitors from over 40 countries will be present at the show.