After being ejected from the F-35 fighter jet program, Turkey has been aggressively exploring to find an alternative to the US' fifth-generation stealth aircraft. 
The US removed Turkey from the Lockheed Martin F-35 Joint Strike Fighter program following the latter's decision to acquire the Russian S-400 air defense system – touted as the most lethal surface-to-air missile capable of detecting and destroying even the most advanced stealth aircraft.
At present, only the three superpowers — the US, China, and Russia — have their own fifth-generation stealth jets. While America boasts two different types of jets — F-35 Lightning II and F-22 Raptor, China and Russia have J-20 Mighty Dragon and Su-57 Felon respectively.
Since Turkey is looking to develop its own F-35, Russia has come forward with a proposal to help Turkey develop its fifth-generation jet.
Last week, Dmitry Shugayev, Director of Russia's Federal Service for Military-Technical Cooperation announced, "At this stage, consultations are underway with the Turkish side at the level of specialized groups on the issues of interaction in creating the Turkish national fighter."
Shugayev added that Russia could render technical assistance in developing and manufacturing Turkish national aircraft. And we are ready to share our expertise with our Turkish partners, he added.
The TF Program
Ankara has been long waiting to develop Turkish Fighters (TF) — previously called TF-X, and made several attempts before to achieve it. The TF-X project was launched in 2011 to replace its aging F-4 and F-16 aircraft.
And four years later, Turkey signed a deal with the UK-based defense company, BAE Systems, to assist in the development of the jet. 
The TF project has been hampered by a lack of progress in selecting a foreign engine to power initial batches of the aircraft. In 2017, a Turkish company, Kale Group, entered into a $139 million deal with Rolls-Royce to develop an engine for the TF.
However, the project has seen little progress over technology transfer concerns.
It seems the Erdogan government, which has been projecting itself as a leader of the Islamic world, is interested in a joint development program with a Muslim nation rather than a western country.
Bloomberg recently reported that Turkey has reached out to Pakistan to co-develop warplanes (TFs). It said Turkish defense and government officials have held a series of talks with Pakistani counterparts.
The last high-level discussion was held in January during which a proposal to develop and manufacture military hardware with Pakistan was taken up. However, no further details about the implementation of this plan are available.
Last year, Turkey also approached Malaysia for a joint venture. Temel Kotil, CEO of Turkish Aerospace Industries (TAI), was quoted by Defense News as saying that Ankara considered "Indonesia, Pakistan, Bangladesh, and Kazakhstan as potential partners or buyers of the future fighter jet".
Kotil said, "[TF] will be the first big fighter jets of the Muslims. Building the aircraft first and then selling it is a modality. But we think it's better if we take in partners at this stage."
Turkey's Desperation
Turkey's desperation to build the TF stems from the fact that it needs to urgently phase out its aging F-16 fleet given that its rivals have acquired or are in the process of acquiring more advanced jets such as Dassault Rafale.
The US is currently upgrading most of Greece's F-16s to the Viper configuration, which will make them the most advanced F-16s in Europe.
Additionally, Athens has ordered a small fleet of 4.5-generation French-built Rafale fighters and is also likely to acquire F-35As in the not-too-distant future. Egypt has also acquired Rafales and has reportedly begun taking delivery of 4.5-generation Su-35s from Russia.
The United Arab Emirates (UAE), Turkey's main rival in the Arab world, flies highly formidable F-16E/F Block jets and could acquire stealth f-35 jets in near future.
Saudi Arabia operates a large fleet of highly advanced and heavily armed F-15SA (Saudi Advanced) Strike Eagles while Qatar would have a variety of jets at its disposal including Eurofighter Typhoons, Rafales and F-15QA.
Israel, for now, remains the only country in the Middle East to fly F-35s along with highly advanced versions of the F-15 and F-16.
Ankara-based BlueMelange, an independent research group, was recently quoted in Forbes claiming that there are around 236 Turkish F-16s, consisting of Block 30, Block 40, Block 50, and Block 50+ variants, with descending combat-readiness due to their age and extreme combat-loaded sortie-flight records.
"Due to operational difficulties, only 9 active squadrons are remaining following the closure and merging of some bases and squadrons due to operational concerns," Forbes reported.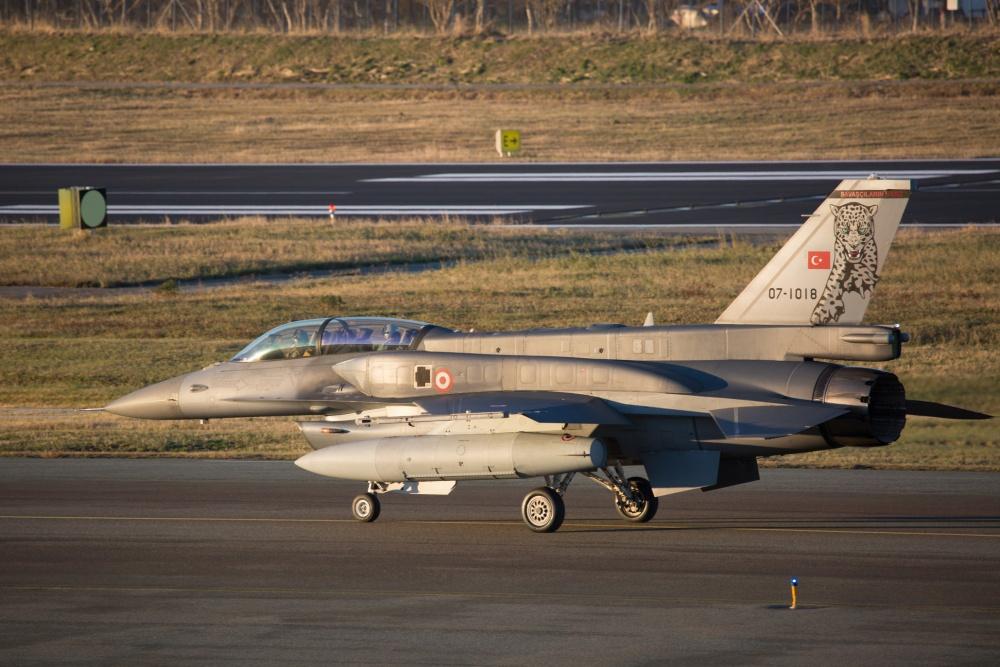 Turkish Block 40 and 50 F-16s underwent substantial structural and avionic upgrades as part of the Common Configuration Implementation Program (CCIP) completed in 2015.
Additional structural upgrades began this year in Turkey, that seek to prolong the lifespan of several F-16s, extending their respective flight times from an average of 8,000 hours to 12,000.
However, the future of these upgrades is hanging in balance following the imposition of America's Adversaries through Sanctions Act (CAATSA) on the Turkish arms industry in December 2020 in response to its S-400 procurement.
Options Before Turkey 
Turkey is, therefore, left with limited options when it comes to the modernization of its fighter jet fleet. Russia, which has come forward to help Turkey, has itself not developed a full stealth aircraft like the F-35 or F-22 Raptor, a reason why India had pulled out of this program.
It's worth recalling that Moscow last month unveiled a single-engine fifth-generation stealth jet, Su-75 CheckMate, probably to plug the gap in its advanced fighter jets.
Nitin J Ticku, a defense expert and senior journalist with the EurAsian Times believes that Turkey has limited options at the moment. With growing ties with Russia after the S-400 deal, chances are high that Russia and Turkey could sign a deal on acquiring Su-57 or S-35 jets while Moscow helps Ankaka with developing its fifth-gen fighter jet or both can participate in developing the Su-75 Checkmate.
Nevertheless, there is currently no indication as to how Russia and Turkey will be involved in the latter's TF program or whether it will materialize or not.
The Turkish side has for quite long stated its plan to develop its own fifth-generation fighter jet. Russia earlier indicated that it was ready to consider the possibility of collaboration under this program. However, no formal request has been received s far, Tass reported. 
Ticku also notes that a joint venture of this kind will introduce a new set of legal-diplomatic challenges. In addition, the two sides must navigate delicate questions of ownership rights, domestic politics, foreign policy concerns, intellectual property protections and funding.
The author is a defense and aerospace enthusiast who was associated with leading Indian media organizations such as CNN-News18, The Statesman, Republic TV, NEWSX / The Sunday Guardian in the past. He is a contributor to the Indian Aerospace and Defence (IA&D) magazine.
Follow EurAsian Times To Get Latest News On Defense
More @ EurAsian Times