Ukrainian President Volodymyr Zelensky's reluctance to get a fresh mandate by postponing the country's scheduled presidential elections, slated for next March, is likely to complicate efforts to get more Western monetary and military assistance when the global attention has shifted to the Israel-Hamas War.
Presidential elections in Ukraine are scheduled to take place every five years. Zelensky was sworn into office in May 2019, meaning that his five-year term is set to expire in a few months.
However, as Ukraine is under martial law these days, Zelensky has got the Ukrainian Constitution to plead his case. Under martial law, elections for the presidential office of Ukraine, Ukraine's parliamentary body, the Verkhovna Rada, the Verkhovna Rada of the Autonomous Republic of Crimea, and local self-government bodies could be prohibited.
For Zelensky, any talk of elections will raise "politically divisive issues," which the country cannot afford during a war with Russia. "We must realize that now is the time of defense, the time of the battle that determines the state's and people's fate, not the time of manipulations, which only Russia expects from Ukraine. I believe now is not the right time for elections", he said in a recent television interview.
But that is not all. During this interview, Zelensky said that an election would cost about US$135 million, which, if held, should be funded by the United States and the European Union (EU). He also said that using its military budget was against the law. US contributions to the conflict are strictly set out and audited.
Holding elections, Zelensky said, would also require a change to the electoral code prohibiting votes during martial law, ensuring fair voting processes for those serving in combat, and reaching the millions of Ukrainians displaced during the war.
Are the US and EU going to fund elections in Ukraine? It seems highly unlikely as there is now a growing realization in the Western capitals that Zelensky has become a master at using the media to further his political aims and put Western governments under moral pressure to supply Ukraine with more weapons, ammunition, and money.
All told, Zelensky, the comedian-turned-president, became a hero and darling for the Western media and leaders only after the Russian invasion of his country. Before that, the Western press had pointed out what a dictator he was and how corrupt he was.
His popularity rating had fallen to 31 percent by the end of 2021. According to a 2021 report by Transparency International, Ukraine was the second most corrupt country in Europe after Russia. Globally, it ranked 122nd of 180 countries.
It is not realized that if Zelensky's attempts at gaining a speedier entry of Ukraine to the EU and NATO as a member have not materialized, it is due to the difficulties of meeting their admission criteria.
As this writer had pointed out in this platform before, the EU has made it clear the Ukrainian government will have to prove that it is carrying out sectoral and institutional reforms, including anti-corruption and judicial reforms, respecting the rule of law, showing commitment to good governance and modernization of the national and local institutions.
It may be noted that an EU-aspirant country has to meet three primary conditions, also known as the "Copenhagen criteria" – having stable and democratic institutions, being a functioning market economy, and implementing the European Union's legislative corpus (the "acquis," in EU jargon).
However, EU studies have shown Ukraine's shortcomings in the rule of law, mainly external interference with the courts at all levels and in the anti-corruption institutions. Ukraine's rule of law remains utterly fragile, with a lack of transparency in the procurement system and a weak judiciary.
The EU is also upset that Ukraine does not have a European-style party system based on socio-economic interests and values but predominantly leadership-based parties without clear political goals. Susceptible to external financial interests, the elected representatives often undermine reform they have officially committed to vis-à-vis the EU and their electorates, the EU notes.
Ukraine does not have a functioning market economy and the ability to absorb the competition within the EU. The EU has noted several deficiencies in this regard: a big shadow economy, the absence of an anti-monopoly policy, and widespread corruption that deters investors and slows economic growth. Ukraine's banking sector continues to suffer from underperforming and predominantly state-owned enterprises.
As it is, following the Russian invasion, the Biden administration and the US Congress have directed more than US$75 billion in assistance to Ukraine. The EU, so far, has committed around 25 billion Euros in military aid, with most of it coming from Germany.
Zelensky gradually obtained heavy artillery, modern air defense systems, Leopard 2 tanks, and even F-16 fighter jets – all weapons whose delivery to Ukraine had previously seemed unfathomable.
However, despite such massive aid, nothing much has happened in defeating Russia. After around 600 days of war, the Ukrainian army reportedly suffered from massive shortages. At the top of Kyiv's list of priorities are weapons for air defense – from portable devices such as Stinger missiles to state-of-the-art missile defense systems like Europe's Iris-T.  Ukraine also needs artillery and electronic warfare equipment to defend against Russian drones.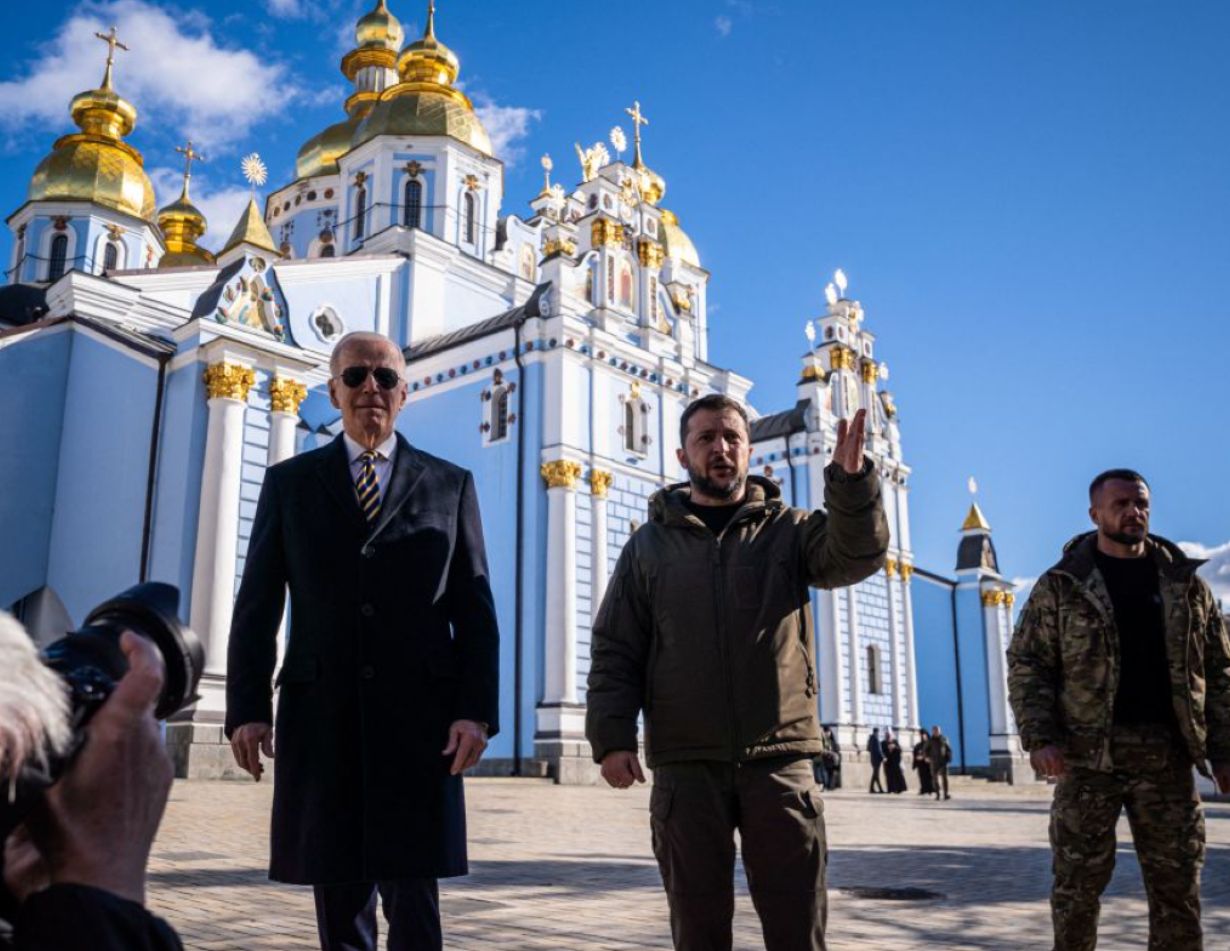 The grim reality is that Ukraine's initial incredible enthusiasm for the war to defend against Russia has waned. Reportedly, "People are hiding from conscription. The US insists on increasing the sheer size of the Ukrainian army, and Kyiv counters by asking for modern weapons that permit the military to be kept smaller. Soldiers on the ground are seeking whom to blame, and the usual scapegoat is corruption".
Ukraine's commander-in-chief, Valery Zaluzhny, admitted that the war is a stalemate and that it would take a massive technological leap to break the deadlock. It is evident that General Zaluzhny and his boss, Zelensky, need more Western money for that technological leap. And there lies the problem.
President Biden has requested a further US$106 billion from Congress for Israel, Ukraine, and the Pacific Rim. But the Republicans are standing in the way. Mike Johnson, the new speaker of the House, has agreed to wave through US$14 billion for Israel but hasn't released even a single cent for Ukraine, deciding to use Kyiv as political leverage.
A recent opinion poll has shown that support for arming Ukraine had declined amongst Americans of both political parties.
There seems to be lesser likelihood that the EU would be able to compensate for the US as far as Ukraine is concerned. This is undoubtedly true of Germany, the EU's most powerful member. Politicians and military officials in Germany say there is nothing left to give from the German armed forces' sparse stocks when Germany's defense industry needs to produce faster.
It has been reported that war weariness is also spreading within the EU, a development Zelensky recently lamented in an interview. "The scariest thing is that part of the world got used to the war in Ukraine," the Ukrainian president told Time magazine. "Exhaustion with the war rolls along like a wave. You see it in the United States, in Europe."
Undeniably, these are troubling signs for Kyiv. And what is worse is that things for Ukraine have become more difficult after October 7, the day Hamas launched a wave of attacks against Israel, prompting a swift retaliation and counterstrikes in Gaza.
The War in the Middle East seems to have pulled the world's attention away from Kyiv's plight. Significant portions of Western arms planned or meant for Ukraine will now be diverted to Israel.
Author and veteran journalist Prakash Nanda is Chairman of the Editorial Board – EurAsian Times and has commented on politics, foreign policy, and strategic affairs for nearly three decades. A former National Fellow of the Indian Council for Historical Research and recipient of the Seoul Peace Prize Scholarship, he is also a Distinguished Fellow at the Institute of Peace and Conflict Studies. 
CONTACT: prakash.nanda (at) hotmail.com