Russia is reportedly keen to discuss the possibility of supplying Su-35 and Su-57 fighter jets to Turkey. Russia is also keen to pitch the same jets to the Indian Air Force as it showcased its military-tech during the 'Aero India' exhibition.
Turkey is believed to be exploring the 4++ generation Su-35 fighters and the fifth-generation Su-57 stealth fighters after Ankara was ejected from the F-35 jet project the US after Ankara inked S-400 missile deal with Russia.
According to Valeria Reshetnikova, the spokesperson for Russia's Federal Service for Military and Technical Cooperation, "As for Ankara's potential plans of purchasing Russian Su-35 and Su-57 fighters, it should be noted that the Turkish side has been informed about their technical specifications in full.
If there is a request from Turkey for these planes, we are ready for negotiations on this issue," said Reshetnikova.
Ankara has been looking to procure new fighters for its military for some time now, with the Russian Su-35 and Su-57 aircraft emerging as the best option for the country.
Why Turkey Needs New Aircraft
The Turkish Air Force desperately requires advanced fighter jets, whether under the fifth-generation or fourth-generation bracket, to gradually replace its aging fleet of F-16 and F-4 fighter jets.
Ankara weighed its options of procuring the Dassault Rafales from France as well as the Eurofighter Typhoons from the UK.
However, given Turkey's rivalry with France, President Macron is unlikely to approve a deal to sell Rafales to the country.
With respect to the Eurofighters, the US sanctions have made it almost impossible to pursue a deal with the UK. Ankara had signed a $130-million deal in 2017 with the UK to develop its fifth-generation TF-X fighter jet, but the project seems to be in limbo.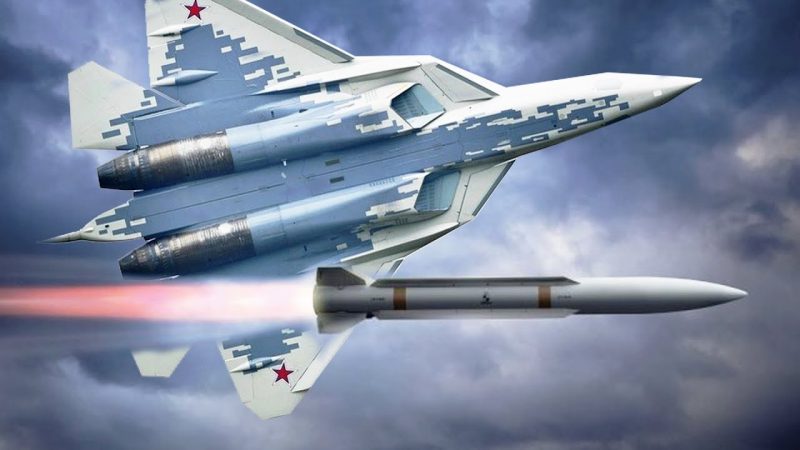 With the Turkish Air Force desperately needing a modern fleet of advanced fighter jets, Ankara has turned to its ally Moscow, which has already supplied it with the deadly S-400 air defense system.
What Happened To TF-X Program?
The Turkish Aerospace Industries or TAI has been working towards developing the country's home-grown fifth-generation TF-X fighter aircraft for the Turkish Air Force.
It is claimed the fifth-generation fighter jet will possess superior stealth and attack capabilities and could replace older fighters. This would serve Turkey's requirement given its failure in acquiring the F-35 fighters from the United States.
The TF-X fighter, which is expected to meet the nation's air combat requirements until 2070, had its full-scale mock-up on display at the Paris Airshow in June 2019.
However, the project looks far away, despite Russia's interest in participating in its development. As a result, Turkey's best option appears to be the Russian Su-57 and Su-35 fighters.
SU-35 Versus SU-57 
The Su-35 (NATO reporting name Flanker-E) is an advanced derivative of the original Soviet-era Su-27 and considered one of the most advanced and capable fighter jets ever fielded by Russia.
While the 4.5 generation Su-35 was primarily designed to be an air superiority fighter, the aircraft also has a potent air-to-ground strike ability. The single-seat, twin-engine, supermaneuverable Su-35 aircraft exhibits a number of striking design features which make it a fierce competitor against most of its Western counterparts.
It is powered by the Saturn AL-41F1S engines which support supercruising or the ability to sustain supersonic flight without the use of afterburners.
On the other hand, the single-seat, twin-engine Su-57 multirole stealth aircraft has been designed to destroy all types of air, ground, and naval targets.
The fighter, which competes with the advanced American stealth duo of F-35 and F-22 Raptor, possesses supercruise, supermaneuverability, along with advanced avionics to surpass the capabilities of the prior generation fighters.
The fifth-generation Su-57 is built on the systems developed for the Su-35 and has a better airframe that offers some degree of stealth.
Is India Interested In These Aircraft?
Russia would ideally want to sign a deal with Turkey followed by India which also needs additional fighter jets to support the French Rafales in the future.
The country has already been pitched various fourth-generation fighter jets like SAAB's Gripen, Lockheed Martin's advanced version of F-16 – the F-21, Eurofighter Typhoons, and Boeing's F-15EX and F-18 Super Hornets besides additional Rafales.
Russia is keen to pitch its advanced fighter jets to India could be gauged from the recently-concluded 'Aero India' exhibition.
Russian companies showcased more than 200 military hardware, including Su-57, Su-35, and MiG-35 fighters, helicopters Ka-52, Ka-226, Mi-17B-5, Mi-26, S-400 air defense systems among others, at the defense expo.
Expert talking to the EurAsian Times stated that the Indian government would be keeping a close eye on both Su-35 and Su-57 jets even though India acquiring more Russian jets looks quite slim. The hot contender for now appears to be the F-15EX developed by Boeing.
Follow EurAsian Times on Google News