Two more attacks by unmanned kamikaze sea drones on July 16 and 17 in the northern Black Sea and the Kerch Bridge, allegedly by Ukraine, have raised alarms in the Russian Navy, which has planned to upgrade all its vessels. 
After the sixth maritime attack since October last year, the Russian government has now also withdrawn from the Black Sea Grain Initiative. The four-party agreement between Moscow, Ukraine, Turkey, and the United Nations (UN) allows food grain exports from Ukraine's Black Sea ports.  
A report in Izvestia identified "additional electronic warfare stations and special firing points" on the ships for more protection from the perennial threat of sea drones. Ukraine has officially publicized since last year after acquiring them under the United24 crowdfunding program. 
Previous & Current Attacks
Four of the total six attacks by the menacing kamikaze USVs on the Russian Navy fleet, including the July 16 strike, occurred in the northern Black Sea, near Sevastopol. The Crimean coastal city is home to Russia's Black Sea Fleet. 
The first attack occurred in October 2022 with nine aerial and seven sea drones; the second attempt was on March 23 with three USVs, while the third attack on April 24 involved only two USVs.
In the fourth attempt on June 12, the Russian Ministry of Defense (RuMoD) said their intelligence-gathering ship 'Priazovye' was attacked by six Unmanned Surface Vessels (USV).  
The July 16 early morning strike "combined seven UAVs and two USVs…repelled by air defense forces and the fleet without material damage to forces," according to a tweet by Clash Report. A video showed lines of tracer rounds from various directions trying to hit one USV.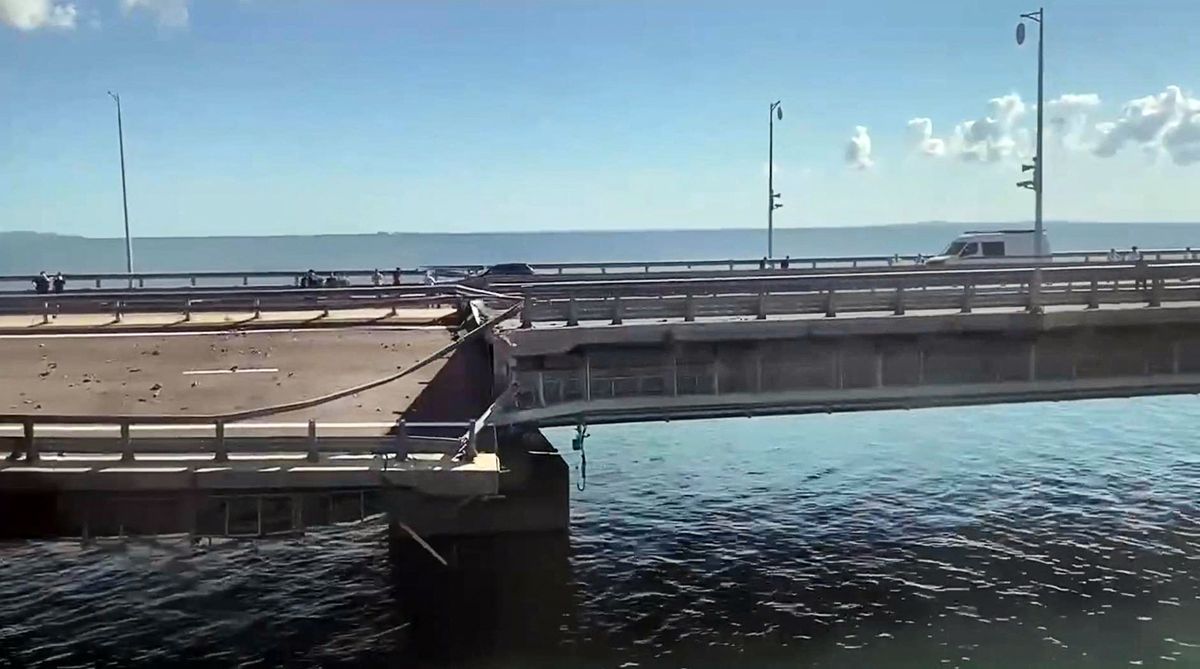 This was followed by a Monday, July 17, night attack on the Kerch Bridge, destroying a segment of the 12-mile-long bridge that connects Russia to occupied Crimea. TASS quoted officials claiming "two Ukrainian surface drones" killed two adults and injured a child. 
The RuMoD, in a statement about the July 16 attack, credited "air defense" and "electronic warfare" for destroying the sea and aerial drones "at a great distance from the coastline." EW "suppressed five" UAVs, with the remaining two hit by onboard weapons.
The two USVs were destroyed "by standard weapons of water area protection boats." These included 14.5-millimeter machine gun fire. 
Black Sea Fleet To Get Lethal
Izvestia quoted Russian military sources saying some Russian warships and vessels have already undergone the appropriate modernization, including at least one landing ship.
While the nature of weapons remains undisclosed, historian Dmitry Boltenkov quoted in the report assessing the systems said it could be a mix of "observation – optical, radar, hydroacoustic (which creates) a protective contour around each ship."
"The received data should be transmitted to the weapons control posts," he said. This indicates a certain level of sensor fusion. 
Wear Down Alert & Tired Russian Sailors
However, Boltenkov's analysis of Ukraine's objectives and strategy matches other Western experts and previous EurAsian Times reports.
In a nutshell, Ukraine is not relying on each attack's success but on wearing down Russian sailors by heightening alert levels and finding gaps in the ships' defenses while technically and tactically refining their unmanned sea operations. 
Sevastopol was attacked by Ukrainian kamikaze unmanned vehicles earlier this morning.

Russia says the combined attack of 7 UAVs and 2 USVs was repelled by air defense forces and the fleet without material damage. pic.twitter.com/aFHH8YvXoN

— Clash Report (@clashreport) July 16, 2023
"The enemy is resourceful. It actively uses aircraft-type drones. It began to use surface unmanned boats," Boltenkov said. Samuel Bendett, military robotics, Artificial Intelligence (AI), and Russian military expert at the Center for Naval Analyses (CNA), suggested an incremental exchange that improves yet stresses each side's capabilities after each fight.   
"Ukraine's USVs are usually small and are not particularly proofed against countermeasures, given their one-way, kamikaze roles. The Russian and Ukrainian militaries are likely learning from each strike: Russians are learning how to identify better and interdict such USVs, while Ukrainians are learning about Russia's vulnerable points," Bendett said while speaking to the EurAsian Times. 
"The reality is that Ukraine is constantly imposing high costs on the Russian Navy by launching small, cheap USVs against ships and port facilities. Defending against such attacks means a constant state of awareness and high levels of stress," Bendett added. 
An earlier analysis by EurAsian Times following the April 24 attack concluded Ukrainians have a fairly large yet not mass-produced inventory of the USVs – assuming they are the same model from the October 2022 strike. They might keep using them sparingly and strategically. 
Russian navy men, too, had raised the alarm over the persistent attacks. Maxim Klimov, Captain 3rd Rank Reserve, was quoted in an interview with Pravda on April 24, noting the USVs' nimble maneuvering capabilities.
"(The boats) jump over the waves, constantly changing course. This is a rather dangerous enemy, and you need to take the development of countermeasures seriously," he said.