The Russian military is set to deploy its first unit of strike robots — five Uran-9 robotic systems — the Russian Ministry of Defence said on April 9.
Minister of Defence Sergei Shoigu was informed about this move during his visit to an enterprise where robotic systems for various purposes are being developed and produced.
Each robotic system includes one command post, mounted on the basis of a KamAZ vehicle, and four combat vehicles. According to the Defense Ministry, another batch of five Uran-9 robotic strike systems has been produced and is ready for delivery to the armed forces, it said.
It was reported in January that the Russian military was supplied with five Uran-9 complexes, including 20 combat vehicles, and two more robots separately.
The armament of Uran-9 consists of a 30-mm automatic cannon, Ataka anti-tank guided missiles (ATGMs), and Shmel flamethrowers.
Video of the Russian Uran-9 unmanned ground vehicle (UGV) equipped with a 2A72 30mm cannon, a 7.62mm PKTM machine gun, and up to 4 Ataka ATGMs or 12 Shmel-M thermobaric flamethrowers or 2 Ataka and 6 Shmel-M.https://t.co/qekMsDpD4Chttps://t.co/V6L3UCOrGP pic.twitter.com/MDPkEOnXKV

— Rob Lee (@RALee85) January 29, 2021
Defensenet quoted the Russian Defence Ministry as saying that one of the scientific research centers has already been setting up an experimental unit and that "This center will subsequently train personnel that will operate Uran-9 strike robotic vehicles in operational military units."
Uran-9 was produced by the 766th Production and Technological Enterprise and is a multipurpose, remote-controlled combat vehicle belonging to the family of UCGVs (Unmanned Combat Ground Vehicles).
The basic version "Uran-9" comes with a 30-mm automatic cannon 2A72, a 7.62 mm machine gun and ten guided missiles, anti-tank missiles 9S120 "Ataka" and anti-aircraft missiles 9K33 "Igla" that allow the machine to fight and destroy the battle tanks from a distance of 8 km.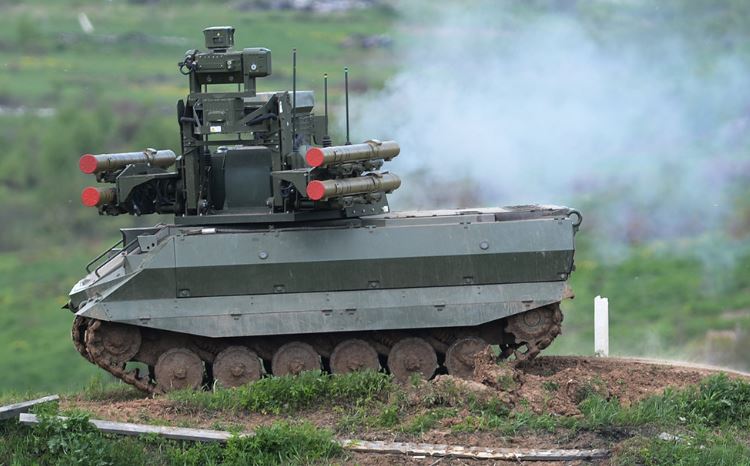 While these UCGVs were earlier deployed by Russia as a separate system, the military conducted a test of AI-based mobile target robots by dressing them as soldiers, last December. Officially, these robots are called "an autonomous target with artificial intelligence algorithms."
While Russia's ongoing State Armaments Program (2018-2025) is focused on "intelligent systems", the United States is its strong contender and one of the global leaders in the development of such modern AI-based warfare techniques.
Released in February 2017 by the US Army's Training and Doctrine Command, the key policy that guides these developments is the "Robotic and Autonomous Systems Strategy," or RAS9. The US Army is developing a range of unmanned ground vehicles, but the process of fielding such machines in future battles would be "slow and cautious," according to American defense officials.
The US military is gearing up to pursue the next-generation combat vehicle, also known as the NGCV. According to Col. William Nuckols, Jr., director of mounted requirements at the Army Maneuver Center of Excellence, "robotics and autonomous systems are… going to be a part of the concept. When you start thinking about future possibilities and the effect that robotics might play, it could be a game-changer."
Follow EurAsian Times on Google News