Russia has developed a new guided missile, X-BPLA, which can be used as part of the armament system for drones and helicopters, a source in the defense industry told Sputnik.
"X-BPLA is a new development based on guided missiles from the Kornet-D missile system. It will become part of the armament system of combat drones, for example, Forpost and Inokhodets, as well as Ka-52 helicopter," the source said.
The missile was successfully launched from a Ka-52M 'Alligator' helicopter as well as Inokhodets, Forpost, and Altius drones, the source added.
Kornet-D
The Kornet-D is a new anti-tank missile carrier from Russia. Based on a BRDM-2 armored scout car chassis and equipped with Konkurs missiles, it was proposed as a replacement for the 9P148. The Kornet-D is built on a GAZ Tigr 4×4 high mobility vehicle chassis. Although a missile launcher, it can be installed on any wheeled or tracked chassis.
This vehicle is equipped with two quadruple launchers that are housed inside the hull while traveling. However, raising the launchers and engaging the target takes only a few seconds. This anti-tank missile carrier has been well hidden. In travel mode, it resembles a conventional Tigr vehicle, which the Russian Army employs in considerable numbers.
This missile carrier employs Kornet-EM anti-tank laser-guided missiles in both tandem HEAT and thermobaric variants. The Kornet-EM ATGM system is a long-range, precision-guided missile with a jam-resistant laser-beam riding guidance system designed to counter ground and air targets in electronic and optical countermeasures situations.
There are two variants of the Kornet-EM ATGM system. One of them is a vehicle-mounted version based on an automated launcher with a sighting/launch module that includes a TV/thermal sight and an automatic target tracking system. Then, there is a portable/vehicle-mounted version based on an enhanced Kornet-E launcher. 
Thermobaric warheads on missiles are effective against entrenched infantry, lightly armored vehicles, field fortifications, and structures. It has a range of up to 10 kilometers. The minimum fire range is 150 meters. Surface ships, helicopters, and drones can all be targeted by the Kornet-D.
The maximum engagement ceiling is 9 kilometers. It is intended to be used as an extended-range weapon in this manner. The Kornet-D can fire a salvo of two missiles at two distinct targets less than a second apart. It can also fire these two missiles at the same time at a single target.
The Kornet-D has the flexibility to fire and forget. The fire control system can monitor and direct each missile to its intended target automatically. During the flight, the operator can change targets or override missile guidance. This missile carrier can fire at any time of day or night, in any weather, and even when the enemy employs countermeasures. Using remotely controlled equipment, the crew can launch missiles from the vehicle at a distance of 50 meters.
Dmitry Litovkin, Editor-in-Chief of Independent Military Review, told TASS that the Russian Kornet anti-tank missile system is capable of piercing any smart active protection system of armor with a paired launch of missiles. 
Ka-52M Helicopter
As previously reported by the EurAsian Times, test flights of two prototypes of the helicopter were conducted at Arsenyev Aviation Company in 2020. The Ka-52M is an enhanced version of the Ka-50 attack/reconnaissance helicopter. In comparison to the preceding model, it has a twin-seat cockpit, a wider snout, and a longer fuselage.
The latest modifications to the previous Ka-52 helicopter include an AESA radar, which improves target detection, tracking, and engagement ranges for onboard armament systems, as well as a more modern electric power supply and avionics. 
The Ka-52 'Alligator,' according to reports, is the world's first operational helicopter with ejection seats. It is capable of a variety of missions, including attack, reconnaissance, and command. Its coaxial rotor layout enables it to perform funnel and flat turn maneuvers, as well as engage moving targets in less protected places.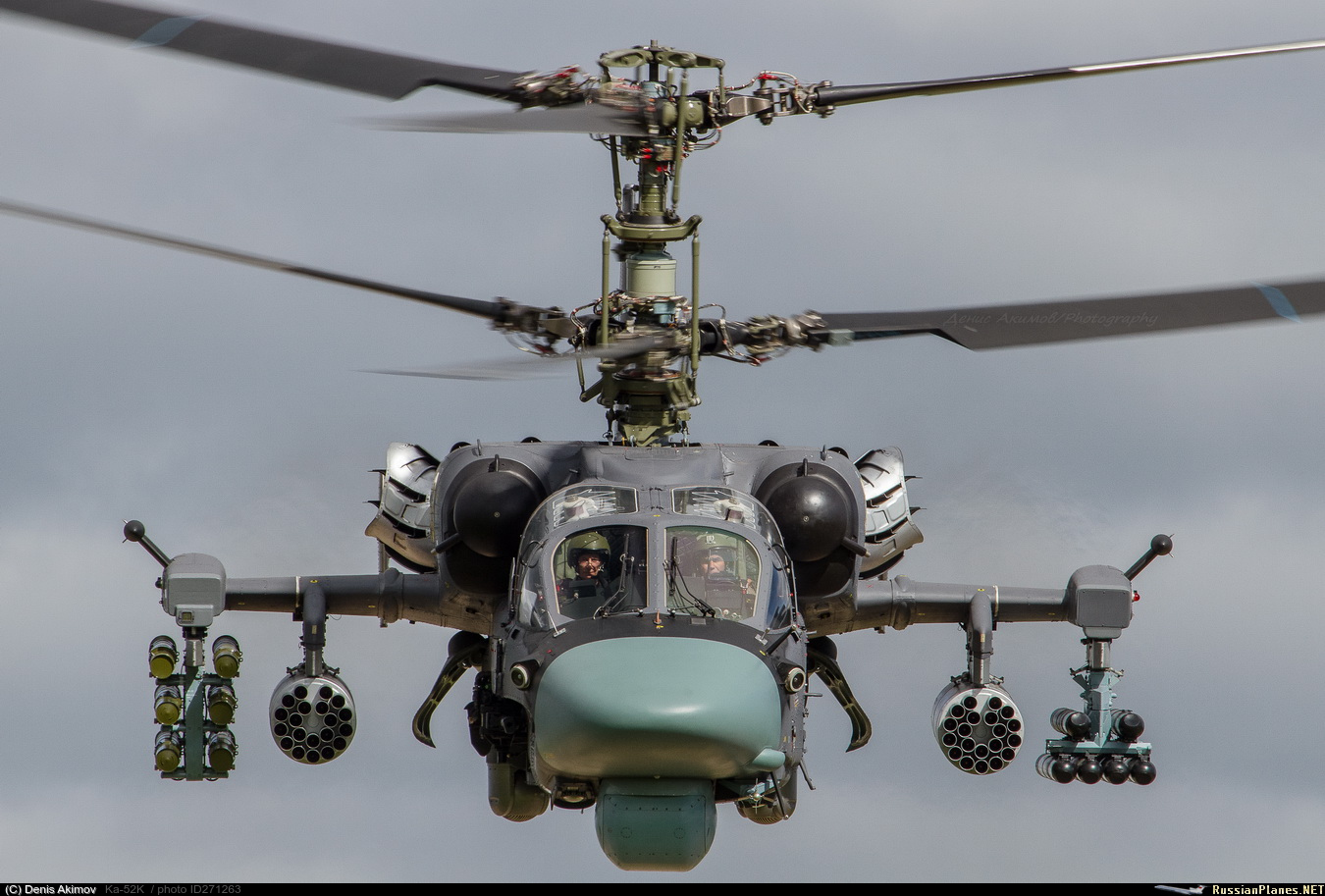 The helicopter has been outfitted with advanced missile weapons and tested. The Ka-52M has been upgraded to be compatible with unmanned aerial vehicles (UAVs). The drones' data will help the crew improve situational awareness on the battlefield and gather intelligence from a greater distance.
The Alligator is a potent platform because of its ability to smoothly operate over mountains and water surfaces. It has characteristics such as reduced vulnerability to wind effects, good battle survivability, and an open avionics design that allows the operator to incorporate his preferred equipment.
The UAE, Armenia, and Kazakhstan had previously expressed interest in purchasing this deadly attack helicopter. Ka-52M's export variant is known as Ka-52E.