Russia has offered India to jointly develop a new battle tank based on its T-14 Armata platform, Valeria Reshetnikova, spokesperson for Russia's Federal Service for Military-Technical Cooperation, told Sputnik news.
"In the context of a recently held Russian-Indian intergovernmental commission on military-technical cooperation and Russian-Indian summit, Indian counterparts were offered new directions of cooperation, including the development of armored fighting vehicles based on the Armata platform and on customers' technical inquiries," Reshetnikova said in an interview.
Earlier this year, the Indian Army submitted a Request for Information (RFI) to acquire 1,770 Future Ready Combat Vehicles (FRCVs) by 2030. In the coming decades, the FRCV could replace the Russian-made T-90 Bhishma and T-72 Ajeya as India's main battle tanks.
1. Indian Army released RFI for Future Ready Combat Vehicle (FRCV). This will be Medium Weight Tank and will remain in service for next 40-50 years as a Main Battle Tank.

Details from RFI next tweet-

— Frontliner (@FrontlinerUV) June 1, 2021
According to the RFI, the proposed FCRV would have "state-of-the-art", "technology-enabled", and "high mobility" qualities, as well as the capacity to operate in a variety of terrains, including high altitude zones, plains, riverine borders, and deserts.
Earlier this year, India had also shown interest in the Russian Sprut-SDM1 lightweight tank. Russia had reportedly put the tank to a test to see if it could survive overload during aerial deployment. India is reported to have been granted access to the testing because of its interest in the Russian tank, as previously reported by the EurAsian Times.
India seeks to counter the Chinese Type 15 light tank along the disputed border with the Russian lightweight tanks. In fact, earlier this month, Russian media had reported that with the Sprut-SDM1 light amphibious tank, Rosoboronexport will participate in India's tender for light tanks, offering knowledge transfer and, most likely, the establishment of local manufacturing of separate parts and assemblies.
Similar offers could also be made for the battle tank that India has been earnestly seeking. If any such deal goes through, India will induct yet another Russian tank into its fleet. As of now, the Russian T-72 and T-90 are the main battle tanks in its arsenal.
The T-72s and T-90s are massive armored vehicles that were purchased to counter the threat posed by Pakistan on India's Western border. Both, the T-72 Ajay and T-90 Bhishma were also deployed in Ladakh last year after the border conflict escalated with the Chinese PLA.
Russian Armata Tank
Russia has now offered to build a tank based on the lethal T-14 Armata for the Indian military. Uralvagonzavod, a Russian corporation, built the T-14 Armata, a new-generation main battle tank (MBT)). In May 2015, it was unveiled for the first time at the Moscow Victory Day Parade.
The new combat vehicle features digitalized technology, an unmanned turret, and a crew-only armored capsule.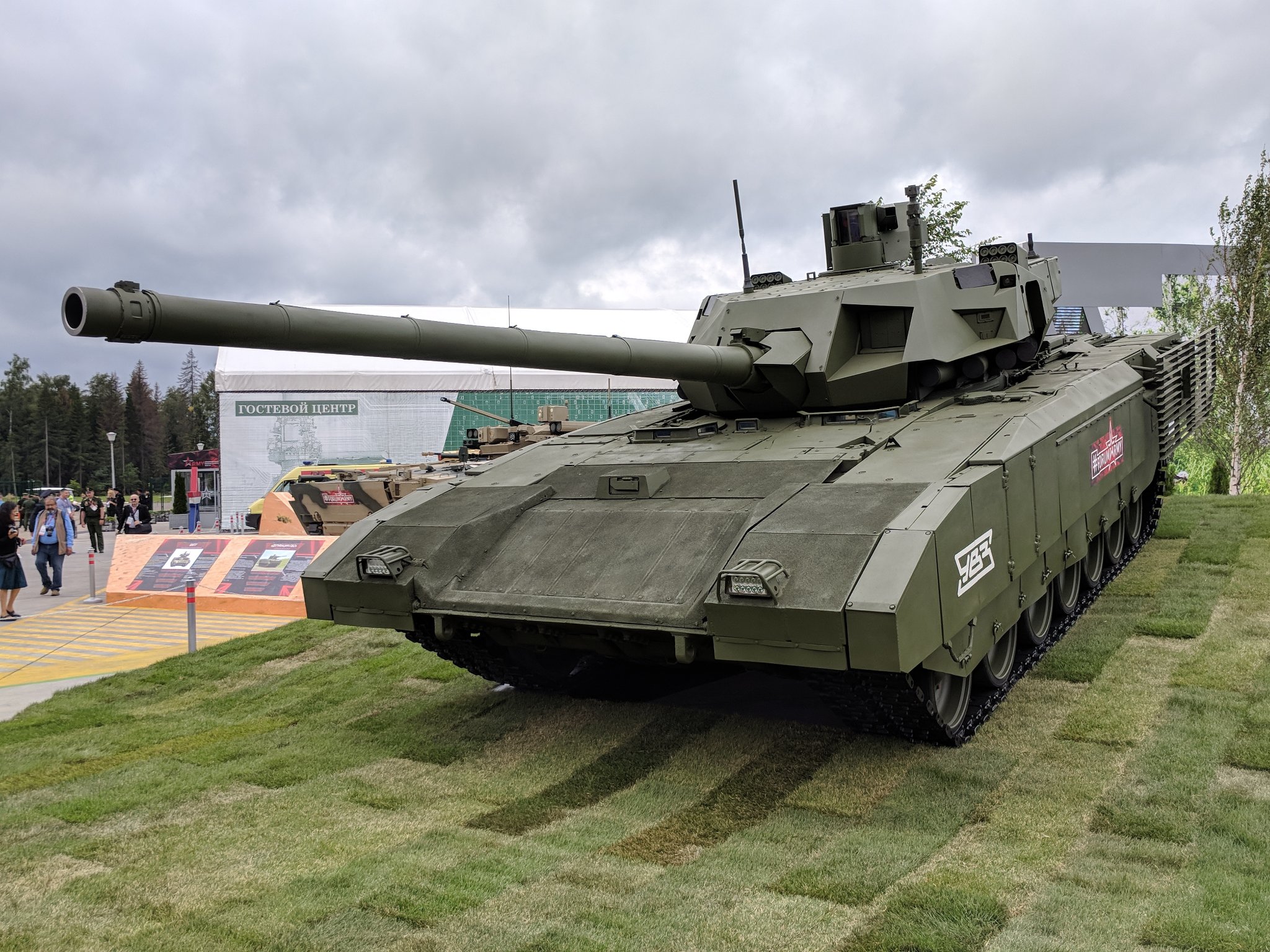 The T-14 Armata is built on a modular combat platform that may also be used to build additional armored vehicles including large infantry fighting vehicles (IFVs) and armored personnel carriers (APC).
A 125mm 2A82-1M smoothbore cannon is mounted in an unmanned turret on the T-14 Armata, which is fed by an automatic loader. There are 45 rounds of ammo in the turret, including ready-to-use ammunition. Laser-guided missiles can be fired from the main gun as well.
This next-generation battle tank is equipped with the Active Protection System (APS), which can intercept and destroy incoming missiles and defend against all sorts of anti-tank missiles.
The tank is expected to provide protection up to STANAG 4569 Level 5 standards. It has reactive armor in the front and bar armor in the back to provide additional protection against anti-tank rocket-propelled grenades (ATRPGs). Additional active and passive armor can be hooked onto the tank.
The crew's survivability is further enhanced by the tank's nuclear, biological, and chemical (NBC) protection, automatic fire suppression system, and smoke grenade dischargers.
Breaking?| Russia's state defense industry company Rostec has announced that they are starting mass production of the new Armata T-14 tanks. pic.twitter.com/VyKfeHwqJP

— Nasser?? (@NasserF15QA) December 25, 2021
In 2022, Russia expects to begin serial production of the T-14 Armata tank. Its crew can remain isolated from the fuel section and ammunition because its combat module is unmanned and totally remote-controlled. It is equipped with a 125-mm smoothbore cannon and a 7.62-mm machine gun.
Does Armata Suit India's Needs?
India has accelerated the process of acquiring weapon systems to deal with the dual-threat on its northern and western borders.
Armata's suitability for high-altitude combat makes it unique to India. The T-14 can operate in temperatures as low as -50 degrees Fahrenheit, according to a previous analysis carried by the EurAsian Times.
The Russians know how to share their technology, and it's worked quite well for India thus far. In the latest India-Russia summit, India had signed a deal for AK-203 rifles with Russia. It also remains in the process of acquiring the Russian S-400 defense systems.
There are, however, grounds for caution. While India continues to get the majority of Russian weaponry exports (23 percent), arch-rival China comes in second with 18 percent. The military relationship between Russia and China is only set to see an upward trajectory in the future.
Nevertheless, a potential deal for the next-generation Russian tanks would be a much-needed booster for India's combat capability.