MiG-31: Russia has given a big boost to its combat capability by upgrading the Foxhound or MiG-31 fighter jet. This development comes shortly after Moscow unveiled a medium combat aircraft 'Checkmate' while projecting it as a game-changer, and signed a deal with China to develop a heavy-lift helicopter.
Two Russian MiG-31 interceptors, early this year, flew over the North Pole, marking an important milestone for the country's navy.
The MiG-31 Foxhound has made several world records. It reached an absolute maximum altitude of 37,650 meters in 1977, and set a time-to-height record of 35,000 meters in 4 minutes, 11.78 seconds, both of which were set by the famous MiG test pilot Alexander Fedotov.
Needless to say, Russia has been making consistent efforts to modernize its air power and the MiG-31 upgrade is the latest effort in that direction.
The country is now carrying out trials of the upgraded MiG-31 fighter-interceptor with a fly-by-wire control system, managers of the Sokol Aircraft Plant told Deputy Defense Minister Alexei Krivoruchko during his visit to the facility on November 25.
Krivoruchko inspected the unit's production capacities and checked the pace of work on repairing and upgrading MiG-31 fighters. He also held a meeting on completing the defense procurement plan, as part of his working trip to the Volga area.
"There is an option of upgrading this aircraft where we switch from the mechanical to the fly-by-wire control system, which yields a host of computers mounted on the plane," said Sokol Aviation Enterprise.
The fighter's onboard equipment will be totally replaced; the combat plane will also be examined for flaws in order to replace corrosion portions that could account for 15 to 50 percent of the total weight. The fighter's canopy, as well as all of the wiring and rubber parts, will be entirely overhauled.
Sokol's main duty now is to carry out substantial repairs on the MiG-31 fighter-interceptor, as well as a heavy upgrade to the MiG-31BM level, which has been a work in process since 2007.
The modification of MiG-31 high-altitude fighter-interceptors will improve the efficiency of their operations, particularly in protecting Russia's northern borders in the backdrop of other countries' growing interest in the Northern Sea Route, said Major-General Vladimir Popov, a top military pilot and defense expert.
With the tensions between Russia and NATO countries growing in the region and Moscow announcing that its radars intercepted about 40 spy planes and drones in about one week of tensions, this announcement comes at a very appropriate moment.
In March this year, two Russian MiG-31 Foxhound supersonic high altitude interceptor aircraft had flown over the North Pole marking a significant milestone for the country's navy.
MiG-31s In Russia's Fleet
Introduced in 1981, the MiG-31 is a long-range, two-seater supersonic interceptor aircraft. Day or night, the MiG-31 can operate well in any weather situation while adhering to visual flight rules (VFR) and instrument flight regulations (IFR). The MiG-31 was the first Soviet fighter plane to be capable of genuine look-down and shoot-down.
In July 2020, Russia's Defense Ministry revealed its intention to invest in a MiG-31 Foxhound interceptor modernization and life extension program. The MiG-31 features a streamlined and aerodynamic fuselage that allows it to fly at high speeds and low altitudes. The aircraft is designed to track several targets at high altitudes at the same time.
One of the most potent variants of the MiG-31 is the  MiG-31BM. It is a multifunctional long-range fighter aircraft with high speed and the ability to kill both air and ground targets.
Upgraded avionics, hands-on-throttle-and-stick (HOTAS) controls, liquid-crystal color multifunction displays (MFDs), a robust on-board computer system, digital data linkages, and phased array radar are all included in the variant. It has the capability of intercepting 24 targets at once.
The MiG-31 is equipped with four long-range Vympel R-33E air-to-air missiles. The R-33 can be launched in inertial navigation mode to shoot at the target from a long distance.
For initial acquisition and mid-course updates, it can be directed in semi-active radar homing (SARH) mode. The Cold War-era warplane was designed to take out huge, fast targets like the American SR-71 Blackbird, B-1 Lancer bomber, and B-52 Stratofortress.
The aircraft is also equipped with four short-range R-60MK missiles and two Bisnovat R-40TD1 medium-range missiles. A six-barrel 30mm internal cannon (Ghs-6-23M) is installed above the starboard main landing gear bay of the aircraft. The cannon contain 800 rounds of ammunition and can fire at a rate of over 10,000 rounds a minute.
MiG-31BM can accommodate the AA-12 Adder missile and various Russian air-to-ground missiles (AGMs) such as the AS-17 Krypton anti-radiation missile (ARM).
The N007 Zaslon phased array radar aboard the MiG-31 is the world's first electronically scanned radar. It's also known as the SBI-16 Zaslon (Flash Dance), and it's controlled by a weapons system officer (WSO) from the back cockpit. Early warning radar (EWR) and aerial warning and control systems can send signals to it (AWACS).
Zaslon can scan a distance of 200 kilometers. The radar can track 10 targets and engage four of them at once in the aircraft's immediate vicinity (behind and below the aircraft).
According to one count, there are 252 MiG-31s in the inventory of the Russian Air Force. Moscow began modernizing its Foxhound fleet to the MiG-31BM and BSM variant starting in 2010 with plans to have 100 upgraded by 2020.
The 35-year-old MiG-31 is expected to serve until 2030. Moscow says that the MiG-41 or PAK-DP, a dedicated "Mach 4" interceptor, will be developed to replace the Foxhound in the air defense role.
This is puzzling, given that the Kremlin has only funded the manufacture of 10 advanced PAK-FA stealth aircraft thus far, raising the question of whether it can afford to deploy a significantly more specialized platform as well.
How Will Upgraded MiG-31s Help?
The combat efficiency of MiG-31 fighter-interceptors will increase threefold following substantial repairs and upgrades, claims Sokol.
"Meanwhile, the upgrade, in which the onboard radio-electronic equipment is fully replaced with advanced technology envisages using the latest air-launched weapons, which will boost the plane's combat efficiency by about three times," the Sokol management said.
The MiG-31 is one of Russia's most widely deployed combat aircraft, with several hundred more in reserve.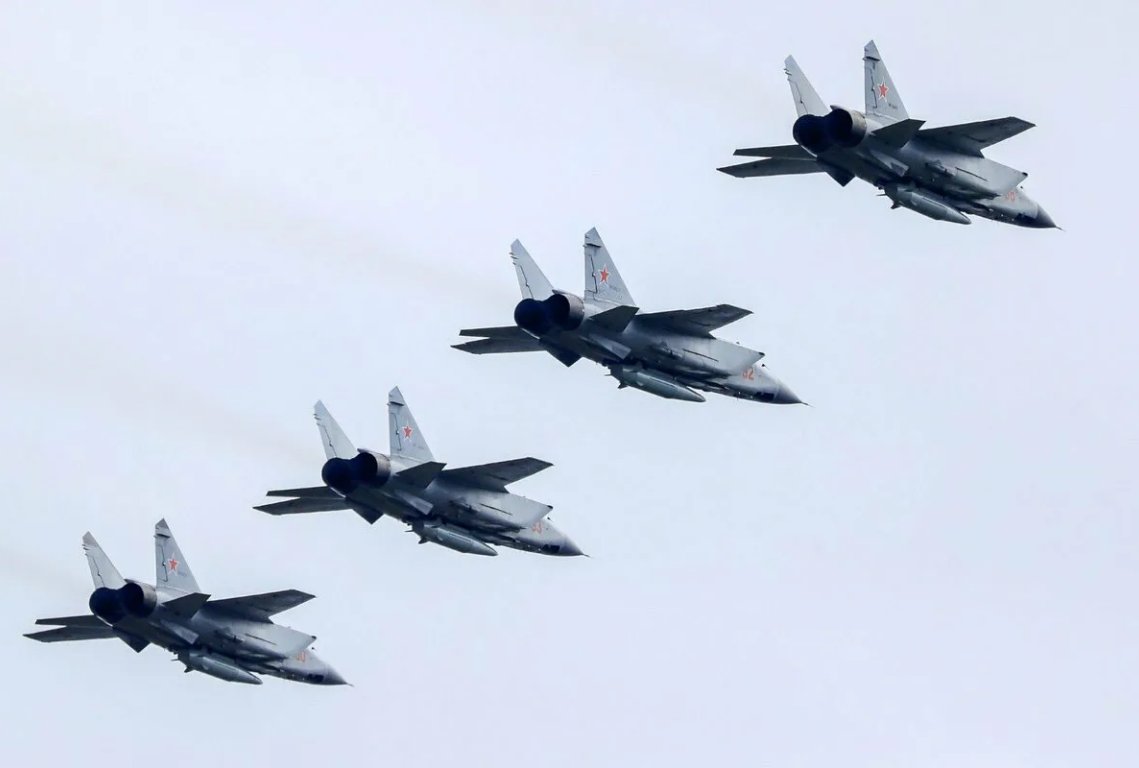 New variants of the Foxhound, according to Aleksandr Osokin, head designer at the Sokol Aircraft Plant, where MiG-31s are repaired, are around 2.6 times as capable as the original Cold War-era planes.
The aircraft were meant to intercept not just all types of enemy aircraft, from bombers and observation planes to fighters and airborne early warning jets, but also missiles, with the aircraft being particularly capable of intercepting low-altitude cruise missiles.
Now with the latest upgrade, the capability is expected to rise manifold. The fly-by-wire systems are computer-controlled. The "hands-on" design allows pilots to get a clear, tactile sense of how the aircraft handles aerodynamic forces as it flies. This will enhance the combat power by restricting the number of manual controls that the pilot otherwise has to perform.