The United States seems to be shoring up its eroding credibility in long-time ally South Korea (ROK) by intensifying bilateral military drills through air, land, sea, space, cyber, and special operations and improving upon tactics, techniques, and procedures.
Washington is ensuring that the US-ROK Alliance remains at a high level of readiness and continues to maintain a robust combined defense posture at a time when there is a growing perception among the South Koreans that the United States' preoccupation with the war in Ukraine should be met with the development of their nuclear deterrent against North Korea's missile and nuclear threats.
After flying a long-range B-1B bomber to the Korean Peninsula in a show of force against North Korea, the US has decided to hold its biggest joint field exercises with South Korea in five years.
Known as the "Freedom Shield exercise," the 11-day event will be held from March 13 to 23 to strengthen the defense and response capabilities.
It will integrate elements of "live exercises" with constructive computer simulations. Participating units will include personnel from the ROK Military, United States Forces Korea (USFK), United Nations Command (UNC), and subordinate component commands under CFC (ROK/US Combined Forces Command), along with augmentees and civilian personnel.
It is said that the exercise will include but not be limited to lessons learned from current and ongoing conflicts to increase the units' combat readiness and combined defense posture, as well as strengthen the security and stability on the Korean peninsula and across Northeast Asia.
The word 'Freedom' in the name refers to the strong will to protect freedom as an immutable value of the ROK-US Alliance, and 'Shield' symbolizes the defensive nature of the exercise.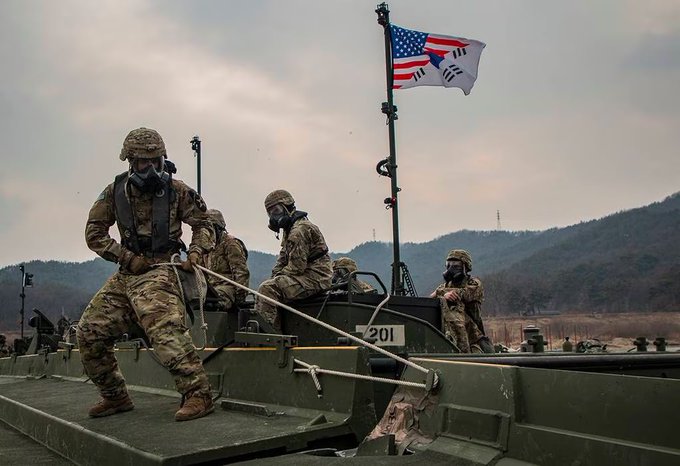 Side by side, and it is important to note,  a separate large-scale joint field training exercise called Warrior Shield FTX will also take place around the Korean Peninsula. FTX will involve several collective field training exercises. Warrior Shield stands for "the ROK-US Alliance's ability and resolution to solidify their combined defense posture to defend the ROK."
According to Col. Isaac L. Taylor, a spokesperson for the US military, the field training will include a combined amphibious drill, and their size would return to the scale of the allies' earlier most extensive springtime field exercises, called "Foal Eagle." That was in 2018. Incidentally, joint exercises between the two countries after that were downsized or postponed because of the then-political leadership in both Seoul and Washington.
President Trump was then diplomatically engaging with North Korean dictator Kim Jong-un. South Korean President Moon Jae-in was determined to flood North Korea with unilateral concessions. As if this was not bad enough, the subsequent outbreak of the COVID-19 pandemic further slowed things.
Incidentally, whenever joint military exercises were held, those drew sharp reactions from North Korea, including missile launches and nuclear threats. North is always opposed to such drills, which it describes as "rehearsals for invasion by the US and its allies in Seoul."
And predictably, this time too, Pyongyang on March 5 called on the United Nations to demand an immediate halt to combined military drills by the United States and South Korea, saying they were raising tensions that threatened to spiral out of control.
"The drills and rhetoric from the allies" are "irresponsibly raising the level of confrontation," Kim Son Gyong, North Korea's vice foreign minister for international organizations, said in a statement.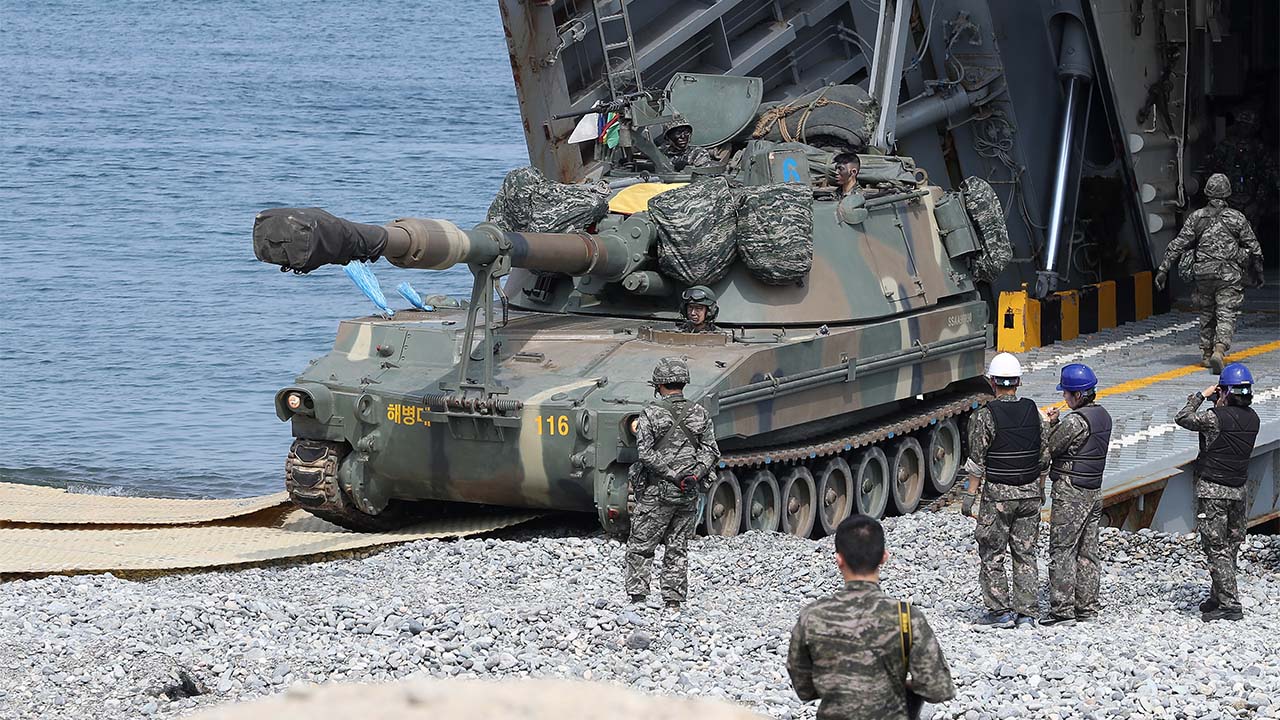 Be that as it may, when America's preoccupation with the war in Ukraine intensified in 2022, and that too at a time when North Korea embarked on an unprecedented campaign of weapons development, testing over 90 cruise and ballistic missiles of various ranges (one of which flew over Japan) and was preparing for a nuclear test, which would be the seventh it has carried out since 2006, South Koreans developed a sense of vulnerability (same has been true with the people of Japan as well).
Both Japan and South Korea were worried that Russia's aggression in Europe would distract the United States from the rapidly evolving array of security challenges in Asia.
And it was against this background that the South Korean Conservatives won the general elections under the leadership of now-President Yoon Suk-yeol. Unlike his predecessor's pacifist path, he wanted to strengthen South Korea's "three-axis" defense system that consists of "a preemptive strike platform, air- and missile-defense systems, and a retaliation plan designed to incapacitate the North Korean leadership and military facilities in the event of an attack."
He has planned to increase defense expenditures by an average of 6.8 percent per year over the next five years, spending $261 billion.
More importantly, President Yoon has publicly not ruled out with growing public opinion in South Korea that Seoul could develop its nukes quickly and with the support of its public.
It may be noted here that the EurAsian Times had reported in the past that South Korea has enough plutonium to produce 5,000 nuclear warheads of 100 kilotons. If South Korea decides to stand on its own feet and put its resources together, it can build nuclear weapons in six months with an investment of one billion dollars.
It may be noted here that though "denuclearization of the Korean peninsula" remains the official goal of the South Korean government, the fact remains that the country is under the American nuclear umbrella, and until 1991, American nuclear weapons – 951 tactical nuclear heads, to be precise – were stationed in the peninsula.
The US decision to withdraw nuclear warheads from South Korea that year was based on the rationale that North Korea then did not have nuclear weapons and was a party to NPT. It would be unjustifiable for Washington to use tactical nuclear weapons against a non-nuclear country.
But since the situation has drastically changed following North Korea withdrawing from the NPT in 1994 and going nuclear, South Korean conservatives would like the re-transfer of American tactical nuclear weapons, failing which the indigenous nuclear capability must be revived.
Various opinion polls on the subject do suggest that since 2017, as many as 60 percent of South Koreans would want nuclear deterrence on average. Only the year 2018 showed the figure coming down to 43. Three percent in the wake of the then US President Donald Trump meeting the North Korean dictator Kim Jong-un and two Inter-Korean summits taking place.
However, in an opinion poll held last month, it was found that support for nuclear weapons is robust, with 71 percent in favor of South Korea developing its nuclear weapons, while 56 percent support deployment of US nuclear weapons in South Korea.
However, when asked to choose between these two options, the public overwhelmingly prefers an independent arsenal (67%) over US deployment (9%). Interestingly, 40 percent oppose US deployment, while 26 percent oppose a domestic nuclear arsenal.
Against this background, it is understandable why the Biden Administration is keen on removing the lingering doubts of the South Koreans (or even the Japanese)  by resuming and expanding joint military exercises with South Korea (and Japan).
On August 22, 2022, the United States and South Korea launched joint military exercises – the Ulchi Freedom Shield – against North Korea. It involved tanks, warships, and aircraft, with approximately tens of thousands of troops. It also trained for new developments in warfare, including the drone attacks shown during the Russia-Ukraine conflict.
In January this year, US Defense Secretary Lloyd Austin revealed Washington's decision to increase its deployment of advanced weapons, such as fighter jets and bombers, to the Korean Peninsula. US Air Force B-1 bombers and F-16 fighters flew alongside Japanese and South Korean aircraft in separate training exercises on February 19.
It included B-1B Lancers from the US Indo-Pacific base at Guam. According to US Forces Korea, USAF F-16s from Kunsan Air Base, South Korea, and Republic of Korea Air Force F-35s joined the B-1s. The ROKAF released photos showing two B-1s, four F-16s, and four F-35s and said the aircraft flew through the Korean Air Defense Identification Zone (ADIZ).
The ADIZ is a buffer zone with international airspace near the Korean Peninsula. "The training offered the alliance an opportunity to rehearse short-notice recall missions, demonstrating the US-ROK combined defense capability and the ironclad commitment to providing extended deterrence in defense of the Korean Peninsula," US Forces Korea said in a statement.
On March 3, the two militaries also conducted a combined air drill with at least one American B-1B long-range bomber and South Korean F-15K and KF-16 fighter aircraft, South Korea's ministry of defense said in a statement.
The drill aimed to practice coordination as well as demonstrate Washington's "extended deterrence" against North Korean threats, the ministry said, adding "the use of a B-1B demonstrated the US determination and ability to use the full range of its military capabilities, including nuclear, to defend its allies."
It is said that March 3's deployment of a US B-1B was the aircraft's first such flyover in joint aerial training with South Korean warplanes since February 19.
In sum, when the 11-day Freedom Shield exercise between the US and South Korea, their largest in the last five years, concludes on March 23, the two countries will complete as many as four military drills in six months (beginning August 22, 2022)! This implies that these drills have as much political as military intent.
These are not just the increasing military capabilities of the Indo-Pacific allies but conveying a clear political message that US alliances will remain stable and reliable in the face of aggressive designs of the "bullies" like China and North Korea.
Author and veteran journalist Prakash Nanda has been commenting on politics, foreign policy, on strategic affairs for nearly three decades. A former National Fellow of the Indian Council for Historical Research and recipient of the Seoul Peace Prize Scholarship, he is also a Distinguished Fellow at the Institute of Peace and Conflict Studies.
VIEWS PERSONAL OF THE AUTHOR
CONTACT: prakash.nanda (at) hotmail.com