The British Royal Air Force and the French Air & Space Force conducted exercises with their respective frontline fighters – Eurofighter Typhoon and the Dassault Rafale – engaging in 'dogfights' over the Eastern Mediterranean.
Photoshop Alert! China Displays A 'Detachable' Ski-Jump Ramp For Its Type 075 LHD — Can It Be Real?
"Royal Air Force Typhoons from 903 Expeditionary Air Wing in Cyprus conducted joint training with French Rafale multi-role fighter jets flown by the Air and Space Force based in the Middle East.
Carrying out bilateral air-to-air combat training over the Eastern Mediterranean, the fighters were supported by air-to-air refueling from an RAF Voyager, also from 903 Expeditionary Air Wing."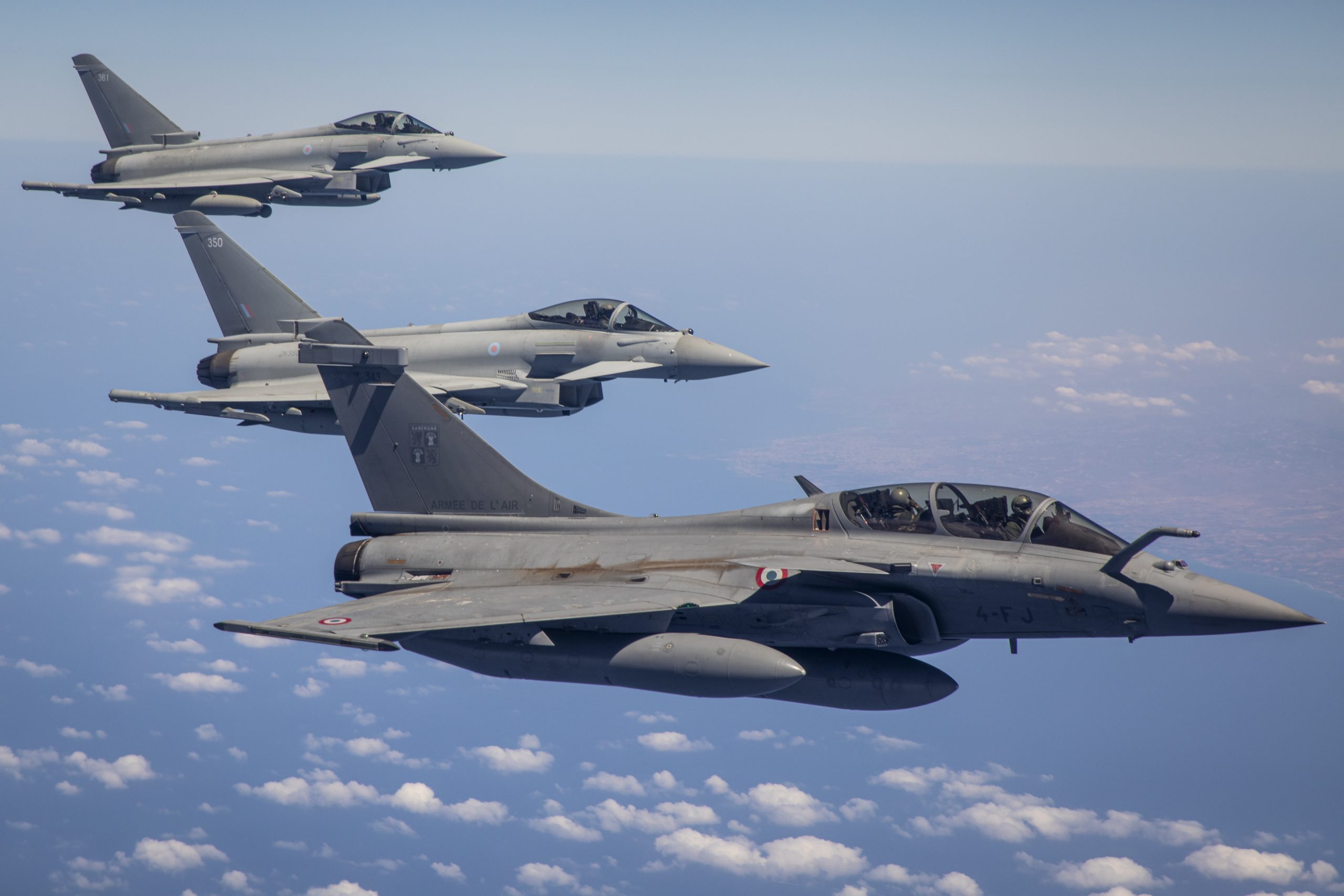 "The aircraft undertook rare and extremely valuable one-on-one Dissimilar Air Combat Training, often referred to as dogfighting, with the Rafales.
The RAF Voyager tanker extended the time-on-task for the fighters, thus elongating the training opportunity to further improve proficiency," read a statement from the RAF.
According to Wing Commander Frazer, Commanding Officer of the 903 Expeditionary Air Wing, the latest exercise "built upon" previous missions carried out in December 2021, ultimately aimed at enhancing their interoperability.
"In addition to some very valuable flying, the operation sends a strong strategic message that we remain in the Eastern Mediterranean as a valuable member of both the counter-Daesh mission and other NATO operations, ready and able to work seamlessly with our many partners in the region," he added.
---
General Lanni of the French Air Force called the exercises between the two air forces a "strategic area that illustrate the joint commitment capabilities" of the two armed forces, "based on strong interoperability and on the respect and enforcement of international law."
Eurofighter Vs Rafale – Kinematics
Both jets are frontline fighters of their respective air forces and were in the running for India's aborted Medium Multi-Role Combat Aircraft (MMRCA) program.
They are delta-wing, twin-engine jets with front swept back canards, with an aerodynamically unstable design that gives them excellent maneuverability, with the Typhoon boasting thrust vectoring nozzles.
While the Typhoon is powered by two afterburning Eurojet-200o engines, the Rafale has the Safran M-88 engines, both offering super-cruise capability.
The Eurofighter Typhoon was first introduced in 2003. Around 570 Eurofighter typhoons have been built so far with a per unit cost of $117 million. The aircraft comes with single-seat and two-seat variants. The fighter's empty weight is 11,000 kg, and it can take off with a maximum weight of 23,500 kg.
The aircraft is powered by two Eurojet afterburning turbofan engines, which produce around 18,143 kg of combined thrust, giving it a top speed of 2,494 km.
It has a ferry range of 3781 kms, and combat within a radius of 1388 km. The Typhoon can climb at the rate of 1,043 feet per second and can reach a maximum altitude of 65,000 feet. The fighter jet comes with 13 hardpoints in addition to a 27 mm revolver cannon.
On the other hand, Rafale was first rolled out in 2001. Around 175 Rafales are operated by French Air Force and various nations around the globe.
At present, the per unit cost of the latest variant is around $83 million. Coming both in single and twin-seat variants, the aircraft comes in at a weight of 10,600 kg, and the jet can take off with a maximum weight of 24,499 kg.
Rafale's two M-88 turbofan engines produce 15,422 kgs of thrust combined, getting it a top speed of 2222 km per hour.
With a ferry range of 3,701 km, Rafale has a combat radius of 1,852 km. The Rafale's climb rate has been clocked at 1,000 feet per second and can reach a maximum altitude of 50,000 feet. It has 14 hardpoints and a 30 mm autocannon.
The Typhoon has a 30-degree instantaneous turn rate and a sustained turn rate of 23 degrees, while the Rafale has an instantaneous turn rate of 30 degrees and a sustained turn rate of 24 degrees.
Both fighter jets have the ability to quickly regain energy with the help of faster climb rates. Rafale's close-coupled canards enhance its maximum lift and drag ratio, while its 48-degree wing sweep gives it a better lift-to-drag ratio as compared to Eurofighter's 52-degree sweep.
However, the Typhoon's higher sweep also causes less drag during cruise flights. The Rafale's close-coupled canard accords it with better spin recovery capability.
The Rafale has better supersonic maneuverability and post-stall maneuverability. In terms of the Angle of Attack (AoA), Rafale can achieve a 100 to 110 degrees AoA angle of attack, while the Typhoon is limited to 70 degrees.
But the Typhoon's Leading Edge Root Extensions (LERX) and ridges along the fuselage give it a 100-degree AoA angle of attack.
In LERX, the roots of the delta wings meet the main body of the aircraft, right above its chin intake. The LERX was introduced in the Typhoon as a part of the Aerodynamic Modification Kit (KIT).
The Typhoon's latest Tranche 4 variants have the steerable Captor-E Active Electronically Scanned Array (AESA) radar, with both air-to-air and air-to-surface modes. Both aircraft carry the Meteor beyond-visual-range missile, with a range in excess of 100 km, possibly reaching 150 km too.
Both the fighter are highly capable and the pride of their respective airforces. Quite similar in configuration and armory, the outcome of a visual range dogfight between Rafale and Eurofighter will depend on the pilot's skill on that particular day more than anything else.