By Saba Sattar
As the majority of the security establishment focuses on China's massive military buildup in the South and East China Seas, its increasing frequency of deployments in the Indian Ocean Region (IOR) will cause problems for years to come.
While in a relatively nascent stage of military buildup, the Indian Ocean serves as a bridge between the Pacific and Mediterranean. Within the vastness of these high seas lies a burgeoning economy of the world's largest democracy, India.
This region also establishes one of the most traversed sea lines of communication (SLOCs), via the eight-and nine-degree channels to the west and the Malacca Strait to the east.
China's Aspirations In IOR
Since 2008, China's aspirations in the IOR began in response to the piracy crisis in the Gulf of Aden to protect vital economic interests. Additional deployments have been made ever since, and the first Chinese overseas military base was erected in Djibouti in 2017.
China has also procured access to Kyaukpyu port in Myanmar, a port development project in Chittagong, Bangladesh, and has forcefully taken over Sri Lanka's Hambantota port in 2017 following Colombo's default on Chinese payments.
Beijing is already transforming its landlocked Yunnan province as a strategic foothold for greater IOR engagement. China has also recently signed a long-term port lease with Malaysia and the Maldives.
In Pakistan, China's flagship $62 billion China-Pakistan Economic Corridor – as a larger part of the trillion-dollar Belt and Road Initiative – has enabled the communist regime to construct and now administer the Gwadar deep seaport through the Chinese Overseas Port Holding Company for 40 years.
The "string" of ports is meant to sustain extended deployments. The IOR is home to some of the most critical chokepoints, notably the Straits of Hormuz, Malacca, and Bab-el Mandeb, to cut the cost of global trade and energy transport by half.
For its large contiguous neighbor, India, these developments are succinctly encapsulated through the 'String of Pearls' geopolitical theory.
India has declared its sovereignty claims by ratifying the UN Convention of the Law of the Sea (UNCLOS), an international agreement ratified by 157 member states, in 1995. And China repeatedly violates India's exclusive economic zone (EEZ).
In September 2019, the Shiyan 1 survey boat was observed near the Andaman and Nicobar Islands. In August 2020, amid ongoing tensions in Ladakh, China dispatched its Yuan Wang-class vessel, a satellite and ICBM tracking and support ship. These research vessels scout out the region to assist with submarine operations.
Enhancing A2/AD Strategy
Given India's aspirations to pursue a green-water navy, Delhi requires the industrial and technological capacities to support the procurement of major surface combatants. The government must also undergo internal reforms (many currently underway) to expand integration at the theater level, and a sustainable budgetary mechanism to ensure the effective implementation and execution of the much-needed changes to become a regional power capable of deterring China.
Delhi requires a coherent A2/AD strategy, as well as a counter-A2/AD capability for defensive purposes. For these reasons, India should think offensively in the Western Pacific, and more defensively on the eastern front.
For its area denial maneuvers, the Indian Navy requires the ability to deny the adversary freedom of action by utilizing more defensive methods, such as air and sea defense platforms. For its offensive capabilities or anti-access strategy, India requires the procurement of additional combat aircraft, warships, and specialized ballistic and cruise missiles.
The Quadrilateral Security Dialogue, or Quad, is a strategic forum comprising the US, India, Japan, and Australia. And it offers an avenue for enhanced cooperation to sustain extended deployments.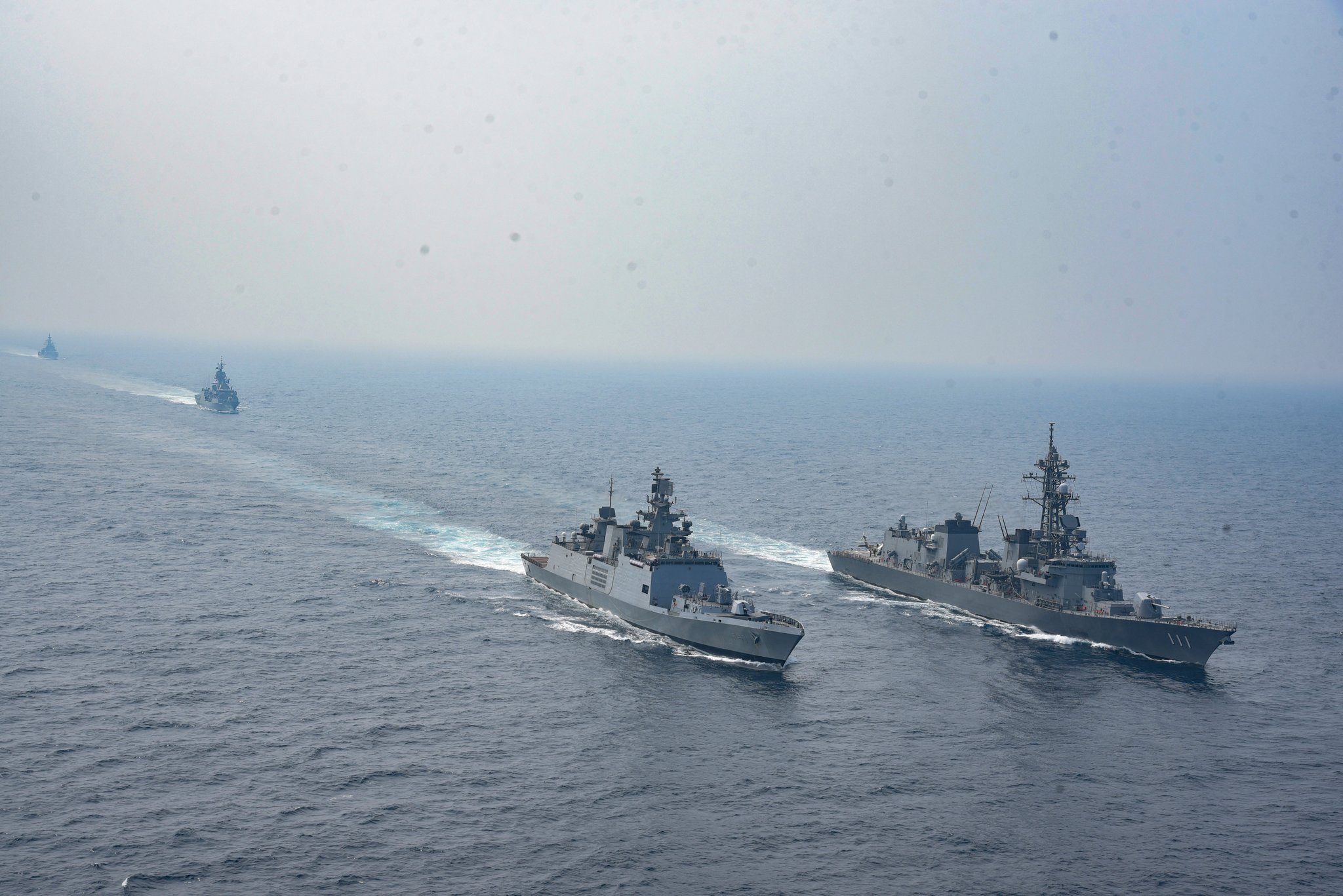 India's current shipyard capacity is 40 ship standard units (SSUs) out of the required 100 SSUs to meet current maritime needs. With 8 Public Sector Undertaking (PSU) yards, Delhi's lack of advanced infrastructure is beset by unnecessary overruns to construct major combatants – with a frigate/destroyer vessel taking three times as long as an overseas yard.
According to Admiral Arun Prakash (Retd.), India requires a centralized mechanism within its labyrinth framework, where there are sixteen ministries, agencies, and departments (excluding the Navy and Coast Guard) that oversee maritime issues. Such structural challenges have also prevented the nation from exploring the potential resources nested within its own EEZ.
Moreover, the mismanagement of the maritime industry by the PSUs will demand cooperation with the private sector to improve cost and time overruns to develop and deliver major combatants in a timely fashion.
The Navy's current need for warships, in the context of replacement and procurement, will not be met given its current capacity. The ruling Bharatiya Janata Party (BJP) should consider FDI in this industry through the 'Make in India' initiative (e.g., Sagarmala) to attract lucrative capital.
How Quad Can Bolster India's Defense
Given India's imperative to develop critical naval technologies indigenously, Quad members can form a joint venture and co-development and production projects to afford Delhi the opportunity to achieve tactical and technological superiority over China.
The areas of focus should be in network-centric warfare, combat management systems, and command, control, communications, computers, intelligence, surveillance, and reconnaissance (C4ISR).
India's procurement of warships will need to encompass multi-role and multi-mission combatants capable of undertaking ASW and counter-mine operations. Delhi must develop its innovative R&D base; otherwise, any ongoing efforts will generate moot results. R&D initiatives should prioritize submarine warfare, surveillance and electronic warfare, secure communication systems, advanced air assets, and enhancing interoperability with the Quad.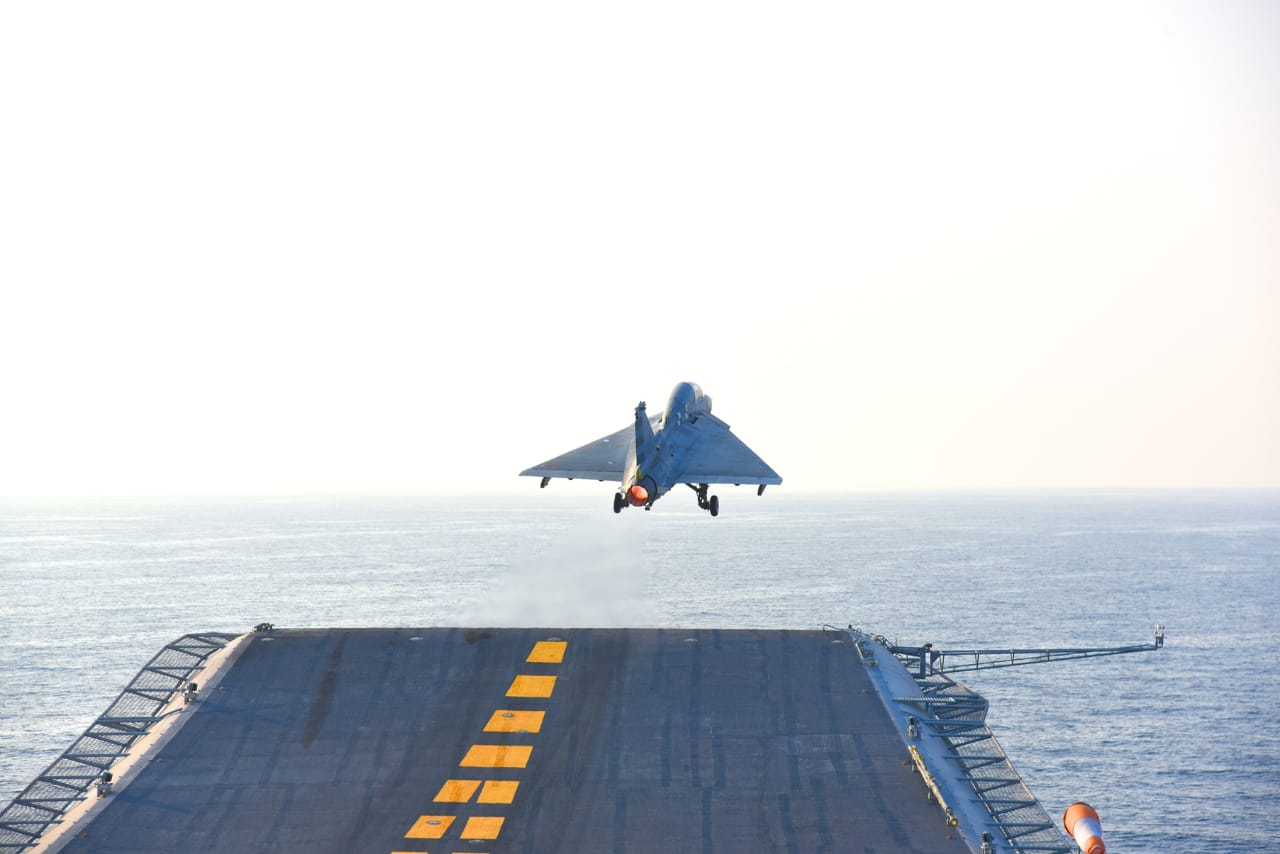 To sustain its anti-access strategy, Quad members can help India to procure additional combat aircraft, warships, and specialized ballistic and cruise missiles through collaborative projects and foreign military sales.
For combat aircraft, India initiated the Medium Multi-Role Combat Aircraft (MMRCA) competition in 2007 to acquire 126 multi-role combat aircraft for the IAF, but it was abandoned due to technical issues.
India only purchased 36 Rafales in 2016 for $8.8 billion. The Navy is looking to procure an advanced fighter aircraft for its new aircraft carrier, INS Vikrant, which is undergoing sea trials.
The MMRCA 2.0 competition was launched in 2018 for 114 aircraft for the IAF. In October 2020, Lockheed Martin and Tata announced the possibility of co-producing the F-21, a variant of the F-16, "in India, for India" specifically for the competition.
India has a dire need for enhancing its attack air capabilities, especially given China's 31:1 advantage over India and rapid turnover with 5th generation J-20 and J-31 fighter jets.
Sharing Intelligence Among Allies
A Quad fusion center may be established to fuse intelligence at the tactical and theater levels. Quad members should continue participating in multilateral activities, such as the Malabar and expand to other exercises, such as Rim of the Pacific (RIMPAC), where China was recently disinvited by the US in 2018 by citing its unilateral escalation of activities in the SCS.
Quad members should also increase their presence in multilateral conferences, such as the Shangri-La Dialogue and raise the issues of maintaining safe and unfettered access across the maritime commons.
The Indian Ocean security environment is going to become an even greater contest for regional power politics, given its vast geographic scope and strategic interest. With nearly one-third of the world residing in this region in two countries with a formidable nuclear arsenal, IOR stability will become the mainstay of the future, and the Quad will need to proactively, not reactively, address these security challenges.
(Saba Sattar is a doctoral candidate of Statecraft and National Security at the Institute of World Politics (IWP) in Washington, D.C. She specializes in the Indo-Pacific region, with challenges ranging across the conflict continuum from low-intensity conflict to Chinese revisionism.)