Ukrainian forces reportedly fired a Tochka-U tactical missile at a residential block in Donetsk on March 14, killing 20 people, including children.
The missile was intercepted over an area controlled by Russian-backed forces, but fragments of it dropped in the city center, the head of the Donetsk People's Republic (DPR), Denis Pushilin, was quoted as saying by Russia's TASS news agency.
"Although the Tochka-U missile was downed, its falling fragments caused much damage and civilian casualties, which is the worst thing. People were just standing in line at an ATM machine, there were people at a public transport stop. According to preliminary reports, 20 people were killed and nine suffered injuries. There are children among the dead," he claimed.
Pushilin said that the death toll would have been much higher if the missile hadn't been shot down.
The breakaway territories — Luhansk People's Republic and Donetsk People's Republic in eastern Ukraine — were declared as independent states by Moscow. Russian President Vladimir Putin deployed troops to these regions on February 21, three days before the Ukraine invasion.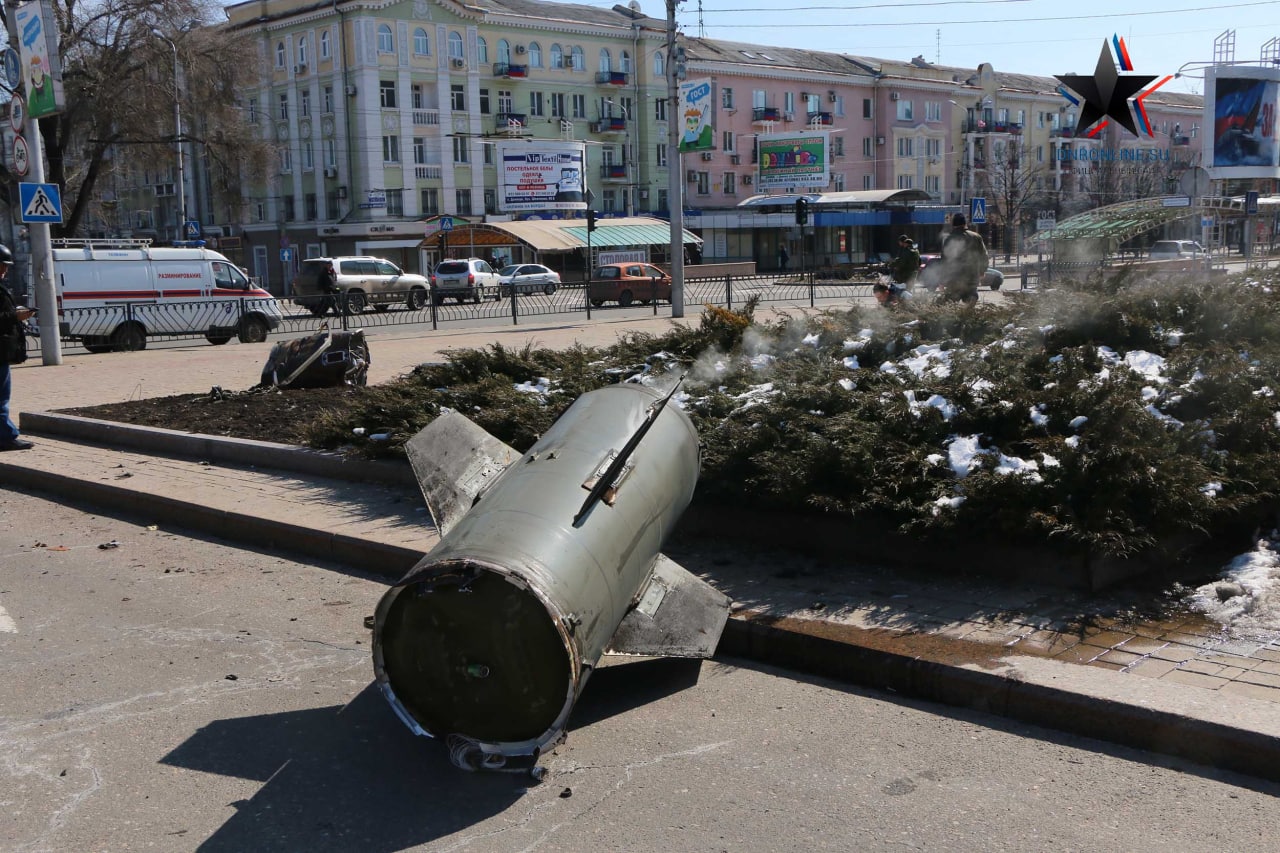 The incident was reported at a time when Ukrainian and Russian negotiators were set to meet for the fourth round of talks. Putin has claimed that the "demilitarization and denazification" of the Ukrainian government is the purpose of his "special military operation" in Ukraine.
He alleges Kyiv is committing "genocide" against the Russian-speaking people of the Donetsk and Luhansk areas, collectively referred to as the Donbas. The Ukrainian army has been combating Russia-backed forces in the region since 2014. Ukraine denies the allegation. 
Earlier, Ukrainian troops targeted a Russian military airport in Millerovo on February 25, Rostov region, with the Tochka-U tactical missile.
Russian Defence Ministry: on March 14, Tochka-U tactical missile was fired at a residential block of #Donetsk city. The shelling was carried out from the north-western direction, from the area of Krasnoarmeysk settlement, controlled by Ukrainian nationalist units. pic.twitter.com/ucUGP53iUr

— Russia in India ?? (@RusEmbIndia) March 14, 2022
Tochka-U Tactical Missile
The Tochka, also known as the SS-21 Scarab, is a mobile short-range ballistic missile (SRBM) produced during the Cold War to supplant the Free Rocket Over Ground (FROG) series on the battlefield.
In its most recent Tochka-U model, it can carry several types of warheads up to a weight of roughly 1,000 pounds across a range of up to 75 miles.  It can be launched in either a ballistic or cruise missile mode. Ukraine also uses these systems, which it inherited from the Soviet Union.
#Ukraine: A ballistic missile strike in the center of Russian-controlled Donetsk. As reported, 9-20 civilians were killed, dozens injured. The remains and character of damage allow us to say that a 9M79-1 Tochka-U missile carrying a 9N123K cluster warhead was used. pic.twitter.com/p2K0gn9Qsb

— ?? Ukraine Weapons Tracker (@UAWeapons) March 14, 2022
The ballistic mode offers more range and speed, but the cruising mode allows it to be more stealthy and precise. The 'Scarab A' and 'Scarab B'  (Tochka U) versions are both confirmed to have been developed. 
It is a tactical system that can be used in conjunction with conventional forces. It is a versatile warfare system due to its many warhead options, cruise flight profile, and mobility of its Transporter-Erector-Launcher (TEL) vehicle. 
The system's fragmentation and submunition warheads are effective against military units and troop formations, while its other warhead alternatives are equally powerful against electrical equipment, airfields, and military buildings.
On the battlefield, the system is meant to give tactical nuclear support. The Tochka is a conventional and nuclear support system for the Russian armed forces. From 1968 through 1974, the Scarab-A missile was in development before entering service in 1975. The Scarab-B was designed between 1984 and 1988. Russia is thought to have 300 TEL vehicles and 310 nuclear warheads for all Tochka variants at the present.
This is down from a high of 1,200 missiles in 1993. In 1996, a life extension effort was launched to increase Scarab B's 15-year service life by another 10 years, with the first retrofit flight test taking place in October 1999. 
Scarab A (OTR-21A)
The Scarab A has a range of 70 kilometers and a precision of 150 meters. It carries a 482 kilograms warhead that can be loaded with submunitions, 120 kg of HE fragmentation filler, or a nuclear weapon. The submunitions are anti-tank, anti-personnel, and anti-runway, with a selectable yield of 10 or 100 kT for the nuclear bomb.
The missile is also thought to be capable of carrying an electromagnetic pulse warhead and can be set to burst into the air at a specific altitude. It employs an inertial navigation system. The missile is 6.4 meters long, 0.65 meters wide, and weighs 2,000 kilograms when launched. It has a solid propellant single-stage engine.
Scarab B (Tochka U, OTR-21B)
The Scarab B's range has been increased to 120 kilometers, and an anti-radar blast warhead has been added. Its agility in flight has also been improved to help it evade ballistic missile defenses.
It has a 95 m circular error probable (CEP) precision owing to inertial guidance paired with a Global Positioning Satellite (GPS) system and a radar or optical (TV) terminal correlation system. The missile has the same basic dimensions as the Scarab A but weighs 2,010 kg more at launch.
According to unconfirmed reports, a second upgrade, the Scarab C, exists. This missile would have a range of 185 km (115 miles) and would be capable of carrying two missiles on a TEL truck. Russia has been gradually replacing its Tochka missiles with the Iskander-M, which has a longer range and can carry multiple missiles per launcher.