China's J-16D Electronic Warfare (EW) aircraft made its first public appearance at the Zhuhai Airshow, sporting dual jamming pods. This led military observers to draw parallels between the Chinese aircraft and the US' EA-18G Growler. 
Electronic Warfare is a vast concept. However, it can be broadly defined as the use of the electromagnetic spectrum in an attack. This may include the use of x-rays, visible light, infrared, microwaves all the way to radio waves.
EW can be broken down into three distinct categories, electronic countermeasures (ECM), electronic counter-countermeasures (ECCM) and electronic support measures (ESM).
The aim is to impede the enemy from leveraging the electromagnetic spectrum while ensuring its utility by the initiating side. EW aircraft like the J-16D and the EA-18 Growler for instance serve to act as channels to meet this objective.
EA-18 Growler
The EA-18 Growler is an electronic attack aircraft manufactured by Boeing aerospace. The aircraft is a derivative of the F/A-18 Super Hornet. The Growler with a length of 18.3 meters, a height of 4.9m, and a wingspan of 13.7 meters can cruise at top speeds of 1,960 kilometers per hour and boasts a service ceiling of 50,000 feet.
The aircraft can accommodate a two-pilot crew in tandem-seat configuration with the pilot in the front and the electronic warfare officer sitting at the rear.
The aircraft was intended to provide tactical jamming capabilities along with providing land and naval forces protection against the adversary's electronic warfare systems. This is achieved with the help of the two Northrop Grumman ALQ-218(V)2 wingtip pods which have a wideband receiver and selective reactive jamming capability.
The Growler is armed with two AGM-88 high-speed anti-radiation missiles (HARMs) and two AIM-120C AMRAAM air-to-air missiles. The induction of the EA-18 Growlers began in 2009 and is presently in operational use by the United States Navy.
J-16D EW Aircraft
The J-16D is an indigenously developed Chinese EW aircraft based on the twin-seater J-16 fighter platform, which in turn is a rendition of the Su-27 Flanker platform.
The J-16 variant was reported to have made its maiden flight in 2015. There is a prevailing view that the J-16D possibly traces its roots to the J-15D, which in turn is a twin-seater variant of the carrier-based J-15 Flanker derivative.
What sets apart the J-16D from its base platform are the two large EW pods fitted on the aircraft's wings. These EW pods are designed to disrupt and jam the adversary's electronic equipment and also include systems meant to counter enemy radars and communication systems.
The infrared search and track (IRST) sensor which is in front of the cockpit and the internal 30-mm cannon, both of which are seen in the base variant, have been removed as this aircraft is not meant for air-to-air combat like its J-16 fighter counterpart. Another reason cited for this removal was to make space for the aircraft's robust EW suite.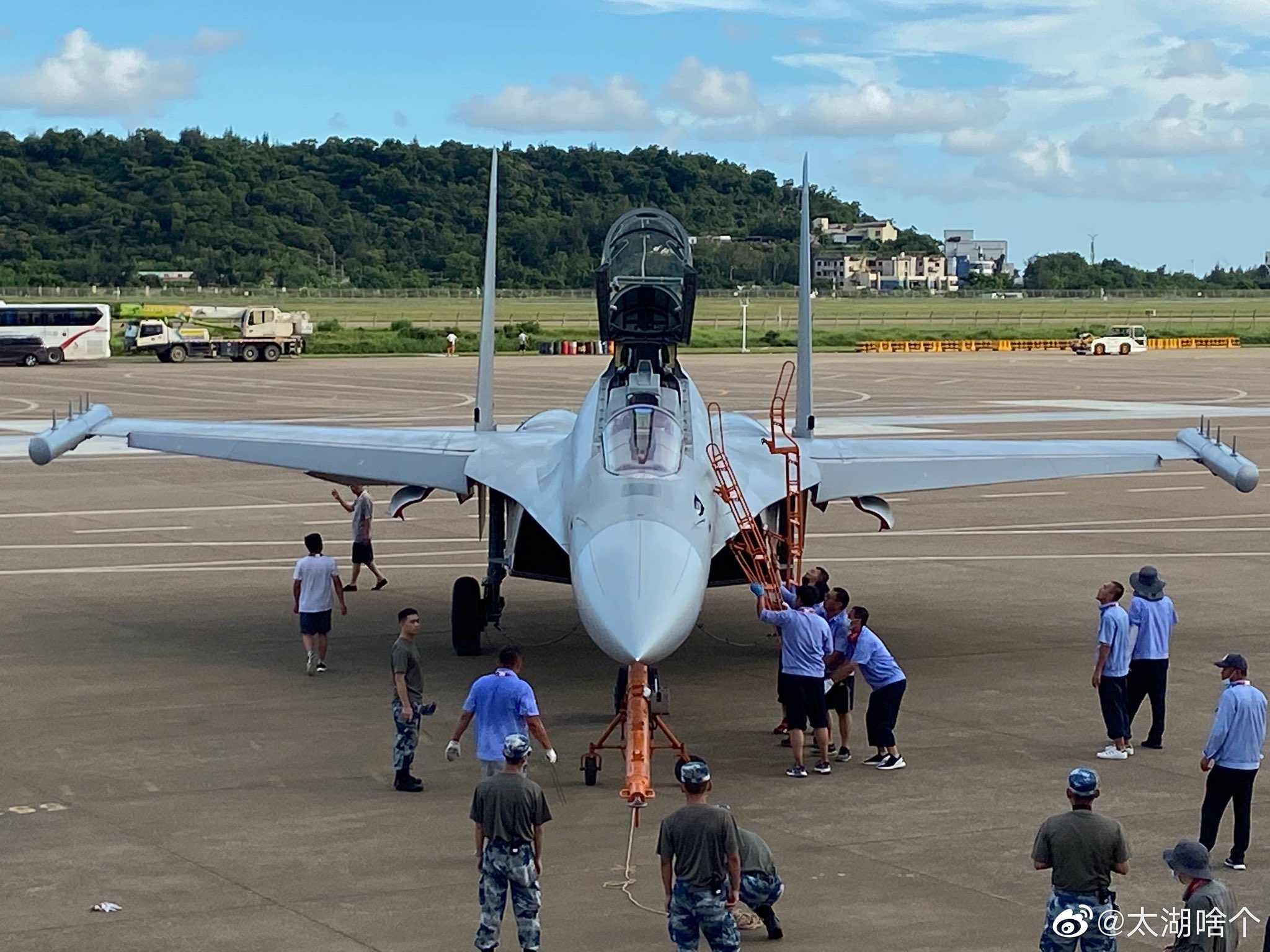 Upgraded avionics and indigenous engines have reportedly been fitted with the J-16D and the aircraft has also undergone structural changes, which includes the incorporation of composite materials.
The aircraft is expected to be deployed alongside Chinese warplanes to provide EW capabilities in support of offensive operations. Potential J-6D operations are believed to include electronic jamming along with potential direct attacks on enemy radar installations and early warning aircraft. 
While the exact nature of the aircraft's internal EW suite remains shrouded in secrecy, the wingtip pods seen on the EA-18 Growler form part of that aircraft's internal AN/ALQ-218 system. This complete suite comprises radar warning receiver (RWR), electronic support measures (ESM), and electronic intelligence (ELINT) functionality. 
These features give the Growler the ability to detect, categorize, and geolocate hostile radars. Furthermore, it would aid in data collection on enemy signals.
While it was long believed that the J-16D like the EA-18G Growler would supplement its onboard EW capabilities, images from this year's air show gave the first visual confirmation of the long-held belief. Three different types of pods were identified through the images. 
China Catching Up With The US
The capabilities of these individual pods remain ambiguous, but experts believe that they draw parallels with the Growler, which uses two AN/ALQ-99 pod variants; one for jamming high-band emitters while the other caters to low-band emitters.
"The J-16D shows that Beijing attaches great importance to electromagnetic warfare," former PLA instructor Song Zhongping told SCMP. "To win future warfare, it will be necessary not only to dominate the air and sea but also to be proactive in the domination of information and electromagnetic power."
The US Navy is currently carrying out research and development into a new family of EW pods for its EA-18G Growler as part of its Next Generation Jammer (NGI) program which is reportedly likely to include a mid-band focused pod as well.
Having a variety of pods optimized for different frequency bands offers a range of attack options catering to a multitude of EW threats and systems. 
It is believed that the J-16D might carry a wide array of EW pods similar in profile to its EA-18G counterpart in the future and work in tandem with other premier Chinese jets. There is also speculation that like EA-18G, the J-16D too would eventually be able to directly launch offensives on emitters using anti-radiation missiles.
Top brass at USAF attending the annual Air, Space, and Cyber Conference cited EW being an area where China is looking to increase both size and level of sophistication of its inventory.  
Implications For India  
"Not much is known of the aircraft, and it is being displayed for the first time. J-16D pictures show that it retains some hardpoints which could have self-defense missiles and anti-radiation missiles.
The dedicated jamming capability and the anti-radiation missiles pose risk to the Indian radar installation," according to author and military aviation analyst, Joseph P Chacko.
China's J-16D radar-jamming electronic warfare (EW)#China #airshow #Zhuhai
(Images via wb/太湖啥个) pic.twitter.com/7x5Eep1l8H

— 彩云香江 (@louischeung_hk) September 21, 2021
"As far as the fighter operations are concerned, AWACS are capable of signal hopping but still J-16D will present a significant threat to the area of its operations. Since the Chinese fighters cannot efficiently operate in Tibet, the jammer component may not be of much use.
J-16D itself may not be able to take off with a full complement of electronics and weapons in Tibet. It is best employed towards the East of China mainland," he explained. 
For aircraft carrier-based operation, China may build a J-15 based electronic warfare aircraft. Probably China will go through the learning curve which the US went through with Growler. Growler is not just a matured aircraft but is also being upgraded," Chacko added. 
When asked about the implications for India, South Asian airpower analyst Miguel Miranda told the EurAsian Times, "India is falling behind on all fronts. China is adopting more up-to-date and effective military equipment than India."
Nitin J Ticku, a defense analyst with EurAsian Times believes that electronic warfare would play an important role in China's confrontation with neighbors including Taiwan, Japan and India. All three adversaries have significant air-defense capabilities, especially India and Japan, and Beijing would want an option to counter western fighter jets operated by Asian giants.
Earlier, Secretary of the U.S. Air Force Frank Kendall especially cited EW capabilities as being among the areas where the Chinese have been focusing on "increasing inventory levels and the sophistication of their weapons and modernizing redundant systems throughout the kill chains that support their weapons."
Air Force Lieutenant General Clint Hinote, also reaffirmed that "we are out of time" in terms of the PLA catching up to the capabilities of the U.S. military.
Experts emphasize that we do not know the precise capabilities of the J-16D or the newly launched pods, the aircraft certainly indicates a broad push by Beijing to develop new electronic warfare assets as part of its larger modernization drive.
Aritra Banerjee is a defense journalist who has worked in both online and print media. He has laid an emphasis on issues related to military human resources, tactical psychology, military-media relations, professional military education, and combat fitness. He can be reached on email: aritrareporter@gmail.com.