According to recent images doing rounds on social media, Pakistan's Chinese-origin J-10C fighter jets have been photographed in a camouflage/paint scheme similar to its French-made Mirage V jets.
Clash In Persian Gulf! Iranian Military Attempts To Steal US Navy's Drone Boat; USS Thunderbolt Thwarts 'Illegal Activity'
The J-10Cs are Generation 4.5 fighters, inducted into the PAF on March 11 this year, during the Imran Khan government, which the former cricketer touted as a weapon that could "defeat any threat."
The J-10Cs – also referred to as the J-10CE – are now the PAF's most advanced platform, considered a counter to India's Dassault Rafale. It will join other PAF platforms like the JF-17 Block 3 (another China-origin jet) and F-16.
As per request by a very good friend ? pic.twitter.com/yiFxrwd1Kf

— @Rupprecht_A (@RupprechtDeino) August 29, 2022
It sports advanced avionics, a Missile Approach Warning System (MAWS), Radar Warning Receiver (RWR), and possibly a Laser Warning Detector (LWD). A defining feature is an Infrared Search and Track (IRST) and an Active Electronically Scanned Array (AESA) radar.
パキスタンに納入される新たなロットのJ-10Cは同国空軍のミラージュと同様のダークグリーンとブルーの迷彩塗装に変更されるとのこと。 pic.twitter.com/2cFF9FJh5e

— お砂糖wsnbn (@sugar_wsnbn) August 28, 2022
One report claimed that the J-10C sold to Pakistan is powered by China's domestically developed WS-10B Taihang engine. Whether this is the thrust vectoring capable powerplant is unclear but based on available photos of the J-10Cs acquired by Islamabad and a closer look at the exhaust nozzle on the initial batch of the 25 J-10s, it doesn't indicate such.
The remaining batches of J-10s might have thrust vectoring, but EurAsian Times could not confirm this fact.
Andreas Rupprecht, a Germany-based Chinese military aviation expert, denied PAF's J-10CE had thrust vectoring controls (TVC). "The colored 10CE is just a standard J-10C for Pakistan without further modifications. Neither does it have an additional Electronic Warfare-spine and no Conformal Fuel Tanks (CFT)," Rupprecht added.
Rupprecht had posted a few pictures of the J-10CE in the new color scheme.
Ok guys … as promised, after I received the "go – let's publish", here it is!

I must admit, I'm not entirely sure concerning the serial number – IMO it could be 22-112 – and if there is indeed some sort of a tail marking. ?

May you decide on your own. ? pic.twitter.com/UwQucYq8BC

— @Rupprecht_A (@RupprechtDeino) August 28, 2022
A thrust-vectoring capable J-10B first dazzled crowds at the Zhuhai Air Show in 2018 when the jet performed maneuvers similar to the ones pulled by the Su-30s and Su-57s. Many subsequent photos of these Chinese J-10s had nozzles looking longer and having deeper serrations. The J-10B is an earlier variant of the J-10C.
The J-10Cs can carry the PL-10 short-range air-to-air missile and the PL-15 Beyond Visual Range (BVR) missile, which is believed to have a range of around 300 kilometers, making it the missile with the longest reach in the world.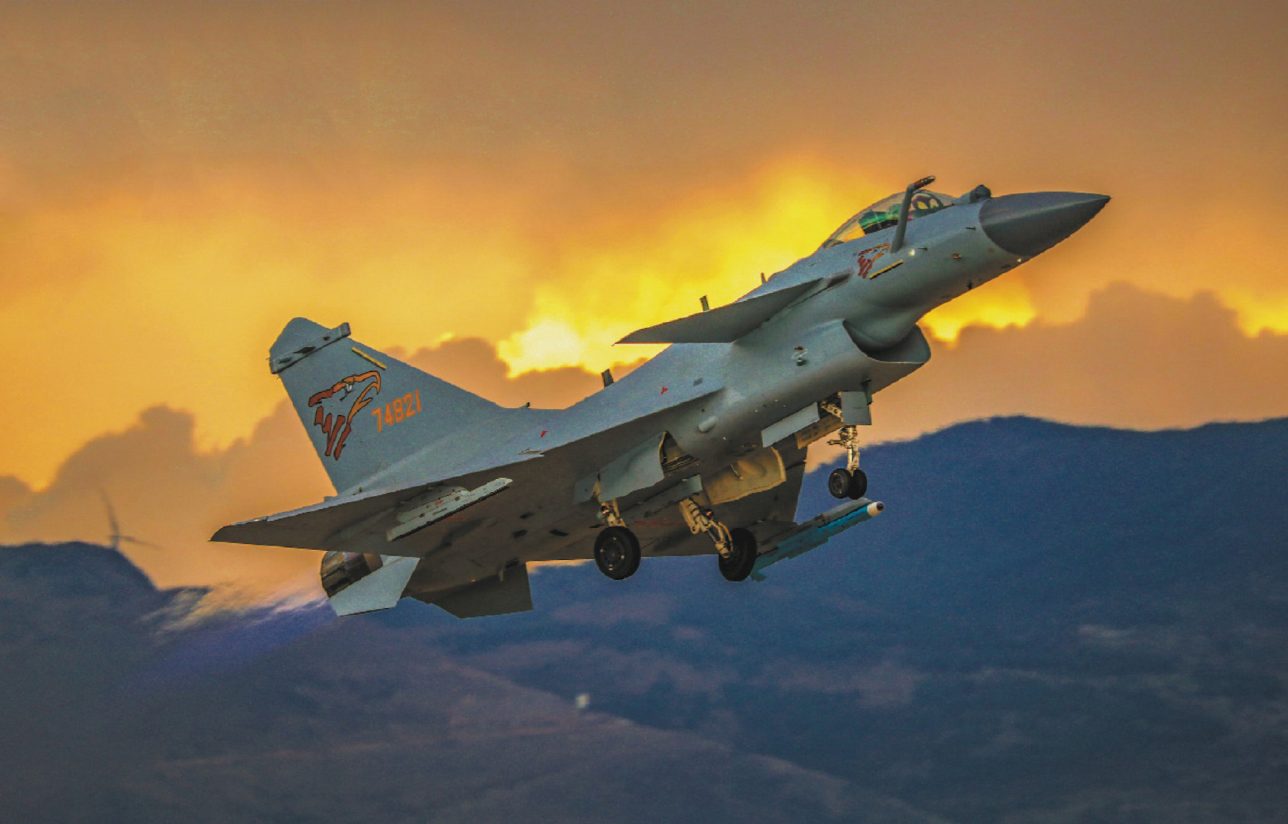 Besides, the single-engine fighter has multirole, all-weather day-and-night capability carrying various air-to-ground bombs and missiles.
It is superior to the LCA Tejas, despite being heavier. However, the Tejas is more advanced than the JF-17 and can fire India's indigenously developed Astra Beyond Visual Range (BVR) missile.
The J-10C has been regarded as the world's most capable single-engine fighter. The fighter is being produced on a broader scale than any other type, with Pakistan starting to form its first unit in February 2022 and China reportedly already fielding over 200.
It features a wide delta wing and two canards directly behind the cockpit for more excellent maneuverability. The weaponry is comparable to the MiG-29 and F-16, with three weapon pylons on each wing and three on the belly – the indigenously manufactured WS-10 Taihang engine powers the J-10C variant, as earlier reported by the EurAsian Times.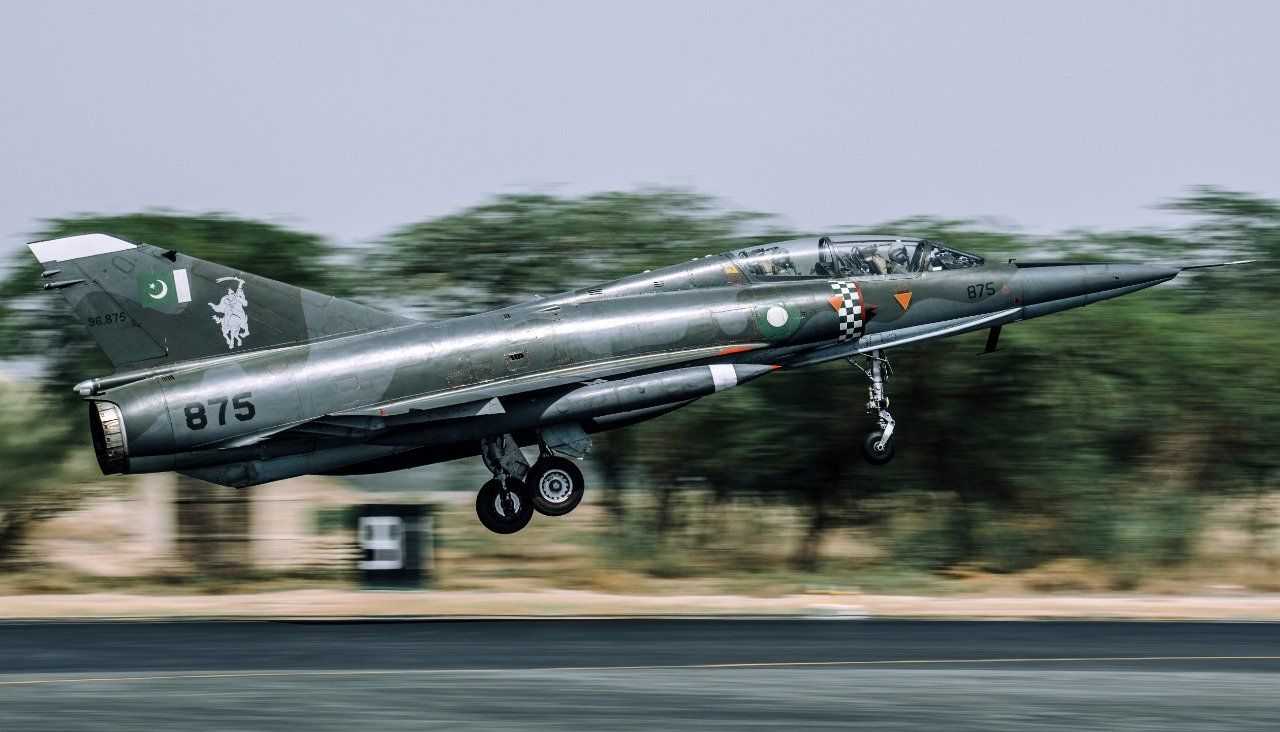 The New Camouflage
A Pakistani news report called the J-10C "semi-stealth" and said they will sport "tactical camouflage patterns resembling those used by Mirage-5PA."
"The most recent J-10Cs, according to specifics, have sky-blue undersides and a green-grey camouflage pattern. Similar in color, Mirage 5PAs have been employed in low-level maritime strike operations. It means that low-level maritime strike roles will also be utilized with the new J-10C aircraft," the report said.
The J-10Cs will have a role like the Maritime Strike variant of India's Jaguar deep-penetration strike aircraft (DPSA), which also sport a navy blue-sky blue paint scheme.
They also have a pointed nose cone in place of the slant (or a cut) on the nose of the ground attack version used by the IAF. The first batch of J-10Cs manufactured by the Chengdu Aircraft Corporation (CAC) had low visibility gray color scheme.
However, certain Chinese military aviation observers are given to understand the J-10CE with the new scheme might be just a single jet requested by a senior fighter pilot who had previously flown Mirages for ceremonial purposes.