Days after China showcased a variety of indigenously developed military drones during this year's Zhuhai Air Show, its all-weather ally Pakistan followed suit by presenting its homegrown combat UAVs at the 11th edition of its biennial arms exhibition, the International Defense Exhibition and Seminar (IDEAS 2022).
The arms exhibition was held at the southern port city of Karachi between November 15-18. It showcased some of the advancements made by Pakistan's defense industry in unmanned combat aerial vehicles (UCAVs) that play an increasingly important role in warfare, as demonstrated in the ongoing Ukraine war.
Pakistan became aware of the role of combat drones in 21st-century warfare for the first time when American drones began conducting strikes against terror outfits in Afghanistan and border areas of Pakistan.
Soon, Pakistan started the development of drones for surveillance and attack purposes and went on to become the fourth country in the world after the US, UK & Israel to have successfully deployed a UCAV in an active operation in 2015 that eliminated three high-profile Tehrik-i-Taliban Pakistan (TTP) terrorists in North Waziristan's Shawal Valley.
Shahpar-2 UCAV
The Shahpar-2 Medium Altitude Long Endurance (MALE) drone produced by Global Industrial and Defense Solutions (GIDS), a Pakistani state-owned defense conglomerate and the country's largest defense manufacturer, was showcased at IDEAS 2022.
The Shahpar-2 is an improvement on the Shahpar-1 drone commissioned into the Pakistan Army and Air Force in November 2013 for intelligence, surveillance, and reconnaissance (ISR) missions and assistance in disaster management.
The Shahpur-2 is attack-capable and can fly up to 1000 kilometers to hit its target. It locks onto its target with a laser and then strikes it with a missile.
The drone can fly at a maximum speed of around 222 kilometers per hour (kph). Its take-off speed ranges roughly between 148 to 158 kph, similar to its cruising speed. Its maximum range is around 1,050 kilometers, and the data link range is 300 kilometers.
The Shahpur-2 can restart its engine during flight and contact satellites in any campaign, day or night.
The drone has already entered service with Pakistan's Army, Navy, and Air Force, and it was publicly displayed for the first time during the Pakistan Day parade on March 23, 2021.
Asad Kamal, CEO of GIDS, told BBC that the government told him that the technologies for which Pakistan depends on foreign countries should be gradually developed in the country.
"After that, we started working on our next plan. Our Army needed a system that could not only see the target but surround it; if required, it could also destroy it. After that, we researched and worked on the Shahpar-2 drone," said Kamal.
"When you assemble a technology or acquire it from another country, and after a few days that country stops giving you the technology, your product remains incomplete, and you cannot use it yourself. Nor can it be recovered, so the basic technology of this drone has been made in Pakistan itself," Kamal said.
Ababeel Series Drones 
Apart from GIDS' Shahpur, Pakistan's Ordnance Factory had also indigenously made a surveillance drone named 'Ababeel.' The attack variants of the drone have also been developed and were exhibited at this year's IDEAS.
Ababeel Drones Series by Pakistan Ordnance Factories.#IDEAS2022 #POF #AbabeelDrones pic.twitter.com/6Gtdp0q6Sr

— International Defence Analysis (@Defence_IDA) November 17, 2022
One of the variants presented at the exhibition was the MR-5 drone which can be armed with two mortar shells, one with 16 millimeters and the other 18 millimeters in diameter. It can fly at a range of 30 kilometers at 45 kilometers per hour and stays airborne for one and a half hours.
Another variant was the Ababeel V-5 which has the vertical take-off and landing (VTOL) ability. It is a high-speed drone that can fly at 120 kilometers per hour and stay in the air for 2-3 hours. Its combat payload carrying capacity is five kilograms.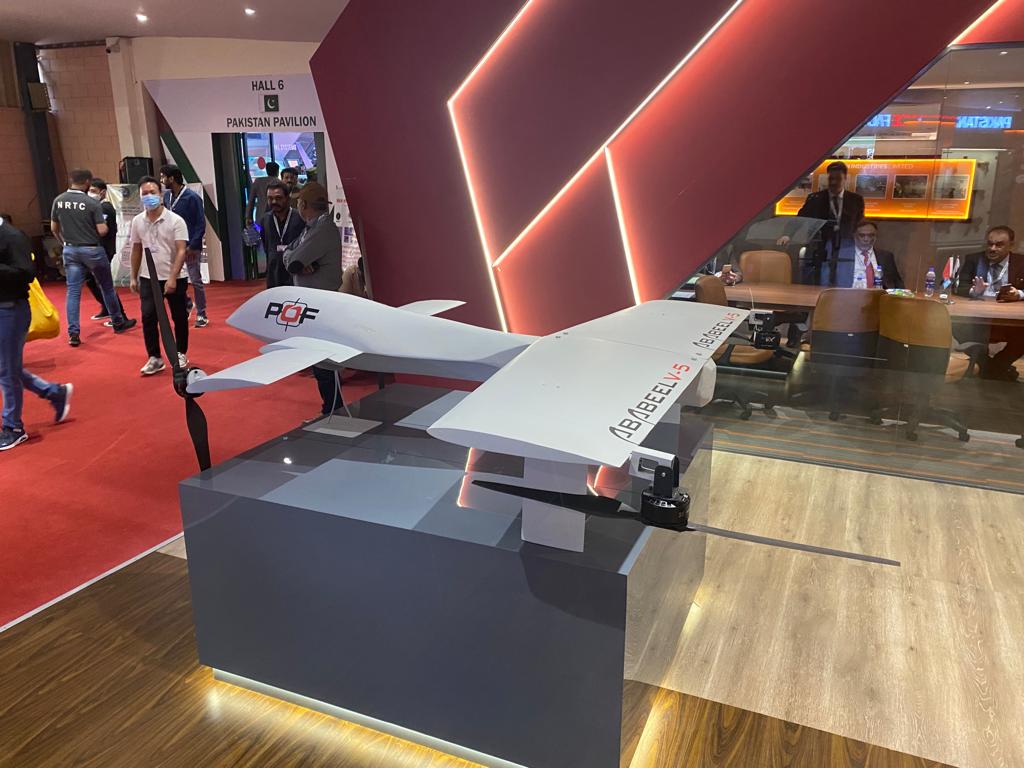 Also put on display was the MR-10 drone with a combat payload capacity of 10 kilograms and a range of 30 kilometers. It can fly up to an altitude of 3,000 meters.
Riyaz Ahmed, head of the drone unit at the Pakistan Ordnance Factory, told the BBC that all the Ababeel series drones could operate day and night.
Pakistan Aims To Export Its Combat Drones 
In addition to accomplishing self-sufficiency in developing and producing combat drones, Pakistan also aims to export them to other countries.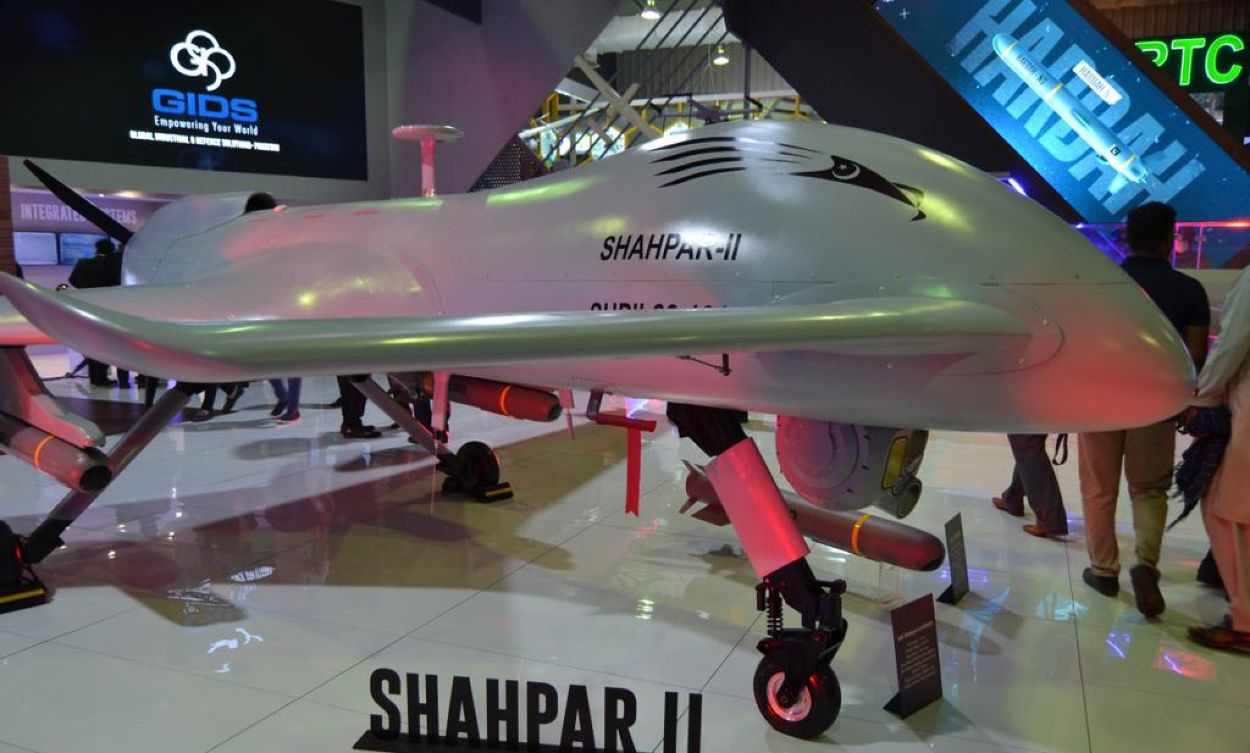 Before IDEAS 2022, GIDS' Shahpar-2 was also presented at the Egypt Defense Expo (EDEX) 2021, held in November last year.
According to Kamal, GIDS has exported its products made in Pakistan to more than 16 countries, including Bangladesh, Sri Lanka, countries of Central Asia, Malaysia, Algeria in Africa, Congo, Peru, etc.
While Pakistan Ordnance Factory said their Ababeel series drones would soon enter service with Pakistan Army, foreign delegations also showed some interest during the exhibition.
So far, the Pakistan Ordnance Factory has sold weapons worth more than USD 30 million to more than forty countries, according to its spokesperson, Salman Khan.