A statement issued by the Ministry of Foreign Affairs, Pakistan on April 28 stated that – in response to Indian allegations of targeting "launch pads" across the Line of Control (LoC), Islamabad has asked the United Nations to procure information from India over its unfounded accusations.
The Ministry of Foreign Affairs, called on the UN to task UNMOGIP to confirm Indian allegations of "infiltration attempts" and targeting launch pads on the Pakistani side of the border along LoC.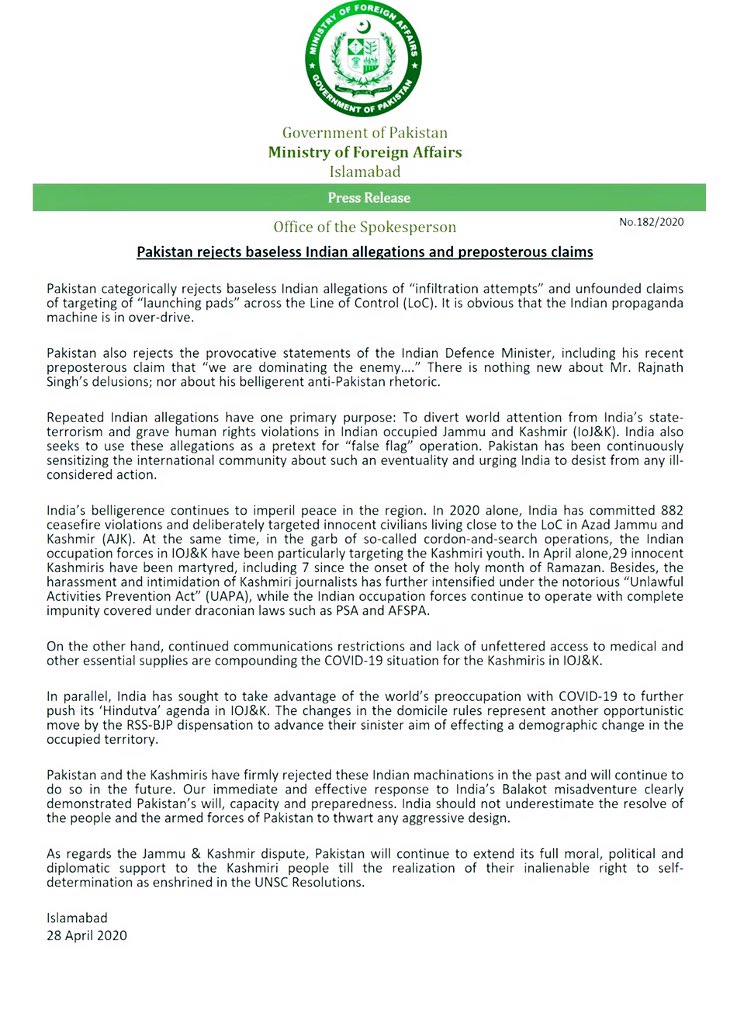 "[UNMOGIP] will be welcomed to move into any area without sharing specifics with the Pakistan government to validate Indian claims," the FO spokesperson said. Pakistan has vehemently rejected the groundless Indian charges of so-called "infiltration attempts" and preposterous claims of targeting of fictional "launch pads," read the statement.
Indian Army's senior had earlier claimed that the Pakistan Army taking advantage of Covid-19 pandemic, is trying to push COVID-19 infected patients into the Jammu and Kashmir and perpetrating ceasefire violations. "The Indian propaganda on this account, however, remains incessant," said the FO.
As Islamabad has frequently pointed out, regurgitation of these assertions and false claims by India is intended at distracting the world's attention from India's state-terrorism and grave human rights violations in Jammu and Kashmir (IOJ&K), read the FO statement.
The official statement said India also seeks to use these allegations as a pretext for launching "false flag" operation and deliberately targeting of innocent civilians along the LoC. "To expose the Indian prevarications to the world, Pakistan has taken neutral observers, journalists, human rights organisations and Islamabad based diplomats to the LoC on several occasions in the past."
The FO statement assured continued support (moral, diplomatic and political) support to people of Kashmir until they get the right of self-determination.