The latest controversy that Afghanistan's Panjshir region was reportedly bombed by Pakistani drones has shifted the focus on the South Asian nation's UCAV capabilities.
Earlier, the June 27 drone attack on an Indian Air Force station in Jammu, allegedly by Pakistani non-state actors, had set alarm bells ringing in India's security establishment. Is India prepared to tackle drone threats emanating from across the border?
#BREAKING: Ex, Samangan MP Zia Arianjad says Panjshir is being bombed by Pakistani drones.

— Tajuden Soroush (@TajudenSoroush) September 5, 2021
Pakistan earned the distinction of being the fourth country in the world after the US, UK & Israel to have successfully deployed an unmanned combat aerial vehicle (UCAV) in an active operation in 2015.
The Pakistan military claimed to have eliminated three high-profile Tehrik-i-Taliban Pakistan (TTP) terrorists using its indigenous Burraq combat drone during an operation in North Waziristan's Shawal Valley.
Earlier this week, a controversy broke out after Zia Arianjad, who represented Samangan in the Afghan Parliament, alleged that the Pakistani Air Force had launched drone strikes on the National Resistance Front (NRF) in the Panjshir valley on Sunday. A London-based journalist also tweeted this.
The attack on India's Jammu airbase marked the first instance of drones being used to target military installations in India, allegedly by Pakistani non-state actors.
Islamabad was accused of being complicit in the drone attack as investigations claimed to have found Pakistani markings on the devices used to target the Indian Air Force station. Potential complicity only adds to the evolving nature of the drone threat.
Lieutenant General PC Katoch (Retd), a former Indian Special Forces officer and security analyst, offers his take on the threats emanating from Pakistani soil, "The Pakistan-Taliban-Turkey radical Islamic nexus supported by China enhances the terror threat pan-India that may witness the use of drones and chemical, biological radiological and nuclear terrorism."
Pakistan's Drone Arsenal
A senior researcher associated with the Rawalpindi Based Online Strategic Think Tank, Global Defense Insight told the EurAsian Times about Islamabad's emphasis on drone procurement.
"Pakistan is investing significantly in UAVs. Over the past few years, we have seen extensive developments in this domain. Both the Pakistan Army and Pakistan Navy have been benefiting from this.
I want to mention here that the Pakistan Navy is already operating several UAVs for surveillance such as the Scan Eagle and Uqab. The Burraq UCAV, in particular, is Pakistan's first combat drone and has been used to target TTP hide-outs in Waziristan," he said, speaking on the condition of anonymity.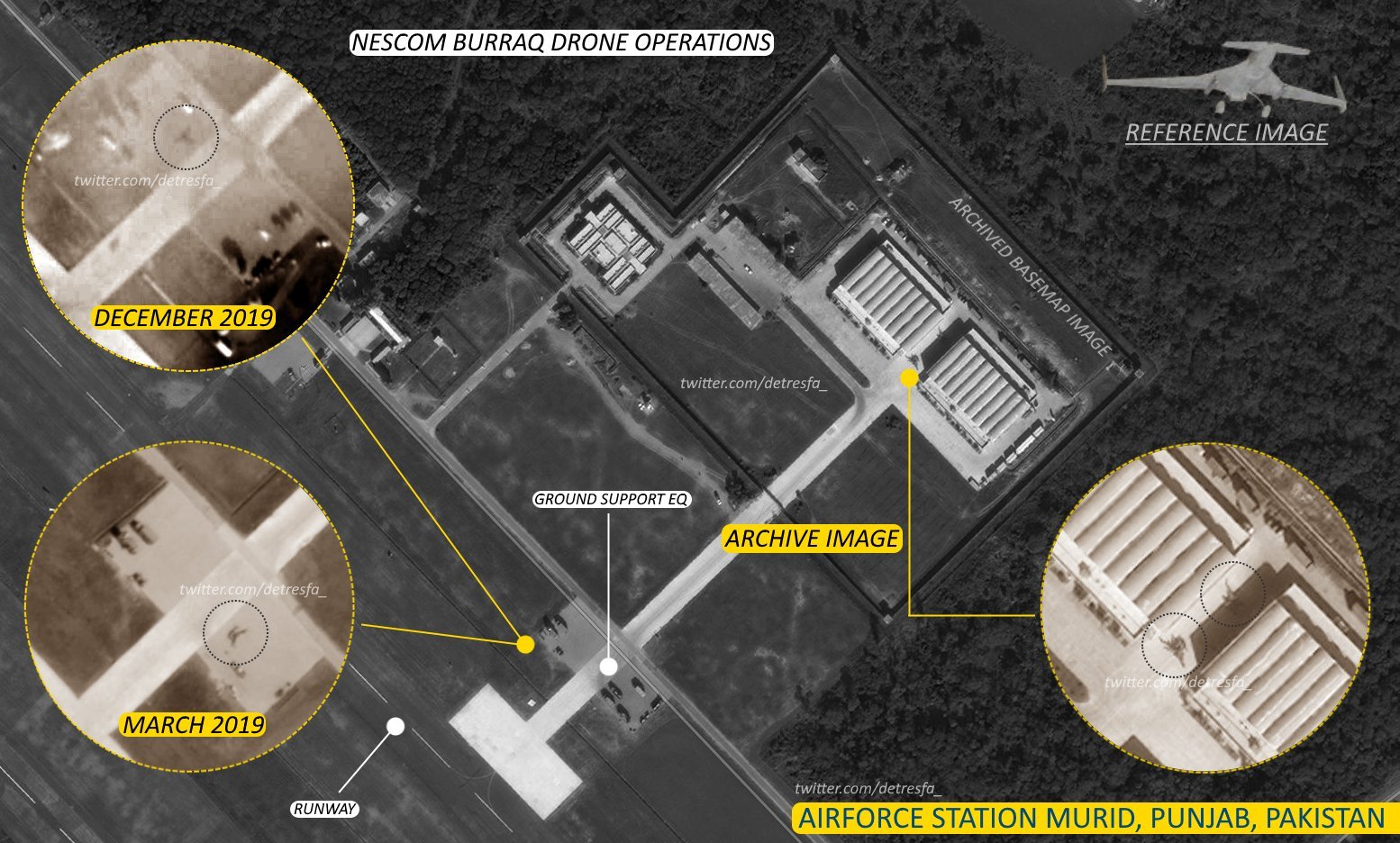 "This year, Pakistan signed a contract with Turkey for the co-production of ANKA UCAV. Pakistan also acquired CH-4 and Wing Long UCAVs from China. All these developments are a serious concern for India," opined the researcher before adding, "Last year, Azerbaijan defeated Armenia and drones played a crucial part in those 44 days conflict." 
Pakistan has a blend of both indigenously designed and externally procured drones. The Burraq was initially designed for intelligence, reconnaissance and surveillance (ISR) purposes but was later made combat-capable. Research and development into the project began in 2009, following which the drone was unveiled in 2015.
Prior to Burraq's development, Islamabad was trying to procure the American Predator drones, but it did not pan out. The South Asian country then turned to China, however, the designs did not meet Pakistani military requirements. These procurement challenges prompted Pakistan to indigenously develop a combat drone.
The Burraq Drone
The National Engineering and Scientific Commission, a civilian research facility, which functions under the Strategic Plans Division, collaborated with the Pakistan Airforce to develop the Burraq. It was based on the Predator and Chinese CH-3 Rainbow.
The drone derives its name from a mythical horse, which is believed to have carried Prophet Muhammad from Mecca to Jerusalem. Since its induction, the Burraq has been used in counterterrorism operations in Pakistan's northwest regions. 
The Burraq carries the Barq air-to-surface laser-guided missile during combat operations. While the specifications of Barq remain classified, its profile is believed to resemble the American Hellfire missile and another Chinese missile.
Lt Gen (Dr) V K Saxena (Retd), wrote about Burraq's perceived offensive capabilities for the Vivekananda International Foundation (VIF), a New Delhi-based think tank. According to him, the Burraq has a 1,000 km range and a maximum speed of 215 km/h with a service ceiling of 7,500 m.
Other Drones With Pakistan
The Shahpar is another indigenous tactical UAV in Pakistan's inventory. It was manufactured by the Global Industrial Defence Solution (GIDS). This drone has an overall length of 4.2 meters along with a 6.6 m wingspan. It can cruise at 150 kilometers per hour and boasts over seven hours of operational endurance.
The UAV has a maximum take-off weight of 480kg and a maximum operating altitude of 5,000m. NESCOM had collaborated on this project. Pakistan's defense ministry commissioned the first fleet of Shahpar into the Pakistan Army and Air Force in November 2013, mandated to carry out ISR missions and assist in disaster management.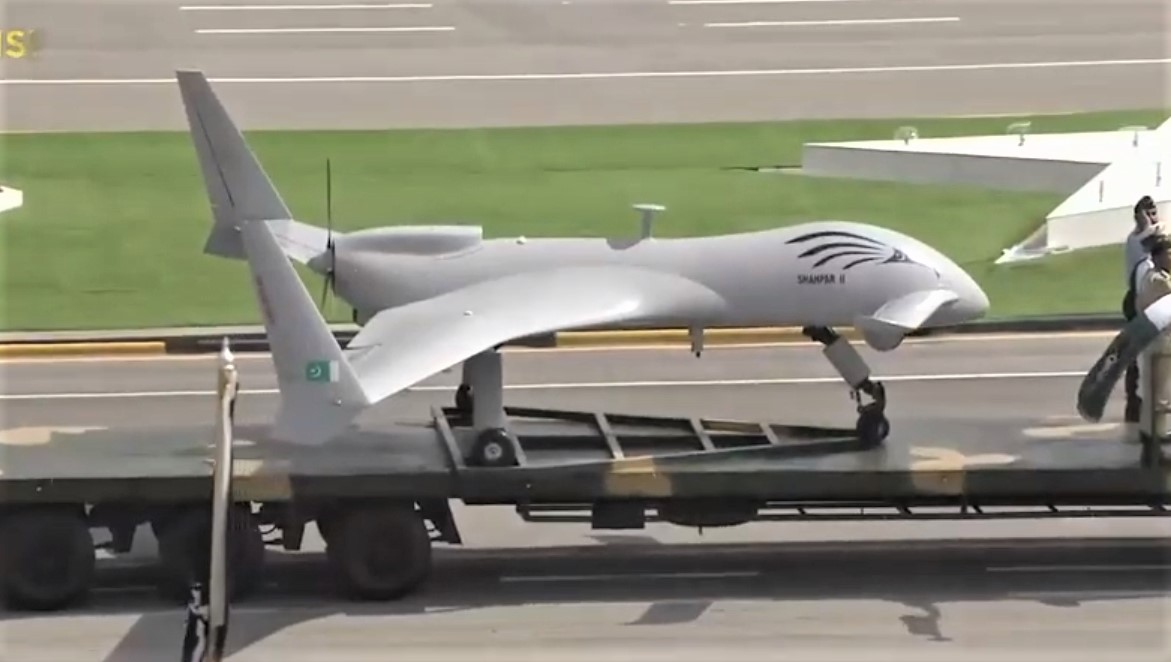 The Shahpar II was revealed in March this year and builds upon its previous variant. It is believed that this variant was under development since 2017 and has some noticeable differences such as size. The Shahpar II is a Medium Altitude Long Endurance (MALE) drone with an endurance of 14 hours and can operate at altitudes of 20, 000 ft. It has a data link range of 300 kilometers and is designed for ISR and disaster relief operations.
The SATUMA Jasoos II is another indigenous drone in the Pakistan air force's inventory fulfilling dual purposes; ISR and training. The Jasoos II has an overall 4.27m length, 4.92m wingspan, and has an MTOW of 245 Kg.
The drone's maximum speed is approximately 180 kmh, while its maximum range is 100km. It has a six-hour endurance and a service ceiling of 3,480 m.
Other than its indigenous drones, Pakistan has a fleet of top-of-the-line imported UAVs. The SELEX Galileo from Italy, the CH-4 from China, and the AAI RQ-7 Shadow from America comprise its foreign procurements.
Janes Defence had recently reported that Islamabad received five CAI Hong 4 MALE UAVs from Beijing. The CAI Hong 4s are a potent drone, which has been used against Houthi rebels by Saudi forces during the conflict in Yemen.
How Is India Faring?
India too has made strides in its own indigenous drone development and has procured state-of-the-art UAVs from the global market. The Indian Armed forces have a range of drones designed for a multitude of operational environments.
The secretive DRDO Ghatak in particular merits a mention. The homegrown stealth UCAV is still under development and details are classified.
The Ghatak project has gained flagship status this year. The Central Government is reportedly putting its weight behind the project and is likely to include a deck-based UCAV variant for the Indian Navy as well.  A full-scale prototype is likely to be rolled out between 2024 and 2025.
The Indian Army successfully demonstrated a swarm of 75 UCAVs which automatically identified targets and eliminated them in a kamikaze-style attack during a live demonstration held during Army Day 2021. This development was a step towards India's 1,000 swarm drone goal.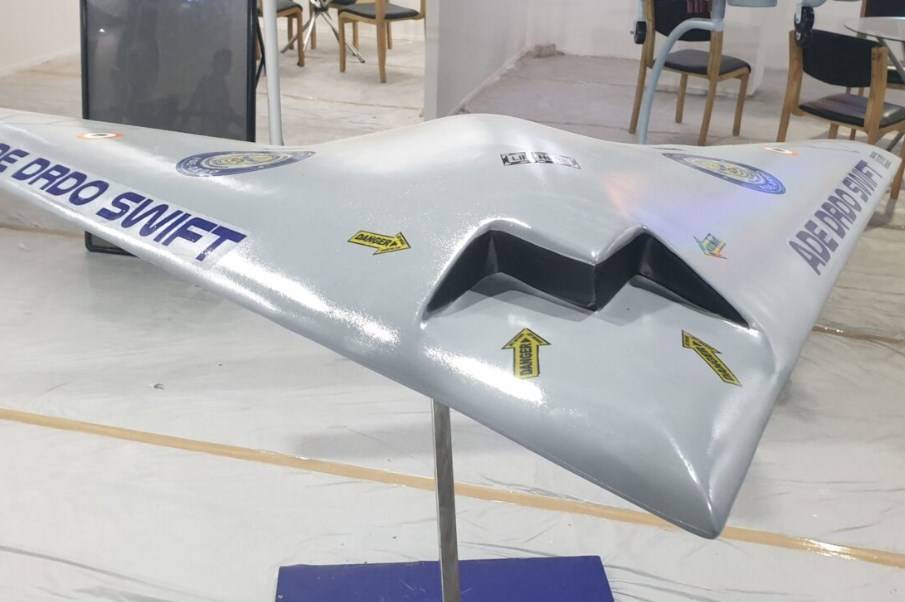 Global military watchers lauded this development but pointed out that it was a demonstration and not an operational feat. New Delhi has also expanded its HAROP fleet and is reportedly operating 164 of these Israeli kamikaze drones.
India had procured two Sea Guardians from the US under an emergency procurement lease. Impressed with its performance, the Indian Armed Forces are looking to induct 30 MQ-9 Reaper or Predator B UCAVs as part of a $3 billion tr-services contract.
Ten of each will be delivered to Army, Navy and Air Force. The MQ-9B has 48-hour endurance, over 6,000 nautical miles range, and is capable of carrying a weapons payload of over two tonnes.
However, analysts believe India is lagging behind in terms of indigenously-developed UCAVs. None of its proposed domestic combat drone projects like the Rustom 2 or Ghatak are currently operational.
"Pakistan made their Burraq combat drone operational in 2015 and battle-tested it while we are rolling out the first indigenous combat system in 2025.
Simple mathematics highlights a decade of asymmetry when it comes to this technology. This is in the context of modern-day non-contact warfare highlights a significant shortfall on our end," said Colonel Vinay B Dalvi (Retd), founder of the military reforms publication, Mission Victory India, and author of the Victory India compendium of books.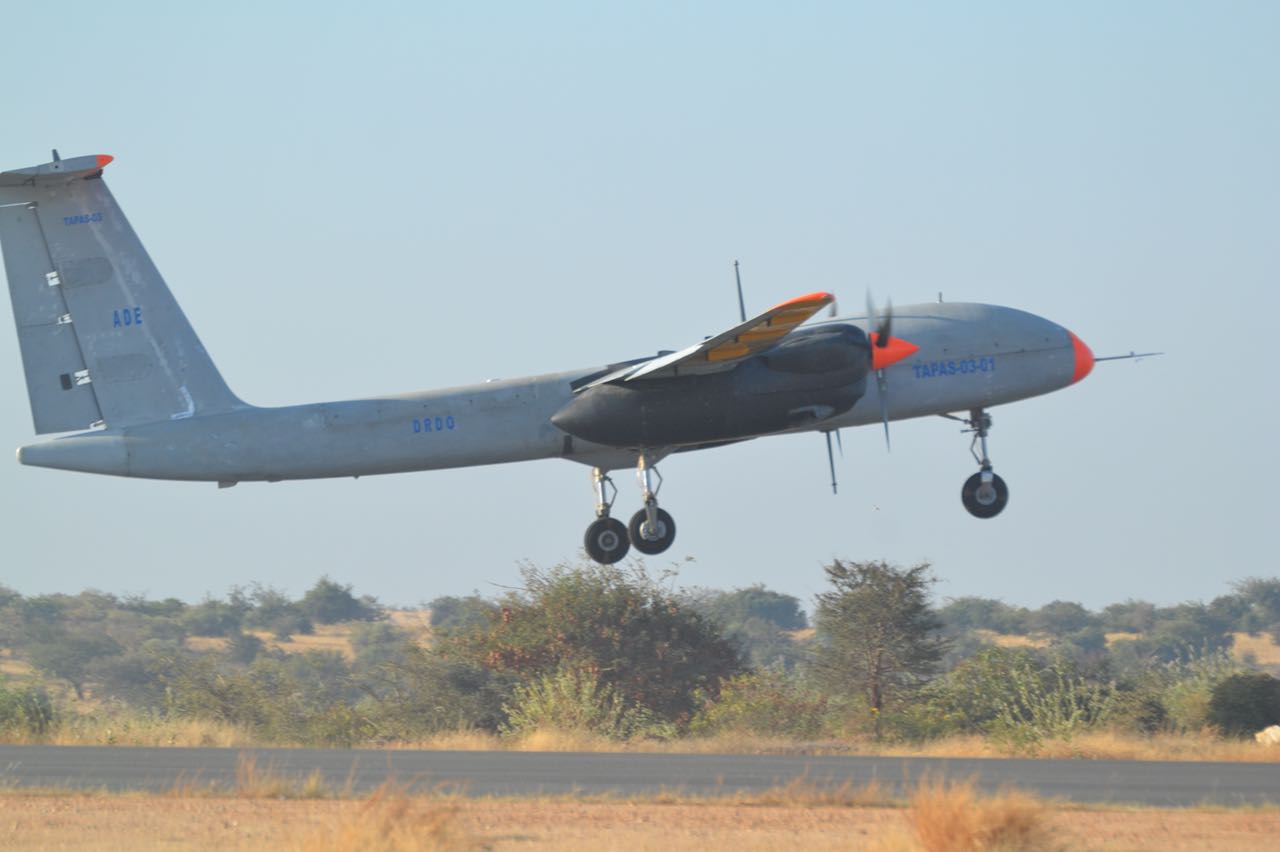 According to defense analyst and author, Joseph P Chacko, Pakistan was faster to realize the usefulness of combat drones as it witnessed the power of the American drones when they eliminated many terrorists within the Pakistani territory, especially FATA.
"Most of the drone developments in India were focused on surveillance till Ghatak UCAV was proposed. Recently, Hindustan Aeronautics Limite displayed CATS Hunter drone as a loyal wingman pair.
Pakistani combat drones exist for striking targets which cannot retaliate like the US designated unfriendlies. The drones need not be sophisticated. For sophisticated drones, Pakistan will have to rely on imports from China and Turkey," Chacko added.
Will UCAVs Be Deployed Along LoC?
Dr. Malcolm Davis from the Australian Strategic Policy Institute (ASPI) told Zeeshan Ahmed from the Express Tribune that the lines between artillery and airpower would be blurred with the induction of loitering munitions and attack drones. The capabilities of both militaries will increase as will threat profiles.
He opined that UAVs on either side of the Line of Control (LoC), the de facto border that separates India and Pakistan in Kashmir, could target enemy artillery batteries akin to how Russia did in its conflict with Ukraine.
He highlighted that such moves are likely to invoke similar responses from the other side and that the bid to create a technological asymmetry may flare up tensions. 
He further acknowledged that UAVs are the next evolution in warfighting. But highlighted that both nations are likely to remain cautious in the deployment of drones along the LoC as even minor misadventures may have far-reaching consequences.
When asked about what India can do to deter drone threats, a senior serving Indian Army officer told The EurAsian Times, "Our response systems need to be well-calibrated, the escalatory continuum remains unpredictable. Whatever the modern technology inducted in the military domain, it needs to be either devastating and crippling, if not, it better be invisible or unattributable."
Aritra Banerjee is a defense journalist who has worked in both online and print media. He has laid an emphasis on issues related to military human resources, tactical psychology, military-media relations, professional military education, and combat fitness. He can be reached on email: aritrareporter@gmail.com.