South Korean FA-50 light attack aircraft have outshone India's Tejas fighter jets as Seoul sealed a deal to export 18 Lead In Trainer-Light Combat Aircraft (FLIT-LCA) to Malaysia. 
The announcement was made by Korea Aerospace Industries (KAI), South Korea's sole aircraft manufacturer, on February 24. According to KAI, the contract is valued at 1.2 trillion won ($920 million), and delivery will start in 2026. 
It anticipates that Malaysia will eventually acquire 36 units in total. KAI won the contract with Malaysia's defense ministry by outbidding competitors such as Tejas from India, JF-17 from Pakistan, MiG-35 from Russia, and Hürjet from Turkey.
Malaysia's FA-50s will have several improvements, including the ability to perform air-to-air refueling and an expanded weapons capability.
KAI president and chief executive Kang Goo-young noted that this export results from increased cooperation between the governments of the two countries.
KAI said that the company would serve as a long-term partner through defense collaboration, effective delivery, and operational support of the FA-50. 
KAI credited the success to the superior quality of its aircraft and the follow-up support, Korean Times said. 
Encouraged by the recent success, KAI strives to expand its international business to other parts of the world, including Australia and the United States.
Last year, the country inked a contract to export 48 FA-50s to Poland. KAI's sales increased significantly in 2022, jumping from 2.56 trillion won to 2.78 trillion won. It intends to increase the sum to 3.83 trillion won this year.
After Thailand, the Philippines, and Indonesia, this is the fourth aircraft contract KAI has inked with a South-East Asian nation. 
With the latest agreement, KAI is believed to have sold 68 KT-1 basic and T-50 advanced trainer jets and FA-50 aircraft. Besides that, it has secured contracts to supply 222 aircraft to countries such as Iraq, Poland, Peru, and Senegal.
Nonetheless, the achievement is the most recent example of the South Korean defense industry's expansion, which has dramatically seized several big weapon export deals.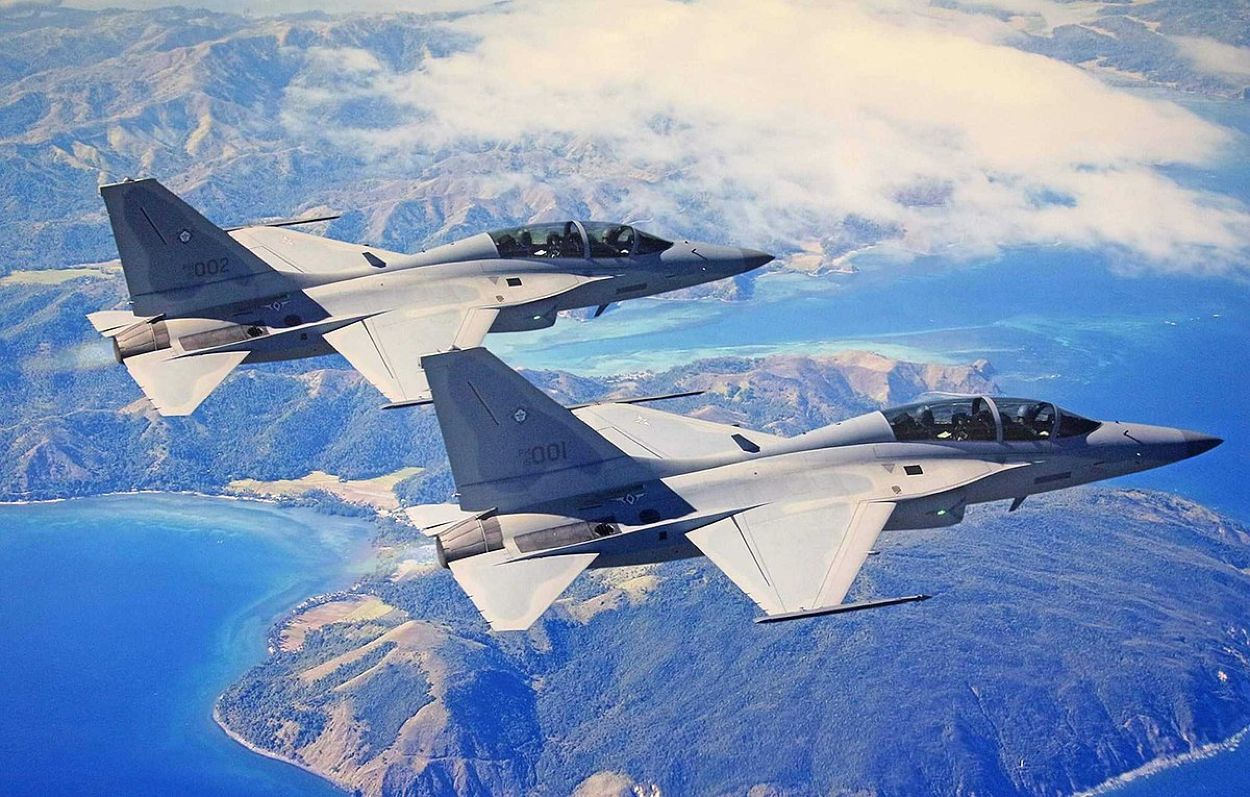 South Korea's Growing Footprint
Malaysia, which has long needed to modernize its fast jet fleet, commenced the FLIT-LCA requirement in June 2021.
The country launched the tender to acquire Lead In Trainer-Light Combat Aircraft as part of the air force's Capability 55 plan, released in 2018 and outlined the air force's objective to achieve an ideal force structure by 2055.
The requirement quickly attracted proposals from several countries. Besides the FA-50, contenders for the contract included the Turkish Aerospace Hurjet, Chengdu-Pakistan Aeronautical Complex JF-17, Russia's MiG-35, and Hindustan Aeronautics Limited's (HAL) Tejas.
The FA-50 and Tejas were the two final shortlisted candidates in the race, with the South Korean aircraft ultimately prevailing over the Tejas.
The company plans to secure 1,000 worldwide FA-50 sales over ten years, according to Lee Bong Keun, vice-president and general manager of KAI's international business division, who spoke to FlightGlobal at the Farnborough Airshow in July 2022. 
This figure covers the demand for extra training aircraft from the US Air Force (USAF) and US Navy and the desire for "red air" aircraft to participate in aggressor training missions.
The FA-50 Fighting Eagle is developed by the Korea Aerospace Industries (KAI) and US defense company Lockheed Martin. The popularity of this aircraft has also encouraged foreign businesses to increase their collaboration with South Korean firms.
For instance, Germany-based Airbus Defense and Space has already proposed a "win-win strategy" to Seoul to increase exports of South Korea's FA-50 Fighting Eagles and other fighters to Western European nations. 
Also, Airbus declared that it would increase the volume of parts it buys from South Korea from the current 700 billion won ($529.3 million) annually to over 1 trillion won.  
Nevertheless, the East Asian country has already made a name for itself as a primary weapons exporter to other nations, including Australia and India. 
Several European countries, notably Turkey and Poland, have purchased mobile howitzers and small guns from South Korean defense companies in the last few years. 
The South Korean aerospace industry is also working on the KF-21 stealth fighter, which is anticipated to attract considerable attention from several nations in the coming years.