Russian state arms manufacturer Rostec recently announced that a host of tank destroyers, including the 2С25М Sprut-SDM1, is set to roll on the production line.
The press service of Rostec announced late last month that Kurganmashzavod would put the latest 2S25M tank (Sprut SDM1) destroyers and BT-3F armored personnel carriers into production, Russian news agency RIA Novosti reported.
The state corporation also noted that some additional state contracts had been reached with the Ministry of Defense (MoD) to supply certain well-liked categories of weapons and military hardware.
Rostec stated in a press note, "Since 2023, Kurganmashzavod has had the status of the lead contractor for the state defense order. The plans for deliveries for the coming years include BMP-3, as well as BMP-3 after overhaul, BMD-4M, BTR-MDM, BREM-L, modernization of BMP-2 with the Berezhok fighting compartment, mastering the repair of airborne equipment, introducing into production new models of military equipment – a 125mm self-propelled anti-tank gun 2S25M, an armored personnel carrier BT-3F."
Russian authorities refer to the 2S25M Sprut-SDM1 as a self-propelled anti-tank gun, also known as a tank destroyer, despite it being a light tank by definition. This tank can be para-dropped and is air-portable. It is also entirely amphibious. Although it was primarily designed for airborne troops, it could also be used by naval infantry units.
The tank is entering production at a time when Ukraine is readying to deploy its cutting-edge West-supplied Main Battle Tanks (MBTs) against Russia. It has so far fielded the Soviet-era vintage tanks, besides the more capable upgraded T-72s, T-80s, and the T-90s captured from Russian troops on the battlefield.
With no end to the ongoing conflict, Russia is believed to have accelerated the development of its existing weapon systems, including tank destroyers. Sprut-SDM1 serial manufacturing was planned to begin at the end of the previous year. The tank destroyer has been said to successfully completed the testing phase.
This tank destroyer, or light amphibious tank, was also offered to India last year. A Rosoboronexport official told the media in October 2022 that Moscow had offered to supply the Indian Army with the Sprut SDM1 light amphibious tank and had duly submitted a technical proposal to India.
The Russian offer came in the wake of India kickstarting its Project Zorawar to acquire a light tank. The project calls for the induction of light tanks to enable faster mobilization and deployment in high-altitude conflict zones.
The Indian Army currently uses the Russian-origin T-72 and T-90 heavy tanks. However, following the stalemate with China in eastern Ladakh, the Indian Army saw an urgent need to deploy light tanks to counter the PLA. This made the Russian offer even more significant.
Moreover, the Russian defense company made it clear that it was eager to participate in the Indian tender to supply light tanks. It stated that they are prepared to transfer technologies and provide support so that India can start manufacturing the tank at a domestic defense production facility.
Sprut SDM1 Tank Destroyer Or Light Amphibious Tank?
According to Rosoboronexport, the Sprut-SDM1 is the only light amphibious combat vehicle in its category with a 125mm tank gun and the firepower of a main battle tank. The tank is outfitted with a guided missile system to outgun armored targets, including those with Explosive Reactive Armor (ERA).
The SPRUT-SDM1 is intended to conduct battle surveillance, uphold combat security, destroy enemy strongholds and defenses, and offer fire support to forces engaged in combat with heavily armored targets.
The Sprut could operate day and night on mountainous terrain with thin air, at extremely high and low temperatures, traverse water obstacles, and fire its cannon while afloat. It can also disembark from ships.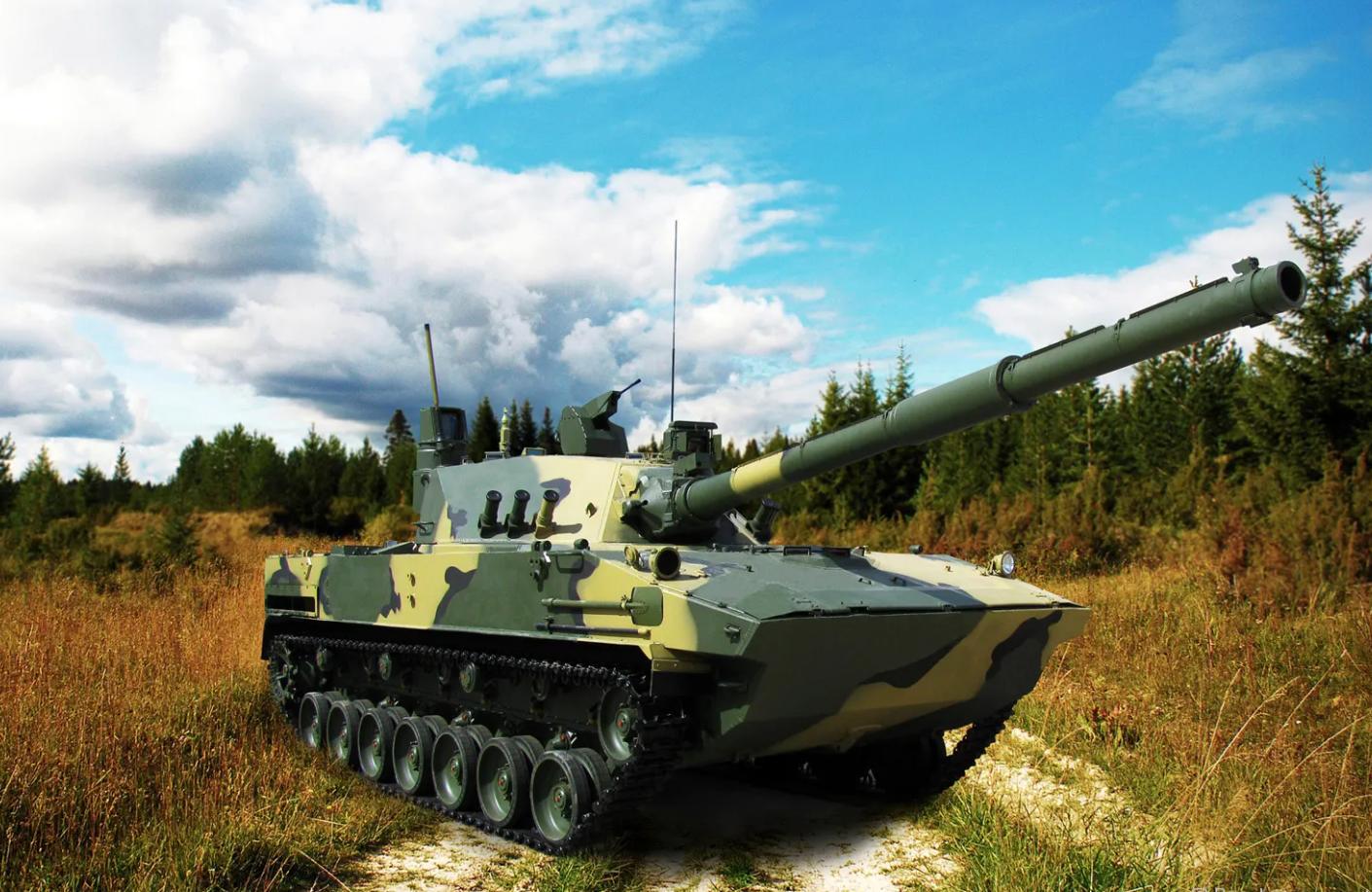 The Sprut can be transferred by military cargo planes, landing ships, or parachuting with a crew. The tank has a range of 500 kilometers without refueling. It reportedly picks a speed of 70 kilometers per hour on the highway, up to nine kilometers per hour afloat.
Sprut-SDM1 only weighs 18 tons. The main characteristics of this revolutionary light tank are mobility, quick redeployment, and air transportability. However, it offers only modest armor protection, as it can only sustain 12.7mm bullet impacts on its front arc.
Artillery shell fragments and 7.62mm fire are the only threats to all-around defense. However, with add-on armor, protection can be increased.
The Sprut-SDM1 has the firepower of a modern main battle tank while having inadequate armor. According to some, it has a similar amount of firepower to Russian T-72 and T-90 series tanks. A completely stabilized 2A75M 125mm smoothbore cannon is mounted on it. It can shoot the same 125mm rounds used by the T-72 and T-90 series of tanks.
For this tank, new programmable ammunition was introduced in 2022. The maximum fire range is 2 to 2.5 kilometers. There is an automated system for loading ammunition.
A new fire control system has been installed on the Sprut-SDM1. It has brand-new sights for the main combat tank T-90MS. A thermal vision independent commanders' sight is among the most significant advancements.
It enables quicker acquisition and engagement of targets. As soon as the tank commander spots a target, it is picked out, and the gun is immediately aimed at it.
Contact the author at sakshi.tiwari9555 (at) gmail.com