Four B-1B Lancers, nicknamed 'Bone Bombers', arrived at Andersen Air Force Base (AFB) on Guam Island on June 4, amid rising tensions with China and North Korea and increasing concerns about Guam's vulnerability to enemy attack.
The purpose of the B-1Bs' arrival is not clear, but a Korean media outlet had hinted at an imminent deployment of three or four B-1B bombers from the Ellsworth Air Force Base in South Dakota to Guam as a deterrent and security against North Korean actions, including a potential nuclear test.
Reports also suggest the B-1Bs could participate in the ongoing Valiant Shield exercises, a series of large multi-domain wargames involving the US army, navy, marines, and airforce.
Or it could just be a part of the now occasional bomber presence deployments to the Indo-Pacific region, after the end of the US' Continous Bomber Presence mission to Guam in 2020, following which US Air Force's (USAF) B-1, B-52, and B-2 bomber force has been conducting long-range patrols, mainly from the continental US, to Russia's eastern borders and the South China Sea, as well as shorter deployments to Guam or Diego Garcia in the Indian Ocean.
The last time such a significant bomber presence on Guam was noted, was in February of this year when B-52Hs deployed to the island for the annual Cope North multi-national military exercises.
The latest B-1 deployment has come amid growing concerns about Guam's vulnerability to enemy attack, especially from the various long-range and hypersonic weapons being developed by China.
Guam's Vulnerability To Chinese Attacks
There have been discussions about expanding and fortifying the island's missile defense capabilities beyond the Terminal High Altitude Area Defense (THAAD) ballistic missile defense systems and Aegis surface combatants deployed to provide forward defense for Guam at the moment.
As EurAsian Times recently reported, the US Missile Defense Agency (MDA) plans to set up 360-degree sensor coverage, missile defenses, and a command center, in the US territory of Guam, according to the agency's fiscal 2023 budget request.
Moreover, the US Army had announced in November last year that one of its only 'Iron Dome', batteries purchased from Israel was being deployed in Guam as part of an experimental initiative for two months to study its viability for protection against cruise missile threats.
Also, according to the proposed MDA plan, Patriot missile defenses would also be added to the THAAD battery, thereby relieving the three to four Navy ships that are deployed rotationally for island protection.
Guam is home to major US military facilities, such as the Andersen AFB, the only US base in the Western Pacific capable of storing heavy bombers for extended periods which would be a key element of any future potential US conflict in the Indo-Pacific region, for example, with China in case it decides to invade Taiwan.
Therefore, China has been consistently working to acquire the capabilities needed to destroy the key facilities on Guam, so as to impede the US movement in the region.
For example, a few years ago, China unveiled the DF-26 intermediate-range ballistic missile, which is capable of killing targets up to 3400 miles (5471km) away. China labeled this missile "the Guam Killer."
Furthermore, China released a propaganda video in 2020 depicting a simulated attack on Guam, in which nuclear-capable H-6 bombers can be seen hitting what appears to be the US' Andersen AFB.
How US Bomber Force Threat To China
Experts suggest that the US bomber force deployed at Guam poses an inexplicable threat to Beijing's goal of reunifying Taiwan because of their capability to carry the new and stealthy Long Range Anti-Ship Missile (LRASM).
LRASM is an air-launched anti-ship missile derived from the Air Force's stealthy, long-range, air-launched, land-attack cruise missile known as the JASSM-ER, which has a range of more than 300 miles (482km).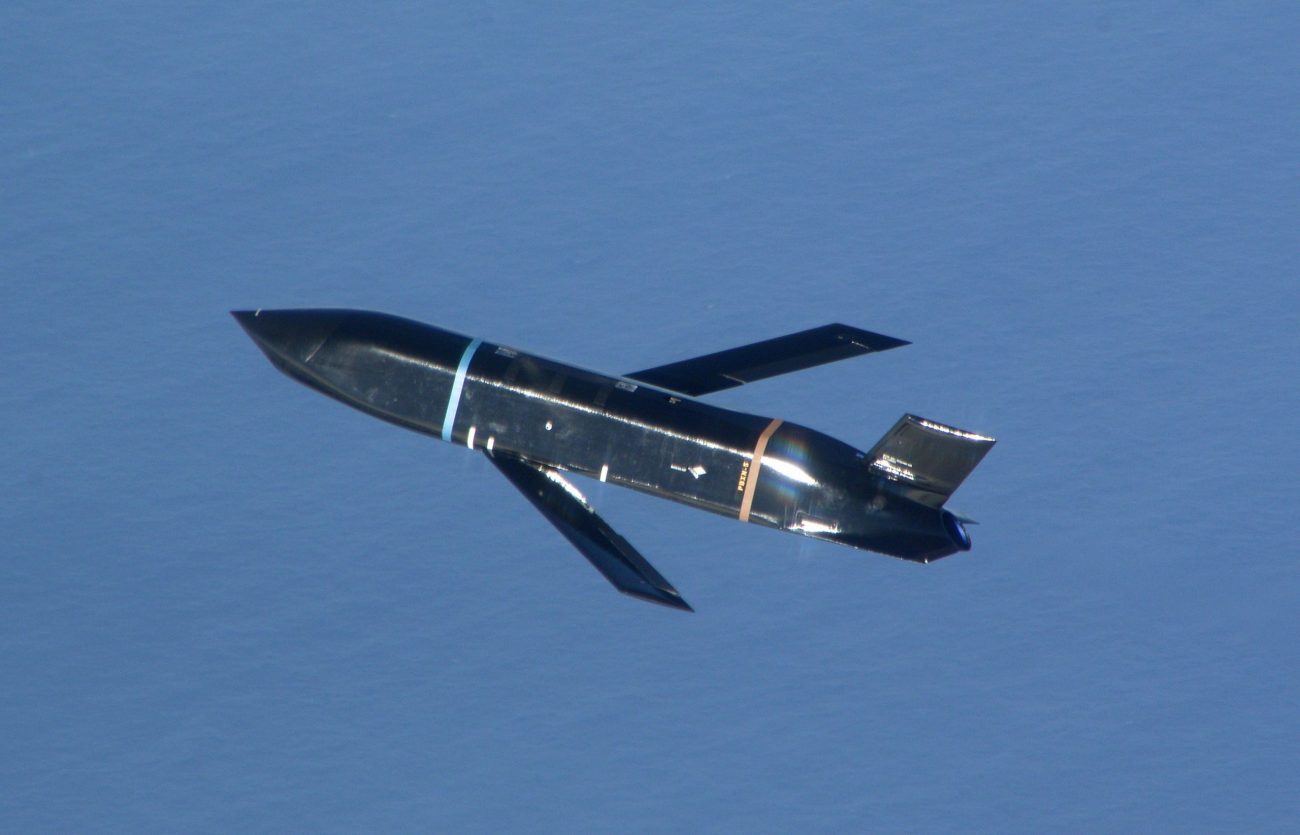 The stealth features of LRASM are said to make it immune to Chinese Navy and Air Force air defenses and permit it to remain at a high altitude during its initial approach to its targets—unlike almost all other cruise missiles, which drop to extremely low altitude flight well before coming inside the line-of-sight of their targets and their accompanying air defenses.
Moreover, the ability to remain at higher altitudes a for a longer duration allows the missile to use its multispectral sensor imaging suite to search for, locate, and identify all the potential targets in its field of view by literally "measuring" them and comparing the results against a database of ship types.
This means a large number of LRASMs can be programmed to select the best targets in a target-rich environment, such as China's seaborne invasion force transiting across the 100-plus mile-wide (more than 160km wide) Taiwan Straits.
The LRASM achieved the initial operating capability (IOC) in 2018 when the USAF integrated the missile with its B-1 bomber force. It will also be incorporated in B-52s and Navy F-18s and P-8s. One B-1 can carry 24 LRASMs and one B-52 can carry 20.
So, considering that more than 50 US bombers are armed with LRASM, the Chinese ships operating almost anywhere in the Western Pacific would come under threat.