A wave of deadly Russian air strikes on cities across Ukraine, including the capital Kyiv, has left at least 25 people dead. The Russian defense ministry said its military had targeted Ukrainian army reserve units with the strikes.
Earlier, the Russian Aerospace Forces (VKS) reportedly deployed the Tu-95 long-range strategic bombers to carry out a devastating missile strike against Ukrainian cities. However, the Armed Forces of Ukraine (AFU) claim to have thwarted almost all of these attacks.
The Ukrainian Ministry of Defense (MoD) took to Twitter on April 28 to break the news. It said in a tweet, "Last night, the terrorist state attacked Ukraine with missiles launched from the strategic bombers Tu-95. Ukrainian air defenders shot down 21 of 23 missiles and two drones. At least five civilians were killed."
According to reports from Ukraine, Russia targeted cities in a broad arc throughout Ukraine, starting in the capital city of Kyiv and moving across the country's central and southern regions. The mayor of Dnipro, a city in central Ukraine, reported on Telegram that two people were killed in these strikes.
While the Russian Ministry of Defense (RuMoD) has not acknowledged the claims made by Ukraine about shooting down 21 of the 23 missiles allegedly fired by the Tu-95 bombers, some unofficial sources in Moscow have noted the extent of these missile strikes.
Citing the Russian Spring Military Correspondents Telegram channel comprising war reporters, the local media portal reported that the Russian Aerospace Forces launched massive strikes against targets in western Ukraine with the help of Tu-22 and Tu-95 long-range bombers.
The report further noted that the Russian Aerospace Forces attacked using X-101 and X-555 missiles launched from Kursk and Voronezh.
Last night, the terrorist state attacked Ukraine with missiles launched from the strategic bombers Tu-95.
Ukrainian air defenders shot down 21 of 23 missiles and 2 drones.
At least five civilians were killed.@CinC_AFU @KpsZSU

— Defense of Ukraine (@DefenceU) April 28, 2023
These nuclear-capable bombers have been deployed on several occasions during the ongoing conflict. For instance, in February, in the run-up to the invasion anniversary, Russia launched a massive missile strike against Ukraine in which most of the cruise missiles were fired by the Tu-95 bomber.
Due to Russia's inability to achieve air superiority, Russian fighter jets avoid venturing into the saturated Ukrainian air force, where they are likely to be shot down by Ukrainian air defenses.
To carry out missile strikes, the VKS usually dispatches the Su-34 Fullback or the Su-35S flankers to fire missiles like Kh-59 and some other limited long-range missiles from the airspace controlled by its troops.
However, air-launched missile strikes deep inside the Ukrainian territory are usually performed by long-range bombers.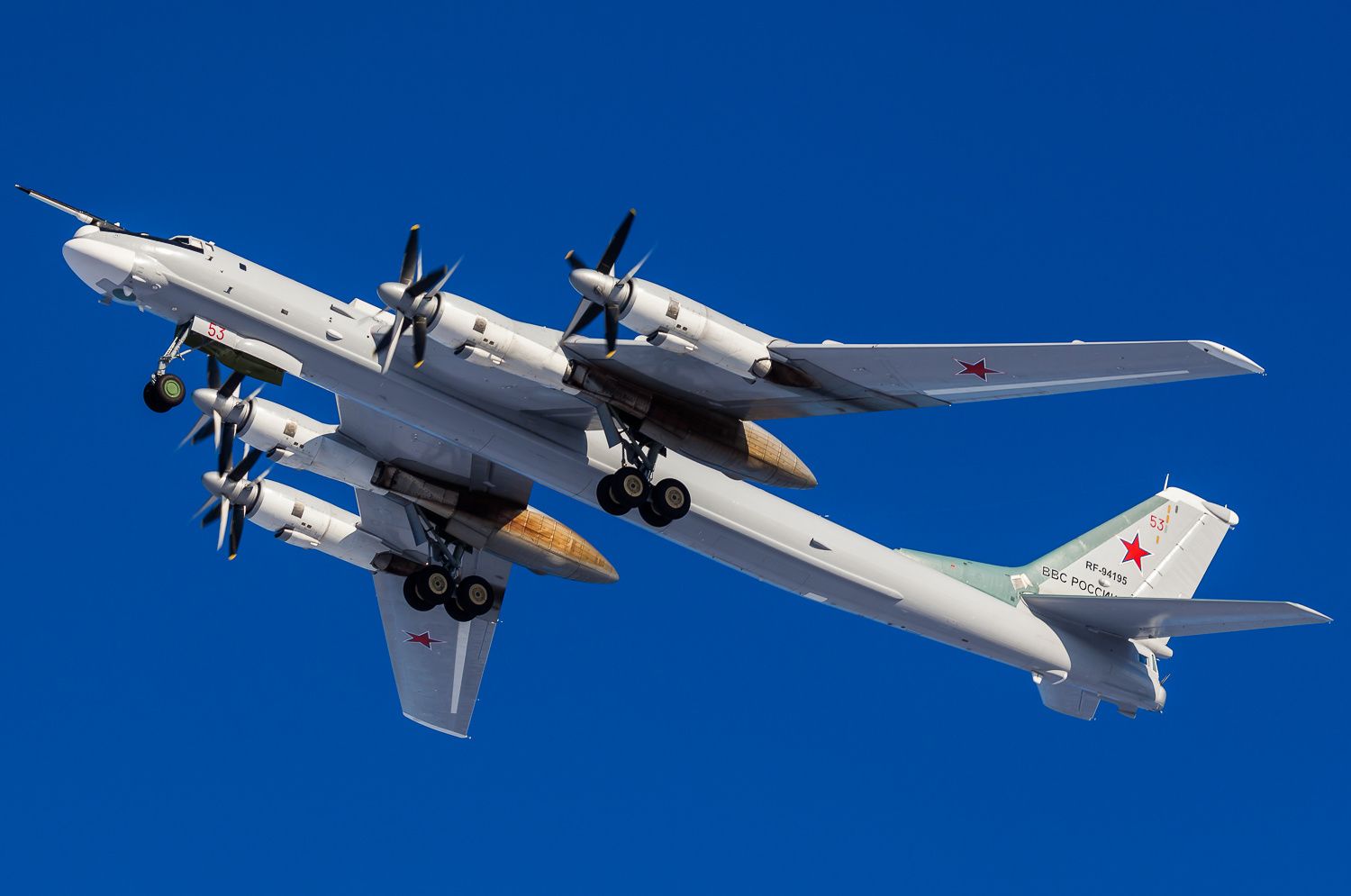 Russia has traditionally deployed the Tu-22M3 Backfire-C, Tu-95MS Bear-H, and Tu-160 Blackjack bombers to target critical infrastructure in western and central Ukraine, such as manufacturing and repair facilities for military hardware, strategic fuel supplies, airfields, and railroad facilities.
The Russian forces are raining down missiles on Ukraine at a time when speculations about a Ukrainian counteroffensive are running high.
Moreover, a recent report published by The New York Times states that even though Ukrainian forces are resisting continuous Russian attacks, they have recognized the challenge posed by Russia's massive reserves of ammunition and their trained soldiers.
Ukraine Awaits Arms, But No Success Guaranteed
The NYT report notes that after a brief break, Russian forces have stepped up their attacks on positions around Vuhledar in eastern Ukraine's Donbas, which has seen spectacular tank engagements. Russian attempts to take over the city have failed numerous times due to Ukrainian resistance.
The anticipated Ukrainian counteroffensive, which might start anytime and is supported by an influx of modern weapons from the United States and its allies, is the subject of much attention. However, despite knowing they need the new equipment, Ukrainian troops are aware that it cannot guarantee success, according to the report.
A 43-year-old private named Pavlo, who operates a heavy machine gun atop an American-made MaxxPro armored fighting vehicle in this sector, told the publication, "I don't know where the Russians are getting so much artillery. And there are also tanks, helicopters, and jets. The guys can't get in and out of their positions; the firing is so heavy."
Several factors currently play out in the Kremlin's favor.
For instance, the Russians have constructed defensive positions in anticipation of a counteroffensive, the Kremlin's forces still possess a significant numerical advantage in heavy weapons, including aircraft and armored vehicles, and the Ukrainians are still figuring out how to use some of their new equipment.
Moreover, Ukraine's soldiers are not engaged in combat with the recently mobilized troops and ex-prisoners Russia has deployed into battle. Instead, they are involved in combat with some of Russia's best-trained forces, including naval infantry units from the country's Far East.
"The fighters are charged up to go forward even though there are disadvantages," said a Ukrainian company commander who uses the call sign Dolphin. "We're losing in numbers and losing perhaps in several areas because of our weaponry. I'm not going to say that everything is going well, is going great."
Ukraine's leaders hope that the addition of Western weapons, especially tanks and armored battle vehicles, will help balance the scales.
Contact the author at sakshi.tiwari9555 (at) gmail.com