Ukrainian Marines have shared a video compilation of multiple videos featuring unmanned aerial vehicles (UAVs) targeting Russian tanks.
The 21-second video clip showing several shots of Russian tanks being struck from the perspective of the UAV operator was posted by Ukraine's 35th Separate Marine Brigade on February 13.
The General Staff of the Armed Forces of Ukraine praised the "successful combat work of UAV operators" of the marine brigade against Russian tanks.
The 35th Separate Marine Brigade uses various kinds of drones against Russian forces in the eastern Donetsk region, according to the head of the brigade's UAV unit, who goes by the codename Gagarin.
"We generally use three different types of UAVs. One is reconnaissance drones, which are small and quiet. We also have bomb-carrying and kamikaze UAVs," Gagarin said on February 9.
The 35th Marine Brigade uses kamikaze drones against Russian tanks. pic.twitter.com/aDqpHlQIMf

— NOËL ?? ?? (@NOELreports) February 13, 2023
He further said that he and his team are currently conducting combat operations, using kamikaze drones "intensively and effectively."
According to Gargarin, approximately 86% of kamikaze-type UAVs have reached their target.
"Our UAVs can fly up from three to 12 kilometers (1.8-7.6 miles). Their flight capabilities depend on weather conditions. They can carry up to three kilograms (6.6 pounds) of ammunition," Gagarin said.
As per the updated tally published by the Ukrainian General Staff on February 13, Russia allegedly lost three tanks in the previous 24-hour duration, bringing the total score of lost Russian tanks since the onset of Moscow's military campaign in Ukraine in February 2022, to 3,283, by Kyiv's count.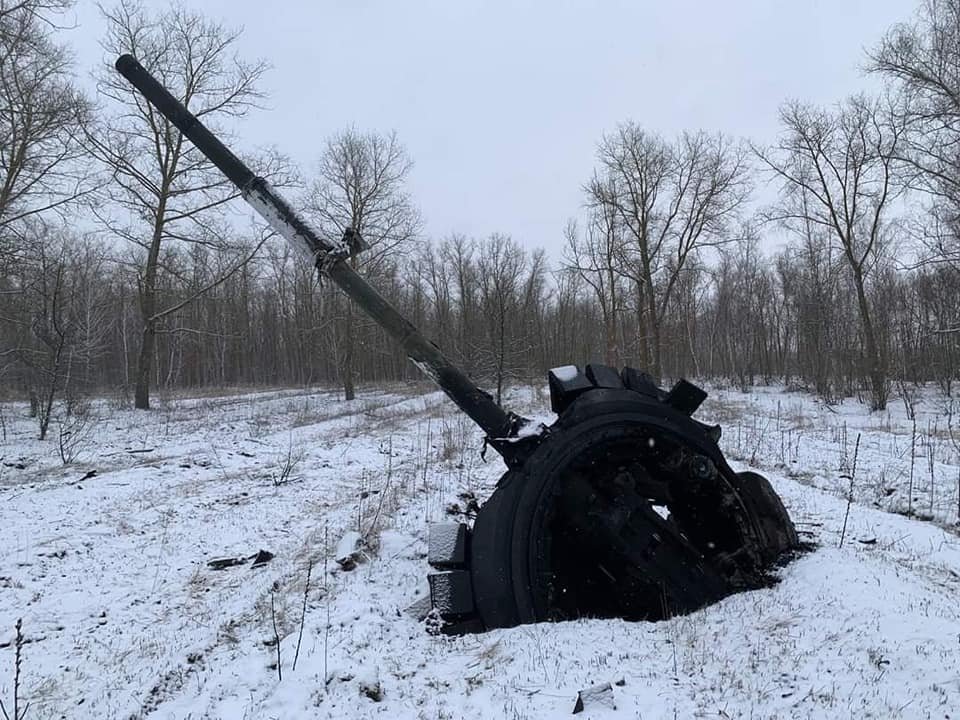 The day before, Ukraine claimed that Russia had lost 13 tanks within 24 hours. It is not possible to independently verify these claims.
However, according to the latest figures compiled by the military tracking blog Oryx based on visual confirmations, Russia has lost at least 1,727 tanks as of the writing of this article. In contrast, the Ukrainian armed forces have lost about 461 tanks.
Why Are Russians Suffering Heavy Tank Losses?
These heavy Russian losses, at least in some part, seem attributable to a lack of trained personnel and coordination on the front, as explained by the UK Ministry of Defense on February 12.
For instance, a video is doing the rounds on social media showing a Russian tank getting blown up by a landmine on a battlefield in Ukraine moments after another tank had suffered the same fate.
It's not the Groundhog Day. Just Russians mine-clearing the area with their MBTs and trying to find every single mine placed by Ukrainian troops near Vuhledar.

I have not enough hands to facepalm this. #Ukraine #Vuhledar pic.twitter.com/pw9oFNykNs

— (((Tendar))) (@Tendar) February 12, 2023
The footage, captured by a drone, is said to be from Vehledar. It features a Russian T-80 tank moving across a field when suddenly, a cloud of smoke emerges from where the tank had been only seconds earlier after it drives over an explosive.
After that, a second tank is seen coming from behind. However, as its crew pulls the vehicle up alongside the first destroyed armored vehicle, it also hits a mine, which is followed by another massive explosion erupting from beneath the tank, which sends the metal pieces far into the air and causes the vehicle to steer off the left before coming to a halt.
While the extent of damage to the tanks cannot be ascertained from the video, the crew of the first tank was seen abandoning the vehicle, and the second tank also did not seem to be moving by the end.
In March 2022, a column of at least 30 Russian tanks and support units with some of the most fearsome vehicles was seen getting pounded by relentless artillery firing from the Ukrainian armed forces while heading toward a suburb close to Kyiv.
The column of armored vehicles reportedly belonged to Russia's 6th Tank Regiment of the 90th Tank Division, stationed in Chebarkul, Chelyabinsk Oblast, Russia. It comprised Russian BMP-1s (Soviet amphibious landing vehicles), Soviet-era T-72 tanks, BTR-82 armored personnel carriers, and a TOS-1 Buratino, a thermobaric (Vacuum Bomb) launcher.
Several military experts were stunned at the sight of so many Russian tanks getting battered with impunity. "This is not the Russian army we trained to fight," a former British army commander told the Daily Telegraph.
Veteran tank commanders said the Russians appeared to deploy as though they were on neutral ground, not enemy ground.
Franz-Stefan Gady, an International Institute for Strategic Studies analyst, said the "fight shows the danger of not securing urban terrain with adequate infantry plus recon assets when main elements of the military pass through urban terrain ideally suitable for ambushes."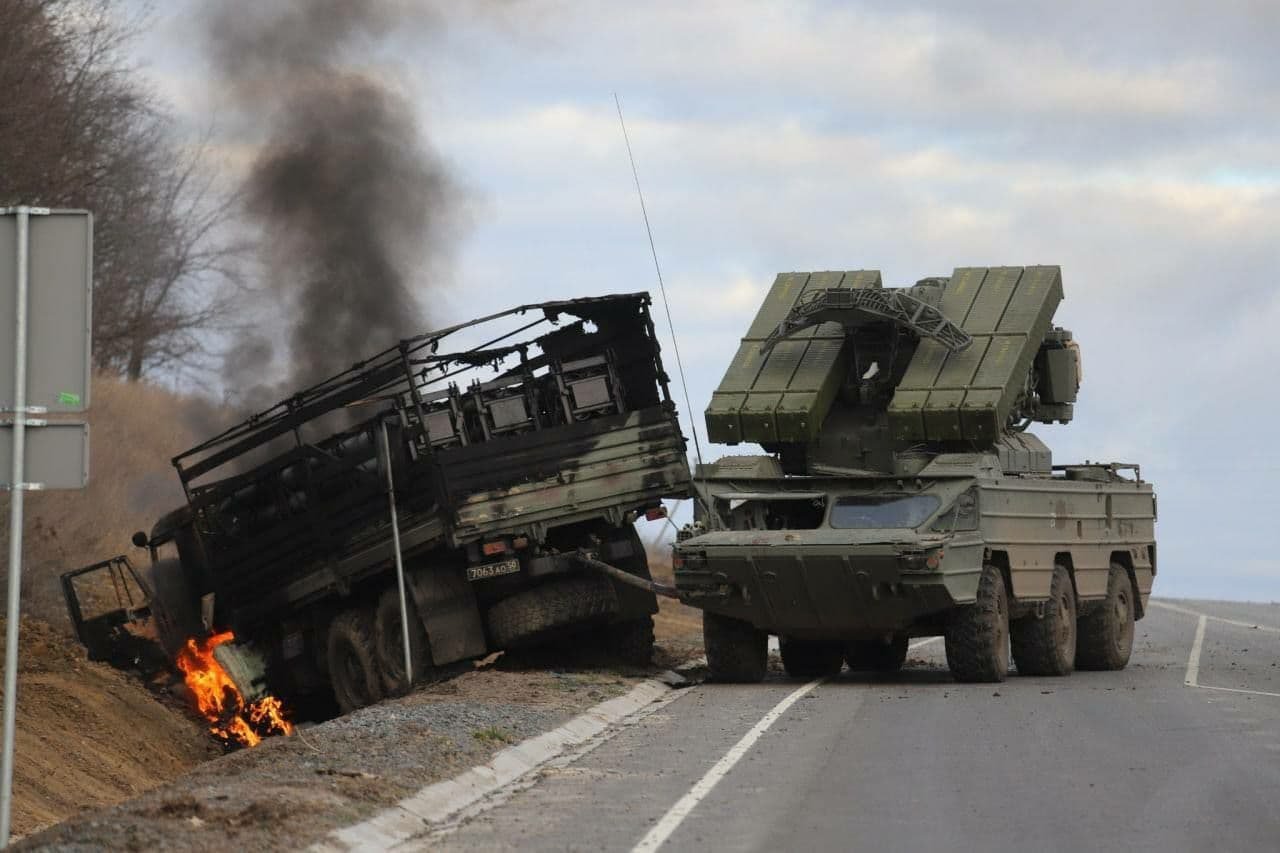 This was also pointed out by Colonel Rajendra Bhaduri (retd), an Armored Corps officer, to another correspondent with EurAsian Times. He said Russia suffered heavy tank losses because it deployed its main battle tanks without infantry support.
"It was puzzling, amateurish, and surprising. Both foot infantry and tanks complement each other, and the Russian logic in using their tanks this way is mysterious," Bhaduri said.