The United States and China's great power game is now being played in the unlikeliest of places over the unlikeliest of reasons. The two nations are today battling to gain supremacy in controlling global communications through the undersea fiber-optic cables in their latest tech wars.
While HMN Technologies Co. Limited, a Chinese firm with support from the Communist state through subsidies, has quickly emerged as a force in the subsea cable-laying business, the United States has used its leverage with its allies and friends globally to snag key undersea cable-laying contracts away from the Chinese firms.
A case in point is the American company SubCom LLC, which in February began laying a US$600-million cable to transport data from Asia to Europe, via Africa and the Middle East, at super-fast speeds over 12,000 miles of fiber running along the seafloor, known as the Southeast Asia-Middle East-Western Europe 6, or just SEAMEWE-6 for short.
A Reuters report said the US government, realizing that the Chinese could potentially use these sensitive communications cables to spy, ran a successful campaign to turn in the contract to SubCom, through both incentives and pressure on certain members of a consortium that was the client for the undersea cable laying job.
The consortium had over a dozen global firms, including the American Microsoft Corp. and the French telecom firm Orange SA. It also included three of China's state-run China Telecommunications Corporation (China Telecom), China Mobile Limited, and China United Network Communications Group Co Ltd (China Unicom). All members of the consortium had pledged funds for the project.
In 2020, HMN Technologies — in its predecessor's avatar, was majority-owned by Chinese telecom giant Huawei Technologies Co. Ltd — had almost bagged the contract for SEAWEME-6, which would have been its biggest business so far. But the US maneuvers ensured the project slipped through China's fingers.
The SEAWEME-6 is one of at least six private undersea cable projects in the Asia-Pacific region that the US has intervened to scuttle HMN Technologies' bid over the past four years. The White House had briefly noted in a Fact Sheet on June 26 last year that the US government helped SubCom to win the Singapore-to-France cable contract.
In this one-upmanship game, China has not been lagging behind. In a tit-for-tat maneuver, China reportedly put a hurdle on a cable in which American firm Meta is an investor, known as the Southeast Asia-Japan-2 cable, running from Singapore through Southeast Asia to Hong Kong and mainland China before reaching South Korea and Japan.
China has kept Japan's NEC, the cable manufacturer for the project, waiting for a license to let the cable pass through the South China Sea, citing concerns about the potential for inserting surveillance equipment on the line, reports said.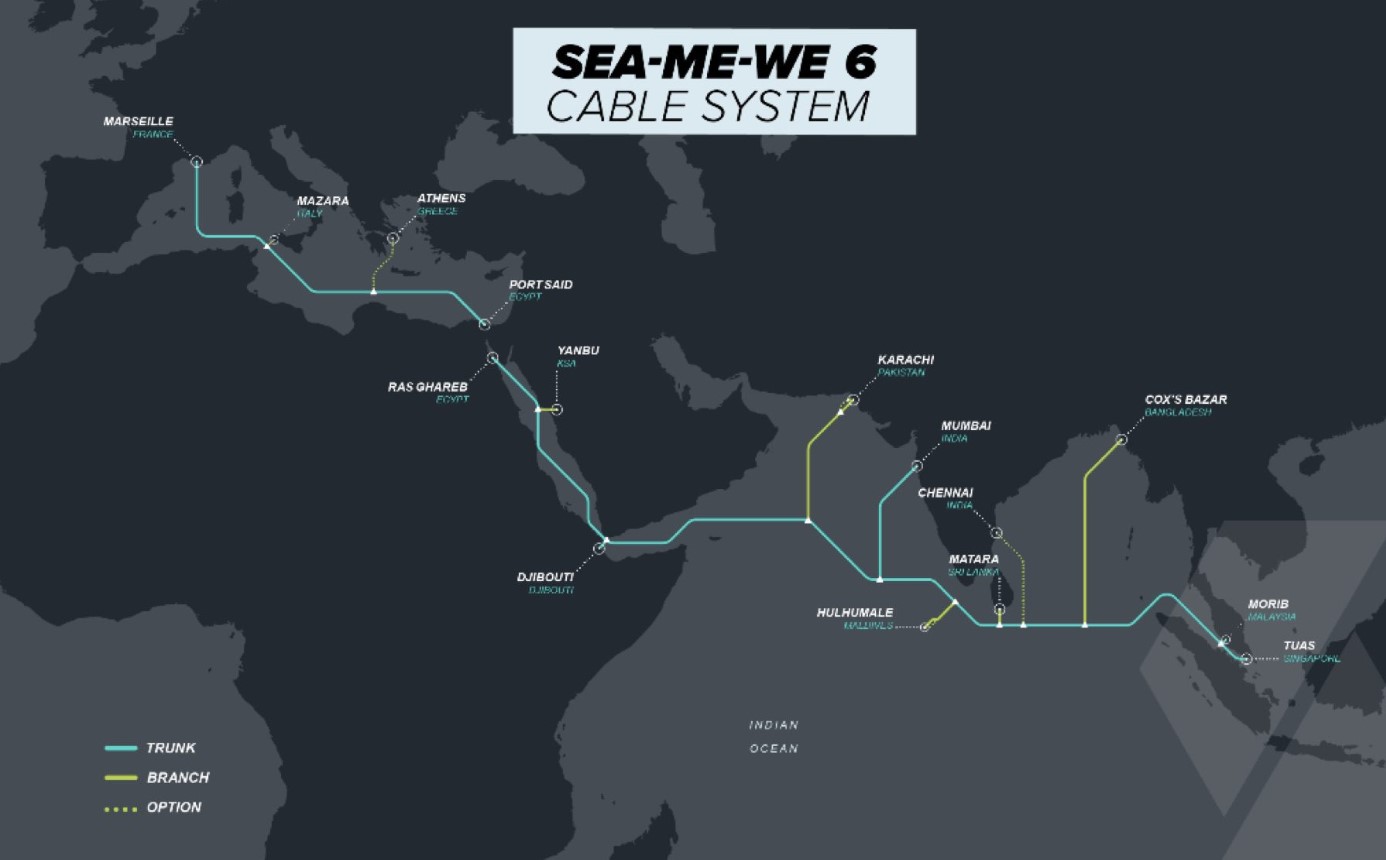 Threat Of Spy Agencies Keeping Tab On Net Traffic
The undersea cables, which carry the vast majority of the world's internet traffic, have become a key point of contention between the two global superpowers, as intelligence agencies can tap into the cables to carry out surveillance.
Over 400 undersea cables carry over 95% of all international internet traffic globally, according to data from TeleGeography, a Washington-based telecommunications research firm, as quoted by various reports.
These data conduits, which transmit everything from emails and banking transactions to military secrets, are vulnerable to sabotage attacks and espionage, Reuters said, quoting an unnamed US administration official and two security analysts.
Justin Sherman, a fellow at the Cyber Statecraft Initiative of the Atlantic Council, a Washington-based think tank, said that the undersea cables were "a surveillance gold mine" for the world's intelligence agencies.
"When we talk about US-China tech competition, when we talk about espionage and the capture of data, submarine cables are involved in every aspect of those rising geopolitical tensions," Sherman was quoted by the report as saying.
The undersea cables have become a new front in the ongoing US-China tech war became evident in February when two communication cables connecting Taiwan with its Matsu Islands were cut, disconnecting the 14,000 residents' internet, reports said on March 8.
Taiwan said it suspected a Chinese fishing vessel and a Chinese freighter may have caused the disruption, stopping short of blaming Communist China, as there was no direct evidence of the Chinese vessels to be blamed.
China and the US have also been throwing punches at each other over the People's Liberation Army's bid to strong-arm Taiwan into submission, as President Xi Jinping's stated goal is to annex the island territories at all costs.
India, too has been a victim of network disruptions, particularly in March 2018, when four major undersea cables that connect the nation with other parts of the world were cut.
The state-run Bharat Sanchar Nigam Limited (BSNL) lost around 21% of its total international bandwidth when the disruption happened, including connections to Europe. The cables were used by Indian communication firms such as Bharti Airtel and Tata Communications, apart from BSNL, for transmitting international traffic.
World To Witness Intense Undersea Battles
As tensions continue to rise between the US and China, the battles over undersea cables are likely to become even more intense. At the heart of the issue is that undersea cables are critical infrastructure for the internet.
Without these cables, it would be impossible to transmit data between continents at the speed and volume we do today. As a result, controlling these cables is seen as a key strategic asset for any country that wants to maintain dominance in the digital age.
China has been investing heavily in undersea cables in recent years, in what some analysts see as an attempt to gain an edge over the US. In particular, China has been building out its Belt and Road Initiative, a massive infrastructure project that aims to connect China with countries throughout Asia, Europe, and Africa. As part of this project, China has invested in undersea cables running from China to Europe and beyond.
The US, meanwhile, has been working to counter China's growing influence in the undersea cable space. In 2018, the Trump administration proposed a plan to build a government-funded undersea cable network that would connect the US to Asia, effectively bypassing China. The proposal was seen as a response to concerns that China could use its control over undersea cables to spy on US communications.
While the US proposal ultimately stalled, the battle over undersea cables has continued to heat up. In recent years, the US has been working to convince its allies to steer clear of Chinese-made undersea cables, warning that they could be used to spy on their communications.
This effort has met with some success: in 2020, Australia announced that it would fund the construction of a new undersea cable connecting the Solomon Islands to Australia, effectively blocking a proposal by a Chinese telecoms firm to build the cable.
But China has not been deterred. In fact, it has continued to push ahead with its plans to build out its undersea cable infrastructure, even as the US and its allies have worked to counter its influence. Some analysts argue that China's growing control over undersea cables could give it an edge in the global tech race, as it would have greater control over the flow of information worldwide.
The battles over undersea cables will likely continue in the coming years as the US and China jostle for dominance in the digital age. As the internet becomes an increasingly important tool for everything from commerce to national security, the control of undersea cables is likely to become even more critical.
It remains to be seen which country will come out on top in this tech war, but one thing is certain: the stakes are high, and the battle is far from over.
NC Bipindra is a 30-year veteran in journalism with a specialization in strategic affairs, geopolitics, aerospace, defense, and diplomacy. He has previously written extensively for the Times of India, New Indian Express, Press Trust of India, and Bloomberg News. He can be reached at 

ncbipindra (at) gmail.com