More than a dozen lawmakers from Myanmar's National League for Democracy (NLD) have taken shelter in India's Mizoram state even as the country's junta forces have attacked villagers using drones and RPGs in certain ethnic regions.
Aizawl-based journalist Zodin Sanga told The EurAsian Times, "As far I know, around 14 lawmakers from Myanmar are in Mizoram right now. But only the government can confirm the official figure."
The tiny northeastern state of Mizoram has seen a steady flow of refugees from neighboring Myanmar since the country's military generals seized power overthrowing the NLD government on February 1. 
Four NE states — Mizoram, Manipur, Nagaland, and Arunachal Pradesh – together share a 1,600-km land border with Myanmar.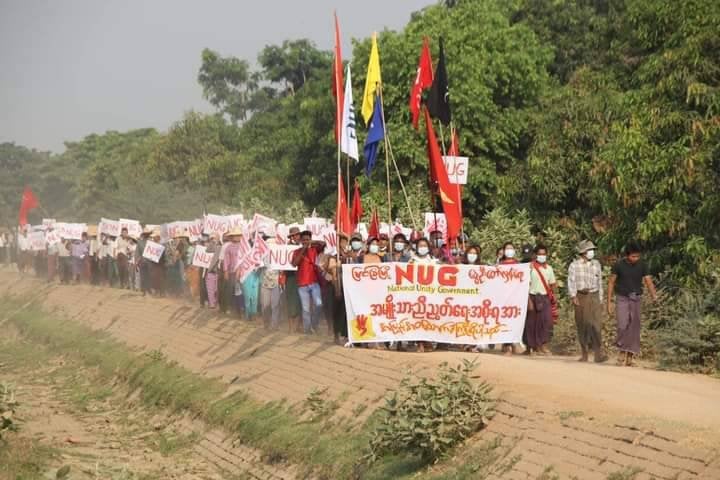 Myanmar's junta forces have continued their nationwide crackdown on anti-regime civilian protesters, killing more than 700 people, including 40 children, in the past two months.
According to the Assistance Association for Political Prisoners (AAPP), as many as 3,300 people have been detained by Myanmar's armed forces, also called Tatmadaw, until earlier this week. 
"Unofficially, more than 2000 people are taking shelter in four bordering districts in Mizoram. The majority are in Champhai district," the journalist said.
Those fleeing the violence in the Southeast Asian nation include not only civilians but also police and military personnel as well as their families, who refused to cooperate with the military regime.
Of these, 14-16 are lawmakers from the Nobel laureate Aung San Suu Kyi's NLD party. 
"I came to know that 14 Myanmar MPs are in the state, but I can't confirm their whereabouts," Sanga added.
Earlier, K. Vanlalvena, a parliamentarian from Mizoram, told Indian media outlet ETV Bharat: "About 16 MPs have entered, of which most are of Chin ethnicity from Chin state. The others are from the eastern province of Mon State, some from Mandalay, and some from Arakan too. But we think more are waiting to enter. People from Myanmar are entering Mizoram on a daily basis now." 
Phone calls and text messages sent to Vanlalvena by The Eurasian Times seeking his response remained unanswered.
#ICYMI: The #Myanmar refugees began arriving in Mizoram at the end of February, ironically, many of them policemen. Most had refused to use force to disperse protesters.https://t.co/ig7HslUkP6

— Firstpost (@firstpost) April 13, 2021
Last month, the Mizoram government had defied a federal government directive to check the influx of refugees. Chief Minister Zoramthanga shot off a letter to Prime Minister Narendra Modi, saying: "I understand that there are certain foreign policy issues where India needs to proceed cautiously. However, we can't ignore this humanitarian crisis."
"Mizoram cannot just remain indifferent to their sufferings. India cannot turn a blind eye to this humanitarian crisis unfolding right in front of us in our own backyard," Zoramthanga said in his letter. He also stressed the fact the Chin community, largely concentrated in areas just across the state border, has ethnic ties with Mizo people.
The chief minister also held a virtual meeting with the exiled Foreign Minister of Mynamar, Zin Mar Aung, to discuss the emerging situation.
The Tatmadaw's Brutal Crackdown
The Tatmadaw, as Myanmar's armed forces are known in the country, has also launched large-scale operations against villagers in certain regions. 
Earlier this week, junta forces used surveillance drones to track the movement of villagers in Sagaing Region's Yinmabin Township and fired rocket-propelled grenades (RPGs) besides other weapons, leaving six persons dead and dozens injured, according to locals.
There are also reports saying, the ethnic rebel group, the Kachin Independence Army had carried out fresh attacks on military and police outposts.
လီဒိုလမ်းမပေါ်တွင် အာဏာသိမ်းစစ်တပ်ကို KIA တိုက်ခိုက်https://t.co/XB8kWsoBpR#Kachin #WhatIsHappeningInMyanmar pic.twitter.com/mH3d9IVEdF

— Kachinnews (@KachinNewsGroup) March 30, 2021
The KIA, one of the largest armed groups in Myanmar, attacked two outposts of the Tatmadaw Division 33 in Hpakant Township on April 19 and 20.
"The military bombed with jet fighters around 9 am this morning and residents from both Gensi and Aungbarlay had to flee. Around 1,000 people from both villages have fled," a local resident was quoted as saying by The Irrawaddy.
According to reports, following the February 1 coup d'état, the KIA asked the military's Northern Command not to harm peaceful Kachin people protesting against the regime.
But tensions grew after two civilians were shot dead in a crackdown by the security forces on anti-regime protesters in the Kachin capital Myitkyina a month later, the news portal said.