For a long time, the United States and Russia were limited by the Intermediate-Range Nuclear Force Treaty that restricted the development and deployment of missiles within the range of 500 and 5,500km. The withdrawal of the treaty about three years ago has caused concerns about a modern-day arms race.
In line with these concerns especially in the backdrop of current tensions, Dmitry Polyansky, Russia's First Deputy Permanent Representative to the United Nations, recently said at a meeting of the UN Disarmament Commission that the US should abandon plans to deploy ground-based intermediate and shorter-range missiles in Europe and the Asia-Pacific region.
"Let us recall that the Pentagon continues to implement decisions on the deployment of ground-based intermediate-and shorter-range missiles in Europe and the Asia-Pacific region. We again urge Washington to show prudence and abandon such plans," Polyanskiy said according to Sputnik News Agency.
The fresh Russian statement comes a couple of months after Russia and China made a similar joint appeal in their summit-level meeting in February.
#Polyanskiy:??stands for strengthening central role of??in maintaining?strategic stability & intn'l security, promoting arms control & non-proliferation regimes. All-out enforcement of UN disarmament machinery, where Disarmament Commission is an integral part, remains a priority pic.twitter.com/2zgRO5JzWb

— Russia at the United Nations (@RussiaUN) April 5, 2022
The two countries had then claimed that the United States' had expedited the development of intermediate-and shorter-range ground-based missiles, and its ambition to deploy them in Asia-Pacific and Europe, would heighten "tension and distrust," as well as increase the risk to international and regional security.
The joint statement had also expressed concern that the US was considering the deployment of an anti-ballistic missile defense system around the world. It is pertinent to mention that while the US and Russia had traditionally limited their missile program under the treaty, China has never been a member of any such arrangement.
China has developed several intermediate and short-range missiles that the US believes could threaten its assets in the Pacific. For this, it has been mulling the need to deploy counter systems for deterrence.
In March 2021, Philip Davidson, then-head of US Indo-Pacific Command, stated that long-range missiles and missile defenses were needed in the region to counter China's threats.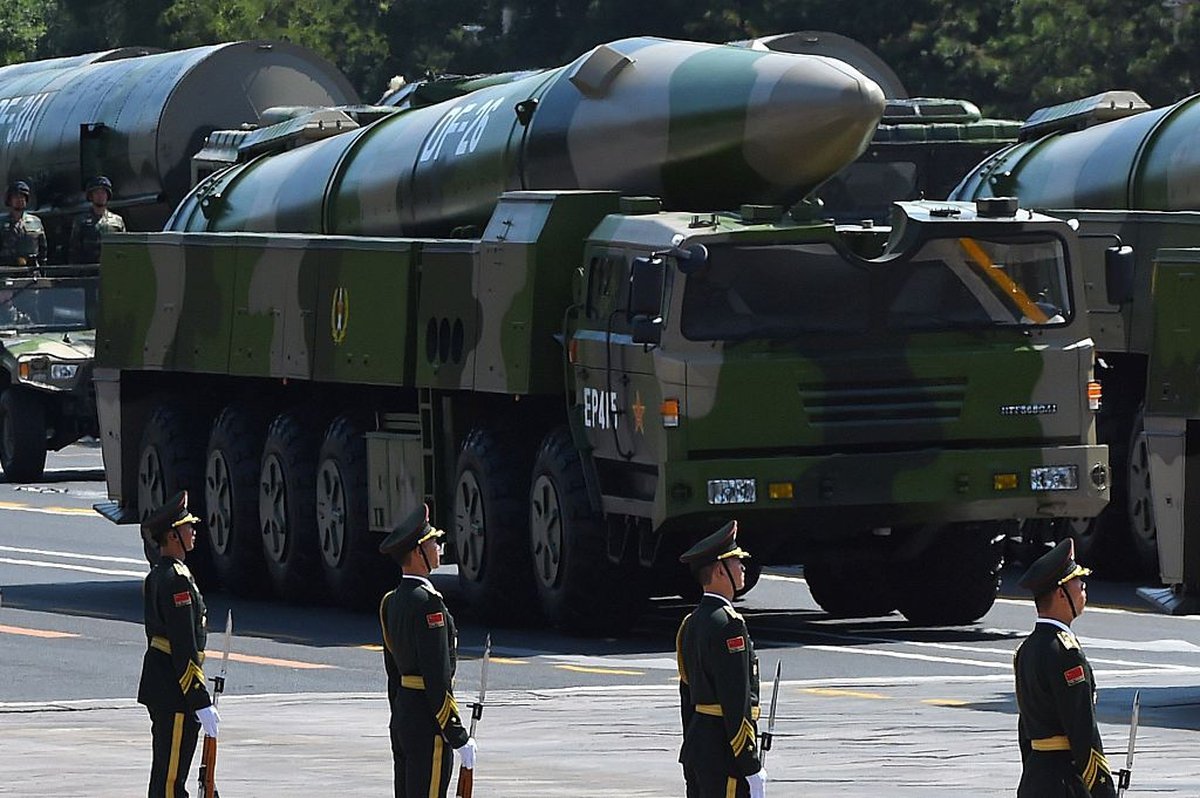 Since abandoning the Intermediate-Range Nuclear Forces Treaty (INF), in 2019, the US has been rethinking its missile plans, citing concerns about Russian violations of the deal.
Dmitry Polyansky also reportedly claimed that the United States is breaking the Non-Proliferation Treaty as non-strategic nuclear weapons from the United States are kept in non-nuclear European countries and that such weapons and delivery systems are even being updated. However, he did not specify the weapons in question.
Intermediate-Range Nuclear Force Treaty
On August 2, 2021, nearly 31 years after Reagan and Gorbachev signed the Intermediate-range Nuclear Force Treaty, Russia and the United States concluded their withdrawal.
As a result, both countries' forces are free to develop land-based cruise and ballistic missiles capable of striking targets between 310 and 3,400 miles away with conventional or nuclear warheads.
Russia was initially found to be in breach of the INF Treaty by the US in 2014. It was discovered that Russia had produced the 9M729 which was an intermediate-range ground-launched cruise missile. Further, former President Trump believed that China's absence from the regime put the US at disadvantage.
Now, the US Army intends to bring land-based missiles back, both to provide ground forces with more flexible ways of striking distant targets and to target enemy missile batteries, allowing more air power to be deployed. Out of the Army's ambitious 'Big Six' modernization plan, 'Long Range Precision Fire' is classified as the greatest priority.
Since the US pulled out of the treaty, the Army has been working on a variety of projects, including a moderate range upgrade from current weapons to a 500–600-kilometer range precision strike missile and a more strategically intended 2,700-kilometre range hypersonic missile.
A research team from the Center for Strategic and Budgetary Assessment conducted a cost-benefit analysis on the deployment of these new missiles in 2019, arguing that it "may contribute to a cost-imposing strategy against China and Russia by pressuring them to invest in expensive defenses and resiliency measures rather than devote those same resources to power-projection capabilities."
This could be understood as the reason behind Russian and Chinese concerns. The war in Ukraine has led to the isolation of Russia and heavy sanctions have been imposed on it, including on its defense industry. This is bound to somewhat impact Russia's ability to build more sophisticated arms.
What Missiles Could Be Expected From The US?
A number of INF-range programs and technologies that could offer potentially valuable capabilities could be pursued by the US, according to a Congressional Research Report of 2019.
The Army, for example, is working on a new Precision Strike Missile with a range of 499 kilometers (compliant with the INF Treaty), although it could easily be extended.
A precision Strike Missile (PrSM) would be a fixed operational target missile designed to destroy airbases, ports, fuel depots, bridges, and radar stations. Lockheed Martin, Raytheon and Northrup Grumman are in the contest to deliver the missile to US Army.
The Army's truck-based multiple rocket launcher systems, the 18-ton M142 HIMARS truck and the bigger 27.5-ton M270A1, would fire these PrSM missiles, according to Forbes. The Army wants the new missile to have a range of at least 310 miles, which is a little over 125 miles longer than the ATACMS' maximum range.
The US might also modify existing sea-based Tomahawk cruise missiles for land-based delivery by building new or adapting existing land-based launchers, such as the MK-41 launchers now deployed in Romania as part of the US missile defense system.
Russia is concerned about these launchers because it believes they could be modified to fire Tomahawk cruise missiles. The Pentagon had reportedly tested a land-based cruise missile variant of the Tomahawk in 2019.
The US has also been pursuing a more strategically designed hypersonic missile to match the capability of Russia and China. The range of the 'Long Range Hypersonic Missile' of the future is going to be more than 2,275 kilometers.
Even though Russia as well as China, the two biggest arch-rivals of the United States have made a case for abandonment of such deployments, the ultimate decision would be based on the US threat perception and security assessment that have so far favored the deployment.