Indian PM Narendra Modi on Tuesday (March 23) wrote a letter to his Pakistani counterpart Imran Khan, wishing him on the occasion of Pakistan Day. However, some analysts remain skeptical about the latest India-Pakistan 'bonhomie' while others call it a 'historic opportunity'
Pakistan Day commemorates the 'Lahore Resolution' of March 23, 1940, that eventually led to the formation of the Islamic nation. Every year, March 23 is observed as a public holiday by all federal and provincial government offices, banks, and private sectors across the country.
Modi's letter came almost a month after the armies of the two nations agreed to maintain a ceasefire along the Line of Control (LoC), their de facto border in Jammu and Kashmir.
"As a neighboring country, India desires cordial relations with the people of Pakistan. For this, an environment of trust, devoid of terror and hostility, is imperative," said Modi.
In the past, New Delhi had repeatedly accused Islamabad of harboring militants who sneaked into the India-administered Jammu and Kashmir to carry out attacks.
India and Pakistan have been at loggerheads over the Kashmir issue since their independence; the two had even fought three major wars.
In February 2019, Indian Air Force fighters dropped bombs inside the Pakistani territory to destroy terrorist launch-pads, pushing the two nuclear-armed neighbors to the brink of a full-scale armed conflict.
Five months later, New Delhi abrogated Article 370 of the Indian Constitution stripping the Jammu and Kashmir of its special status and bifurcating the state into two union territories. The move had further deteriorated the ties between the two nations.
Modi's Message 
PM Modi's letter to Khan signals an attempt to mend the India-Pakistan ties. Asad Umar, a senior Pakistani minister, called it a "message of goodwill" in a tweet.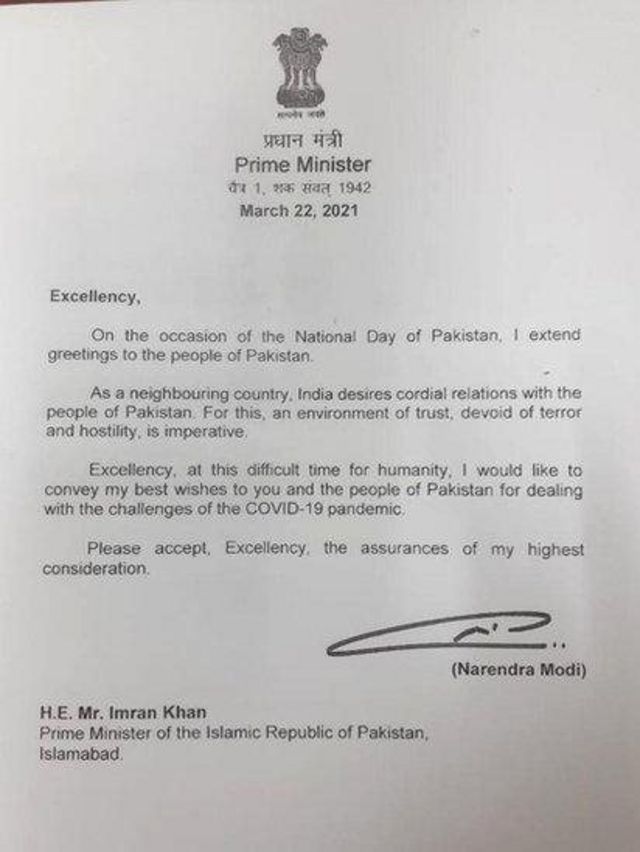 The letter comes days after Khan himself had expressed the desire to have good relations with India, but stressed New Delhi will have to take the first initiative.
Pakistan's Army Chief, General Qamar Javed Bajwa, had also called for a peaceful resolution of the Kashmir issue.
"We feel it is time to bury the past and move forward," Bajwa had said at a news conference in Islamabad.
However, Bajwa is not the first Pakistani military chief to talk peace. Former chief and ex-President Gen. Pervez Musharraf too had opened a dialogue with India in the early 2000s.
This had resulted in the Musharraf-Vajpayee joint statement with Pakistan declaring it would not allow any terrorist group to use its territory in order to launch attacks on India.
However, what happened in Mumbai, India's financial capital, in November 2008, was for all to see. Analysts, therefore, prescribe caution this time around.
According to Nirupama Subramanian of The Indian Express, "understanding that earlier phase of bilateral ties, how it progressed and sputtered out, long before getting totaled in the Mumbai 2008 attacks, may be instructive".
Nitin J Ticku an expert with the EurAsian Time on Kashmir affairs said the Indian government has been offering 'this very proposal' to Pakistan for decades i.e. talks and terror cannot go hand-hand-hand. Just the language used this time, as per the official letter, looks more subtle.
The big advantage this time is that both the civilian government and the military establishment of Pakistan are in concurrence over the peace process with India.
With external factors including pressure from the new Biden administration, China's CPEC project, UAE & Saudi mediating, Israel's possible recognition by Pakistan, FTAF grey-listing of Islamabad, India's interest in direct connectivity with Central Asia, and economic stability post-Covid-19 for both nations, there are chances that Modi and Bajwa could do the undoable – resolve the Kashmir dispute amicably, Ticku concludes.
Follow EurAsian Times on Google News