It is becoming increasingly apparent that India's growing military collaborations with some leading Gulf countries such as Saudi Arabia and the United Arab Emirates have not hampered its strategic autonomy in dealing with Iran.
The last decade has seen a number of problematic equations between Teheran on the one hand and Riyadh and Abu Dhabi on the other. The same period has also been marked with quantum jumps in New Delhi's ties with Riyadh and Abu Dhabi. But this has not restricted New Delhi's developmental collaborations with Tehran.
The sequence of three major developments over the last fortnight displays India's strategic autonomy in dealing with the Middle East in general and the aforementioned three countries in particular.
On February 4, India's External Affairs Minister S. Jaishankar proposed the inclusion of Iran's Chabahar port in the International North-South Transport Corridor (INSTC) route. This he said in his address on 'Chabahar Day' at the Maritime India Summit 2021.
But just one day before, on March 3, India sent its Air Force to participate in the multinational joint exercise called 'the Exercise Desert Flag-VI' at Al-Dhafra airbase in the UAE. It joined the air forces of France, the US, the UAE, Saudi Arabia, South Korea, and Bahrain.
He stated that today's event reflects India's strong commitment to work together with own regional stakeholders to enhance connectivity in our region & to provide unhindered access to the sea & landlocked central Asian countries through the Chabahar#MaritimeIndiaSummit pic.twitter.com/X0YflEpncz

— Ministry of Ports, Shipping and Waterways (@shipmin_india) March 4, 2021
The exercise, which will continue till March 27, includes the Indian contingent with six Su-30 MKI multirole combat fighter aircraft, two C-17 Globemaster III military airlift aircraft, and one IL-78 tanker aircraft. It is for the first time ever that IAF is taking part in an air drill at a multilateral level and in the Gulf Region.
And just one week prior to this air exercise, an important Indian battleship was in the UAE water to participate in the NAVDEX 2021 (Naval Defence Exhibition) and IDEX 2021 (international Defence Exhibition) that took place from February 20 to February 25 at Abu Dhabi.
Incidentally, India's indigenously built guided-missile destroyer INS Mysore had also made a port call at Abu Dhabi from February 19 to February 21.
India and the UAE had in 2017 upgraded bilateral relations to a 'Comprehensive Strategic Partnership' during the visit of Mohamed bin Zayed Al Nahyan, the Crown Prince of Abu Dhabi, to New Delhi as the Republic Day chief guest.
Defense ties between the two nations were further strengthened in March 2018 when the two countries conducted joint-naval exercise GULF STAR-1. The second edition of this bilateral naval exercise is likely to be conducted later this year.
Bridging the Gulf.

IAF embarks on a journey towards fostering new realms of friendship beyond borders. #BondBeyondBorders #IndiaUAE pic.twitter.com/3sCqp9HvPZ

— Indian Air Force (@IAF_MCC) March 4, 2021
Against this background, India more or less simultaneously organizing the second edition of the Maritime India Summit and celebrating it as Chabahar Day is considered significant. By this India underscored Iran's centrality in providing connectivity between India and Central Asia (Eurasia region).
"The Government of India, recognizing the importance of regional connectivity, made a landmark decision to undertake an overseas port investment in Chabahar. While this project had been under discussion for some time, it was during Prime Minister Narendra Modi's visit to Iran in 2016 that a trilateral agreement to establish an international transport and transit corridor was signed by India, Iran, and Afghanistan.
"The transport and transit corridor is intended to ensure the unhindered flow of commerce throughout the region and to create a safe, secure and reliable route to trade initially with Afghanistan, and thereafter with Central Asia as a whole. The establishment and operations of India Ports Global Limited at Shahid Behesti Port in Chabahar is the practical realization of this important initiative," said Jaishankar.
Mentioning various shipments of goods and material to Afghanistan and Iran in recent times through Chabahar, the Indian foreign minister then added, "The International North-South Transport Corridor (INSTC) is an important trade corridor project, wherein India is partnering with 12 countries to establish an economic corridor for the benefit of our peoples.
"We also welcome the interest of Uzbekistan and Afghanistan to join the multilateral corridor project. Establishing an eastern corridor through Afghanistan would maximize its potential. India has also proposed the inclusion of Chabahar in the INSTC route.
I am hopeful that during the INSTC Coordination Council meeting, member states would agree to the expansion of the INSTC route to include the Chabahar Port and also agree on expanding the membership of this project."
It may be noted that apart from the development of the Chabahar, India and Iran are also working on the Chabahar-Zahedan Railway Project.  During the visit of Prime Minister Narendra Modi to Iran in May 2016, an MoU was signed between IRCON International Limited of India and the Construction, Development of Transport and Infrastructure Company (CDTIC) of Iran for the construction of the Chabahar-Zahedan Railway Project.
This joint collaboration between the two countries is to provide faster connectivity from the Chabahar Port in Iran to Afghanistan and further to Central Asia. It will bolster the existing connectivity by road from the Chabahar port to Afghanistan.
Interestingly, the hawkish Trump administration, which had imposed new sanctions on Iran last October, had assuaged India that these will not impact India's engagements in Chabahar. Under these sanctions, all non-American persons are otherwise supposed to wind down activities and transactions with the Iranian financial sector and institutions.
However, India, because of the US sanctions, had halted imports of oil from Iran (because it involved the use of the US dollars as currency), previously its third-largest oil supplier. It now expects that the new Biden administration will remove the restrictions.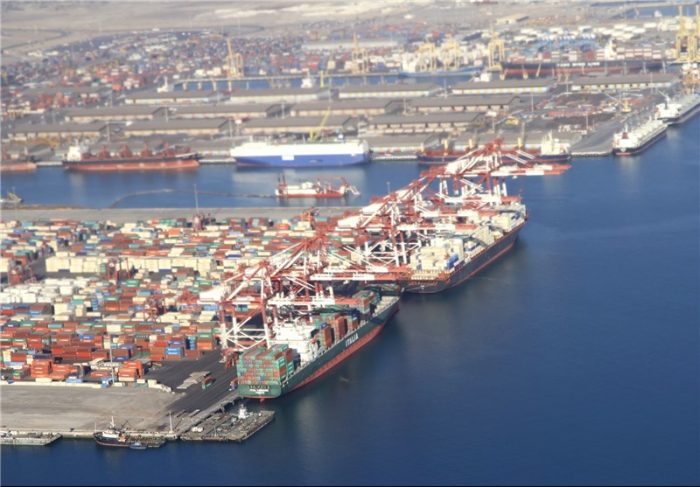 Be that as it may, besides the traditional energy relations and the Chabahar port, India and Iran have a common interest in Afghanistan. India and Iran have been in touch over developments related to the Doha accord between the US and the Taliban.
It is significant here to recall that in September 2020 Indian Defense Minister Rajnath Singh and Foreign Minister Jaishankar had separately visited Tehran to discuss trade and regional issues.
On Rajnath Singh's invitation, Brigadier General Amir Hatami, Iranian Defense Minister, had visited India last month – the first time for any Iranian defense minister in 40 years. Apart from the two defense ministers furthering their bilateral discussions, Hatami also participated, on the sidelines of the AeroIndia 2021 event in Bengaluru, in the first conclave for the defense ministers of the Indian Ocean Region (IOR).
If anything, all this only underscores that India wants to play a balancing role in the Middle East among the Arabian Gulf, Iran and Israel. And so far, it seems to have succeeded.
Follow EurAsian Times on Google News