An alleged Ukrainian missile attack on the Sevastopol naval base on September 13 and Ukraine's capturing of an oil rig on the Black Sea two days earlier seem to align with a broader US strategy on Crimea proposed earlier this year.
These developments in the Black Sea and Ukraine's attacks on Russian naval and civilian infrastructure appear to match an idea that proposes making Crimea "untenable."
Photos and posts circulating on X (formerly Twitter) of a burning facility at the Sevastopol base and port, which 'OSINTtechnical' handle claimed resulted from a "Ukrainian strike." Posts and comments on other leading Russian Telegram groups called it a "missile strike" by Ukraine. However, information about the attack trickled in when filing this report, and many details remain unclear.
In a previous development, Ukrainian Navy special operations forces were reported to have "taken control" of the Boyko Towers oil rigs in a "unique operation." The Russian defense ministry didn't make any immediate comment. Still, between August 21 and 31, it claimed to have destroyed seven Ukrainian speedboats carrying troops, killing over 50 of them with its Su-30SM, MiG-29, and Su-24 jets.
Given the impossibility of taking it by force, increasing the tempo of surprise strikes by asymmetric naval kamikaze drones, and the resumption of manned attempts to take physical features like the Snake Island is expected to draw Russian logistical and military resources and eventually weaken its hold over the peninsula.
Ultimately, the prospect of losing Crimea and the Black Sea might also impact its land operations, where Russia holds 20 percent of Ukrainian territory in the East and the South.
Russia's Black Sea Home Port Hit Again
Pictures of the fire and smoke at Sevastopol in the wee hours of September 13 were claimed to be either owing to a long-range missile strike by Ukraine or an attack by one of its unmanned kamikaze sea drones. In a subsequent post, 'OSINTtechnical' claimed that the exact location that was struck was the "Sevastopol drydocks" and likely occupied by a Russian Kilo-class submarine and a Ropucha landing ship.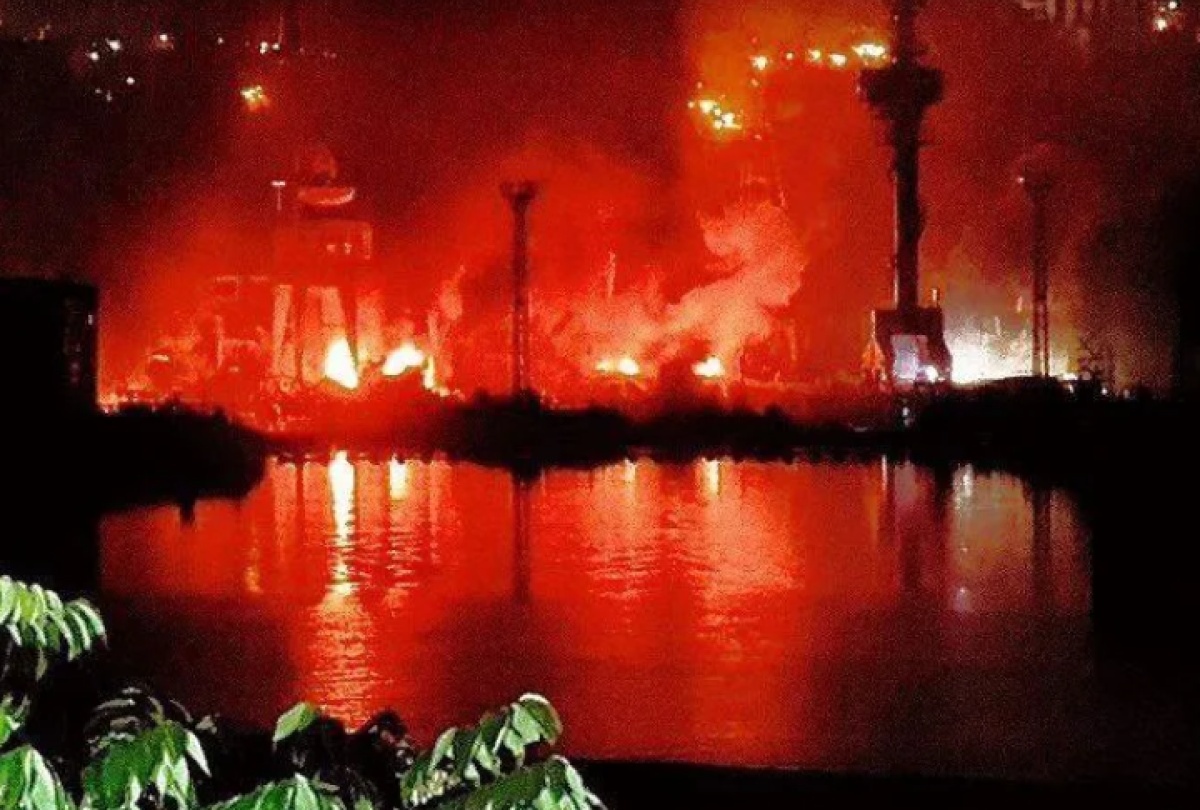 Other videos showed a series of explosions in the dark, much before sunrise, claimed to be at the 13th Ship Repair Plant. Whether the explosions were owing to the secondary combustion of stored ammunition or fuel or a salvo of missiles falling on the target cannot be said. But the sounds of jets overhead indicated Russian fighters were patrolling for aerial targets.
One video even showed what appeared to be a surface-to-air missile (SAM) taking off into the air, indicating the Russians were tackling airborne threats. This also suggests Ukrainians are attempting missile or drone strikes more frequently since sea drone attacks have so far been unsuccessful, with the Russian navy destroying all the boats during each episode.
Ukraine Takes Back Oil Rigs
On Monday, Ukraine's military intelligence agency, GUR, claimed on its Telegram app that the Boyko Towers operation that took back control of the offshore drilling platforms was of "strategic importance," depriving Russia of the "ability to use them for military purposes."
"Russia has been deprived of the ability to control the waters of the Black Sea fully, and this makes Ukraine many steps closer to regaining Crimea," it added. During the operation, GUR said, there was a clash between Ukrainian special forces on boats and a Russian fighter jet, which was damaged and forced to retreat. GUR also captured other "valuable trophies," such as helicopter munitions and a radar system that can track the movement of ships in the Black Sea.
Harass, Not Take Back Crimea
The likely objective behind such a significant and steady spike in strikes on Crimea could only be to needle and harass Russia into continuing to expend resources, which does not precisely force it to drop the peninsula but also injects a calculation that holding it is not easy either. This is especially after a steady supply of US and Western drones, ammunition, targeting, and surveillance from its reconnaissance and electronic warfare aircraft.
Former US Army Commander in Europe, General Ben Hodges, calls it making Crimea "untenable" for Russia in a February 17 post on X (formerly Twitter). "Priority: use long-range precision strike to isolate Crimea, then make it untenable for Russian forces. Drive Black Sea Fleet from Sevastopol with daily precision strikes—Ditto for Russian Air Force at Saky, etc. Allow no sanctuary for Drone lunches. Land forces can come later."
This was followed by an April 10 article in the RAND Corporation, which pointed to the overwhelming Russian military, technological, and logistical superiority that negated any conceivable attempt to oust Russians from Crimea practically.
"Recovering Crimea by military means could be difficult. The peninsula is connected to the rest of Ukraine by a narrow isthmus. Russian forces in Crimea can fortify it at will. Furthermore, Ukraine lacks substantial amphibious assault capabilities," the article said.
This justifies an unconventional and asymmetric approach, where Ukraine "does not need to drive occupying forces out of Crimea to render it less hospitable to Russia's purposes." "Combinations of modern technologies could enable Ukraine to blockade and barrage Russian operations," the column added.
It recommends using USVs, missile strikes on air base runways, and hitting the Crimean bridge to make holding Crimea a very exhausting affair, which, if achieved, can be leveraged to oust it from the rest of the country.
This belief is in harmony with previous EurAsian Times analyses about Ukraine's strategic and military calculations behind its sea drone strikes in the Black Sea. Reports about Ukraine re-purposing its Neptune anti-ship missile (AShM) for land-attack roles and on its way to receiving the Army Tactical Missile System (ATACMS) should be seen in this context.